10 design tips for sheet metal bending from Xometry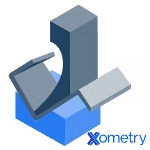 Sheet metal bending is one of the most commonly used methods to form sheet metal fabricated parts. The costs and quality depend on various factors, including setup costs, material costs, and design complexity. To ensure an optimum bend and to avoid deformation, the experts at Xometry recommend following certain design tips for every type of sheet metal part feature.
View this informative Xometry video.
---
Flame-resistant composites for EV applications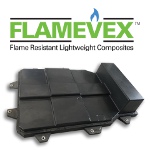 IDI Composites International has introduced a new thermoset composite material delivering critical performance benefits for electric vehicle (EV) applications, FLAMEVEX™ is a flame-resistant lightweight composite that has been used on battery packs, which have passed the stringent Chinese Standard GB/T 31467.3 test, commonly known as the China bonfire test. This material offers designers a strong, lightweight, and cost-effective alternative to steel and aluminum materials traditionally used to enclose battery packs in EV applications. Flame performance levels can be tailored.
Learn more.
---
New high-performance metals for 3D printing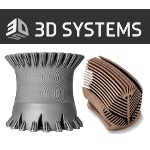 3D Systems has added two new materials to its materials portfolio. Certified HX is a high-performance nickel alloy that contains a higher percentage of molybdenum (up to 9.5%) vs. other nickel alloys, which enhances strength and resistance to corrosion, creep deformation, cracking, and oxidation in hot-zone environments. Certified CuCr2.4 is a high-strength, corrosion-resistant copper alloy that is significantly stronger than pure copper and easier to process. Both materials are certified for use with the company's DMP Flex 350 and DMP Factory 350 3D printers. Applications include industrial gas turbines, consumer goods, aerospace and defense, and automotive.
Learn more.
---
New flame-retardant resin for 3D printing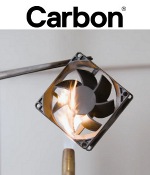 3D-printing tech company Carbon has introduced an all-new photopolymer resin called EPX 86FR that the company says offers an unmatched combination of flame retardance, functional toughness, high strength, and long-term stability for end-use parts, functional prototypes, and tools in the automotive and industrial sectors.
Learn more.
---
Cool Tools: Easy-setup orbital sander/polisher for cobots by OnRobot
The Sander package from OnRobot includes everything customers need to get their robotic sanding application started quickly, including plug-and-play sanding tool, pads, easy-to-use programming software, an optional force/torque sensor, and a Grit Changer. All of the advanced features are supported on Universal Robots cobots, but the tool is easily integrated with any major robot brand. Polishing and deburring can be accomplished too.
Read the full article.
---
Pro Tips: Post processing in PBF 3D printing -- the key to viable production outcomes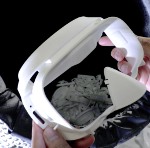 Focusing purely on the 3D-printing build process means that a crucial part of the production process chain is overlooked: the post-processing steps once the parts are removed from the 3D-printing machine. Nick Allen from 3DPRINTUK gives an insightful overview of post-processing options available for polymer powder bed fusion (PBF) parts and the design considerations that must be taken into account from the start.
Read the full article.
---
New polymers engineered for e-motor applications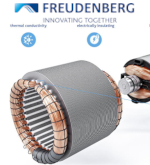 Freudenberg Sealing Technologies has expanded the use of its Thermally Conductive, Electrically Insulating (TCEI) materials to produce walled slot liners for electric motor applications. The company's TCEI material grades demonstrate superior thermal conductivity and better electrical insulation when tested against other thermoplastic materials currently available.
Read the full article.
---
New 3D-printing resin creates static-dissipative parts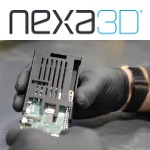 The new xESD resin from Nexa3D, a leading maker of ultrafast professional and industrial polymer 3D printers, is a rigid photoplastic material with a stable carbon nanotube dispersion that delivers optimal static-dissipative performance and isotropic mechanical properties, which are required by the electronics manufacturing industry. The xESD resin allows users to create custom jigs, fixtures, grippers, assembly aides, and enclosures in hours without the risk of ESD damage to high-value electronic components. Available for NXE Pro series printers and the XiP desktop 3D printer.
View the video and learn what else is new from Nexa3D.
---
Desktop Metal qualifies nickel alloy Inconel 625 for 3D printing on Studio System 2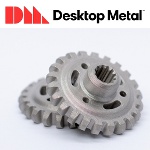 3D-printer maker Desktop Metal has qualified the use of the nickel alloy Inconel 625 (IN625) for its Studio System, an office-friendly metal additive manufacturing system that prints high-performance metal parts in low volumes for pre-production and end-use applications. IN625 is a high-performance alloy known for high levels of strength, temperature resistance, and corrosion resistance.
Read the full article.
---
6 advanced FDM 3D-printing tips when adding metal parts to your build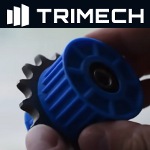 Fused Deposition Modeling (FDM) 3D-printing machines use thermoplastic resins and strong, tough materials for real applications. Learn from the experts at TriMech how to prepare for incorporating metal parts such as bushings, hex nuts, roller chain, and rods into FDM builds to create complicated parts that need to stand up to repeated use.
View the TriMech video.
---
Machine-ready blanks from TCI Precision Metals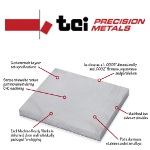 TCI Precision Metals will be showing its precision Machine-Ready Blanks capabilities to customers at IMTS 2022 this September. Machine-Ready Blanks of aluminum, stainless steel, and other alloys help shops shorten setup time, reduce scrap, and increase overall throughput up to 25% by eliminating material prep. These blanks are guaranteed to arrive machine-ready for production, with standard-size blanks in low quantities ready for immediate shipping, Custom blanks in production quantities can be ordered for quick turnaround.
Learn more.
---
Sheet metal finishing options from Xometry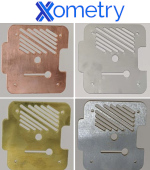 Xometry now offers expanded options for sheet cut and sheet metal parts. Parts fresh off the waterjet or laser often have a burr on their bottom face, marks from handling, frosting near the cut line from overspray, and/or vestigial tabs from being held in place during cutting. Applying a finishing process post-cutting will help you get parts that need minimal cleanup before installation.
Learn more.
---
3M debuts virtually dust-free sanding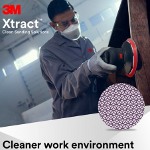 Great for home and shop alike, 3M's innovative Xtract Cubitron II 710W Net Abrasive Disc uses a specially designed mesh that extracts dust at every location on the disc while enhancing the cutting power of the tool. 3M says it "provides twice the life and cut rate, while removing up to 97% of dust particles as it sands metal, wood, and composite surfaces." Available in a range of grades.
Learn more.
---
New nickel-based superalloy for 3D printing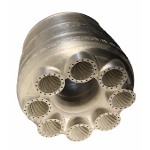 Velo3D has qualified the nickel-based superalloy powder Amperprint 0233 Haynes 282 for use in its Sapphire family of printers. The material is designed for high creep strength, thermal stability, weldability, and fabricability not commonly found in other alloys. This superalloy is ideal for high-temperature structural applications like energy generation, gas turbines, and space launch vehicles to build parts like heat exchangers, combustors, nozzles, combustion liners, rocket engines, and shrouded impellers. Shown left is a combustor liner made with the new superalloy. It features 23,000 unique holes for optimized air-to-fuel ratios and internal channels for regenerative cooling. The part is shown as printed, with no supports.
Learn more.
---
Desktop Metal qualifies 420 stainless steel for high-volume additive manufacturing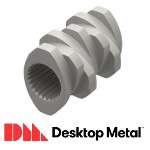 Desktop Metal recently announced the qualification of Grade 420 stainless steel (420 SS) for use on its Production System platform, which leverages patent-pending Single Pass Jetting (SPJ) technology designed to achieve the fastest build speeds in the metal additive manufacturing industry. Manufacturers can now leverage SPJ technology for the mass production of high-strength, end-use parts in 420 SS for demanding applications in industries such as medical, aerospace, defense, and consumer products.
Learn more.
---
World's whitest paint now thinner than ever -- ideal for vehicles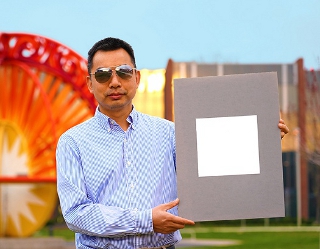 Xiulin Ruan, a Purdue University professor of mechanical engineering, holds up his lab's sample of the whitest paint on record (original formula). [Credit: Purdue University/Jared Pike]
The world's whitest paint, seen in this year's edition of Guinness World Records, keeps surfaces so cool it could reduce the need for air conditioning in some cases. Now, the Purdue University researchers who created the paint have developed a new formulation that is thinner and lighter -- ideal for radiating heat away from cars, trains, and airplanes.
The researchers believe this white may be the closest equivalent of the blackest black, "Vantablack," which absorbs up to 99.9% of visible light.
"I've been contacted by everyone from spacecraft manufacturers to architects to companies that make clothes and shoes," said Xiulin Ruan, a Purdue professor of mechanical engineering and developer of the paint. "They mostly had two questions: Where can I buy it, and can you make it thinner?"
The original world's whitest paint used nanoparticles of barium sulfate to reflect 98.1% of sunlight, cooling outdoor surfaces more than 4.5°C below ambient temperature. Cover your roof in that paint, and you could essentially cool your home with much less air conditioning, but there's a problem.
"To achieve this level of radiative cooling below the ambient temperature, we had to apply a layer of paint at least 400 microns thick," Ruan said. "That's fine if you're painting a robust stationary structure, like the roof of a building. But in applications that have precise size and weight requirements, the paint needs to be thinner and lighter."
That's why Ruan's team began experimenting with other materials, pushing the limit of materials' capability to scatter sunlight. Their latest formulation is a nanoporous paint incorporating hexagonal boron nitride as the pigment, a substance mostly used in lubricants. This new paint achieves nearly the same benchmark of solar reflectance (97.9%) with just a single 150-micron layer of paint.
Their research has been published in Cell Reports Physical Science.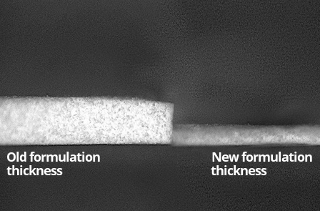 The previous iteration of the world's whitest paint (left) required a layer 0.4-mm thick to achieve sub-ambient radiant cooling. The new formulation can achieve similar cooling with a layer just 0.15-mm thick -- thin and light enough for its radiant cooling effects to be applied to vehicles. [Credit: Purdue University photo/Andrea Felicelli]
"Hexagonal boron nitride has a high refractive index, which leads to strong scattering of sunlight," said Andrea Felicelli, a Purdue PhD student in mechanical engineering who worked on the project. "The particles of this material also have a unique morphology, which we call nanoplatelets."
Ioanna Katsamba, another PhD student in mechanical engineering at Purdue, ran computer simulations to understand if the nanoplatelet morphology offers any benefits. "The models showed us that the nanoplatelets are more effective in bouncing back the solar radiation than spherical nanoparticles used in previous cooling paints," Katsamba said.
The paint also incorporates voids of air, which make it highly porous on a nanoscale. This lower density, together with the thinness, provides another huge benefit: reduced weight. The newer paint weighs 80% less than barium sulfate paint yet achieves nearly identical solar reflectance.
"This light weight opens the doors to all kinds of applications," said George Chiu, a Purdue professor of mechanical engineering and an expert in inkjet printing. "Now this paint has the potential to cool the exteriors of airplanes, cars, or trains. An airplane sitting on the tarmac on a hot summer day won't have to run its air conditioning as hard to cool the inside, saving large amounts of energy. Spacecraft also have to be as light as possible, and this paint can be a part of that."
As to that other big question -- where can I buy the paint? -- Ruan said, "We are in discussions right now to commercialize it. There are still a few issues that need to be addressed, but progress is being made."
Either way, these Purdue researchers look forward to what the paint could accomplish. "Using this paint will help cool surfaces and greatly reduce the need for air conditioning," Ruan said. "This not only saves money, but it reduces energy usage, which in turn reduces greenhouse gas emissions. And unlike other cooling methods, this paint radiates all the heat into deep space, which also directly cools down our planet. It's pretty amazing that a paint can do all that."
Patent applications for the paint formulation have been filed through the Purdue Research Foundation Office of Technology Commercialization. For further discussion on this intellectual property, contact Will Buchanan at wdbuchanan@prf.org and reference code 2022-RUAN-69542.
Source: Purdue University
Published October 2022
Rate this article