Magnetic couplings 'mechanically isolate' shafts and motor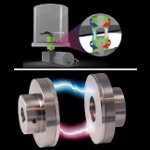 Magnetic couplings from Miki Pulley are ideal for machine designs involving food, pharma-ceutical, and laboratory applications requiring clean, non-contact connection between motor and shafts. The mechanically isolated magnetic coupling transmits torque through the air. This occurs through both input and output hubs of the coupling, which contain powerful rare-earth magnets. These magnets create a magnetic field that transmits torque through plastic, glass, aluminum, and other minimally ferrous materials without physical engagement. There is no dust, debris, or mechanical wear using this coupling compared to conventional couplings. It can also act as a torque limiter in an over-load event.
Learn more.
---
Can you run water through an air valve?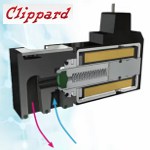 Can you run water through an air valve? Should you do it? And if you're going to do it, what do you need to know? Mike Kettering, product manager for Electronic Valves at Clippard, answers another Pneumatics 101 question. Also check out Clippard's vast range of Electronic Valves, Air Pilot Valves, Control Valves, Directional Control Valves, Isolation Valves, Proportional Valves, and more.
Read this informative Clippard blog.
---
Highly adaptive bearing for light-to-moderate loads in linear motion applications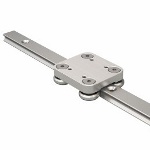 The MiniRoller Rail from Rollon eliminates the noise, difficult assembly, misalignment, and unnecessary weight typically associated with using linear guides with recirculating ball bearings in lighter-duty aerospace, medical, pharma, life science, and packaging applications. It also offers machine builders exceptional flexibility with a variety of optional materials, surface treatments, and mounting hardware and fasteners, including both metric and inch sizes. The new linear bearing's induction-hardened and machined raceways reduce noise and deliver a long, reliable lifetime.
Learn more.
---
Pinch valves: Flow control without contamination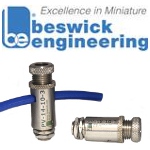 Beswick miniature pinch valves are now available for 1/8-in. OD and 1/4-in. OD tubing. The PV series miniature pinch valve is designed to control fluid when it is advantageous to avoid fluid contact with mechanical components and elastomeric seals. Pinch valves achieve fluid control by clamping down on the outside diameter of the tubing in order to limit or stop flow. The PV has a port for pneumatic actuation as well as a manual knurled knob for extra flexibility.
Learn more.
Watch the pinch valve video to learn more of the benefits.
---
How to select a linear bearing pillow block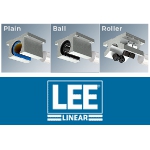 When it comes to choosing a pillow block style to help provide a secure foundation for a rotating shaft, the engineers at Lee Linear suggest using something called "P.O.S.T.L.U.D.E.S" as your guide: Precision, Orientation, Speed, Travel, Load, Unknowns, Duty Cycle, Environment, and Safety. Learn all about pillow block types, construction, and applications in this informative blog.
Read the full article.
---
Timing belts and pulleys calculator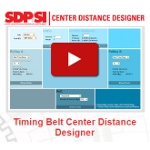 The quick-and-easy Center Distance Designer Calculator is a handy resource that will make designing and ordering parts for mechanical systems using single- or double-sided belt drives much easier, calculating center drive ratios, center distances for a pulley pair, and more. This tool from Stock Drive Products/Sterling Instrument (SDP/SI) will help you get the right pulley and timing belt combination and instantly identify the appropriate part numbers that meet your specifications.
Learn about the Center Distance Designer Calculator.

---
New air atomizing spray nozzle video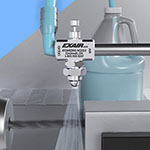 EXAIR's Atomizing Spray Nozzles create a fine liquid mist perfect for washing, coating, cooling, dust control, and more. These nozzles offer an assortment of flow rates and patterns including flat fan, round, and hollow cone patterns, and are highly effective with a wide range of liquids making them a perfect tool for a variety of industries. Combining liquid and compressed air, atomizing nozzles create a fine atomization for superior coverage and can be easily adjusted to fit your application's demands.
See how they work.
---
Tamper-proof seal screws build in security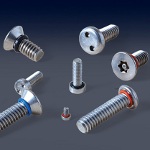 ZAGO security/ tamper-proof seal screws are designed with a distinct drive style that requires a specialized tool to unlock, effectively deterring tampering, vandalism, and misuse. What's more, a groove-fit rubber O-ring expands on installation to create an impervious, unbreakable seal. Available in a variety of corrosion-resistant metals, they are reusable and removable for maintenance and repair with proper tooling.
Learn more.
---
Micro-AM tech makes plastic 3D-printed parts conductive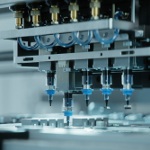 Horizon Microtech-nologies' new micro-AM technology can help in the elimination of electro-static discharge (ESD) in applications that would benefit from 3D printing by combining precision polymer additive manufacturing and ESD compliancy. Parts can be made with a controllably conductive surface coating and also coated internal channels with multiple bends. In one use, very compact and high-performance end-effectors were created for vacuum pick-and-place devices that were conductive enough to prevent electrostatic discharge.
Learn more.
---
5-Star Product: Constant-torque position hinge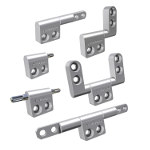 The RT-50 position hinge from Reell Precision Manufacturing incorporates unique engineering in a compact design to hold the angle of mounted components reliably in any position in small assemblies. The hinge's scaled-down 5-mm size and impressive constant-torque capabilities ideally suit demanding applications with limited footprints in consumer electronics, mobile devices, small appliances, and others. A dual-ended mounting configuration enables a single hinge to be used in place of two. Many other types/sizes available.
Learn more and see all the specs.
---
Cryogenic deflashing improves molding projects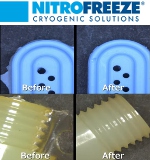 Nitrofreeze® Cryogenic Solutions is providing molders and OEM manufacturers that make injection molded, extrusion molded, and compression molded parts with a rapid, consistent, and cost-effective alternative to hand trimming molding flash. Nitrofreeze cryogenic deflashing is an automated, computer-controlled batch process that removes flash from tens to thousands of molded parts all at the same time. This patented process will not change part tolerances or surface finish, is more consistent than hand trimming, and is safe for medical plastics and medical silicones.
Learn more.
---
ScanCobot: Easy entry into 3D metrology automation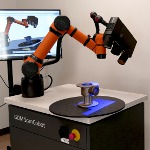 The GOM ScanCobot is a mobile measuring station with a collaborative robot, a motorized rotation table, and powerful software that is smart enough to figure out the optimal positions to scan to get the most comprehensive profile possible on a part. The system provides cleaner, more accurate data than manual scans. Exact Metrology has the ScanCobot technology at their Milwaukee area office. Learn about its impressive capabilities.
Read the full article.
---
Linear shafts vs. posts vs. rotary shafts: How to choose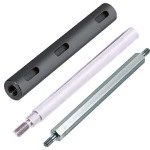 According to Carlicia Layosa at MISUMI, "Linear shafts, posts, and rotary shafts are used when you need to control some type of motion, either linear or rotary, or a combination of the two," but do you know the difference between these options and what applications are best for each?
Read this informative MISUMI blog.
---
Gears and gear racks made from polyamide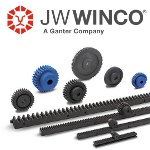 Gears and gear racks used for transmitting torque and forces within gearboxes are typically made of hardened steel. For many other uses and applications, gears and racks made from plastic are the better choice. These generally require no lubrication and are lighter, quieter, less expensive, and more resistant to corrosion than metal gears. This is why JW Winco has expanded its range with polyamide gears and racks that can transmit high forces and torques. Spur gears EN 7802 and gear racks EN 7822 are made from strong and long-lasting polyamide and are also available in gray or blue for better visual detectability.
Learn more.
---
3D Printing: Learn all about GrabCAD Print -- best slicing software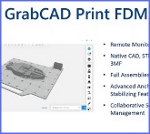 The engineers at TriMech are full of incredibly useful tips when it comes to 3D printing. Learn all about GrabCAD Print, which TriMech calls "one of the most powerful 3D-printing prep tools on the market." Better yet, it's a no-cost resource. Learn about file types and updated capabilities like advanced anchoring and stabilizing, remote monitoring, and even building in collaborative schedule management. You always learn something new from TriMech.
View the video.
---
Gases separated and stored in powder could make them safer -- including hydrogen
Researchers at Deakin University in Australia have made a breakthrough that could help address one of the biggest barriers preventing the widespread adoption of hydrogen energy: safe storage and transport.
Hydrogen is increasingly being touted as one sustainable solution to Australia's gas crisis. However, finding a material that can store enormous quantities of gases for practical application remains a major challenge.
That's where the recent Deakin discovery could offer an answer. The new process, first described by nanotechnology researchers from Deakin's Institute for Frontier Materials (IFM) in the journal Materials Today, offers a novel way to separate, store, and transport huge amounts of gas safely -- with no waste.
"Right now, Australia is experiencing an unprecedented gas crisis and needs an urgent solution," said Alfred Deakin Professor Ying (Ian) Chen, IFM's Chair of Nanotechnology. "More efficient use of cleaner gaseous fuels such as hydrogen is an alternative approach to reduce carbon emissions and slow global warming."
Traditional oil refinery methods use a high-energy "cryogenic distillation" process to separate crude oil into the different gases used by consumers, such as petrol or household gas. This process makes up a whopping 15% of the world's energy use.
What the IFM research outlines is a completely different mechanochemical way of separating and storing gases, which uses a tiny fraction of the energy and creates zero waste.
The breakthrough is so significant, and such a departure from accepted wisdom on gas separation and storage, that lead researcher Dr. Srikanth Mateti said he had to repeat his experiment 20 to 30 times before he could truly believe it himself.
"We were so surprised to see this happen, but each time we kept getting the exact same result, it was a eureka moment," Mateti said.
The special ingredient in the process is boron nitride powder, which is great for absorbing substances because it is so small yet has a large amount of surface area for absorption.
"The boron nitride powder can be re-used multiple times to carry out the same gas separation and storage process again and again," Mateti said. "There is no waste, the process requires no harsh chemicals, and creates no by-products. Boron nitride itself is classified as a level-0 chemical, something that is deemed perfectly safe to have in your house. This means you could store hydrogen anywhere and use it whenever it's needed."
During the process, the boron nitride powder is placed into a ball mill (a type of grinder containing small stainless steel balls in a chamber) along with the gases that need to be separated. As the chamber rotates at a higher and higher speed, the collision of the balls with the powder and the wall of the chamber triggers a special mechanochemical reaction resulting in gas being absorbed into the powder.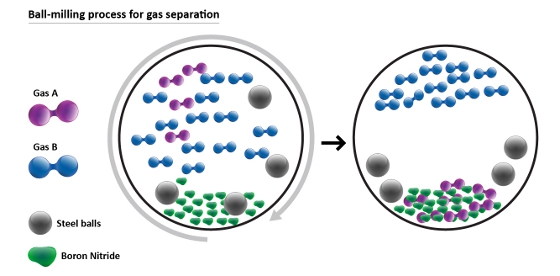 [Image Credit: Deakin University]
One type of gas is always absorbed into the powdered material quicker, separating it out from the others and allowing it to be easily removed from the mill. This process can be repeated over several stages to separate the gases one by one.
The ball-milling gas absorption process consumes 76.8 KJ/s to store and separate 1,000 L of gases. This at least 90% less energy than the energy used in the petroleum industry's current separation process.
Once absorbed into this material, the gas can be transported safely and easily. Then, when the gas is needed, the powder can be simply heated in a vacuum to release the gas unchanged.
The breakthrough is the culmination of three decades of work led by Professor Chen and his team and could help create solid-state storage technologies for a range of gases, including hydrogen.
"The current way of storing hydrogen is in a high-pressure tank, or by cooling the gas down to a liquid form. Both require large amounts of energy, as well as dangerous processes and chemicals," Chen said. "We show there's mechanochemical alternative, using ball milling to store gas in the nanomaterial at room temperature. It doesn't require high pressure or low temperatures, so it would offer a much cheaper and safer way to develop things like hydrogen-powered vehicles."
With their current research, the IFM team has been able to test their process on a small scale, separating about two to three liters of material. They hope, with industry support, it can be scaled up to a full pilot, and they have submitted a provisional patent application for their process.
"We need to further validate this method with industry to develop a practical application," Chen said. "To move this from the laboratory to a larger industry scale, we need to verify that this process is cost saving, more efficient, and quicker than traditional methods of gas separation and storage."
Source: Deakin University
Published March 2023
Rate this article