New Twin profile Rail Stage actuator improves accuracy in XYZ motion systems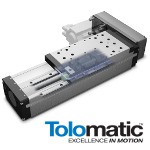 The new Twin profile Rail Stage (TRS) actuator from Tolomatic improves accuracy and increases production uptime on XYZ linear motion systems with two- or three-axis configurations. Applications include machining centers, collaborative robot movement, drilling, cutting, pick-and-place, material handling, and more.
Read the full article.
---
Super cool and versatile palletizing gripper: OnRobot 2FGP20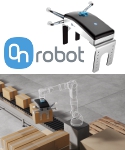 Palletizing just got easier and more affordable with the 2FGP20 from OnRobot, an off-the-shelf electric gripper with a payload of up to 20kg and endless customization possibilities to fit any automation needs. The 2FGP20 is an ideal solution that can be deployed and redeployed for multiple processes and handling different parts.
Learn more about the 2FGP20.
Learn more about palletizing.
---
Cobot packer helps with labor shortages and boasts 1-year ROI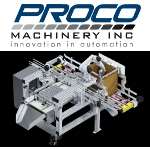 Proco Machinery's new Collaborative Robot Packer, which is designed to work alongside human operators to increase efficiency and performance, promises a one-year payback to customers, making it one of the industry's most effective solutions for reducing labor costs. The easily adaptable new robot packer can perform a range of tasks, from testing containers to packing them into cases. The system includes advanced sensors and software. It is modular and on castors, making it easy to use and flexible in operation.
Learn more.
---
NFPA cylinders provide a fit-and-forget solution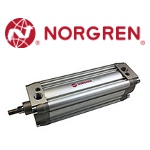 Norgren's latest range of NFPA pneumatic cylinders, the P-Series, offers a light and modernized design with standard adaptive cushions for changing speed and load to provide a fit-and-forget solution. P-Series is designed to offer consistent and reliable performance in a broad range of industrial automation applications. This actuator allows for simple installation and operation, reducing complexity and promoting longer machine life.
Learn more and get the full specs.
---
Micromotors help telescopes solve galactic mysteries by providing automatic, quick alignment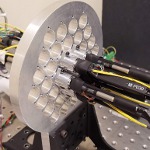 How can motor drives so small help unravel the mysteries of something so big? Learn how micromotors from FAULHABER are helping to usher in a new era of astronomical observation and discovery -- and are making the Sloan Digital Sky Survey telescope systems markedly faster in precise positioning along the way.
Read the full article.
---
What is Sensorless Closed Loop? Precise motor control without an encoder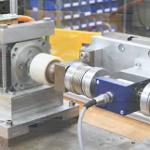 Matt Sherman, eMobility Sales and Application Engineer at KEB America, runs through different options to drive an AC motor, including one called "Sensorless Closed Loop" that does not require additional hardware such as encoder, resolver, or cables on the motor. Instead of an external sensor, the sensorless option uses a sophisticated motor model to close the loop.
Read this informative KEB America blog.
---
How to customize a base model electric linear actuator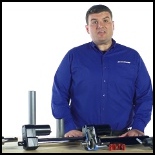 Chad Carlberg, Product Line Manager at Thomson Industries, runs through how to find the optimal balance of performance, life, and cost when it comes to electric linear actuator solutions. Your application may not require the fastest, sturdiest, most accurate, or even the least expensive option, after all. Learn how to create just the right balance for your needs. Some good details here.
View the video.
---
Smart Flex Effector from Bosch Rexroth makes robots more sensitive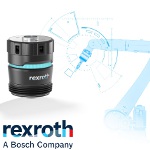 The Smart Flex Effector is a new, sensor-based compensation module from Bosch Rexroth that gives robots and Cartesian linear systems human-like sensitivity, offering new opportunities for factory automation. Typical applications include joining processes with minimal tolerances, complex assembly work, or difficult handling tasks. Errors and rejects are minimized, and teaching and commissioning can be carried out more easily and quickly.
Learn more.
---
Servo drives with Extended Environment capabilities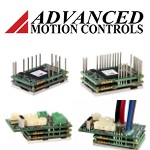 RS-485/232 FlexPro servo drives are now available with Extended Environment capabilities from ADVANCED Motion Controls. FlexPro is the perfect compact servo drive solution for robots, machines, and other motion control applications. Extended Environment servo drives push the boundaries to allow proper operation in conditions where other electronics fail. They can withstand both scorching and freezing temperatures, high and low pressures, shocks, vibrations, contamination, and other harsh conditions. These drives come in both PCB-mount and machine-embedded form factors.
Learn more.
---
Compact stepper drive offers greater smoothness, precision, torque density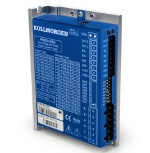 Kollmorgen has just released the new P80630-SDN stepper drive. Customers can now benefit from features such as smoothness, precision, and torque across the full speed range in a significantly more compact package that enables smaller, lighter, and more versatile machines. The P80630-SDN is an ideal solution for labelers, indexing tables, CNC machines, packaging systems, pumps, and other single- or multi-axis systems requiring low-speed, point-to-point motion control for fixed loads.
Learn more and get the specs.
---
New high-capacity, high-speed electric linear actuators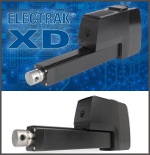 Thomson has introduced a high-capacity, high-performance electric linear actuator that gives motion system designers more cost-effective options to replace hydraulic cylinders. Among the many new features of the Thomson Electrak XD linear actuator is load handling up to 25,000 N (5,000 lb). The Electrak XD can also achieve operating speeds up to 75 mm/sec (3 in./sec) and duty cycles up to 100%.
Learn more.
---
New brushless DC motor design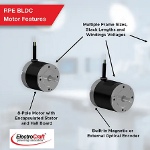 The ElectroCraft RapidPower Enhanced series (RPE series) is a new and innovative brushless DC (BLDC) motor design that combines performance, flexibility, and affordability to offer OEMs the perfect platform for a wide range of motion applications. This level of configurability enables the RPE series to be quickly acquired and adapted into your application. ElectroCraft's BLDCs integrate rare Earth magnets and an eight-pole encapsulated core design to provide high torque density, peak torques up to 300% of continuous ratings for short-time operation, wide speed ranges, and low cogging torque for ultra-smooth motion.
Learn more.
---
End-of-arm tooling components for vacuum pick-and-place systems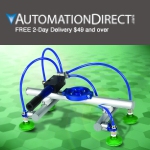 Automation-Direct now offers Schmalz end-of-arm tooling components for robot arm vacuum pick-and-place applications. Components can be purchased individually or in kits that include everything needed to create a single-beam or dual-beam end-of-arm tool. Kits are simple, save time and money, and include structural rails (which support optional internal vacuum), connectors, cup mounts, vacuum tubing, vacuum cups, fittings, a basic ejector, a flange for a Universal robot, and a blank robot flange. Components start at $8. Kits start at $995.
Learn more.
---
Dual encoder provides motor feedback and position measurement all in one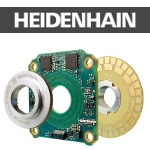 HEIDENHAIN's new KCI 120 Dplus unites two rotary encoders in a single device, offering high reliability in a rugged and extremely compact design. Once integrated into an application with up to SIL 3 safety, this unit can minimize malfunctions and facilitate the safe operation of machines and automated systems, including high-accuracy robotic systems and more. Thanks to its low 20-mm profile, this series is great for tight installation spaces. The encoders are particularly resistant to contamination and magnetic fields.
Learn more.
---
Great Resources: FAULHABER Drive Calculator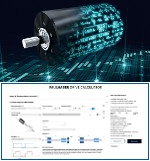 The FAULHABER Drive Calculator is an easy-to-use tool for developers to find a suitable drive system for a specific application in record time. The program uses global presets with common average values, but default settings can be adjusted to individual needs. A detail page for each drive system shows the calculated thermal values and performance diagrams as well as other important information and data. Changes can be made and recalculated on the fly. Suitable controls are also displayed to complete the drive system. At the end, the user can download the selected solutions as a PDF or request them directly online.
Learn more and see how the FAULHABER Drive Calculator works.
---
Southwest Research Institute develops device to test friction and wear associated with EV fluids
A Southwest Research Institute (SwRI) team has developed a mechanical testing device to analyze fluids and lubricants formulated for electric vehicles (EVs). The team modified a commercial tribology testing device to give it the capability to evaluate the impact of electric currents in fluids, measuring the wear and friction on the automobile parts in the presence of an applied voltage.
"The electrification of the automotive industry has accelerated over recent years, with future projections showing an exponential growth in market share for both light and heavy-duty applications," said Cole T. Frazier, research engineer with SwRI's Advanced Drivetrain Lubricants Section. "Traditional fluid testing tools, however, were not developed to effectively analyze lubricant properties in electrified environments. That extends to tribology testing as well."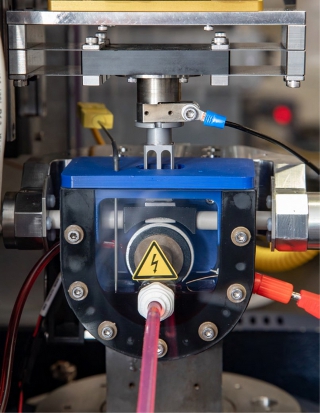 An internally funded SwRI project modified a commercial tribology testing machine to analyze the friction and wear associated with lubricants formulated for electric vehicles more effectively. [Credit: Southwest Research Institute]
Tribology is the study of friction, lubrication, and wear. The challenges for evaluating behavior in EVs is the presence of an applied electrical potential at component and lubricant interfaces. To meet this challenge, Dr. Carlos Sanchez, a senior research engineer in the Tribology Research and Evaluations section at SwRI, designed a new test apparatus to model the effects of electrification on rotating parts. This small-scale "bench test" was built around a traditional universal testing machine. The setup and test protocol were further developed by the team throughout the project.
The multidisciplinary team included Frazier, Sanchez, Nolan Erickson (Electrical Engineer), Dr. Peter Lee (Institute Engineer), Andrew Velasquez (Engineer), and Travis Kostan (Sr. Research Analyst).
Most EVs use alternating current (AC) induction or permanent magnet motors, which are powered by onboard battery packs. An inverter takes the direct current (DC) voltage input from the batteries and converts it to the AC power required to operate the vehicle's motor.
"The numerous rotating surfaces within EVs are exposed to voltage spikes during the DC-to-AC conversion process," said Sanchez. "The spikes and the inherent electric field in high-voltage environments can allow electric currents to flow through the surfaces, damaging the lubricants and materials that keep them moving smoothly."
According to the researchers, the speed of the DC-to-AC frequency conversion can cause local voltage spikes that require grounding. Motor bearings are often especially susceptible to electric currents flowing through them due to their location near the voltage spikes. The electric potential for the bearings can build until the voltage becomes strong enough to break down the thin film of lubricant separating the small metal ball bearings from the bearing raceways or bearing shells, which can cause surface damage and scarring.
The team developed and analyzed a test protocol for the new instrument that would best represent the actual system and produce relevant results. Using this new internally funded advancement, they tested several different commercial lubricants and measured wear scarring and friction on the bearing raceways and bearing shells. They found that electric potential across a fluid, whether the current is AC or DC, can affect wear and bearings friction by as much as 20%.
"SwRI specializes in creating custom tribology rigs and testing capabilities to allow the industry to test multiple lubricant formulations efficiently, without requiring full-scale testing," said Lee, who leads SwRI's tribology activities. "In this case, because lubricant breakdown is shown to be fluid-dependent, formulators can optimize their lubricants for specific EV drivetrains. SwRI's bench-scale testing capabilities will accelerate lubricant optimization, improving durability and increasing vehicle range through reduced friction."
The modifications and initial results were presented at the 2022 Society of Tribology and Lubrication Engineers (STLE) annual conference, the 2022 STLE E Mobility Conference, the Tribology Gordon Conference, and the Institution of Mechanical Engineers Sustainability Conference. Full results will be presented at the STLE Annual meeting in Long Beach May 16-20, 2023.
To learn more about SwRI's Tribology Research and Evaluations Section, visit swri.org/fuels-lubricants/tribology.
SwRI is also home to the Advanced Fluids for Electrified Vehicles Consortium, designed to advance industry understanding of the unique stressors placed on EV and hybrid vehicle fluids. Learn more at swri.org/industry/electric-mobility-solutions/advanced-fluids-electrified-vehicles-afev-consortium.
Source: Southwest Research Institute
Published March 2023
Rate this article