Bottom tapped rails available for quick ship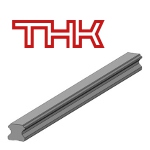 Bottom tapped rails are useful for mounting from the bottom of a base, as well as when contamination protection is required -- eliminating the need for bolt-hole caps. See the available models from THK, including standard and radial LM guides and standard and radial caged ball. All units are available for quick shipping.
Learn more.
---
Hybrid actuation system reduces energy consumption, simplifies designs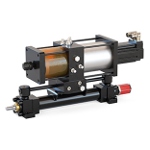 Learn how a leading manufacturer of household cleaning products solved its downtime problems due to an overloaded ball screw in its production-line electromechanical automated plastic cap dumping function. A Hybrid Actuation System (HAS) did the trick, combining the controllability of traditional electromechanical actuators with the power density, longer life, and failsafe conditions commonly found on traditional hydraulic systems.
Read this informative Parker blog.
---
Machine tending solution now compatible with any CNC machine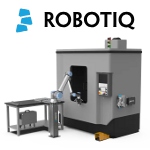 The Robotiq Machine Tending Solution has made automation accessible to businesses of all sizes, overturning the belief that automation is too complicated. The company says their part-feeding solutions can provide up to a 30% production runtime increase -- without communication cards, expensive wiring, custom programming, or permanent modifications.
Learn how to boost your CNC productivity.
---
How to implement redundancy in stepper motors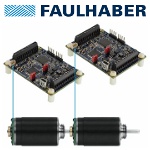 Some of the recent research activities in the area of electric motor drives for safety-critical applications (such as aerospace and nuclear power plants) are focused on looking at various fault-tolerant motor and drive topologies. After discussing different solutions, this article focuses on a miniature permanent magnet (PM) stepper motor design that provides increased redundancy.
Read this informative Faulhaber article.
---
Why choose electric for linear actuators? When precision, multiple positions, repeatability, or position feedback is important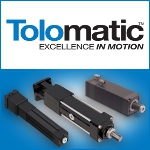 Tolomatic has been delivering a new type of linear motion technology that is giving hydraulics a run for its money. Learn the benefits of electric linear motion systems, the iceberg principle showing total cost of ownership, critical parameters of sizing, and conversion tips.
Read this informative e-book. (No registration required)
---
New mini gearhead for robotics, semiconductor fab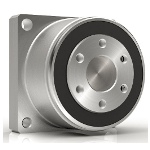 Harmonic Drive is proud to announce the release of its CSF-2XH mini gearhead designed for servo and stepper motors. Available with an output shaft or flange, these gearheads are offered in four sizes with gear ratios of 30:1 to 100:1 and peak torque of .5 to 28 Nm. These mini strain wave gears are ideal for applications such as semiconductor manufacturing and robotics. Available through Electromate.
Learn more.
---
Super cool and versatile palletizing gripper: OnRobot 2FGP20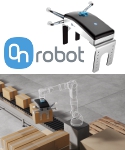 Palletizing just got easier and more affordable with the 2FGP20 from OnRobot, an off-the-shelf electric gripper with a payload of up to 20kg and endless customization possibilities to fit any automation needs. The 2FGP20 is an ideal solution that can be deployed and redeployed for multiple processes and handling different parts.
Learn more about the 2FGP20.
Learn more about palletizing.
---
New linear stages for increased load, speed, stroke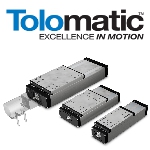 Discover the enhanced possibilities with Tolomatic's new size TRS 225 twin profile rail stage, offering expanded capabilities for precise and powerful linear motion in a closed-package design. This unit is built from the ground up to be highly rigid and accurate and is now available with strokes up to 86.6 in., travel speeds up to 50 in./sec, and load-carrying capacities up to 4,320 lb. Perfect for your heavy-duty needs.
Learn more.
---
Are ball splines right for your application?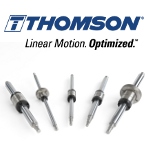 Thomson Industries says ball splines are making a comeback, because more opportunities for automation bring more axes of motion to machinery, and pre-packaged solutions may not have the flexibility you require. But are ball splines the right choice for your design needs? They have the unique capability of integrating rotary and linear motion on a single shaft.
Read the Thomson technical article.
---
New stainless steel AC inverter-duty gearmotors meet IP-69K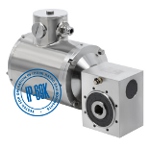 Bodine Electric Co. has introduced six new type 56R1-50JW/H hollow shaft gearmotors that combine a stainless-steel AC inverter-duty, 230/460 VAC motor with a stainless-steel hollow shaft gearhead. When used with an AC inverter (VFD) control, these gearmotors deliver variable speed and maintenance-free operation over a wide speed range. Ideal for equipment subject to intensive cleaning, such as food and beverage, pharmaceuticals, and permanently wet environments.
Learn more.
---
Extend your range of motion: Controllers for mini motors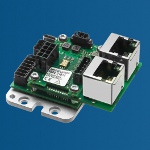 FAULHABER has added another extremely compact Motion Controller without housing to its product range. The new MC3603 controller is ideal for integration in equipment manufacturing and medical tech applications. With 36 V and 3 A (peak current 9 A), it covers the power range up to 100 W and is suitable for DC motors with encoder, brushless drives, or linear motors.
Learn more.
---
Motion systems: Check out THK's new online store!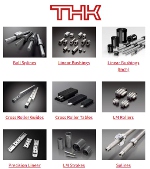 THK has launched a new online store that is chock full of your motion system needs. Check out their latest offerings for Linear Motion Products (guides, actuators, rails, splines, and rollers), Feed Screw Products (ball and lead screws), Rotation Products (cross roller rings and cam and roller followers), Oscillation Products (link balls, rod ends, spherical bearings), and more. Lubrication Products available too.
See the new THK store.
---
Advantages of slotless motors over standard stepper motors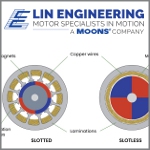 According to Lin Engineering, "Slotless motors have gone through innovations in design as well as manufacturing, making them a good choice for specific applications." This article explores the benefits and drawbacks of slotless motors and provides information that may help you decide when to -- and when not to -- select them as a solution.
Read the full article.
---
Intro to motor constants for fractional horsepower gearmotors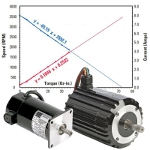 According to motor expert Bodine Electric, "Motor constants are needed to calculate permanent magnet DC (PMDC) or brushless DC (BLDC or EC) motor specifications and ratings, or to match the motor properly to an amplifier." You need the constants to predict the motor's performance with changing variables, such as different input voltages or different loads. This app note explains what the constants are, how they are derived. and how to use them. Very useful.
Read this informative Bodine Electric blog.
---
New wheel hub gearbox for AGVs and AMRs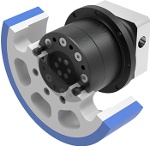 Drive your automated guided vehicles (AGVs) and autonomous mobile robots (AMRs) with the GAM GML Wheel Drive Gearbox. GAM's GML Series Wheel Drive Gear Reducer uses planetary gearing for a coaxial system. The motor mounts directly behind the wheel without axle offset for an inline drive from wheel to motor. Features a compact design with short overall length.
Learn more.
---
Southwest Research Institute develops device to test friction and wear associated with EV fluids
A Southwest Research Institute (SwRI) team has developed a mechanical testing device to analyze fluids and lubricants formulated for electric vehicles (EVs). The team modified a commercial tribology testing device to give it the capability to evaluate the impact of electric currents in fluids, measuring the wear and friction on the automobile parts in the presence of an applied voltage.
"The electrification of the automotive industry has accelerated over recent years, with future projections showing an exponential growth in market share for both light and heavy-duty applications," said Cole T. Frazier, research engineer with SwRI's Advanced Drivetrain Lubricants Section. "Traditional fluid testing tools, however, were not developed to effectively analyze lubricant properties in electrified environments. That extends to tribology testing as well."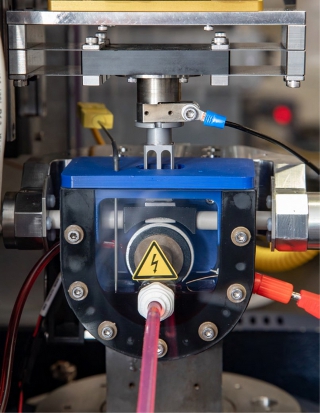 An internally funded SwRI project modified a commercial tribology testing machine to analyze the friction and wear associated with lubricants formulated for electric vehicles more effectively. [Credit: Southwest Research Institute]
Tribology is the study of friction, lubrication, and wear. The challenges for evaluating behavior in EVs is the presence of an applied electrical potential at component and lubricant interfaces. To meet this challenge, Dr. Carlos Sanchez, a senior research engineer in the Tribology Research and Evaluations section at SwRI, designed a new test apparatus to model the effects of electrification on rotating parts. This small-scale "bench test" was built around a traditional universal testing machine. The setup and test protocol were further developed by the team throughout the project.
The multidisciplinary team included Frazier, Sanchez, Nolan Erickson (Electrical Engineer), Dr. Peter Lee (Institute Engineer), Andrew Velasquez (Engineer), and Travis Kostan (Sr. Research Analyst).
Most EVs use alternating current (AC) induction or permanent magnet motors, which are powered by onboard battery packs. An inverter takes the direct current (DC) voltage input from the batteries and converts it to the AC power required to operate the vehicle's motor.
"The numerous rotating surfaces within EVs are exposed to voltage spikes during the DC-to-AC conversion process," said Sanchez. "The spikes and the inherent electric field in high-voltage environments can allow electric currents to flow through the surfaces, damaging the lubricants and materials that keep them moving smoothly."
According to the researchers, the speed of the DC-to-AC frequency conversion can cause local voltage spikes that require grounding. Motor bearings are often especially susceptible to electric currents flowing through them due to their location near the voltage spikes. The electric potential for the bearings can build until the voltage becomes strong enough to break down the thin film of lubricant separating the small metal ball bearings from the bearing raceways or bearing shells, which can cause surface damage and scarring.
The team developed and analyzed a test protocol for the new instrument that would best represent the actual system and produce relevant results. Using this new internally funded advancement, they tested several different commercial lubricants and measured wear scarring and friction on the bearing raceways and bearing shells. They found that electric potential across a fluid, whether the current is AC or DC, can affect wear and bearings friction by as much as 20%.
"SwRI specializes in creating custom tribology rigs and testing capabilities to allow the industry to test multiple lubricant formulations efficiently, without requiring full-scale testing," said Lee, who leads SwRI's tribology activities. "In this case, because lubricant breakdown is shown to be fluid-dependent, formulators can optimize their lubricants for specific EV drivetrains. SwRI's bench-scale testing capabilities will accelerate lubricant optimization, improving durability and increasing vehicle range through reduced friction."
The modifications and initial results were presented at the 2022 Society of Tribology and Lubrication Engineers (STLE) annual conference, the 2022 STLE E Mobility Conference, the Tribology Gordon Conference, and the Institution of Mechanical Engineers Sustainability Conference. Full results will be presented at the STLE Annual meeting in Long Beach May 16-20, 2023.
To learn more about SwRI's Tribology Research and Evaluations Section, visit swri.org/fuels-lubricants/tribology.
SwRI is also home to the Advanced Fluids for Electrified Vehicles Consortium, designed to advance industry understanding of the unique stressors placed on EV and hybrid vehicle fluids. Learn more at swri.org/industry/electric-mobility-solutions/advanced-fluids-electrified-vehicles-afev-consortium.
Source: Southwest Research Institute
Published March 2023
Rate this article