Cross roller ring can swing the loads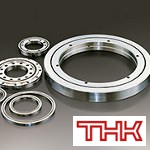 Because it has orthogonally arranged cylindrical rollers, the cross roller ring from THK is a roller bearing with high rotation accuracy capable of bearing loads in every direction. Cylindrical rollers are arranged with each roller perpendicular to the adjacent roller, in a 90-deg V groove, separated from each other by a spacer retainer. This design allows just one bearing to receive loads in all directions. This component is optimal for applications such as joints and swiveling units of industrial robots, swiveling tables of machining centers, precision rotary tables, and medical equipment. Rotation configurations include inner/outer ring, inner ring only, and outer ring only. A new micro cross roller ring is perfect to handle smaller applications.
Learn more about THK cross roller rings.
Learn about the Micro Cross Roller Ring RAU.
---
New clamp-style universal joints -- no shaft marring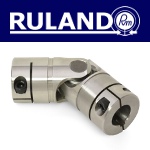 Ruland Manufacturing Co. has launched clamp-style universal joints, an innovative product that offers designers a standard, off-the-shelf solution that eliminates common issues associated with set screw or pin options. They promise easy installation, adjustability, and suitability for all shaft types -- and do not mar shafts like set screws that can potentially transfer material from the shaft into the system. The new clamp-style universal joints come with Ruland's unique Nypatch anti-vibration hardware, preventing screws from loosening or backing out during operation.
Learn more.
---
eBook: Adhesives for Sensor Applications
Epoxy compounds serve a critical role in sensor applications, helping to ensure optimal performance throughout the life of these devices despite exposure to harsh environments. Read these real-life Master Bond case studies published in peer-reviewed scientific journals and patents to learn more about adhesive formulations that may benefit your sensor application. No registration required.
Get this informative Master Bond eBook.
---
How Nord-Lock washers work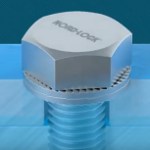 Can you get a design and functional edge with a wedge? In this animated video, Nord-Lock explains the principle behind their original wedge-locking technology, which secures bolted joints even when exposed to severe vibration and dynamic loads. The company says it is impossible for this washer type to loosen unintentionally, due to the wedge created underneath the bolt head and nut.
View the video.
---
New Standard Parts Handbook from JW Winco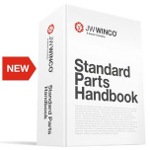 JW Winco's printed Standard Parts Handbook is a comprehensive 2,184-page reference that supports designers and engineers with the largest selection of standard parts categorized into three main groups: operating, clamping, and machine parts. More than 75,000 standard parts can be found in this valuable resource, including toggle clamps, shaft collars, concealed multiple-joint hinges, and hygienically designed components.
Get your Standard Parts Handbook today.
---
PBC linear shafts, bearings, and shaft supports from AutomationDirect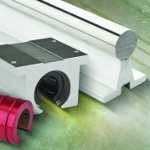 Automation-Direct has added PBC linear shafts, bearings, and shaft supports to their power transmission product category. PBC linear shafts are precision ground to provide an optimized surface for plain and ball bearings and are ideal for high-precision linear motion applications where tight tolerances are needed. Shafts are available in carbon or stainless steel with round and fully supported models in diameters from 1/4" to 1-1/4" and lengths from 6" to 36". Maintenance-free plain bearings or ball bearings available.
Learn more.
---
Great Resources: ABCs of gears and more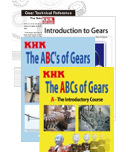 KHK USA takes you on a journey through the history and applications of gears in two information-packed, no-cost volumes called "The ABCs of Gears." Part A is aimed at beginners, while part B moves on to intermediate fare, such as types of gears and tooth forms, heat treatment, surface treatment, production methods, etc. Another mid-level text called "Introduction to Gears" and an in-depth "Gear Technical Reference" are also available. No registration required.
Click here to learn more.
---
New adhesive for automotive lighting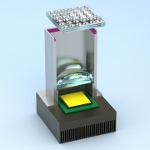 DELO has developed PHOTOBOND OB4189, a new adhesive for automotive lighting applications. It is extremely resistant to yellowing and, with its high aspect ratio, is particularly suitable for bonding microlens arrays, such as those found in headlights and projection systems. The adhesive also retains its shape after dispensing and does not flow, which is important for bonding microlens arrays.
Learn more.
---
Which parts should be 3D printed? AI combs through CAD files to find out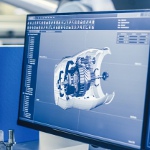 One of the biggest challenges in transitioning to additive manufacturing (AM) is the ability to identify which parts are best suited for the process quickly and easily. Learn how Danfoss, Stanley Engineered Fastening, and even the U.S. military have utilized advanced additive manufacturing software to automate the process, reducing material waste and energy costs, improving part reliability, decreasing lead times, as well as now having the ability to identify part consolidation opportunities through intelligent AM decision-making.
Read the full article.
---
9 key design tips for injection molding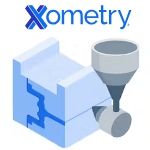 Keep costs down and quality up all while optimizing your injection molded designs with these helpful tips from Xometry. Learn how to build better injection molded parts and products -- using draft angles, ribs and gussets, radii, fillets, and more -- and set expectations for the injection molding process. Good info here.
View the video.
---
Metal additive manufacturing: Rocket turbopump design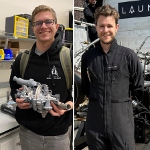 Mixing undergraduate curiosity and real-world engagement, two students from Colorado University Boulder Aerospace Engineering Sciences program, Zachary Lesan and Patrick Watson, started an independent effort on turbopump design and manufacture that is a lesson in determination and industry collaboration. With lots of supplies and advice from industry heavy hitters including Velo3D, CFturbo, SpaceX, and many more, their project has reinforced significant points being made about next-generation rocketry.
Read the full article.
---
Easy-to-detect plastic parts: Food processing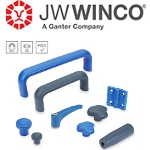 Foreign materials have no place in food, and yet undesired contamination makes its way into production processes time and time again. JW Winco has established a new line of standard parts made of plastic that are easy to detect -- visually and with metallic sensors -- even in pasty and opaque media. The visually detectable (VD) knobs, cabinet U-handles, hinges, hand levers, and three-lobe knobs are made of solid-colored blue plastic. The metal detectable (MD) standard parts are also made of blue plastic but contain additional additives with iron oxide. These parts can be used in both the food and pharmaceutical industries without reservation.
Learn more.
---
VariBlast air gun for safe and efficient blowoff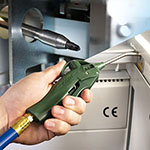 Safety and efficiency are coupled with ergonomic design and engineered air nozzle technology to produce the VariBlast Precision Safety Air Gun -- an essential tool for processes needing a handheld and effective blowoff solution. The lightweight unit with variable flow trigger from EXAIR provides a focused blast of air capable of handling tough jobs with remarkable ease.
Learn more.
---
Linear bushings with 70% longer service life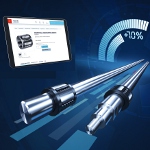 Bosch Rexroth's segmental linear bushings with plastic cage are used in a wide variety of industries to achieve a load capacity that is up to 20% higher and a service life that is up to 70% longer. They are part of a Rexroth round guide with a matching shaft. The particularly light and short linear bushings allow long working spaces and offer additional sealing options. They are also available as linear sets. Use the Linear Motion Designer (LMD) calculation program to select the right linear bushing for your needs.
Learn more.
---
Robotic machining just got a whole lot better! All-electric force compensator for robotic sanding, grinding, and deburring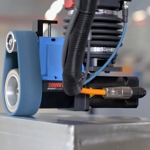 SUHNER's new end-of-arm EFC-02 active compliance system combines over a century of abrasives and material removal expertise with smart automation to deliver precise, constant force for robotic sanding, grinding, and deburring processes. The result is superior, consistent surface quality. EFC-02 is used for material removal or surface finishing -- even in tight or narrow spaces. It features simple robot programming for complex processes, Industry 4.0 functionality, and is fully compatible with angle grinders, orbital sanders, angle polishers, and straight grinders. Optional automatic changers for abrasives or belts are available.
Learn more and see how this new SUHNER innovation works.
---
New bio-based glues grow stronger in water
Patent-pending adhesive formulations developed at Purdue University from fully sustainable, bio-based components establish bonds that grow stronger when under water or exposed to wet conditions.
Gudrun Schmidt, an associate professor of practice in Purdue's Department of Chemistry, and a team of researchers developed the formulations from zein, a protein found in corn, and tannic acid. A paper about the team's research was published in the peer-reviewed journal ACS Applied Materials & Interfaces.
The adhesive formulations could be further developed and used in the restoration of coral reefs and have applications in the construction, manufacturing, biomedical, dental, food, and cosmetic industries.
Stronger in water
Schmidt and her colleagues conducted underwater adhesive experiments on their formulations using different surfaces and different waters, including seawater, saline solution, tap water, and deionized water.
"Interestingly, the water type does not influence performance a great deal, but the substrate type does," Schmidt said. "An additional unexpected result was bond strengths increasing over time when exposed to water, contradicting general experiments of working with traditional, petroleum-based glues. Initial adhesion underwater was stronger compared to benchtop adhesion, suggesting that water helps to make the glue stick underwater."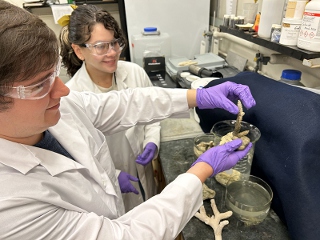 Aaron Mena (left) and Jennifer Garcia Rodriguez, graduate students in Purdue University's Department of Chemistry, affix corals using adhesive formulations developed from fully sustainable, bio-based components. [Credit: Purdue University photo/Gudrun Schmidt]
A protective skin formed on the surface of the adhesives when placed under water, which kept water from entering the rest of the material immediately. "But once the skin was in place, it could be broken to induce faster bond formation," Schmidt said.
The experiments also indicated maximum bonding at about 30 degrees C, then another increase at higher temperatures.
Schmidt said the process to make the adhesive formulations is a short one.
"We can use inexpensive, sustainably sourced, plant-based materials to make gallons of glue within hours," Schmidt said. "The adhesives are very simple to make in the lab or outdoors, everywhere on the planet."
The demand for nontoxic formulations
Schmidt said other researchers are formulating adhesives that mimic the glues used by mussels, barnacles, oysters, and sandcastle worms to adhere to the seafloor and other wet surfaces. Those best-performing formulations, however, are fully synthetic.
"Lengthy syntheses with the use of harsh chemicals may hold back their future development," Schmidt said. "Nontoxicity, sustainably sourced materials, and minimal environmental impact are increasingly in demand. Consequently, several groups have turned to developing new and remaking old adhesive systems using bioinspired or bio-based chemistry."
The increased demand of nontoxic materials has led to creating adhesives for biomedical applications. The resulting glues have properties similar to soft tissue. Schmidt said that bio-based adhesives have further applications.
"Once the in-vivo and biomedical realm is left behind, there is an entire world of other applications requiring metals, plastics, wood, and inorganic substrates that need adhesives to work in the presence of water," Schmidt said. "Food, oral, and cosmetic applications are less restrictive when it comes to purity of starting materials. Food-grade polymers can often be used for making wet adhesives. We also are working on dental applications, trying to make bonds in this wet and challenging environment."
Coral reef restoration
Schmidt said another particularly intriguing application for the patent-pending Purdue-developed adhesive formulations is the restoration of coral reefs.
"There are several major efforts, worldwide, planting young corals to replace those structures that are already dead," Schmidt said. "A major hindrance to these efforts is lack of suitable underwater adhesives that work well for this application."
Schmidt and her research team are working with the Coral Restoration Foundation, sending various formulations to be tested.
"We recently visited the Florida Keys to test a few formulations in bucketsful of ocean water," Schmidt said. "It is great to see our work outside of the research lab and in the real, wet world."
Schmidt disclosed the adhesive formulations to the Purdue Innovates Office of Technology Commercialization, which has applied for a patent to protect the intellectual property.
Source: Purdue University
Published September 2023
Rate this article