First-ever Mustang GTD: Street-legal and track-ready supercar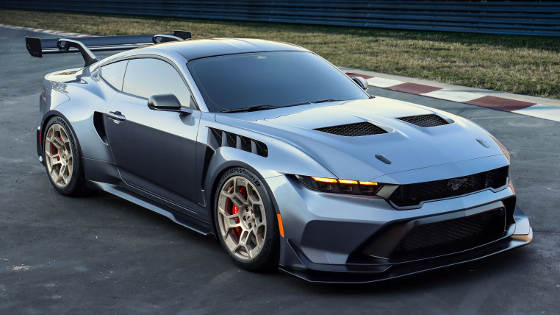 Hold on to your hat. Ford's limited-edition, ultra-high-performance Mustang GTD is a street-legal supercar meant to thrill. Designed and engineered as a collaboration between Ford and Multimatic and inspired by the Mustang GT3 slated to race in Le Mans next year, the first-ever Mustang GTD sports an 800-hp supercharged 5.2-liter V8 and a price tag as high as its incredible wing.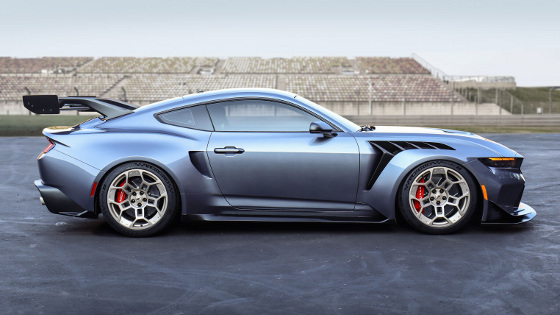 Sculpted mostly of carbon fiber, the Mustang GTD "shatters every preconceived notion of a supercar," says Jim Farley, Ford president and CEO. "This is a new approach for us. We didn't engineer a road car for the track, we created a race car for the road."
Every precision part of Mustang GTD is purposefully designed. It's built to be the quickest roadgoing Mustang ever.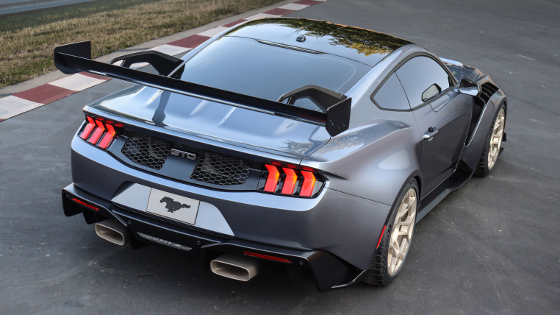 "The hardware has been carefully selected and developed to enable blistering lap time performance," says Greg Goodall, Ford chief program engineer, "The target for this project was clear: Go much, much faster than we've ever gone before with a targeted sub-7-minute Nürburgring time. This makes it the fastest roadgoing Mustang ever from Ford." 
Mustang GTD utilizes a purpose-developed supercharged 5.2-liter V8 with dual air inlets and the first dry-sump engine oil system fitted to a roadgoing Mustang to help keep the engine lubricated during sustained and demanding cornering. The engine's more than 7,500 rpm redline generates exceptional notes through the available titanium active valve exhaust system. It's the highest-horsepower street-legal Mustang ever developed by Ford.  
All of that power is sent from the engine to the rear wheels through a carbon fiber driveshaft connected to an 8-speed rear transaxle for near 50/50 weight distribution between the front and rear. Lap time drive simulations and powertrain dyno testing led to the selection of the powertrain and transaxle architecture to put power to the ground. Ford has not released 0-to-60 times or top speed data.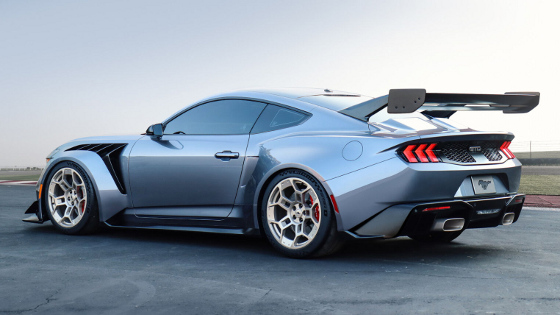 The Mustang GTD's exceptional performance is enhanced by a state-of-the-art semi-active suspension that can vary both spring rates and ride height. The adaptive spool valve damper technology with hydraulically actuated dual spring rate and height suspension provides two unique states that enhance on-road and on-track performance independently. The suspension settings allow for a nearly 40-mm lower ride height in Track Mode, and overall the car has a nearly 4-in. wider track than the Mustang GT.
A short-long arm front suspension provides enhanced lateral stiffness and improved kinematics especially in high-G cornering. The rear suspension features an integral link pushrod and rocker arm architecture where the inboard Adaptive Spool Valve shock absorbers and coil over springs are arranged in a horizontal cross pattern and integrated with a strong, stiff, and weight-efficient motorsport-style tubular subframe. The unique architecture creates a motion ratio from pushrod to damper of 1:1, so the car responds precisely to track conditions.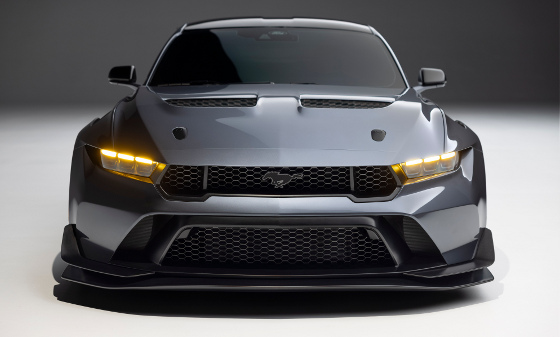 "We are extremely proud of our work on the Mustang GTD," says Larry Holt, executive vice president, Multimatic Special Vehicle Operations. "It showcases our state-of-the-art DSSV spool valve suspension technology, with features not even allowed in racing. The Mustang GTD sets a new benchmark for roadgoing racers, and we can't wait for clients to experience the thrill of driving it."  
Road grip and cornering stability for the Mustang GTD come from 325-mm-wide front tires -- as wide as the rear tires of Ford GT -- while the rear are 345 mm. These are mounted on 20-in. forged aluminum wheels or available forged magnesium wheels. The magnesium wheels offer the ideal combination of weight and durability and with a similar design to the Mustang GT3 race car.
Behind those wheels are massive Brembo carbon ceramic brakes, which are optimized for heat rejection leading to harder, more consistent stopping further into the braking zone. Rear brake heat is shed with the aid of cooling ducts mounted below the rear suspension.   
Mustang GTD features technology new to Ford with Variable Traction Control in track mode. This allows the driver to push the limits of the car by modulating engine output and traction control intrusiveness. Adjustments can be made without taking hands off the wheel, allowing the driver to match track conditions to their driving ability. 
The Mustang GTD also uses an advanced electrical architecture leveraged from the new seventh-generation Mustang, helping to offer seamless connectivity, a myriad of personalized driving modes, and over-the-air software updates.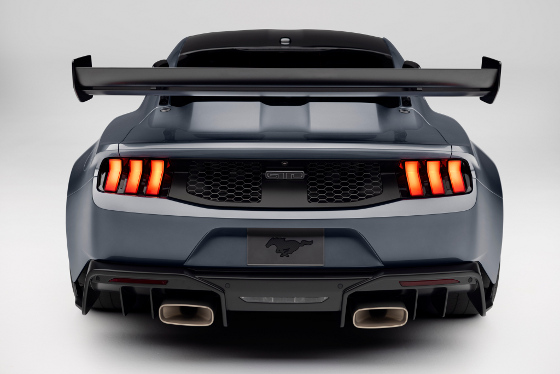 Mustang GTD takes advantage of the extensive use of carbon fiber body panels to reduce weight, lower the center of gravity, and improve responsiveness. The fenders, hood, cover that replaces the trunk lid, door sills, front splitter, rear diffuser, and roof are all carbon fiber with optional carbon fiber front and rear fascias.   
An available aero package that includes a comprehensive underbody aerodynamic tray is also executed in carbon fiber and includes features pioneered in motorsports racing, as well as some technology that would be illegal in racing, such as hydraulically controlled front flaps to manage airflow for aerodynamic balance in coordination with the active rear wing.
Where there once was a trunk is now the semi-active suspension, a hydraulic control system, and a transaxle cooling system that uses a race-inspired cover that replaces the trunk lid and includes two air scoops to funnel air off the back glass into the area and through the heat exchangers.
"Our design team worked in conjunction with the Mustang GT3 design team and the aero team, sharing solutions between race car and road car, and vice versa," says Anthony Colard, Ford Performance design manager, "This is an aerodynamics-driven design."
The combination of purposefully designed aerodynamic features will result in massive downforce balanced across both front and rear axles and will, in turn, drive corner speeds up, produce consistent control, and register incredible lap times if racing is your thing.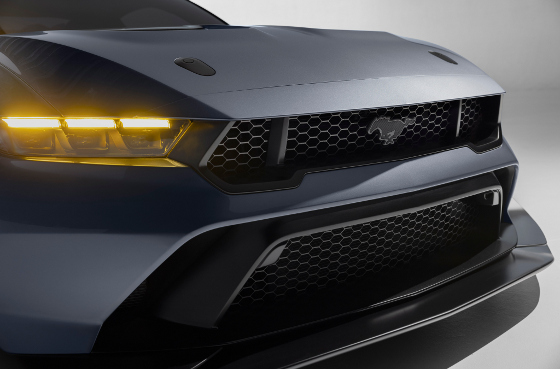 Ford has not released cockpit images yet, but the company says its elements "are finished in premium materials including Miko suede paired with leather and carbon fiber, while digital displays keep drivers engaged and in full command. RECARO seats optimized for track days are complemented by available 3D-printed titanium paddle shifters, rotary dial shifter, and serial plate, all made from retired Lockheed Martin F-22 titanium parts. The rear seating area has been removed to reduce weight and provide cargo space."    
Mustang GTD will be available with multiple interior color combinations and in several special option packages that take the exterior to another level. The car can also be ordered in any color, even color-matched to a customer-provided sample. These customizable options allow buyers to personalize their example should they choose to make it entirely unique.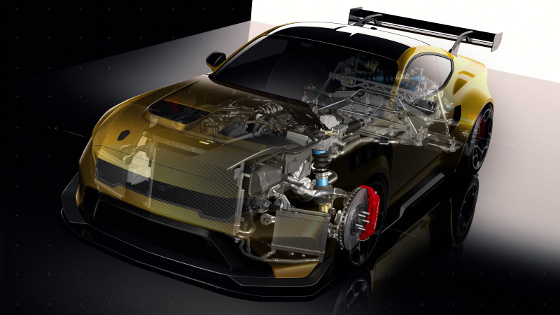 Remember we said to hold on to your hat? Well that wasn't for the incredible power the GTD will unleash for its drivers. It was for the price.
Suggested retail will be $300,000. Ford says Mustang GTD will be available in late 2024 to early 2025. Learn more at ford.com/performance/mustang-gtd/.
Source: Ford
Published September 2023
Rate this article