Panasonic solar and EV components available from Newark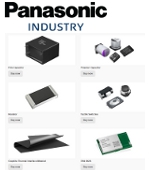 Newark has added Panasonic Industry's solar inverters and EV charging system components to their power portfolio. These best-in-class products help designers meet the growing global demand for sustainable and renewable energy mobility systems. Offerings include film capacitors, power inductors, anti-surge thick film chip resistors, graphite thermal interface materials, power relays, capacitors, and wireless modules.
Learn more.
---
Standard parts with signal feedback included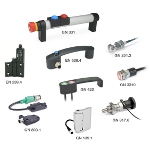 JW Winco standard parts are becoming even more functional -- multifunctional, to be precise. From smart stop bolts that report whether workpieces are precisely positioned in the machining process to cabinet handles with signal lights and fluid level indicators with electronic REED contact signals, intelligent standard parts from JW Winco ensure greater safety, higher efficiency, and increased stability. Many more very useful options available for a wide range of applications.
Learn more.
---
Create smarter control systems with relays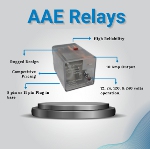 Control relays play a pivotal role in the world of automation and control systems. These versatile devices are designed to help you manage electrical circuits, making them indispensable for a wide range of applications. Learn the distinctive benefits of relays, including reliability and durability, versatility, ease of use, and costs. Check out the relays AA Electric has in stock too.
Learn more.
---
COMSOL Multiphysics Version 6.2 is here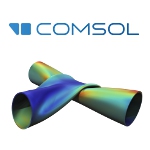 COMSOL Multiphysics Version 6.2 introduces faster solvers for turbulent fluid flow, electric motors, and room acoustics. It also brings data-driven surrogate model functionality for creating multiphysics-based digital twins and building fast and accurate standalone simulation apps. Get the full details of what's new in the latest version.
Learn more.
---
17 ways SOLIDWORKS 2024 helps you work faster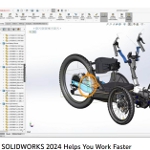 SOLIDWORKS 2024 helps designers and engineers work faster than ever. Learn all about improvements to core 3D CAD modeling features, new 3D modeling techniques, and graphical and software performance boosts that will help you get your parts made and your products developed in record time.
View the video.
---
6 tips to streamline workflow in Mastercam 2024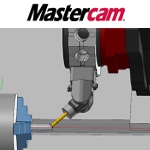 Mastercam 2024 CAD/CAM software has been intentionally upgraded to make programming fast and easy. It prioritizes streamlining workflow so that the entire machining process -- from design to QC -- is as efficient as possible. Learn how to maximize the benefits of Mastercam 2024, including special toolpaths, easier hole-making operations, wireframe shortcuts, and more.
Read this informative Mastercam blog.
---
Leak detection sensor for multiple HVAC refrigerants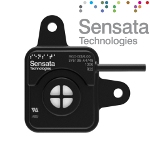 Sensata Technologies has launched the Sensata Resonix RGD sensor, the first leak detection sensor with UL certification for multiple A2L refrigerant gases used in heating, ventilation, and air conditioning (HVAC) equipment. It supports HVAC manufacturers' transition to refrigerants with a lower global warming impact. Typically mounted near the evaporator coil, the new sensor measures the acoustic resonance of the surrounding air in real time and can trigger mitigation, such as a fan, when A2L gas is detected.
Learn more.
---
New electro-pneumatic vacuum regulator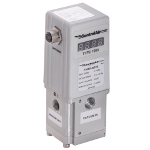 The Type 1005V Electronic Vacuum Regulator is the first electronic vacuum regulator offered by ControlAir. It is used in various industrial and automation applications to precisely control and regulate the flow of air or gases in a system. It has two solenoid valves, a pressure sensor, and an electronic board for precise control to ensure that the vacuum pressure remains steady.
Learn more.
---
Real-world applications: FUTEK 100 sensor examples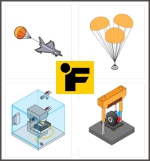 Get inspired. FUTEK has more than 100 real-world application examples for their load cells, force transducers, torque sensors, pressure sensors, and multi-axis sensors. From a cryogenic load cell on the Mars Curiosity rover to fly-by-wire multi-axis force and torque sensors for aircraft, learn about sensor systems, their specs, and design. Automotive, manufacturing, medical, robotics, and automation are covered too. Fascinating and highly practical.
Learn more.
---
Filter fans for enclosures: 70 models in new series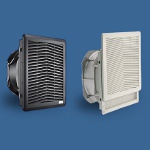 The new 4000 Series from Seifert Systems covers 70 UL-listed filter fan models designed for enclosure applications. They snap in place once a cutout is made in the enclosure. Mounting screws are available with EMC models or as an option. Filter media snaps in place and easily slides out for replacement. When used with a Seifert thermostat, 4000 Series filter fans can be turned on only when needed. Air flow ranges from 7 to 483 cfm.
Learn more.
---
What is 3D-MID? Molded parts with integrated electronics from HARTING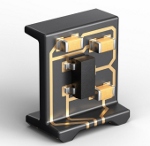 3D-MID (three-dimensional mechatronic integrated devices) tech combines electronic and mechanical functionalities into a single, 3D component. It replaces the traditional printed circuit board and opens up many new opportunities. It takes injection-molded parts and uses laser-direct structuring to etch areas of conductor structures, which are filled with a copper plating process to create very precise electronic circuits. HARTING, the technology's developer, says it's "Like a PCB, but 3D." Tons of possibilities.
View the video.
---
Need help with electronics connection design and manufacturing?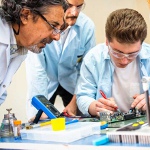 Conta-Clip combines electronics hardware and software development and production under one roof. Their comprehensive services range from simple-but-effective interface converters to complex control systems with touch displays and Ethernet connections. The company develops competitive connection solutions (including account costing) and closely cooperates with customers from needs analysis to prototype development, functional testing, series production, and even certification.
Learn more.
---
Rugged sensor measures surface temperatures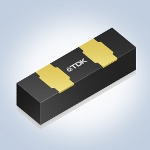 TDK's tiny new T850 SMT NTC sensor measures surface temperatures for applications such as heat sinks of power modules and monitoring of industrial processes. It combines high humidity resistance with fast response time due to excellent thermal coupling to the target. The sensor is suitable for harsh environments with temps from -40 C to 150 C and is waterproof to 500 hrs.
Learn more.
---
Inflatable EMI shielded RF enclosures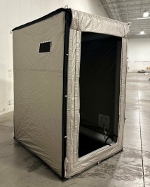 Saelig Company has introduced the Select Fabricators Series 700 EMI Enclosures -- reliable, portable, and lightweight RF and EMI shielding enclosures in standard sizes with a fast-up inflatable frame, ready for operation in less than 60 sec. No more aluminum tents. The Series 700 applies the same level of RF security obtained with previous RF/EMI shielded enclosures but is now made even more portable. Great for military operations, secure communications, mobile testing, emergency response, and more.
Learn more.
---
Haptic feedback prototyping kit from TDK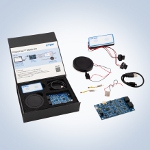 Get your customers to feel the difference your products make. TDK has just released a development starter kit for fast haptics prototyping. It gives mechanical designers and engineers first impressions of the haptic feedback using PowerHap piezo actuators, shows how the mechanical integration works, and provides a reference design. Applications include automotive, displays and tablets, household appliances, vending machines, game controllers, industrial equipment, and medical devices.
Learn more.
---
Researchers create miniature particle accelerator the size of a computer chip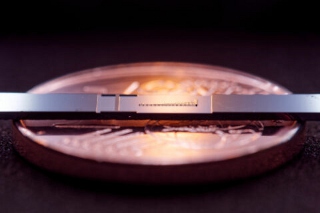 For the first time, FAU researchers have succeeded in measurably accelerating electrons in structures that are only a few nanometers in size. In the picture, you can see the microchip with the structures and, in comparison, a one-cent coin. [Credit: FAU/Laser Physics, Stefanie Kraus, Julian Litzel]
Particle accelerators are crucial tools in a wide variety of areas in industry, research, and the medical sector. The space these machines require ranges from a few square meters to large research centers. Using lasers to accelerate electrons within a photonic nanostructure constitutes a microscopic alternative with the potential of generating significantly lower costs and making devices considerably less bulky.
A team of laser physicists at the Friedrich-Alexander-Universitat Erlangen-Nurnberg (FAU) in Germany has now succeeded in demonstrating the first nanophotonic electron accelerator -- at the same time as colleagues from Stanford University. The researchers from FAU have published their findings in the journal Nature.
When people hear "particle accelerator," most will probably think of the Large Hadron Collider in Geneva, Switzerland, the approximately 27-km-long, ring-shaped tunnel that researchers from around the globe use to conduct research into unknown elementary particles. Such huge particle accelerators are the exception, however. We are more likely to encounter the devices in other places in our day-to-day lives, for example in medical imaging procedures or during radiation to treat tumors. Even then, however, the devices are several meters in size and are still rather bulky, with room for improvement in terms of performance.
In a bid to improve and decrease the size of existing devices, physicists around the world are working on dielectric laser acceleration, also known as nanophotonic accelerators. The structures they use are only 0.5 mm in length, and the channel the electrons are accelerated through is only about 225 nanometers (nm) in width, making these accelerators as small as a computer chip.
Particles are accelerated by ultrashort laser pulses illuminating the nano-structures. "The dream application would be to place a particle accelerator on an endoscope in order to be able to administer radiotherapy directly at the affected area within the body," explains Dr. Tomas Chlouba, one of the four lead authors of the recently published paper. This dream may still be far beyond the grasp of the FAU team, but they have succeeded in taking a decisive step in the right direction by demonstrating the nanophotonic electron accelerator device.
"For the first time, we really can speak about a particle accelerator on a chip," says Dr. Roy Shiloh, one of the paper's authors.
Guiding electrons + acceleration = particle accelerator
Just over two years ago, the team made their first major breakthrough: They succeeded in using the alternating phase focusing (APF) method from the early days of acceleration theory to control the flow of electrons in a vacuum channel over long distances. This was the first major step on the way toward building a tiny particle accelerator. Then, all that was needed to gain major amounts of energy was acceleration.
"Using this technique, we have now succeeded not only in guiding electrons but also in accelerating them in these nano-fabricated structures over a length of half a millimeter," explains Stefanie Kraus, also one of the paper's authors. While this might not sound like much of an achievement to many, it is a huge success for the field of accelerator physics. "We gained energy of 12 kiloelectron volts. That is a 43 percent gain in energy," says Leon Bruckner, the paper's fourth author.
In order to accelerate the particles over such large distances (when seen from the nano scale), the FAU physicists combined the APF method with specially developed pillar-shaped geometrical structures.
This demonstration is just the beginning, however. Now the aim is to increase the gain in energy and electron current to such an extent that the particle accelerator on a chip is sufficient for applications in medicine. For this to be the case, the gain in energy would have to be increased by a factor of approximately 100.
"In order to achieve higher electron currents at higher energies at the output of the structure, we will have to expand the structures or place several channels next to each other," says Chlouba.
Head-to-head race among physicists
What the FAU laser physicists succeeded in doing was demonstrated almost simultaneously by colleagues at Stanford University in the United States; their results are currently under review.
The two teams are now working together on the realization of an "accelerator on a chip" in a project funded by the Gordon and Betty Moore Foundation.
Source: Friedrich-Alexander-Universitat Erlangen-Nurnberg (FAU)
Published November 2023
Rate this article