Army aviator and engineer reunites with long-lost aircraft he helped design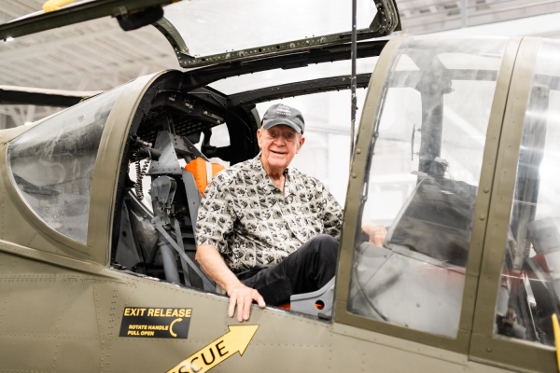 AH-56 Cheyenne Test Pilot David Schnitker sits inside the aircraft that he flew in 1969. [Credit: U.S. Army photo by Brittany Trumbull]
By Brittany Trumbull, U.S. Army, Fort Novosel, Alabama
The most popular love stories last a lifetime, but the unfortunate truth is that many end before their expiration date. Self-described Missouri farm boy turned Army aviator, David Schnitker, fell in love in 1969 and was reunited with his sweetheart 54 years later at the Army Aviation Museum at Fort Novosel in Alabama. Schnitker dreamt of this day for decades, leaving his wife envious for nearly just as long.
Since the age of five, Schnitker dreamt of flying. The journey was not an easy one from Kansas State ROTC to Fort Wolters, Texas, and finally arriving at Fort Rucker -- now known as Fort Novosel -- for continued flight training. Schnitker went on to fly combat missions in Vietnam from 1963 to 1964. After three years on active duty, he went to a California reserve unit and later worked for Lockheed in Burbank in the AH-56 Cheyenne program.
According to a 2018 U.S. Army article, "The AH-56 Cheyenne was the culmination of Lockheed's foray into helicopter development that utilized the rigid rotor system seen on the aircraft's predecessors, the CL-475 and the XH-51." The two-seater was more than 54 feet long and had a max speed of 212 knots. Along with a rigid main rotor, it sported low-mounted wings and a pusher propeller.
"In 1966, Lockheed was awarded a contract by the U.S. Army for 10 prototypes using this revolutionary design, and because of it the Cheyenne was capable of speeds still considered impressive by today's standards," the article said. Eventually, the program was canceled due to costs and other factors, but the copter was considered a remarkable engineering achievement.
"I worked for Lockheed engineering the design of the Cheyenne, wrote the proposal, went on flight status, and manned the first flight in the Cheyenne in September of 1969 out at Yuma Proving Ground," Schnitker said.
It didn't take long for Schnitker to develop a passion for the Cheyenne, but even the best relationships bring heartbreak along the way.
"After dedicating all of my work to the most advanced aircraft of its time, the Cheyenne, and even losing friends to the mission, having it cancelled was devastating," recalled Schnitker.
Zachary Taylor, Schnitker's grandson and documentary filmmaker, began the production of his own Cheyenne project in early 2022.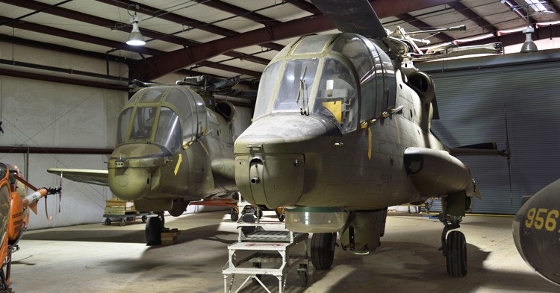 The AH-56 Cheyenne attack helicopter, which had its first test flight in 1967, is still considered to be a design that was way ahead of its time. [Credit: U.S. Army photo]
"Growing up he told stories of Vietnam, but I had never heard about the Cheyenne. Once he spoke about it, I thought there were some interesting things I had never heard and wanted to explore a little more. This led us to being here on Fort Novosel today." Taylor said.
Schnitker and Taylor visited Fort Novosel on Oct. 30, and began gathering footage of the actual aircraft that Schnitker flew in 1969. The experience of driving through the gates at Fort Novosel was pure nostalgia, Schnitker said.
"It carries so many memories. My son was born here, and it was a very fun time for me going through flight school. That was really the culmination of my dream of becoming a pilot. The Army let me do that, and I am very appreciative of my time here."
The U.S. Army was the landing zone that Schnitker needed to launch his dreams to become an aviator.
"Army Aviation is a great thing. This was the best flying job in the world. I also loved being a test pilot. Being here is just filled with lots of memories. You never forget it," he said.
Stepping back on Army Aviation soil was only the beginning of a memorable day for both grandfather and grandson alike. Schnitker had the opportunity to reacquaint himself with his beloved, the Cheyenne that he flew, and it was a sense of going home that only Army Aviators could comprehend, he explained.
"What a nostalgic adventure climbing in that old girl. It was fantastic. I just loved it. Like being with an old friend, I love that bucket of bolts and electronics," Schnitker said.
Taylor documented the experience via video production for the film. He isn't sure yet of the project timeline but knows that it deserves a large audience from the aviation community and beyond.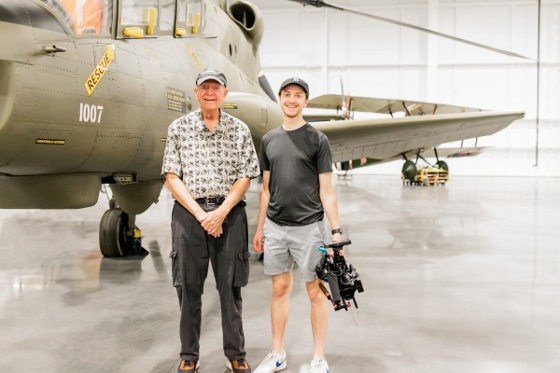 Schnitker and his grandson, Zachary, stand beside the AH-56 Cheyenne while filming a documentary. [Credit: U.S. Army photo by Brittany Trumbull]
"One of the motivations for this project is that we often hear about the success stories and less of the failed ones. The goal is to preserve that, and even if it's not commercial success, there is so much to gain and learn from in the project itself," he said.
An important mission for this documentary, according to Taylor, is to remind the public that what some see as failures are steppingstones to the success stories we often celebrate.
When asked how Schnitker felt about his grandson taking on this project, he was taken aback.
"It completely blows me away. It was strictly his idea, and it's such a nostalgic thing for me to relive the past. I love it. I love talking to people about the Cheyenne because there isn't a lot of history on it. You can see some videos on YouTube, if you see a shot of the Cheyenne with a missile coming out, I am probably flying," he said.
Schnitker was overcome with emotions being reunited with his beloved aircraft. He said that this was a day he has dreamed of but never imagined he would sit back in the seat of his Cheyenne again in his lifetime.
"I've now lived out another dream here at the Home of Army Aviation." Schnitker said.
For more information on the AH-56 Cheyenne, read "AH-56 Cheyenne still an aircraft 'way ahead of its time'" on Army.mil.
Published November 2023
Rate this article