Customize your geared stepper motors online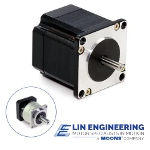 Lin Engineering's hybrid stepper motors matched with High Precision Planetary Gearboxes are the perfect solution for applications that require higher torque. Their gearboxes are designed and manufactured in-house and offer low backlash and high efficiency. They are available in multiple popular gear ratios including 5:1, 10:1, 20:1, and 50:1.
Learn more.
---
Solenoids vs. voice coil actuators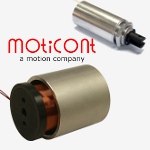 What are the differences between solenoids and voice coil actuators? Engineers at Moticont have the answers in a new blog entry. Both of these devices are electromechanical units capable of accomplishing similar tasks. Learn the major differences between the two so you can select the correct device type for your application.
Read the Moticont blog.
---
New PressFit encoders for small motors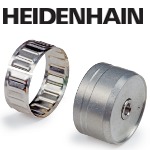 With the introduction of the evolutionary PressFit rotary encoders from HEIDENHAIN, small-motor manufacturers finally have a better solution for incorporating automated mounting for feedback devices. This new ExI 11xx encoder series features a unique compact design that allows fast and simple mounting by press-fitting into a motor housing while still allowing surrounding space for cables and seals. PressFit encoders are made for integration into motors with a flange size as small as 40 mm x 40 mm or an axis height of only 20 mm.
Learn more.
---
4-axis motion controller for highly dynamic applications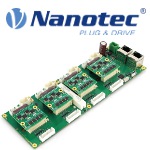 The CM-CPB3-44 EtherCAT controller from Nanotec controls four brushless DC or stepper motors with a rated power of up to 150 W per axis. Feedback on the motor position is provided by Hall sensors or incremental or SSI encoders. Each axis is equipped with four digital inputs, two outputs, one analog input, and one output for a safety brake. Field-oriented torque, speed, and position control, combined with other features such as acceleration feed forward and jerk-limited ramps, ensure optimum dynamic performance and cycle time.
Learn more.
---
Robot-ready frameless servo motors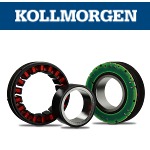 The new TBM2G series of frameless servo motors from Kollmorgen introduce new features that simplify the design of collaborative, surgical, aerospace and defense, and other robots while delivering high-performance torque in a lighter, more compact package. These next-gen motors enable robots with lower joint weight, higher load-carrying capacity, improved energy efficiency, lower thermal rise, and faster, smoother movements. Sized for a perfect fit with readily available strain wave systems.
Learn more.
---
Mini motors and drive systems on-demand webinars: Chock full of informative details!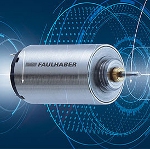 Faulhaber has made available a library of on-demand webinars about its miniature motors and drive systems. Each presentation is full of product details, technology overviews, selection help, design tips and tricks, and application examples. Topics include: stepper motors, brushless motors, DC motors, linear motors, encoders, gearheads, motion controllers, and more. Filled with useful information!
View the Faulhaber webinar library page.
---
High-speed linear VCA with built-in encoder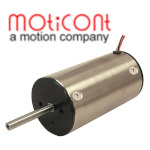 Moticont has added a high-speed, high-acceleration/-deceleration, non-cogging, high-resolution, high force-to-size electric cylinder to its extensive product line of linear voice coil actuators (VCAs). The new SDLM-051-095-01-01 Linear DC Actuator features high repeatability, 1.25-micron resolution, and a continuous force of 33.9 N (7.6 lb). A linear encoder mounted internally provides the feedback for very high accuracy and repeatability.
Learn more.
---
Guide to machine shop automation
We know that collaborative automation starts with your specific needs: your shop, your employees, your products. OnRobot can help you find the easiest and most cost-effective way to get started with automation. Download our free ebook to learn how to transform your machine shop with automation.
1. Download your ebook.
2. Learn how to build your own robotic machine tending application.
---
Mini medical motor with way more torque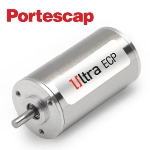 Portescap's 22ECP35-2A brushless motor with integrated driver is the company's latest addition to its Ultra EC mini brushless DC motor line. This compact, 22-mm diameter motor is available in a length of 35 mm and offers almost 50% more continuous torque over similar motors without compromising on smooth operation and long life. The integrated motor drive is a good fit for applications such as respiratory and ventilation devices, infusion pumps, miniature industrial pumps, medical hand tools, and valve actuation.
Learn more.
---
Miniature linear guides simplify mounting in tight spaces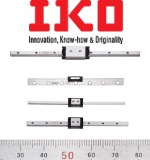 IKO's new LWLF2 linear motion rolling guide addresses the demand for device miniaturization with a compact, lightweight design that makes mounting easy in tight spaces. With an ultra-small 2.5-mm height dimension, it is designed with tapped rails for bottom mounting and stability. The LWLF2 guide is structured with two rows of balls that make contact with the raceway at four points to provide high stability and accuracy -- even in applications with varying load direction or complexity. Applications include robotics and grippers, semiconductor fabrication, life science, and aerospace.
Learn more.
---
Motors for the robotics industry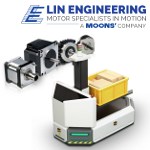 Lin Engineering has been supporting the robotics industry for more than 30 years by designing and manufacturing a wide variety of motion control products that include hybrid step motors, PM steppers, linear actuators, BLDC motors, servo motors, frameless BLDC motors, and slotless BLDC motors. Applications include manufacturing robots, delta robots, collaborative robots, and more.
See all Lin Engineering has to offer.
---
NEMA 24 stepper motor with best-in-class power density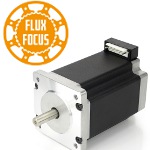 Permanent magnets between the stator teeth make Nanotec's SCB6018 with 60-mm flange a smooth-running -- yet powerful -- stepper. FluxFocus technology guides the entire magnetic flux into the stator teeth. This prevents flux leakage and provides more torque across all speeds. This motor generates a holding torque up to 3.6 Nm. Combined with a closed-loop controller, the SCB6018 is ideal for use in valves and textile or other applications that require rapid acceleration over a short distance.
Learn more.
---
In-wheel motor unit upgraded to carry 500 lb
If you are a developer of mobile robots and the like, it may be worth your while to check out ElectroCraft. The motor and motion solutions provider has expanded its award-winning MobilePower wheel drive family with the MPW86, which features a high-torque-density brushless DC motor with a heavy-duty integrated planetary gearbox mounted inside the hub of a lightweight aluminum wheel with custom tread. The MPW Wheel Drive combines optimum performance with high efficiency, quiet operation, and long life -- and now it can handle heavier loads.
Read the full article.
---
SMART SYSTEM belt-driven linear actuators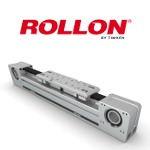 Rollon has updated its SMART SYSTEM lineup of belt-driven linear actuators with a rugged new design that supports heavy loads and ensures low-maintenance operation in automated manufacturing, packaging machines, and food and beverage equipment. The actuators have a self-sustaining anodized aluminum frame and a steel-reinforced driving belt, and they are engineered to provide stiffness for greater load capacity. Symmetrical heads on both ends of the actuators allow users to assemble the gearbox in one of four different positions. The SMART SYSTEM also simplifies creating multi-axis systems.
Learn more.
---
New Twin profile Rail Stage actuator improves accuracy in XYZ motion systems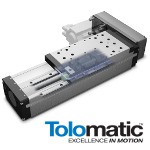 The new Twin profile Rail Stage (TRS) actuator from Tolomatic improves accuracy and increases production uptime on XYZ linear motion systems with two- or three-axis configurations. Applications include machining centers, collaborative robot movement, drilling, cutting, pick-and-place, material handling, and more.
Read the full article.
---
NASA begins work to build quieter supersonic passenger jet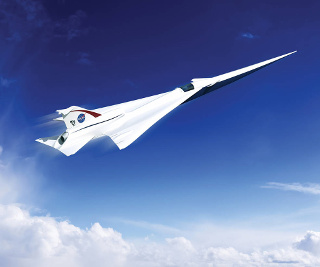 This is an artist's concept of a possible Low Boom Flight Demonstration Quiet Supersonic Transport (QueSST) X-plane design. The award of a preliminary design contract is the first step toward the possible return of supersonic passenger travel -- but this time quieter and more affordable. [Credits: Lockheed Martin]
The return of supersonic passenger air travel is one step closer to reality with NASA's award of a contract for the preliminary design of a "low boom" flight demonstration aircraft. This is the first in a series of 'X-planes' in NASA's New Aviation Horizons initiative, introduced in the agency's Fiscal Year 2017 budget.
NASA Administrator Charles Bolden announced the award at an event Feb. 29 at Ronald Reagan Washington National Airport in Arlington, VA.
"NASA is working hard to make flight greener, safer, and quieter -- all while developing aircraft that travel faster, and building an aviation system that operates more efficiently," said Bolden. "To that end, it's worth noting that it's been almost 70 years since Chuck Yeager broke the sound barrier in the Bell X-1 as part of our predecessor agency's high-speed research. Now we're continuing that supersonic X-plane legacy with this preliminary design award for a quieter supersonic jet with an aim toward passenger flight."
NASA selected a team led by Lockheed Martin Aeronautics Company of Palmdale, CA, to complete a preliminary design for Quiet Supersonic Technology (QueSST). The work will be conducted under a task order against the Basic and Applied Aerospace Research and Technology (BAART) contract at NASA's Langley Research Center in Hampton, VA.
After conducting feasibility studies and working to better understand acceptable sound levels across the country, NASA's Commercial Supersonic Technology Project asked industry teams to submit design concepts for a piloted test aircraft that can fly at supersonic speeds, creating a supersonic "heartbeat" -- a soft thump rather than the disruptive boom currently associated with supersonic flight.
"Developing, building, and flight testing a quiet supersonic X-plane is the next logical step in our path to enabling the industry's decision to open supersonic travel for the flying public," said Jaiwon Shin, associate administrator for NASA's Aeronautics Research Mission.
Lockheed Martin will receive about $20 million over 17 months for QueSST preliminary design work. The Lockheed Martin team includes subcontractors GE Aviation of Cincinnati and Tri Models Inc. of Huntington Beach, CA.
The company will develop baseline aircraft requirements and a preliminary aircraft design with specifications, and provide supporting documentation for concept formulation and planning. This documentation would be used to prepare for the detailed design, building, and testing of the QueSST jet. Performance of this preliminary design also must undergo analytical and wind tunnel validation.
In addition to design and building, this Low Boom Flight Demonstration (LBFD) phase of the project also will include validation of community response to the new, quieter supersonic design. The detailed design and building of the QueSST aircraft, conducted under the NASA Aeronautics Research Mission Directorate's Integrated Aviation Systems Program, will fall under a future contract competition.
NASA's 10-year New Aviation Horizons initiative has the ambitious goals of reducing fuel use, emissions, and noise through innovations in aircraft design that departs from the conventional tube-and-wing aircraft shape.
The New Aviation Horizons X-planes will typically be about half-scale of a production aircraft and likely are to be piloted. Design-and-build will take several years, with aircraft starting their flight campaign around 2020, depending on funding.
Source: NASA
Published March 2016
Rate this article