Mike Likes: TI doubles power density with motor control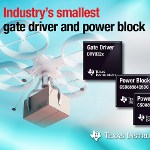 Texas Instruments recently introduced two new device families that help reduce size and weight in motor drive applications. When used together, the brushless DC (BLDC) gate drivers and power blocks require half the board space of competing solutions. An 18-V compact BLDC motor reference design demonstrates how these components can drive 11 W/cm3 power and enable engineers to jump start their designs for smaller, lighter weight power tools, integrated motor modules, drones, and more.
Read the full article.
---
Cool Tools: Laser scanner for reverse engineering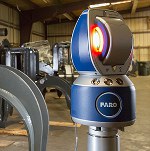 The new FARO Laser Tracker Vantage product family sets a new price/ performance standard for addressing challenges in large-scale metrology such as assembly alignment, part and assembly inspection, machine installation and alignment, and reverse engineering. Two high-performance Vantage models are available: E model (operating range to 25 m) and S model (operating range to 80 m). Both compact units offer industry-leading portability with an integrated master control unit (MCU), hot swappable batteries that eliminate the need for AC power and cabling, and industrial-grade Wi-Fi. A single carrying case makes for easy transport.
Click here to learn more.
---
Specifying intrinsically safe remote monitoring sensor systems for hazardous environments

Josh Schadel from SignalFire Telemetry lays out the plan for how to specify remote monitoring sensor systems for hazardous environs such as a tank- or well-level monitoring application that involves the storage of dangerous or volatile materials. Intrinsically safe (IS) equipment is designed so that energy levels are low enough not to generate an arc, spark, or temperature that could ignite an explosive area. IS equipment differs from explosion-proof (XP) systems where ignition is contained within an enclosure so as not to ignite the explosive environment.
Read Schadel's informative blog post.
---
Passive component design kit for IoT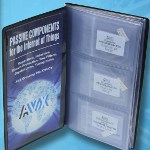 The new Passive Components for the Internet of Things Design Kit (Part No. KIT-IOT) from AVX allows engineers to quickly identify effective solutions for IoT devices with widely varying requirements for power, data-processing speed, form factor, and price. The kit contains RF microwave components (capacitors, inductors, circuit protection, and SAW filters), input voltage filtering and decoupling devices, and high-precision crystal products to address a wide span of IoT applications including: wearable devices, smart-home applications, medical electronics, industrial automation tasks, connected cars, and traffic control.
Click here to learn more.
---
Cool Tools: New Fluke motor diagnostics tool incorporates machine learning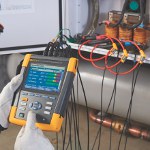 Fluke and Veros Systems have collaborated on asset performance and condition monitoring technologies to increase visibility into the efficiency and reliability of electric motor-driven machines. The Fluke 438-II Power Quality and Motor Analyzer is the first tool to result from that partnership. It analyzes three-phase power-quality measurements and uses an innovative method developed by Veros to calculate motor output torque, speed, horsepower, and efficiency. Using this information, engineers and technicians can evaluate system performance and detect overload conditions while the motor is operational, without the use of any mechanical sensing devices such as tachometers, strain gauges, or other intrusive sensors.
Click here to learn more.
---
Light pipes used in jetpack controls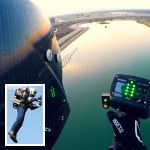 Here's a neat application for you: LPC rigid light pipes from VCC were used in an advanced jetpack pilot warning display. Light pipes (light guides) transmit light from an LED mounted on a PCB board to the user interface to communicate vital information. The light pipes offer design flexibility, easy installation, and multiple LED packaging options. The LPC rigid light pipe was selected due to its rugged material, easy assembly, superb daylight visibility, and wide 160-deg viewing angle.
Read the VCC case study here.
Check out VCC's full line of light pipes, indicators, displays, and LEDs.

---
Wireless and batteryless pull-wire switches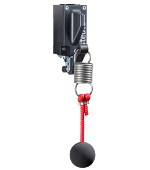 Wireless pull-wire switches from Steute Industrial Controls feature an internal electrodynamic energy generator. No battery required! Displacement of the actuator generates power to send a unique, coded telegram to one or more compatible, easily programmed receivers. If the pull-wire switch does not receive a signal that the telegram was received by the receiver within 15 ms, it transmits a second telegram. Transmits at 915 MHz. Maximum nominal transmission range: 164 ft (50 m) indoors, 2,300 ft (700 m) outdoors. Check out the full range of clever wireless switches from Steute.
Click here to learn more.
---
Infrared LED optimizes license plate recognition and more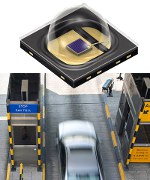 Osram Opto Semi-conductors is expanding its family of high-power infrared Oslon LEDs for illumination solutions to include a new wavelength, 810 nm. The new SFH 4703AS infrared emitter will improve the performance of inspection and scanning camera systems, such as those used to read license plates. The additional wavelength enhances image contrast, making it easier to read patterns from recorded images at any time of day. At 1 amp current, the emitter generates 1 W of optical power. With this new device, designers can now choose from mutually compatible emitters in three different wavelengths.
Click here to learn more.
---
Automation: Robotic joint control how-to

Versatile and adaptive robotic armatures have the benefit of increasing manufacturing productivity by automating and performing complex, repetitive tasks 24/7. Designed to obey commands or to work in unison as cooperative robots (cobot/co-robot), these robots greatly simplify the design of automation systems. To further improve performance, reaction torque sensors are placed in-line with the drive motors inside each joint, allowing development of closed loop control laws to ensure smooth, repeatable, and efficient arm motion.
Learn about precision torque feedback for robotic arms and co-robots.
---
Tiniest load cell yet!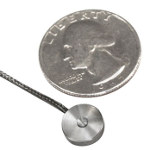 The LLB130 Miniature Load Button from FUTEK has a capacity range from 1,000 g to 50 lb and is RoHS compliant. All capacities are in stock and ready to ship. This mini load cell features low deflection and fast response time, and it is fully internally temperature compensated.
Click here to learn more.
---
New super-accurate magnetic scales equal the quality of optical scales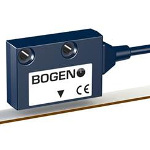 BOGEN has introduced a more compact version of its magnetic measuring head IKS9. In addition to an 11-mm-wide body, IKS9 is now available in a 9-mm width to be used in the most confined spaces, providing the highest accuracy for magnetic measurements with freely selectable resolutions. The IKS9 impresses customers in automation, instrumentation, and motion control applications with its extremely high accuracy and a particularly high degree of modularity. Distributed in the USA by Electromate.
Click here to learn more.
---
Mike Likes: Latest thermal imaging for smartphones, tablets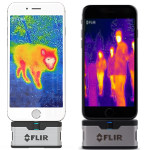 The third-generation FLIR ONE provides a powerful, introductory-level thermal camera that attaches to iOS or Android devices. Featuring the new OneFit adjustable-height connector, including a USB-C version for Android, the latest FLIR ONE easily attaches to more smartphones without needing to remove your phone case. As the most affordable FLIR ONE to date at $199.99, this unit is the perfect camera to introduce people to the benefits of thermal imaging. Also comes in a PRO version for $399.99. Available the first half of 2017.
Click here to learn more.
---
Carbon-composition resistors for non-inductive pulse handling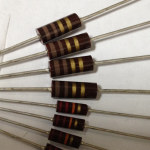 The RC Series of carbon composition axial leaded resistors from Stackpole is an outstanding choice for high-speed or high-energy pulse handling requirements. The large mass of the carbon resistive element efficiently dissipates high-energy surge events, while the almost negligible inductance allows for higher switching speeds than comparable wirewound resistors. Carbon Comp remains a favorite choice for switch mode power supplies as well as many other snubber and energy-dumping applications. It is also a popular choice for surge withstanding in meters and data collection devices as well as a variety of lighting products. Available in 1/4-W and 1/2-W sizes in resistance values from 1 ohm up to 22 Meg ohm. Standard tolerances are 5 and 10 percent.
Click here to learn more.
---
Power converter for industrial, smart grid, e-mobile applications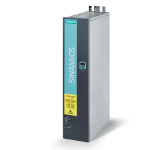 Siemens has a new addition to its popular Sinamics DCP product family of scalable (4X), bi-directional DC-DC drives. The DCP 120 kW facilitates the integration of larger energy-storage systems such as batteries and supercapacitors into multi-generator applications for a wide variety of industrial, smart grid, marine, and e-mobile uses, including photovoltaics, fuel cells, wind power, and high-dynamic uses such as peak shaving. This new drive features combined buck/boost capability in a single device for optimized interconnection between DC sources and energy-storage devices plus the DC link for both motor inverter and infeed/grid inverter.
Click here to learn more.
---
Ultra-miniature in-line load cell

Introducing FUTEK's brand new in-line load cell: the LCM100 model. It's an ultra-miniature threaded load cell that has a capacity range of 1,000 g to 25 lb. RoHS complaint, the load sensor is great for both tension and compression applications. The most impressive feature of the LCM100 is its very low deflection, which allows it to provide high response rates and superior settling times.
Check out this video!
---
New NIST challenge brings 'indoor GPS' apps closer to reality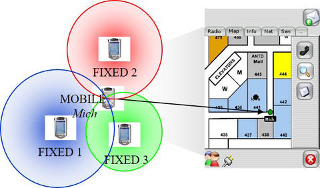 While GPS rarely works well indoors, NIST research into 'indoor localization' could allow smartphones to pinpoint your location in large buildings -- potentially helping emergency response teams. [Credit: N. Moayeri/NIST]
GPS usually works great outdoors, but what if you're disoriented in a large building such as a museum or a mall? There are no smartphone apps for indoor navigation, but new data collected by the National Institute of Standards and Technology (NIST) -- and a competition to find the app developers who can make the best use of it -- may help solve the problem.
A NIST-led research team spent more than 18 months collecting data from four different smartphone models to facilitate the development of indoor navigation apps. The data, which includes smartphone sensor readings, radio frequency (RF) signal strengths, and GPS fixes, should help developers create better apps to assist users in finding their way inside unfamiliar buildings.
Such "indoor localization" tools could help emergency responders find victims -- or each other -- when seconds count. They also could assist with locating specific works of art in large museums or misplaced equipment in hospitals, factories, or warehouses.
In the future, if you ask your smartphone where you are, it will create the answer using many bits of disparate information -- among which are signals received from Wi-Fi access points and local cell towers that it can use to triangulate your location. It will also use its internal sensors, such as accelerometers and gyroscopes, which tell it how far you might have moved and in which direction since its last signal check. But the lack of validated testing has made their results untrustworthy.
"The user community has expressed the need for careful testing of indoor localization solutions," said Nader Moayeri, NIST's principal investigator on the project. "Fire departments, for example, strongly desire ways to find a comrade who's fallen inside a burning building, and who may die because he cannot determine the exit location due to low visibility from smoke or some other reason. Fire departments need to know how well these solutions are going to work before they invest their limited financial resources in them." The people who first responders are seeking to help need a solution just as badly. The FCC estimates that more than 10,000 lives can be saved annually with better and timely location information for 911 calls placed from cellphones, many of which are made from indoor locations.
The NIST team walked the smartphones along 30 different set courses in four different buildings, including factory, warehouse, and subterranean settings. At numerous predetermined locations along each course, the researchers created "timestamps" on all the phones corresponding to the times the person collecting the data was going over test points on the floors, whose locations had been professionally surveyed. The resulting data is now freely available online to the general public for developing smartphone indoor localization apps.
To encourage their development, NIST is sponsoring a competition called PerfLoc to generate the best apps from the developer community. Developers have until Aug. 17, 2017, to create computer algorithms that can make sense of the data and to submit their estimates of the smartphones' locations along the courses. The team has developed a methodology to evaluate the algorithms' performance over the internet.
By making the data available to everyone, NIST is giving a chance to individual app developers and smaller companies that may not have the resources to collect their own data. In addition, by using the same data sets for developing the apps and evaluating their performance, it will be possible to compare the performance of the resulting apps.
NIST is offering cash prizes of $20,000, $10,000, and $5,000 to the top three submissions. The grand prize winner will also be flown to a conference in Japan to present their idea and do a live demonstration of their app.
"Of course, the biggest reward will not be the cash prize," Moayeri said. "The prestige that goes with it will matter to the designer."
Source: NIST
Published April 2017
Rate this article