Wheels:
2018 Dodge Challenger SRT Demon comes wheelie-ready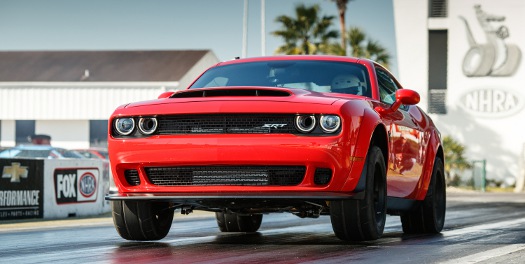 As a kid playing with Hot Wheels cars, you probably dreamed of being a grown-up and pulling a wheelie when the light turned green. But that was all childlike make-believe and fun. You found out as you got older that they really don't make production cars like that.
Well, that was then.
The 840-hp Dodge Challenger SRT Demon, the world's most powerful factory-production V-8, has arrived -- and it comes complete with wheelie-inducing Drag Mode Launch Assist.
Now where do you start trying to describe this limited-production single-model-year drag-race-inspired growler (3,000 U.S units, 300 for Canada) that has so many aggressively fun and quirky specs? Bullets will work, because this car is a real quick shot from the starting line.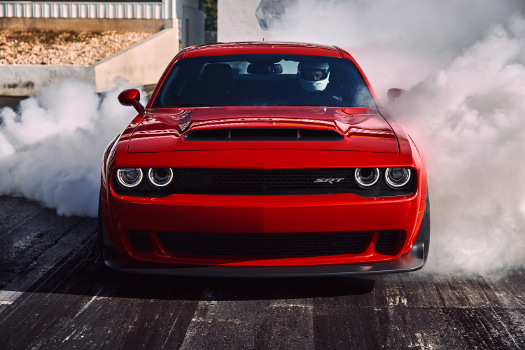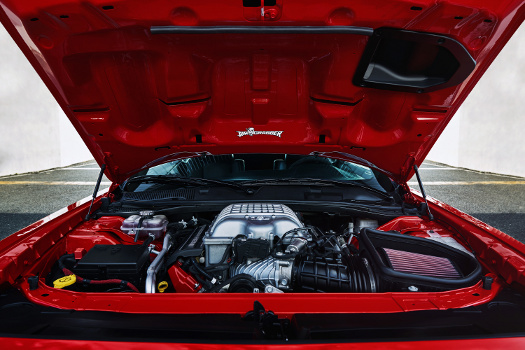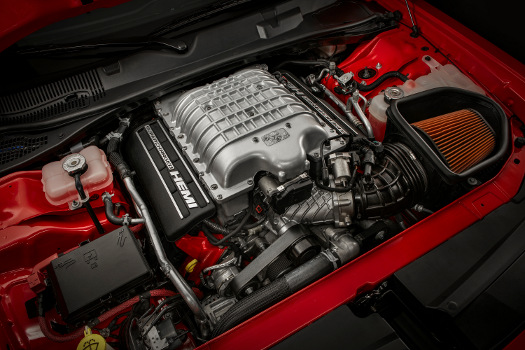 Performance:

0-30 mph: 1.0 sec
0-60 mph: 2.3 sec
Quarter-mile: 9.65 sec at 140 mph (NHRA certified)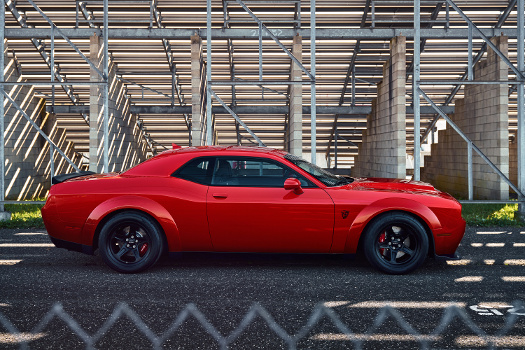 Standout specs:

840 hp and 770 lb-ft of torque from supercharged 6.2-liter HEMI Demon V-8 engine makes Dodge Challenger SRT Demon the most powerful muscle car ever and the highest horsepower V-8 production car engine ever produced.
First-ever front-wheel lift in production car (2.92 ft) as certified by Guinness World Records
World's fastest quarter-mile production car with an elapsed time (ET) of 9.65 sec and 140 mph as certified by National Hot Rod Association (NHRA)
Challenger SRT Demon is too fast for the drag strip -- officially banned by NHRA (no roll cage)
Highest g-force acceleration of any production car: 1.8 g
Air-Grabber induction system includes the largest functional hood scoop (45.2 sq in.) of any production car
Significant upgrades to create the Demon engine include:

Larger 2.7-liter per rev supercharger; increased boost pressure to 14.5 psi
Higher rpm limit of 6,500
First-ever factory-production car with innovative SRT Power Chiller liquid-to-air intercooler chiller system
First factory-production car with After-Run Chiller that keeps cooling the supercharger/charge air cooler after the engine is shut off

First-ever factory-production car designed to run on 100+ high-octane unleaded fuel or 91 octane on demand
First-ever factory-production car with TransBrake for more powerful and quicker launches
First-ever factory-production drag car with Torque Reserve to deliver increased levels of power and torque at launch
First-ever factory-production car with front passenger seat delete (more on that later)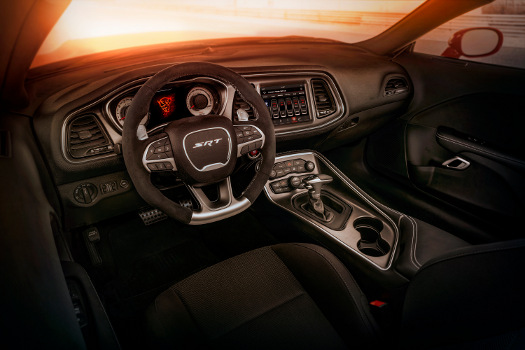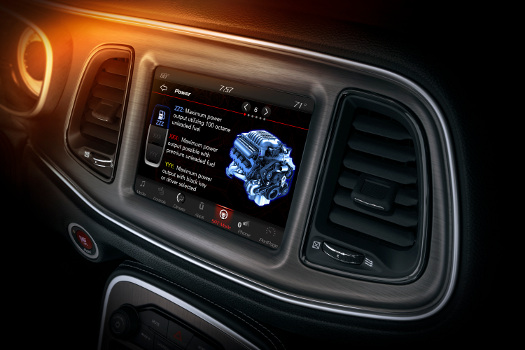 The Challenger SRT Demon's record-setting performance is the result of collaboration among the Dodge//SRT, Design, Engineering, Powertrain, and Manufacturing teams inside FCA US LLC, many of whom are experienced and active drag racers. Every component was scrutinized and optimized for weight, capability, and durability on (and off) the strip.
The performance records flow from an impressive list of street-legal production-car industry firsts. That list includes:
Factory-installed wider, Nitto street-legal drag radials for improved grip, 40 percent more launch force compared with SRT Hellcat tires
Available Direct Connection engine controller calibrated for 100+ unleaded high-octane fuel
SRT Power Chiller redirects air conditioning refrigerant to chill the charger air cooler
After-Run Chiller runs the cooling fan and the low-temperature circuit coolant pump after engine shutdown
TransBrake locks the output shaft of the TorqueFlite eight-speed automatic transmission to hold the car before launch, allowing the driver to increase engine rpm for higher torque and quicker response
Torque Reserve boosts engine air flow and supercharger rpm before launch, delivering wickedly fast acceleration
Drag Mode suspension tuning maximizes weight transfer to the rear wheels for better traction
Drag Mode Launch Assist uses wheel speed sensors to watch for driveline-damaging wheel hop at launch and in milliseconds modifies the engine torque to regain full grip and then continues accelerating the car
Available narrow "front runner" wheels for use at drag strips cuts front-end weight
Wide-body exterior styling, with concealed wheel well attachments house Challenger SRT Demon's wide 315/40R18 tires
Front passenger seat and rear seat not standard to reduce weight (can be optioned back for $1 each) -- Yup! You just read that correctly ... some seats optional with a nominal fee to include.
A look at the engineering to get more traction, less weight
The main mission of the 2018 Dodge Challenger SRT Demon was to cover the quarter mile as quickly as possible. To do this, the final design combines the best of both mechanical and electronic tuning to deliver maximum launch grip while still maintaining precision directional control.
The Bilstein Adaptive Damping shocks have been tuned for drag racing, shifting as much weight as possible on the rear tires at launch for maximum traction. The weight transfer improves rear tire grip by 11 percent.
Mechanically, weight shift in the Challenger SRT Demon is aided by softening up some key suspension components. Those changes, compared with the Challenger SRT Hellcat (2014), include softer springs (35 percent lower rate front/28 percent lower rate rear) and softer, lighter, hollow sway bars (75 percent lower rate front/44 percent lower rate rear).
When Drag Mode is activated, the front Bilstein shocks are set for firm compression and soft rebound damping, while the rear Bilstein shocks are set for firm compression and firm rebound damping. That configuration is maintained as long as the car runs at wide-open throttle. When the driver backs off the gas pedal, the system switches to firm compression and firm rebound front and rear for improved handling.
Also during Drag Mode, the traction control system is disabled to enable the rear wheels to spin for a burnout, but the electronic stability control system remains engaged to help the driver with straight-line performance. Engineers looked to cut as much weight as possible -- 200 lb worth of equipment -- to maximize on-track performance. Here's how:
58 lb: Removed front passenger seat and belt
55 lb: Removed rear seat, restraints and floor mats
24 lb: Removed 16 audio speakers, amplifier, and associated wiring
20 lb: Removed trunk deck cover trim, carpeting, spare tire cover
19 lb: Used smaller, hollow sway bars
18 lb: Removed mastic, body deadeners, insulators, and foam
16 lb: Used lightweight all-aluminum four-piston brake caliper and smaller, 360-mm two-piece rotor
16 lb: Switched to lightweight wheels and open-end lug nuts
4 lb: Switched to manual tilt/telescope steering column
2 lb: Removed park sensors and module
For everyday driving, buyers have the option to add back the front passenger seat, rear seats, and trunk carpeting kit for $1 each. Other options include the Harman Kardon 19-speaker, 900-W audio system, power sunroof, heated and ventilated leather front seats with heated steering wheel, painted Satin Black hood, or new painted Satin Black hood, roof, and decklid package.

VIDEO: The new 2018 Dodge Challenger SRT Demon is the most powerful muscle car ever with 840 hp and 770 lb-ft of torque from its supercharged 6.2-liter HEMI Demon V-8 engine.
Other standout features
Supercharger: While the Demon V-8 shares its architecture with the 707-hp 6.2-liter supercharged HEMI Hellcat V-8, it is not just a Hellcat engine with more boost. The Demon V-8 engine has 25 major component upgrades from the Hellcat engine, including supercharger, pistons, rods, valvetrain, and fuel-injection system.
Among the changes, compared with the Hellcat V-8, the Demon's supercharged V-8 features:
Larger supercharger: 2.7 liters versus 2.4 liters
Increased boost pressure: 14.5 psi versus 11.6 psi
Higher rpm limit: 6,500 rpm versus 6,200 rpm
Two dual-stage fuel pumps versus one
Larger induction air box with three sources of intake air: Air-Grabber hood, driver-side Air-Catcher headlamp, and an inlet near the wheel liner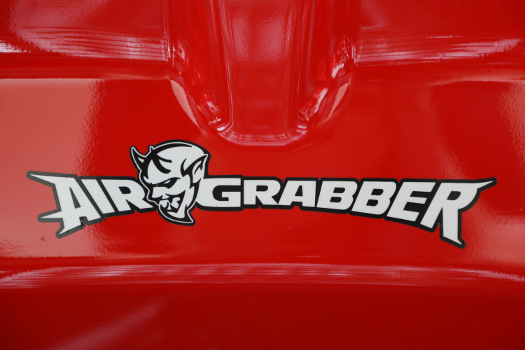 In addition, the HEMI Demon V-8 includes a high-speed valvetrain, strengthened connecting rods and pistons, and improved lubrication system. The upgrades enable the engine to sustain higher output and pressures while meeting FCA US LLC's stringent durability requirements.
The SRT Demon's Air-Grabber hood includes the largest functional hood scoop (45.2 sq in.) of any production car. The Air-Grabber hood is sealed to the air box, which is also fed from the driver-side Air-Catcher headlamp and an inlet near the wheel liner. Combined, those sources give the Demon V-8 an air-flow rate of 1,150 cubic ft/min., 18 percent greater than the Hellcat V-8 and the largest air-induction volume of any production car.
Fuel: The Challenger SRT Demon is the first-ever street-legal factory-production car designed to run on 100+ unleaded high-octane fuel, which is available at select gas stations, specialty shops, and drag strips (admittedly, impractical for most drivers).
However, the SRT Demon leaves the factory with a powertrain control module configured for 91-octane premium unleaded pump gasoline, which delivers top-level performance. The Challenger SRT Demon is engineered to be able to run on a mix of 100+ octane and premium unleaded fuels without hurting the engine, but the high-octane function won't activate if the combined fuel octane is too low. A message in the gauge display tells the driver the car will use the premium fuel calibration until the engine is shut off and restarted. How does the car know? The controller monitors the engine's knock sensors.
TransBrake: Every Dodge Challenger SRT Demon is equipped with the standard TorqueFlite 8HP90 eight-speed automatic transmission. Already a proven and robust gearbox used with the HEMI Hellcat V-8, the transmission gets some significant changes for duty in the Challenger SRT Demon.
Internal changes include an upgraded torque converter that delivers an 18 percent increase in torque multiplication. Also, the stall speed is increased 11 percent and the lockup speed is increased.
The Challenger SRT Demon is the first-ever factory-production car with TransBrake, which locks the transmission output shaft to hold the car in place before a standing start. This lets the driver increase engine speed up to 2,350 rpm without overpowering the brakes, resulting in quicker power delivery and up to 15 percent more torque at launch.
Driveline: Driveline components have been upgraded to get all that power and torque to the rear wheels, on every run. Changes include:
Upgraded prop shaft with a 15 percent increase in torque capacity. The prop shaft uses high-strength steel. Shaft tube thickness increases by 20 percent and the stub shafts are heat treated for enhanced durability
The rear differential housing has 30 percent more torque capacity. The housing is made from heat-treated A383 aluminum alloy. New material for the gear set has higher fatigue strength, with a deeper case hardening depth and two-step shot-peening manufacturing process to increase compressive residual stress
The rear half shafts are larger in diameter; use a high-strength, low-alloy steel; and have 41 splines (up from 38), delivering a 20 percent increase in torque capacity.
Street-legal drag tires: The Challenger SRT Demon is equipped with a set of four standard Nitto NT05R street-legal, drag-race tires, a first for a factory-production car. The 315/40R18 tires were specifically designed and developed exclusively for the SRT Demon, with a new compound and specific tire sidewall construction. The drag radials give the SRT Demon a 15 percent larger tire contact patch and more than twice the grip of the Challenger SRT Hellcat.
Drive modes: The 2018 Dodge Challenger SRT Demon gives the driver the capability to set up the car for on-road precision, maximum drag strip performance, or anything in between. The nerve center for those options is SRT Performance Pages and Drive Modes, displayed on the Uconnect 8.4-in. touchscreen. The Drive Modes include the Challenger SRT Demon-exclusive Drag Mode. Drive Mode settings include Auto (Street) Mode, which sets the Bilstein Adaptive Damping Suspension (ADS) for comfortable ride with compliant handling, and Custom Mode, which lets the driver select between Auto and Drag Mode configurations for the transmission, paddle shifters, traction, suspension, and steering.
Keys to power: Similar to the Challenger SRT Hellcat, the SRT Demon comes with two key fobs. The black fob limits engine output to 500 hp. The red key fob unlocks the engine's full output. With either key fob, the driver can activate Eco and Valet Modes. Eco Mode revises the transmission shift schedule to include second-gear starts. Valet Mode limits the engine to 4,000 rpm and reduces torque output, so your valet won't be doin' any ...
Wheelie poppin': Beyond the high-horsepower engine and weight reduction of the car overall, the drag-tuned suspension that transfers weight to the rear of the car, drag-tuned driveline with heavy-duty transmission, higher stall torque converter, Transbrake, and Torque Reserve systems all work together to allow the car to launch with maximum torque. Optimized 3:09 rear gear and the sticky drag radial tires help to get the power to the street.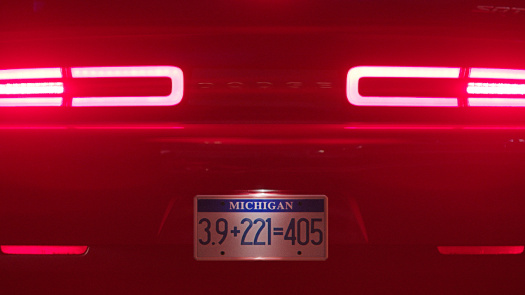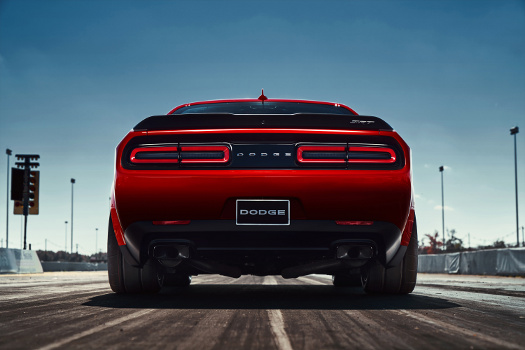 Ready to be a kid again? Put away your Hot Wheels. The Dodge Challenger SRT Demon will be available through dealers this fall. No price disclosed yet. Rumors have it pegged between $70,000 and $99,000.
Source: Dodge/FCA US LLC
Published April 2017
Rate this article