Great Resources: Design guidelines for selecting/using stainless steels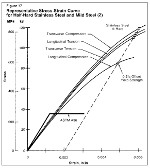 This extensive guide from the Nickel Institute helps designers better understand the large family of corrosion-resistant stainless steels. It describes typical corrosion modes and how to select materials to minimize or prevent corrosion. Forty-seven figures help illustrate important characteristics of, and end-use applications for, 57 different stainless steel types, including chemical compositions, physical and mechanical properties, properties at elevated temperatures, and heat-transfer characteristics.
Get your guide (no registration required).
---
Compressed Air: New website offers better ways to improve efficiency and safety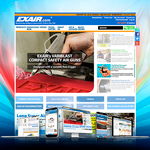 EXAIR.com® is the new digital home of Intelligent Compressed Air® products for industry. EXAIR's new website has improved the product selection process by providing descriptions immediately from the homepage. An improved account management and ordering process streamlines access to historical orders, allows one-click repeat orders, and eases editing of your information. This website is fully responsive to provide a consistent experience whether using a PC, tablet, or smartphone. A comprehensive search functionality enables users to quickly locate model numbers and related information.
Click here to check out EXAIR's new site.
---
SOLIDWORKS 2018 is here!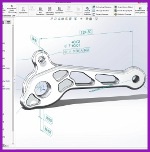 With SOLIDWORKS 2018, teams can collaborate concurrently to design a product or part more rapidly and cost efficiently, validate its function and manufacturability, manage its data and related processes, streamline and automate its manufacturing, and inspect it. Any changes in design or manufacturing are fast and easy to manage and automatically flow to all related models, programs, drawings, and documentation. A standout new feature is SOLIDWORKS CAM, which provides rules-based machining with knowledge capture for the automation of manufacturing programming. Plus, there are improvements to many of the SOLIDWORKS features you already use.
Learn all about the SOLIDWORKS 2018 launch.
---
Industry First: One hose, three uses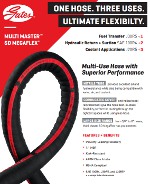 Gates has launched a multi-purpose hose that serves the needs of three distinct markets: fuel transfer, hydraulic return and suction lines, and 20R5 coolant applications. The Multi Master SD MegaFlex line is the first of its kind to simultaneously meet SAE 100R4, SAE J30R5, and SAE J20R5 requirements. It has a 1:1 bend radius, an ARPM Class A tube, and is also MSHA compliant. It features a corrugated chloroprene cover and steel helix reinforcement. Offered in sizes from 3/4 to 6 in.
Click here to learn more.
---
Designing for Moldability White Paper

Whether you're new to the injection molding process or a veteran of manufacturing, Designing for Moldability offers an insightful guide to draft, radii, surface finish, materials and other thermoplastic molding considerations. It's more than 20 rapid injection molding tips designed to help improve the moldability of your plastic parts.
Download your free copy today!
---
Mike Likes: New 3D-printing materials from DuPont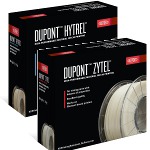 Proven over decades of use, DuPont Hytrel thermoplastic elastomers and DuPont Zytel nylons offer high quality, reliability, and performance in various applications in a wide range of industries -- and now the materials are available as 3D-printing filaments. Hytrel is available in two different hardness levels (Hytrel 3D4000FL with a shore D of 40 and Hytrel 3D4100 with a shore D of 60) for customers to make flexible, functional parts that combine resiliency, heat, and chemical resistance with strength and durability. With Zytel 3D1000FL, customers will be able to make strong and stiff functional parts that have a high heat deflection temperature, low warpage, low sensitivity to moisture, and excellent surface aesthetics.
Learn material specs on the DuPont site.
Purchase exclusively on the Coex site.
---
Carbon composite bellows springs for lightweighting and more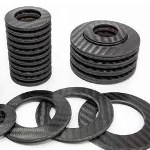 The Carbon Composite Bellows Spring (CCBS) from MW Industries is a system of carbon fiber elements that combine to work as a high-performance, lightweight, and design-flexible compression spring meant to replace conventional coil springs or metallic Belleville disc springs. It offers value through unique dynamic characteristics and unparalleled in-the-field design flexibility. A functional spring is made from several individual elements, paired in sets and joined to make a stack. The spring rate of the stack is determined by the number of elements, the base rate of each element, and their series or parallel orientation in the stack. Applications include motorsports, aerospace, outdoor recreation, general industry, and high-performance activities.
Click here to learn more.
---
Mike Likes: Designing with Wave Springs eBook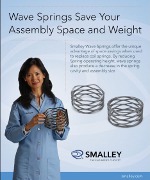 We know how critical it is to specify the right spring for your design. With tens of thousands of wave springs designed, and counting, Smalley has tackled design challenges in nearly every industry. Their eBook, "Designing with Wave Springs," helps you find the right spring for your application and details how Smalley engineers offer space-saving solutions.
Get this valuable resource.
---
How to replace metal with thermoplastics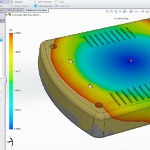 Have you ever considered replacing your metal parts with plastic parts? It could be a viable option -- especially when it comes to the flexibility of manufacture, faster production cycle times, and the cost effectiveness of replacing metal parts with plastic parts. SolidWorks' Jeff Osman details general best practices to keep in mind regarding both design and manufacturability Osman has more than 23 years of experience in the mechanical CAD industry.
Read this informative blog.
---
Compressed Air: Aluminum SmartPipe+ is clever solution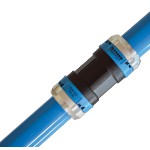 SmartPipe+ is now available from Kaeser Compressors. This versatile, modular, no-rust aluminum piping system features lightweight materials and simple, compression-style connections. Available in multiple sizes from 3/4 in. to 2-1/2 in., SmartPipe+ is ideal for headers and branch lines all the way down to the point of use. It has a low coefficient of friction and provides the best possible laminar flow. The full-bore fittings minimize pressure drop, while the leak-free connectors prevent costly compressed air loss. SmartPipe+ can easily be integrated into existing steel, copper, or aluminum systems and can be modified to accommodate changing needs. Ten-year warranty.
Click here to learn more.
---
Electromagnetic actuated clutches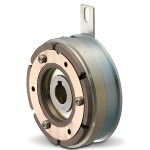 Miki Pulley's CS Electro-magnetic Actuated Clutches are durable, versatile, and have excellent torque-transmission features to provide an efficient connection between a motor and a load. Benefits include low inertia, minimal drag, and very quiet operation. They function utilizing the magnetic force generated by the energized coil, providing engagement of input and output members of the clutch. Available with three different armatures, they feature an integrated bearing design that makes mounting fast and easy while ensuring application concentricity and excellent system runout. Available in bores ranging from 10 mm to 15 mm, with brake torques ranging from 3.687 ft-lb to 236.02 ft-lb (5 Nm to 320 Nm).
Click here to learn more.
---
Mike Likes: New innovative way to take up tolerances!

Smalley Linear Springs are a continuous wave-formed (marcelled) wire length produced from spring-tempered materials. They act as a load-bearing device, having approximately the same load/deflection characteristics as a wave spring. Linear Springs are now available as a standard part in carbon and stainless steel, with over 200 sizes.
Click here to learn more.
---
Top 15 acme/lead screw questions answered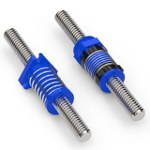 Acme lead screws convert rotary motion into linear motion by turning either the screw or the nut. Lead screws and nuts are highly customizable. But do lead screws and nuts need to be lubricated? And how do you decide which Acme screw product to use? Christopher Nook, CEO, Helix Linear Technologies, answers the most often asked questions for these versatile and vital mechanical components.
Read the blog post.
---
3D positioning system locks devices in space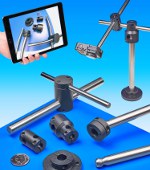 A new 3D positioning system that simplifies the setup of cameras and other devices for research, laboratory, process, and packaging applications has been introduced by Stafford Manufacturing Corp. The system consists of a rugged group of mounting components, including a base that can securely attach to any flat surface, stepped and straight-through couplings, and precision shafting that can be easily adjusted and locked. Featuring a ball-end shaft and clamp-mount accessory with an infinitely adjustable range of motion, this system lets users move, tilt, and swivel to position and lock devices in space.
Click here to learn more.
---
Smith Metals Products adds Titanium Metal Injection Molding capabilities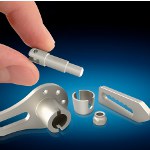 Smith Metals Products has added Titanium Metal Injection Molding (TiMIM) capabilities to its MIM portfolio of materials that include stainless steels, alloys, and ceramics. TiMIM involves mixing powdered Titanium metal with a binder material to compose a feedstock capable of being handled by injection molding equipment. Metal injection molding allows complex Titanium parts to be shaped with precision in a single operation and in high volume as compared to traditional Titanium machined metal components. Adding TiMIM capabilities opens a new, wider range of component applications for Smith Metal Products, where strength-to-weight ratio parts are desired. It is often accomplished with superior features using Titanium compared to other strong (but much heavier) metals like steels.
Click here to learn more.
---
'The day the drones stopped': U.S. Army tests counter UAV systems at Fort Sill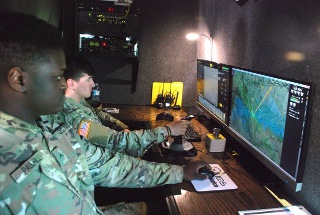 Pvt. Shamar Paulhill (left) and Pfc. Sergio Torres, both air missile defense crewmembers from 108th Air Defense Artillery from Fort Bragg, use an anti-unmanned aerial vehicle defense system (AUDS) to search the skies of Fort Sill for UAVs on April 6 during the Maneuver Fires Integrated Experiment (MFIX). [Photo Credit: Monica K. Guthrie]
By Monica K. Guthrie
On a hill in southwest Oklahoma, Soldiers and civilians have been testing equipment that can assist service members in the fight against unmanned aerial vehicles (UAVs). The testing took place during Fort Sill's Maneuver Fires Integrated Experiment (MFIX) from April 3-14.
The equipment is called AUDS, which stands for anti-unmanned aerial vehicle defense system, and works against UAVs, or drones, by detecting, tracking, identifying, and defeating them, said Tom Scott, president of LITEYE Systems, who helped create AUDS.
According to Scott, the system works first by using the radar and camera to detect a drone. The radar feed comes from two 180-degree radars placed back-to-back in order to give the operators a 360-degree feed in real time. With the camera feed connected to the system, they are able to see what may be flying in their area. Once a drone has been identified on camera, operators put the target in their crosshairs and pull the trigger, which allows the system to lock on and track the target automatically.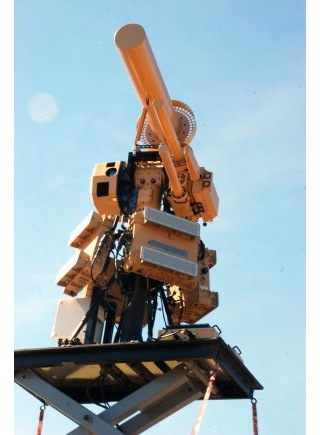 An anti-unmanned aerial vehicle defense system (AUDS) searches the skies of Fort Sill for UAVs on April 6 during the Maneuver Fires Integrated Experiment (MFIX). [Photo Credit: Monica K. Guthrie]
In the past, ground forces became familiar with counter improvised explosive device (IED) equipment designed to jam the signals to IEDs from individuals holding the detonation trigger. Today's counter UAV equipment is similar to those electric counter measures (Duke, Thor, and Warlock to name a few), only rather than defeating targets on the ground, they defeat airborne threats.
"The system then puts a 20-degree cone of energy downrange, and that will inhibit the drone and we can interrupt the signal from the operator to the drone," said Scott.
The 20-degree cone of energy allows the signal to be stronger because it is concentrated to a specific area rather than spread across the 180 or 360 degrees other systems utilize, said Scott. That stronger, more amplified signal produced by the AUDS is able to jam the signal between the UAV and the UAV's controller.
"The operator loses control of the drone," said Scott.
Soldiers from 108th Air Defense Artillery came from Fort Bragg, NC, to allow developers to see firsthand how Soldiers interacted with the system. Scott said he was pleased with how easily the Soldiers learned the AUDS and could now operate the system.
"It's been pretty awesome," said Pvt. Shamar Paulhill. "It's a pretty easy concept to grasp. We've only been out here for three days, and we already have it down. We are tracking, jamming stuff, and we brought down (many) drones," he said.
Paulhill and his battle buddy Pfc. Sergio Torres, both air missile defense crewmembers, explained how once they have acquired the target, they wait for instructions. If they jam the communication between the drone and the drone's operator, the drone could return to its home base, remain hovering, or fall from the sky.
While the AUDS is newer, Scott said their systems were rapidly deployed to units in October 2016. Scott said feedback came almost immediately.
"My guys operating the systems ... once they got it with the Soldiers and turned it on, the Soldiers called it 'the day the drones stopped'" said Scott.
Since October, two changes have already been implemented from the feedback Scott and his team have received from units using the AUDS. Now at MFIX, the goal is to integrate the system into the mobility part of the military, said Scott. The system currently is standalone with a generator to provide power.
"The deployment was done in a real hurry," said Scott. "Now we, as owners of the company, can sit back with the military and start to integrate this into other command-and-control and mobile systems."
-------------------------------------------------------------------------
Designfax Editor's Note: Range of effectiveness
-------------------------------------------------------------------------
By Mike Foley, Editor, Designfax

Kenneth Geyer, executive VP and co-founder of LITEYE Systems, told Designfax exclusively that the system in total has five different electronic attacks that focus on five different frequency bands.
"We force all class 1 and 2 UAVs to stop flying," said Geyer. "This includes all custom built."
"Depending on the type of UAV and which bands we utilize against them, they land in place, return home, or crash," Geyer said. "We control their electronics, and in some models we focus enough power on them to simply burn out their electronics."
The LITEYE Systems website fact sheet lists the radar range to be 8 km (just shy of 5 miles). But how far does the defeat capability extend?
"Our defeat ranges depend on the type (of system) we are using," Geyer said. "Some reach much further than others. While the exact ranges for each are also classified, our defeat abilities reach at least 2.5 km and some far beyond. This is why we focus our power downrange on the target and not in every direction."
"We don't believe in the omnidirectional jamming systems; they are wasting a ton of power trying to jam in every direction," he said. "This only allows them to be effective very close in. They also jam everything else in the area, along with the target. We choose to focus our power and have very little collateral interference on other systems."
Geyer also added that a return-to-home function is "a nice way to follow the UAV back to its operator."
"Remove the UAV that saves you now, follow it back to the pilot, and remove them," he said. "That stops tomorrow's attack."
Sources: U.S. Army, LITEYE Systems
Published April 2017
Rate this article