A new way to tie one on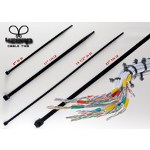 The 4ZERO Cuff is the most advanced flexible polymer handcuff on the market and is used by select police and law enforcement agencies that demand the strongest and most durable product available. Now, the same material used to manufacture the 4ZERO Cuff is available from Micro Plastics, Inc. in the line of extremely durable 4ZERO Cable Ties designed to perform and hold their strength in extremely dry environments and in temperature extremes from -30 deg F to 400 deg F -- conditions that can leave normal nylon cable ties brittle and broken. Available sizes include: 8 in. (50 lb), 14 1/2 in. (50 lb), and 11 in. (120 lb).
Click here to learn more.
---
DuPont Performance Materials announces high-performance materials for 3D printing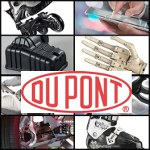 DuPont Performance Materials is getting into the 3D-printing game. The company now offers some of its most well-known high-performance materials in filament forms. Proven over decades of use, Hytrel, Zytel, and Surlyn offer high quality, reliability, and performance for various applications in a wide range of industries. Users will be able to achieve the true benefits of 3D printing -- greater design freedom, lightweighting, reduced product development cycles, and much more -- allowing for rapid prototyping, part production, and mass customization.
Click here to learn more.
---
PolyJet 3D printing now available from Proto Labs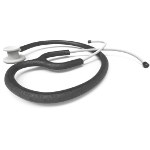 Proto Labs has added PolyJet technology to its industrial 3D-printing service offerings. PolyJet provides product designers and engineers with the ability to manufacture elastomeric and overmolded prototypes without investing in tooling. Product developers can leverage PolyJet to create 3D-printed parts comprised of both elastomeric and rigid materials as well as multiple colors. Its material selection includes multiple Shore A hardnesses of tear-resistant Agilus 30 for increased durability. PolyJet parts exhibit smooth surface finishes and can support complex geometries with flexible features.
Click here to learn more.
---
Superbolt VersaTite: A revolution in tensioning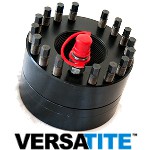 The new VersaTite Hydraulic Mechanical Tensioner from Superbolt combines the speed and uniformity of hydraulic tensioners with the accuracy of Superbolt mechanical tensioners. VersaTite products can be hydraulically pressurized to achieve a fast and uniform initial preload, and the achieved preload is easily controlled by mechanically applying the final torque using Superbolt multi-jackbolt tensioning. Either mechanical or hydraulic removal is possible. Application examples include gasketed flanges requiring simultaneous loading of the bolts to evenly load the gasket and any joints requiring high residual bolt loads (turbine casings, tie rods for generator and turbine rotors, slew rings). Product examples include heat exchangers, catalyst crackers, petrochemical reactors, valves, and pumps.
Click here to learn more.
---
SUHNER gives primer on spiral bevel gears

Each year, engine and motor power increases require more powerful angle gear heads. Engineering developments in mechanical engineering, the tool-making industry, and industrial hand tools call for higher rotating speeds while smooth and easy movement of the tool is maintained. Smoother-running gears are also needed to combat dynamic noise. Apart from bearing and housing stiffness, the overall design and gear dimensions are essential for gear system optimization.
Read the full article.
---
Back-blow air nozzle for cleaning tiny inside diameters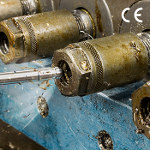 EXAIR's new Model 1004SS, M4 NPT Back-Blow Air Nozzle has been designed to deliver the smallest, most effective airflow for blowing debris and liquids from small pipe or hose inside diameters, channels, bores, holes, internal threads, and other internal part features. An array of holes provides a forceful 360-degree airflow to clear out coolant, chips, and light oils from machining processes. This nozzle prevents blowing chips further into a part, tube, or pipe and eliminates any safety hazard created by blowing debris out the far end of a pipe or tube. Effective on diameters up to 1 in.
Click here to learn more.
---
Timken smartphone app for bearings and power transmission products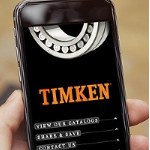 The Timken Company, a global leader in bearings and mechanical power transmission products, has released new catalogs that include housed units, seals, and tapered roller bearings. The catalogs feature expanded offerings, more technical information, and the latest on the company's growing product lines. Customers can access the company's catalogs through a new mobile app for smartphones.
Click here to learn more.
---
IKO offers two lubrication options for cam followers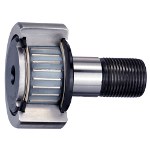 IKO International now offers two different long-term lubrication technologies for cam followers: a self-lubricating solution for the cam follower itself, as well as an external mechanism that lubricates the bearing surfaces against the rail. IKO's line of C-Lube cam followers include a thermoset solid lubricant pre-packed into the bearing space for long-lasting, maintenance-free operation. Stud diameters are available from 5 to 20 mm. IKO also offers separate, hood-like units that may be attached to metric cam followers. These supply high-quality lubricating oil to the outside diameter of the cam follower outer ring and track surface, enabling uninterrupted smooth motion on track surfaces for several years.
Click here to learn more.
---
Designing with Wave Springs eBook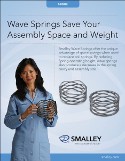 No one understands the needs of your applications more than you do. Smalley knows how critical it is to specify the right spring for your design. With tens of thousands of wave springs designed, and counting, they have tackled design challenges in nearly every industry. Their eBook, "Designing with Wave Springs," helps you find the right spring for your application and details how Smalley engineers offer space-saving solutions.
Get this valuable resource.
---
Schedule 80 poly pipe fittings
Bee Valve offers a full line of Schedule 80 pipe fittings. These hose, tube, pipe, and nozzle fittings are produced from glass-reinforced polypropylene for strength and durability. Polypropylene is the lightest of the thermoplastics. It has good resistance to most acids and is also a non-conductor of electricity. Bee Valve's Schedule 80 fittings are available in sizes from 3/8 in. to 3 in. Fitting configurations include tees, elbows, crosses, bushings, couplings, caps, and plugs.
Click here to learn more.
---
Mike Likes: Discover the power of Power-Core gears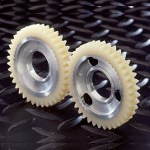 If you are interested in higher torque transmission, longer life due to lower wear, and lower creep, this is your solution. Power-Core is a proprietary unitized metal/composite material from INTECH suitable for use in long-wearing, high-performance gears, pulleys, and rollers. This lightweight material delivers quiet, lubrication-free performance that reduces gear shock and vibration and is ideal for use in hostile applications where moisture, alignment, abrasives, and/or corrosive chemicals are present. A durable metal center delivers the driveshaft torque to the special polyamide composite gearing. Build in long-term advantages by replacing metal gears with Power-Core ones. Gear-life calculations are based on experimental data collected in gear tests over 20 years.
Click here to learn more.
Learn Intech's gear calculation methods.
---
Photo-etched thin titanium components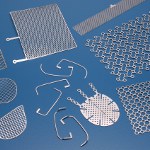 Tech-Etch specializes in the photo chemical etching of titanium. Because of its low weight, strength, and corrosion resistance, titanium is used in everything from jet engines to eyeglass frames. Because titanium is inert and completely biocompatible, it is also used in many medical implantation applications such as maxillofacial and craniofacial reconstruction plates, as well as anode and cathode battery current collectors and telemetry antennas found in implanted medical devices. Parts range in thickness from .0005 in. and up. While providing quick turnaround and low tooling costs, photo etching produces burr-free parts with intricate and complex shapes.
Click here to learn more.
---
STOBER introduces new PS Two-Speed Gearbox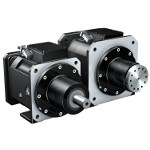 STOBER Drives' PS Two-Speed Gearbox has the ability to generate both high speed and high torque, which is ideal for lathes or machining centers. This easily mountable gearbox features two different options, from a direct-drive to customer ratio choice. The 1:1 ratio direct drive can be used for high-speed cutting up to 10,000 RPM. The customer can choose from two ratios, 4:1 or 5.5:1, that are capable of turning at 7,000 RPM. This allows the customer to use a 1:1 ratio for low-torque high-speed cuts, and the 4 or 5.5:1 ratio for high-torque lower-speed cuts. STOBER offers two different output types: shafted and flanged, with three different versions of each utilizing a short, medium, or long output. Three different bearing options are also available.
Click here to learn more.
---
Mike Likes: Ring/Spring Material Selection Guide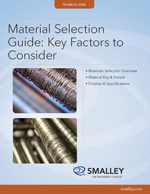 Choosing the correct material for your retaining ring or wave spring design can be a critical factor in the success of your application's performance and longevity. Smalley engineers have created a brand new Material Selection Guide that will help you through the selection process. Their easy-to-navigate visual walks you through the 5 most important factors to consider.
Click here to learn more.
---
Hydraulics: Higher filtration effect and longer life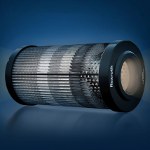 Eighty percent of all hydraulic systems failures can be traced back to contaminated fluid. The fifth generation of filter materials by Rexroth protects hydraulic systems and reduces the operating costs. This is the first time a manufacturer has equipped all filter elements in standard sizes with an electrical conductive fleece filter medium by default, so the risk of electric discharges in connection with zinc- and ash-free hydraulic oils is reduced. Each discharge can burn tiny amounts of oil and reduce the service life of the medium. Discharges can also burn holes in the filter layers. The new material also increases the dirt-holding capacity, absorbing up to 50 percent more particles and prolonging service life by the same value under constant operating conditions.
Click here to learn more.
---
'The day the drones stopped': U.S. Army tests counter UAV systems at Fort Sill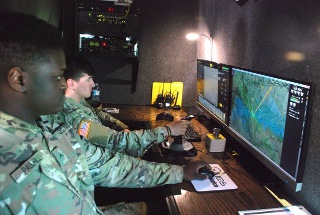 Pvt. Shamar Paulhill (left) and Pfc. Sergio Torres, both air missile defense crewmembers from 108th Air Defense Artillery from Fort Bragg, use an anti-unmanned aerial vehicle defense system (AUDS) to search the skies of Fort Sill for UAVs on April 6 during the Maneuver Fires Integrated Experiment (MFIX). [Photo Credit: Monica K. Guthrie]
By Monica K. Guthrie
On a hill in southwest Oklahoma, Soldiers and civilians have been testing equipment that can assist service members in the fight against unmanned aerial vehicles (UAVs). The testing took place during Fort Sill's Maneuver Fires Integrated Experiment (MFIX) from April 3-14.
The equipment is called AUDS, which stands for anti-unmanned aerial vehicle defense system, and works against UAVs, or drones, by detecting, tracking, identifying, and defeating them, said Tom Scott, president of LITEYE Systems, who helped create AUDS.
According to Scott, the system works first by using the radar and camera to detect a drone. The radar feed comes from two 180-degree radars placed back-to-back in order to give the operators a 360-degree feed in real time. With the camera feed connected to the system, they are able to see what may be flying in their area. Once a drone has been identified on camera, operators put the target in their crosshairs and pull the trigger, which allows the system to lock on and track the target automatically.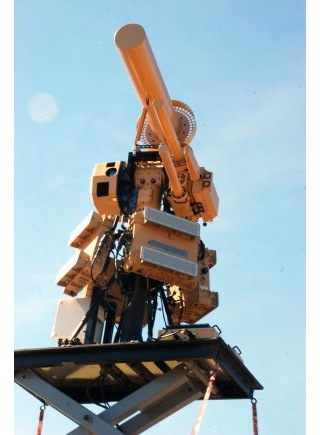 An anti-unmanned aerial vehicle defense system (AUDS) searches the skies of Fort Sill for UAVs on April 6 during the Maneuver Fires Integrated Experiment (MFIX). [Photo Credit: Monica K. Guthrie]
In the past, ground forces became familiar with counter improvised explosive device (IED) equipment designed to jam the signals to IEDs from individuals holding the detonation trigger. Today's counter UAV equipment is similar to those electric counter measures (Duke, Thor, and Warlock to name a few), only rather than defeating targets on the ground, they defeat airborne threats.
"The system then puts a 20-degree cone of energy downrange, and that will inhibit the drone and we can interrupt the signal from the operator to the drone," said Scott.
The 20-degree cone of energy allows the signal to be stronger because it is concentrated to a specific area rather than spread across the 180 or 360 degrees other systems utilize, said Scott. That stronger, more amplified signal produced by the AUDS is able to jam the signal between the UAV and the UAV's controller.
"The operator loses control of the drone," said Scott.
Soldiers from 108th Air Defense Artillery came from Fort Bragg, NC, to allow developers to see firsthand how Soldiers interacted with the system. Scott said he was pleased with how easily the Soldiers learned the AUDS and could now operate the system.
"It's been pretty awesome," said Pvt. Shamar Paulhill. "It's a pretty easy concept to grasp. We've only been out here for three days, and we already have it down. We are tracking, jamming stuff, and we brought down (many) drones," he said.
Paulhill and his battle buddy Pfc. Sergio Torres, both air missile defense crewmembers, explained how once they have acquired the target, they wait for instructions. If they jam the communication between the drone and the drone's operator, the drone could return to its home base, remain hovering, or fall from the sky.
While the AUDS is newer, Scott said their systems were rapidly deployed to units in October 2016. Scott said feedback came almost immediately.
"My guys operating the systems ... once they got it with the Soldiers and turned it on, the Soldiers called it 'the day the drones stopped'" said Scott.
Since October, two changes have already been implemented from the feedback Scott and his team have received from units using the AUDS. Now at MFIX, the goal is to integrate the system into the mobility part of the military, said Scott. The system currently is standalone with a generator to provide power.
"The deployment was done in a real hurry," said Scott. "Now we, as owners of the company, can sit back with the military and start to integrate this into other command-and-control and mobile systems."
-------------------------------------------------------------------------
Designfax Editor's Note: Range of effectiveness
-------------------------------------------------------------------------
By Mike Foley, Editor, Designfax

Kenneth Geyer, executive VP and co-founder of LITEYE Systems, told Designfax exclusively that the system in total has five different electronic attacks that focus on five different frequency bands.
"We force all class 1 and 2 UAVs to stop flying," said Geyer. "This includes all custom built."
"Depending on the type of UAV and which bands we utilize against them, they land in place, return home, or crash," Geyer said. "We control their electronics, and in some models we focus enough power on them to simply burn out their electronics."
The LITEYE Systems website fact sheet lists the radar range to be 8 km (just shy of 5 miles). But how far does the defeat capability extend?
"Our defeat ranges depend on the type (of system) we are using," Geyer said. "Some reach much further than others. While the exact ranges for each are also classified, our defeat abilities reach at least 2.5 km and some far beyond. This is why we focus our power downrange on the target and not in every direction."
"We don't believe in the omnidirectional jamming systems; they are wasting a ton of power trying to jam in every direction," he said. "This only allows them to be effective very close in. They also jam everything else in the area, along with the target. We choose to focus our power and have very little collateral interference on other systems."
Geyer also added that a return-to-home function is "a nice way to follow the UAV back to its operator."
"Remove the UAV that saves you now, follow it back to the pilot, and remove them," he said. "That stops tomorrow's attack."
Sources: U.S. Army, LITEYE Systems
Published April 2017
Rate this article