Mini but mighty high-load linear actuator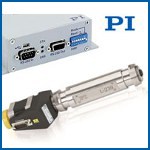 Equipped with precision ground ball screws for higher speed and a longer service life, the L-239 high-force actuator from Physik Instrumente (PI) has a positioning range of 52 mm (2 in.), pushing force of 300 N (66 lb), and 50-mm/sec (2-in./sec) maximum velocity. The nonrotating tip enables uniform motion, preventing wobble, torque, and wear at the point of contact. Noncontact limit switches protect the mechanics, while a direction-sensing reference point switch speeds up the homing procedure and supports automation applications. Special versions available for vacuum applications.
Click here to learn more.
---
Motor Tech: UAV camera stabilization with brushless motors

Today, recon is dominated by unmanned aerial vehicles (UAVs) and drones due largely to concerns for pilots' safety and costs. However, photos and videos obtained from UAVs are only useful if they are crisp and clear, which requires both precise focusing and extreme stabilization of the camera system. Compact and powerful FAULHABER brushless DC motors from MICROMO were selected to get the job done.
Read the full article.
---
Become a robot programmer in only 87 minutes!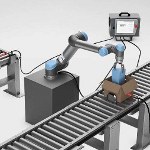 Learning how to set up and program a collaborative robot -- or cobot -- no longer depends on real-life access to a robot or a training class. Now everybody with a desire to learn the concepts of cobots can log in to the Universal Robots Academy and get the introduction necessary to master basic programming skills. Become a master of the cobots! (That's a pretty sweet title.)
Click here to learn more.
---
Low-cost spring-applied brakes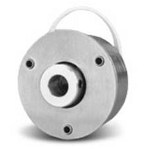 Inertia Dynamics type FSB brakes are designed to decelerate or hold inertial loads when the voltage is turned off. These brakes can be mounted to a bulkhead or motor. The FSB brakes are rated up to 100 lb-in. static torque and fit motors up to 5.3 in. OD. Features include 12-V, 24-V, 90-VDC, or 120-VAC windings; bore sizes from 1/4 in. to 3/4 in.; low current consumption; and low cost. Metric bores and special voltages available.
Click here to learn more.
---
Are you using the Right Coupling for your motion control application?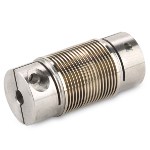 Servometer® precision motion control couplings are available with both set screw and clamp style ends. Electro-deposited bellows technology offers seamless construction and the best combination of flexibility and strength among couplings technologies. These versatile, flexible nickel and stainless steel shaft couplings are capable of accommodating misalignments for parallel, angular and axial motion. Our recently released video showcases their unique characteristics, capabilities, design and various applications.
View video ...
---
Smart sensors provide health checks for motors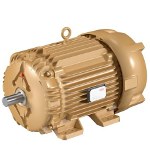 The ABB Ability Smart Sensor for motors uses compact sensors to pick up multiple data streams from low-voltage motors and provides information about motor health and performance via a smartphone or a dedicated web portal. By converting regular LV motors into intelligent, connected machines, the solution enables advanced maintenance planning that will help businesses cut costs and boost productivity. Predictive analytics based on data from the solution can reduce downtime up to 70%, extend motor lifetime by as much as 30%, and cut energy consumption up to 10%.
Click here to learn more.
---
EPSON redefines 6-axis robots with Flexion N-Series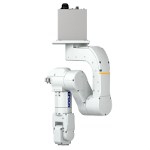 The new Flexion N-Series 6-Axis robots feature a compact folding-arm design poised to dramatically change the scope of automation in applications requiring smaller robots and workcells. The first robot introduced in the series, the Flexion N2, offers a 450-mm reach and 2.5-kg maximum payload. Unlike any other 6-axis robot on the market, the Flexion N-Series features a unique tight-space motion capability, maximizing efficiency for faster cycle times. In addition, the folding arm reduces required workspace up to 40% compared to standard 6-axis robots.
Click here to learn more.
---
Motors vs. pneumatics: Getting a grip on precision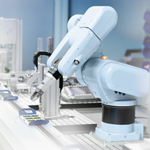 A gripping system for small parts that is both quick and powerful -- until now, that was often only possible with pneumatics. However recently, the leading expert for gripper systems and technology has developed a mechatronics-based EGP 40 gripper that easily achieves the same performance of its pneumatic counterparts. The drive that makes this impressive performance possible is small brushless DC servo motors from FAULHABER and MICROMO.
Read the full article.
---
Low-cost tin-can stepper motors feature high torque and compact size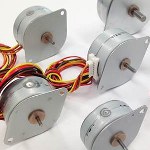 Nippon Pulse America's PF/PFC series tin-can stepping motors are conventional magnet-driven rotary stepper motors with a permanent magnet in their rotor core. Rotating in proportion to the number of pulses sent to the motor, the stepper motor is frequency synchronized and can change speed depending on the frequency of the pulse signal. Because of its high-torque output (2,500 mNm maximum torque) and low-profile construction, applications for tin-can stepper motors include printing, packaging, and medical devices. Optional gearheads are available to offer increased torque in a small package. Available from Servo2Go.
Click here to learn more.
---
Great resources: THK's guides for linear motion users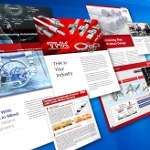 THK America has developed an online Resource Center packed with the latest industry insight and information on linear motion. Built into the navigation of thk.com, searchable content consists of white papers, briefs, case studies, articles, videos, e-books, and web content. Subjects cover a range of topics, including "The Value of a Domestic Supply Chain," "Design with Robots in Mind: What it Means for Engineers," and "THK: Shaping the Future of Service Robotics." Narrow your info search based on your project role. A Technical Calculator is available to quickly estimate the service life of THK products, including Linear Motion Guides, Ball Screws, and Linear Motion Guide Actuators.
Click here to learn more.
---
ABB sells its first-ever U.S.-made robot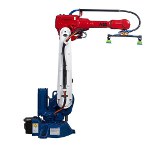 In May 2015, ABB announced that it would begin producing robots at its Auburn Hills, MI, facility, making it the first major industrial robot company to commit to an American manufacturing footprint. It delivered its first U.S.-manufactured IRB 2600 robot (resplendent in a special red-white-and-blue paint job) to Hitachi Powdered Metals USA this month. In addition to the IRB 2600, ABB will begin manufacturing other popular robot models in Auburn Hills this year. The company estimates that by 2018 75% of all the models delivered to North American end-users will be manufactured in the United States. Previously, ABB robots sold in the Americas were made in Sweden and in China.
Read the full press materials.
---
Complete system solutions for optimum drive and control performance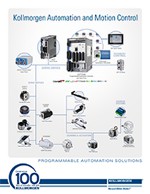 Kollmorgen's updated Automation and Motion Control catalog details the features, benefits, and specifications of the company's complete range of motion control solutions, including: Direct Drive motors, servo motors and drives, Safe Motion, distributed and central servo amplifiers, and the complete Kollmorgen Automation Suite. The catalog also includes stepper motors and drives, PMDC motors, linear actuators, and planetary gearboxes. Overall, more than 100 diverse and scalable product and solution ideas are covered in the catalog, making it much more than a simple guide for selecting individual products used in next-generation machine design.
Click here to learn more.
---
Stationary field tooth clutch delivers higher torque in a smaller package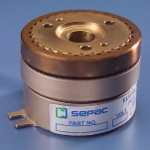 SEPAC designed the electro-magnetic Stationary Field Tooth Clutch (SFTC Series) to deliver an exceptional torque-to-size ratio with the ability to operate dry or in oil. This model offers a bearing-supported design to ease the installation process. The SFTC's positive engagement, less than 1 degree of backlash, high torque-to-size ratio, and ease of installation make it ideal for a variety of applications. Additionally, the extraordinary reliability of the SFTC Series makes it a top choice for aerospace and defense actuators, aircraft flight control, military ground systems, weapon systems, elevator/azimuth, robotics, medical equipment/imaging, and more.
Click here to learn more.
---
Economy series electric actuator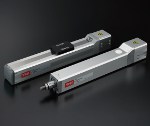 The Economy Series ES (slider type) and EC (cylinder type) electric actuators are built on THK's original Linear Motion System technology for smooth and silent movement. Designed as an alternative to pneumatic cylinders and as an option for automating manual processes, these easy-to-install, compact multifunctional devices are ideal candidates for processing, assembly, transport, testing, and other applications. The ES incorporates the model SRS LM Guide, equipped with ball retainers, as well as Lubricator QZ for optimal ball-screw lubrication. The combined effect provides for long-term maintenance-free operation. Strokes available from 50 to 600 mm (ES) and 50 to 300 mm (EC), with speeds from 300 to 600 mm/s for both. Horizontal or vertical mount determines maximum load: ES = 0.5 to 10 kg (1.1 to 22 lb), EC = 3 to 15 kg (6.6 to 33 lb).
Click here to learn more.
---
Automation: Robotic joint control how-to

Versatile and adaptive robotic armatures have the benefit of increasing manufacturing productivity by automating and performing complex, repetitive tasks 24/7. Designed to obey commands or to work in unison as cooperative robots (cobot/co-robot), these robots greatly simplify the design of automation systems. To further improve performance, reaction torque sensors are placed in-line with the drive motors inside each joint, allowing development of closed loop control laws to ensure smooth, repeatable, and efficient arm motion.
Learn about precision torque feedback for robotic arms and co-robots.
---
NASA tests robotic ice tools to explore distant ocean worlds
By Andrew Good, Jet Propulsion Laboratory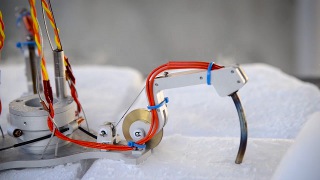 A robotic claw, one of several innovative tools developed at JPL for exploring icy, ocean worlds like Europa. [Credits: NASA/JPL-Caltech]
Want to go ice fishing on Jupiter's moon Europa? There's no promise you'll catch anything, but a new set of robotic prototypes could help.
Since 2015, NASA's Jet Propulsion Laboratory in Pasadena, CA, has been developing new technologies for use on future missions to ocean worlds. That includes a subsurface probe that could burrow through miles of ice, taking samples along the way; robotic arms that unfold to reach faraway objects; and a projectile launcher for even more distant samples.
All these technologies were developed as part of the Ocean Worlds Mobility and Sensing study, a research project funded by NASA's Space Technology Mission Directorate in Washington. Each prototype focuses on obtaining samples from the surface -- or below the surface -- of an icy moon.
"In the future, we want to answer the question of whether there's life on the moons of the outer planets -- on Europa, Enceladus, and Titan," said Tom Cwik, who leads JPL's Space Technology Program. "We're working with NASA Headquarters to identify the specific systems we need to build now, so that in 10 or 15 years, they could be ready for a spacecraft."

VIDEO: The search for life beyond Earth needs robots. But to explore distant ocean worlds like Europa, we'll need a new set of tools to drill through ice, reach faraway samples, and cross difficult terrain. NASA's Jet Propulsion Laboratory recently finished a series of prototypes that might make that exploration a little easier.
Those systems would face a variety of challenging environments. Temperatures can reach hundreds of degrees below freezing. Rover wheels might cross ice that behaves like sand. On Europa, surfaces are bathed in radiation.
"Robotic systems would face cryogenic temperatures and rugged terrain and have to meet strict planetary protection requirements," said Hari Nayar, who leads the robotics group that oversaw the research. "One of the most exciting places we can go is deep into subsurface oceans -- but doing so requires new technologies that don't exist yet."
A hole in the ice
Brian Wilcox, an engineering fellow at JPL, designed a prototype inspired by so-called "melt probes" used here on Earth. Since the late 1960s, these probes have been used to melt through snow and ice to explore subsurface regions.
The problem is that they use heat inefficiently. Europa's crust could be 6.2 miles deep or it could be 12.4 miles deep (10 to 20 km); a probe that doesn't manage its energy would cool down until it stopped frozen in the ice.
Wilcox innovated a different idea: a capsule insulated by a vacuum, the same way a thermos bottle is insulated. Instead of radiating heat outwards, it would retain energy from a chunk of heat-source plutonium as the probe sinks into the ice.
A rotating sawblade on the bottom of the probe would slowly turn and cut through the ice. As it does so, it would throw ice chips back into the probe's body, where they would be melted by the plutonium and pumped out behind it.
Removing the ice chips would ensure the probe drills steadily through the ice without blockages. The ice water could also be sampled and sent through a spool of aluminum tubing to a lander on the surface. Once there, the water samples could be checked for biosignatures.
"We think there are glacier-like ice flows deep within Europa's frozen crust," Wilcox said. "Those flows churn up material from the ocean down below. As this probe tunnels into the crust, it could be sampling waters that may contain biosignatures, if any exist."
To ensure no Earth microbes hitched a ride, the probe would heat itself to over 900 degrees Fahrenheit (482 degrees Celsius) during its cruise on a spacecraft. That would kill any residual organisms and decompose complex organic molecules that could affect science results.
A longer reach
Researchers also looked at the use of robotic arms, which are essential for reaching samples from landers or rovers. On Mars, NASA's landers have never extended beyond 6.5 to 8 ft (2 to 2.5 m) from their base. For a longer reach, you need to build a longer arm.
A folding boom arm was one idea that bubbled up at JPL. Unfolded, the arm can extend almost 33 ft (10 m). Scientists don't know which samples will be enticing once a lander touches down, so a longer reach could give them more options.
For targets that are even farther away, a projectile launcher was developed that can fire a sampling mechanism up to 164 ft (50 m).
Both the arm and the launcher could be used in conjunction with an ice-gripping claw. This claw could someday have a coring drill attached to it; if scientists want pristine samples, they'll need to bore through up to 8 in. (about 20 cm) of Europa's surface ice, which is thought to shield complex molecules from Jupiter's radiation.
After deployment from a boom arm or a projectile launcher, the claw could anchor itself using heated prongs that melt into the ice and secure its grip. That ensures that a drill's bit is able to penetrate and collect a sample.
Wheels for a cryo-rover
In July, NASA will mark a 20-year legacy of rovers driving across Martian desert, harkening back to the July 4, 1997 landing of Mars Pathfinder, with its Sojourner rover.
But building a rover for an icy moon would require a rethink.
Places like Saturn's moon Enceladus have fissures that blow out jets of gas and icy material from below the surface. They'd be prime science targets, but the material around them is likely to be different than ice on Earth.
Instead, tests have found that granular ice in cryogenic and vacuum conditions behaves more like sand dunes, with loose grains that wheels can sink into. JPL researchers turned to designs first proposed for crawling across the moon's surface. They tested lightweight commercial wheels fixed to a rocker bogey suspension system that has been used on a number of JPL-led missions.
The next steps
Each of these prototypes and the experiments conducted with them were just starting points. With the ocean worlds study complete, researchers will now consider whether these inventions can be further refined. A second phase of development is being considered by NASA. Those efforts could eventually produce the technologies that might fly on future missions to the outer solar system.
This research was funded by NASA's Space Technology Mission Directorate's Game Changing Development Program.
For more information on Ocean Worlds Europa Technologies, go to https://gameon.nasa.gov/projects-2/ocean-worlds-europa-technologies/
Published April 2017
Rate this article