Swedish Steel Prize 2017 finalists chosen for innovative design concepts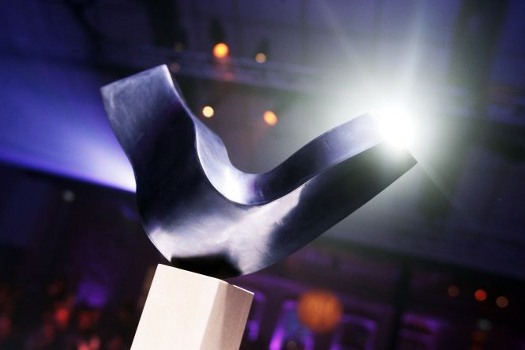 Spring is in the air, and that means it's time for the Swedish Steel Prize finalists to show off their clever uses of high-strength steels and get really excited. The winner of the 2017 prize will be announced at a ceremony in Stockholm on May 11. The winner will receive a statuette by the sculptor Jörg Jeschke and a cash prize of SEK 100,000 (almost $12,000). SSAB encourages the winner to donate the cash prize to charity.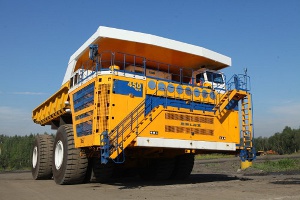 One impressive past winner is Belaz, maker of world's largest dump truck, who won the Swedish Steel Prize in 2014.
"This year, a record number of 102 applications were sent in from 32 different countries around the world," said Eva Petursson, chairman of the Swedish Steel Prize jury and head of SSAB's strategic R&D. "The high overall quality of the applications shows that this prize has an important role in promoting and even encouraging the industry to find new and innovative ways to use high-strength steels for higher performance."
The last time the prize was given out (2015), the jury had entries from 28 countries to evaluate. The Finnish innovator Ponsse won for designing a new, innovative, and cost-effective roller feeder for forest harvesters (see Designfax story here). The winner before that (2014) was the Belarusian company Belaz, who built the world's largest dump truck with the help of high-strength steel (see Designfax story here).
The Swedish Steel Prize was established by SSAB in 1999 to inspire and disseminate knowledge about high-strength steel and how it can be used to develop stronger, lighter, and more sustainable products. This year will mark the 18th time the prize has been awarded.
The four finalists are:

Fermel, mining vehicle, South Africa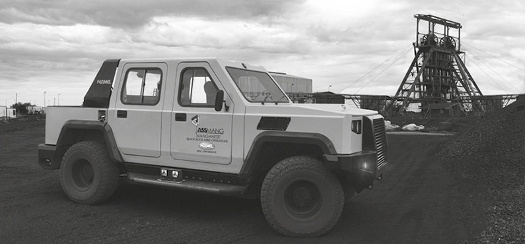 Fermel has developed a unique range of multi-purpose vehicles for safe transportation in mines. The vehicles meet new, more stringent safety legislation and are intended to replace the re-built standard vehicles currently used. Design optimization of the entire vehicle, including the car body, has given superior performance regarding personal safety, higher payload, agility, damage resistance, reliability, and service life. All these benefits are achieved by extensive use of advanced high-strength structural and wear-resistant steels.
JMG Cranes, electrical pick-and-carry crane, Italy
JMG Cranes has developed a unique, highly compact crane with an extended field of application. The lean design combined with electric drivetrain and excellent maneuverability allows it to be used both indoors and outdoors. This powerful pick-and-carry crane has great lifting capacity. Its high performance-to-weight ratio has been obtained by an optimized boom design utilizing ultra-high-strength steels. Additionally, efficient road transportation is made easy by removable support legs and counter weights.
Kiruna Wagon, dumper wagon, Sweden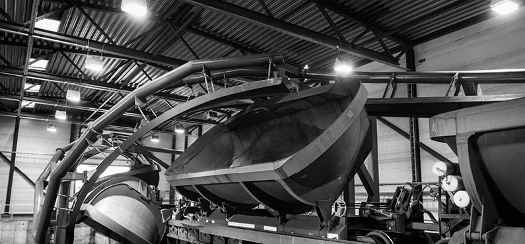 Kiruna Wagon has developed an innovative dumper wagon system for long-haul rail transport and efficient unloading of minerals. Use of advanced high-strength structural and wear-resistant steels made it possible to design lightweight wagons combined with a stationary Helix terminal for on-the-fly rotary unloading. With its nearly doubled unloading rate, the Helix system is superior to all conventional solutions and solves many problems related to sticky aggregates. The terminal system is very cost effective, in terms of both investment and operation.
Wabash National, rear impact guard, USA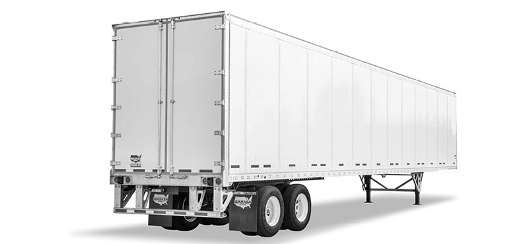 Wabash National's new rear impact guard for trucks and semi-trailers exceeds North American standards for demanding off-set impact. The optimized design utilizing high-strength structural steel has been verified through extensive full-scale testing that shows superior performance in protecting the people in the colliding car. The patented system gives excellent energy absorption, minimum damage to the heavy vehicle, and has highly cost-effective manufacturing and assembly.
Read more about the Swedish Steel Prize at www.steelprize.com. We'll profile the winner in an upcoming issue of Designfax.
Source: SSAB
Published April 2017
Rate this article