Synchronous motors/drives don't need encoder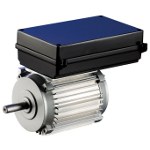 The SINOCHRON Motor design from ABM DRIVES offers advantages in continuous-duty applications like driving pumps and fans. The efficiency is also better in partially loaded duty cycles when compared to standard asynchronous motors. This motor can replace a stepper motor in some applications. Drive units are virtually loss-free in no-load operation. This motor design also offers advantages in powering conveying equipment, escalators, spooling machines, compressors, and traction drive units. By substituting existing line-powered three-phase drive units, energy savings of 20 to 35 percent can be expected.
Click here to learn more.
---
Mike Likes: TI doubles power density with motor control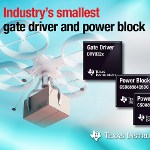 Texas Instruments recently introduced two new device families that help reduce size and weight in motor drive applications. When used together, the brushless DC (BLDC) gate drivers and power blocks require half the board space of competing solutions. An 18-V compact BLDC motor reference design demonstrates how these components can drive 11 W/cm3 power and enable engineers to jump start their designs for smaller, lighter weight power tools, integrated motor modules, drones, and more.
Read the full article.
---
Stepper motor controller delivers 2,000x basic resolution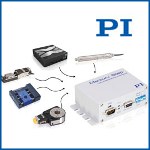 Precision positioning systems industry leader PI (Physik Instrumente) has released a higher performance model of its successful Mercury Stepper Motion controller. Stepper motors take up discrete positions in a revolution of a constant distance. Typical commercial models provide 200 to 1,000 full steps per revolution. Designed to deliver more than 2,000 times the basic motor resolution, the C-663.12 Mercury controller is the newest addition to PI's suite of motion control solutions.
Click here to learn more.
---
Micro gripper for small, fragile part assembly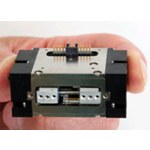 The MGR5 electric micro gripper from SMAC was designed for small, fragile part assembly. It features a light-force capability of 10 g or less and a soft-land capability for pick and place of delicate parts. Each jaw can be independently controlled in force, position, and velocity, with a 5-micron linear encoder standard (1 micron optional). Ideal for a wide range of positioning, measuring, and inspection applications, particularly where 100% verification is required.
See this new gripper in action.
Get more detailed info on this micro gripper.
---
Dual-feedback voice coil positioning stage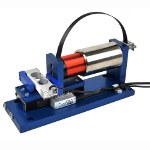 The VCS20-020-CR-01-MC-F3K voice coil positioning stage can operate under closed-loop position control with force monitoring or closed-loop force control with position monitoring. It uses H2W voice coil motor NCC20-18-020-1A to generate a continuous/peak force of 2 lb (8.9 N)/6 lb (26.7 N) with a total stroke length of 2 in. (50.8 mm). The 1-micron resolution encoder allows for precise positioning. The 3-kg rated force transducer allows for 0.01- to 3-kg of push/pull force feedback control. It comes supplied with a high-accuracy crossed roller bearing. The motor coil is the moving part of the assembly in order to reduce the moving mass of the system. Power is supplied to the motor via a high-flex, high-reliability flat ribbon cable.
Click here to learn more.
---
Thinnest moving coil linear motor in the world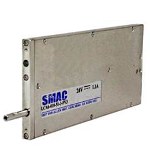 At 6 mm wide, SMAC Moving Coil Actuators claims the LCA6 is the thinnest linear moving coil in the world. This unit is cross-roller guided, increasing accuracy. Flat coils are centered between cross rollers, so deflection load is reduced and rigidity is increased. In addition, the LCA6 is small and stackable, conserving space. The LCA6 is great for electronic pick-and-place, biomedical dispensing, and QC measurement. Specs include a linear stroke of 10 mm and peak force [N] = 3.5 @ 1.2 amps (24V).
Click here to learn more about this product line.
---
Program templates make automation even easier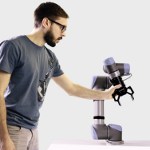 Robotiq offers new tools to help collaborative-robot beginners save a lot of time programming Robotiq products and UR robots. Program templates are now available and ready to be downloaded from Robotiq's online resource center. Every package includes a program file, step-by-step procedures, and a demonstration video. Four program templates are available: Stacking/Unstacking Using the Force Torque Sensors, Palletizing Using the Wrist Camera, Measuring Insertion Force, and Increasing the Wrist Camera's Field of View. New programs are expected to come out every week.
Click here to learn more.
---
New industrial-grade optical encoder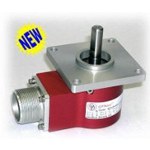 Quantum Devices' Model QDH20 provides an improved feedback solution in demanding applications typically using a standard size 20 package. Outputs consist of a quadrature A & B with reference pulse Z as a standard feature. The output can be configured with either the industrial standard 5-V to 26-V OL7272 line driver or open collector outputs. The QDH20 features two heavy-duty bearing sets holding the output shaft and two more bearings along with an integral flexible spring mount to isolate the working pieces of the encoder from mechanical stresses. Features include 500-kHz fundamental frequency response, high-temp option (100 C), and high noise immunity.
Click here to learn more.
---
Cool Tools: New Fluke motor diagnostics tool incorporates machine learning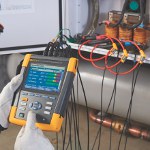 Fluke and Veros Systems have collaborated on asset performance and condition monitoring technologies to increase visibility into the efficiency and reliability of electric motor-driven machines. The Fluke 438-II Power Quality and Motor Analyzer is the first tool to result from that partnership. It analyzes three-phase power-quality measurements and uses an innovative method developed by Veros to calculate motor output torque, speed, horsepower, and efficiency. Using this information, engineers and technicians can evaluate system performance and detect overload conditions while the motor is operational, without the use of any mechanical sensing devices such as tachometers, strain gauges, or other intrusive sensors.
Click here to learn more.
---
Mini but mighty high-load linear actuator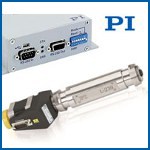 Equipped with precision ground ball screws for higher speed and a longer service life, the L-239 high-force actuator from Physik Instrumente (PI) has a positioning range of 52 mm (2 in.), pushing force of 300 N (66 lb), and 50-mm/sec (2-in./sec) maximum velocity. The nonrotating tip enables uniform motion, preventing wobble, torque, and wear at the point of contact. Noncontact limit switches protect the mechanics, while a direction-sensing reference point switch speeds up the homing procedure and supports automation applications. Special versions available for vacuum applications.
Click here to learn more.
---
Motor Tech: UAV camera stabilization with brushless motors

Today, recon is dominated by unmanned aerial vehicles (UAVs) and drones due largely to concerns for pilots' safety and costs. However, photos and videos obtained from UAVs are only useful if they are crisp and clear, which requires both precise focusing and extreme stabilization of the camera system. Compact and powerful FAULHABER brushless DC motors from MICROMO were selected to get the job done.
Read the full article.
---
Become a robot programmer in only 87 minutes!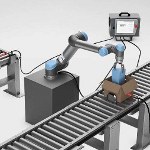 Learning how to set up and program a collaborative robot -- or cobot -- no longer depends on real-life access to a robot or a training class. Now everybody with a desire to learn the concepts of cobots can log in to the Universal Robots Academy and get the introduction necessary to master basic programming skills. Become a master of the cobots! (That's a pretty sweet title.)
Click here to learn more.
---
Low-cost spring-applied brakes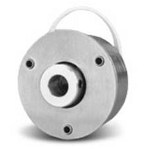 Inertia Dynamics type FSB brakes are designed to decelerate or hold inertial loads when the voltage is turned off. These brakes can be mounted to a bulkhead or motor. The FSB brakes are rated up to 100 lb-in. static torque and fit motors up to 5.3 in. OD. Features include 12-V, 24-V, 90-VDC, or 120-VAC windings; bore sizes from 1/4 in. to 3/4 in.; low current consumption; and low cost. Metric bores and special voltages available.
Click here to learn more.
---
Are you using the Right Coupling for your motion control application?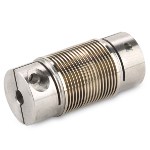 Servometer® precision motion control couplings are available with both set screw and clamp style ends. Electro-deposited bellows technology offers seamless construction and the best combination of flexibility and strength among couplings technologies. These versatile, flexible nickel and stainless steel shaft couplings are capable of accommodating misalignments for parallel, angular and axial motion. Our recently released video showcases their unique characteristics, capabilities, design and various applications.
View video ...
---
Smart sensors provide health checks for motors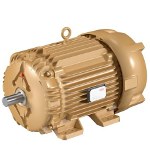 The ABB Ability Smart Sensor for motors uses compact sensors to pick up multiple data streams from low-voltage motors and provides information about motor health and performance via a smartphone or a dedicated web portal. By converting regular LV motors into intelligent, connected machines, the solution enables advanced maintenance planning that will help businesses cut costs and boost productivity. Predictive analytics based on data from the solution can reduce downtime up to 70%, extend motor lifetime by as much as 30%, and cut energy consumption up to 10%.
Click here to learn more.
---
Researchers develop safe, efficient way to produce hydrogen from aluminum particles and water to meet in-flight aircraft energy needs
Aerospace engineers at the Technion-Israel Institute of Technology have developed and patented a process that can be used onboard aircraft while in flight to produce hydrogen from water and aluminum particles safely and cheaply. The hydrogen can then be converted into electrical energy for inflight use. The breakthrough could pave the way for non-polluting, more-electric aircraft that replace current hydraulic and pneumatic systems typically powered by the main engine.
The groundbreaking work was reported in a recent paper published in the International Journal of Hydrogen Energy.
"Hydrogen produced onboard the aircraft during flight can be channeled to a fuel cell for electrical energy generation," said lead researcher Dr. Shani Elitzur of the Technion Faculty of Aerospace Engineering. "This technology offers a good solution to several challenges, such as hydrogen storage, without the problems associated with storing hydrogen in a liquid or gas state."
While the use of hydrogen fuels has been a potential greener energy solution for some time, storing hydrogen has always been a problem. The engineers were able to work around the hydrogen storage problem by using non-polluting Proton Exchange Membrane (PEM) fuel cells and a process of aluminum activation patented by the paper's co-authors, Prof. Alon Gany and Dr. Valery Rosenband.
Dr. Elitzur's research was focused on the reaction between the activated aluminum powder and water (from different types) to produce hydrogen. The foundation for the technology is in the chemical reaction between aluminum powder and water to produce hydrogen. Either fresh water or waste water, already onboard the aircraft, can be used for activation, which means the aircraft does not need to carry any additional water.
The spontaneous and sustained reaction between powdered aluminum and water is enabled by a special thermo-chemical process of aluminum activation the researchers developed. The protective properties of the oxide or hydroxide film covering the aluminum particle surface are modified by a small fraction of lithium-based activator diffused into aluminum bulk, allowing water at room temperature to react spontaneously with the aluminum.
The process does generate heat, which the researchers say can be used for a number of tasks, including heating water and food in the galley, de-icing operations, or heating aircraft fuel prior to starting the engines.
According to the researchers, their technology would provide:
Quieter operations onboard an aircraft;
Drastic reductions in CO2 emissions;
Compact storage -- no need for hydrogen storage tanks onboard aircraft;
More efficient electric power generation
A reduction in wiring (multiple fuel cells can be located near their point of use);
Thermal efficiency (fuel cell-generated heat can be used for de-icing, heating jet fuel); and
Reduced flammable vapors in fuel tanks (inert gas generation).
"The possibility of using available, onboard wastewater boosts both the efficiency and safety of the system," explained Dr. Rosenband. "Also, the PEM fuel cells exhibit high efficiency in electric energy generation."
Aircraft manufacturers, including Boeing and Airbus, have already investigated using onboard fuel cells. Boeing has experimented with them in smaller aircraft, in anticipation of using them on its 787-8, the current state-of-the-art electric airplane. According to the Technion researchers, fuel cells can even play an energy-saving role in airline and airport ground-support operations when they are used for systems such as de-icing and runway light towers.
"Efficient hydrogen production and storage represents the future for efficient and safe aircraft inflight energy needs." summarized Prof. Gany.
Source: The Technion-Israel Institute of Technology
Published June 2017
Rate this article