Mobility Tech Ideas: Scissor lift for UTVs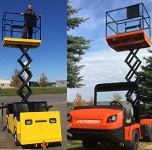 The UTX Scissor lift from Innovative Equipment is designed to be easily fitted and removed from almost any utility vehicle (UTV) in approximately 3 minutes without any heavy lifting. It provides the user with a working height of 18 to 19 ft on nearly any terrain. It can be leveled on slopes up to 12 deg. It has a lifting capacity of 500 to 600 lb and enables users to take a scissor lift "where no scissor lift has gone before." Stability has been tested to five times the ANSI requirements. It also has safety features that will not allow it to be used in unsafe conditions.
See it in action.
---
Become a robot programmer in 87 minutes!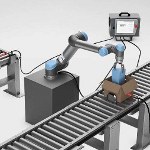 Learning how to set up and program a collaborative robot -- or cobot -- no longer depends on real-life access to a robot or a training class. Now everybody with a desire to learn the concepts of cobots can log in to the Universal Robots Academy and get the introduction necessary to master basic programming skills. Become a master of the cobots! (That's a pretty sweet title.)
Click here to learn more.
---
Multi-axis robotic controller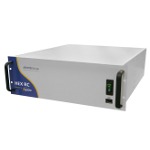 Aerotech's HEX RC is a 6-axis motion controller ideal for controlling robotic systems like hexapods. It is 4U rack-mountable and compatible with the Automation 3200 (A3200) motion platform. A high-performance processor provides the intense computing power needed to run up to 32 axes, perform complex, synchronized motion trajectories, manipulate I/O, and collect data at high speeds. This unit features 6 axes of drives capable of controlling any combination of brush, brushless, or stepper motors (both current loop and servo loop closures). An optional 6-axis jog pendant permits easy, manual control of the positioning system.
Click here to learn more.
---
Single-rail positioning stage (H-gantry)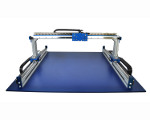 H2W Technologies' latest single-rail positioning stage design is an open-frame XY positioning system. It has two bottom parallel axes with one cross axis connecting the two (H-gantry). Each linear axis uses H2W's brushless linear motors (BLDM-B04). Each has a total stroke length of 25.67 in. (652 mm) and can generate 6.2 lb (27.8 N) of continuous force and 18.7 lb (83.3 N) of peak force, or a combined 12.4 lb (55.6 N) continuous force and 37.4 lb (166.6 N) peak force on the bottom axis. The non-contact 1-micron resolution encoders allow for precise positioning. The moving tables are guided by a precision recirculating linear ball bearing system. Additional options include a home positioning sensor, end-of-travel-sensors, and custom mounting holes.
Click here to learn more.
Watch this stage in action.
---
Getting a grip on precision: Mechatronics vs. pneumatics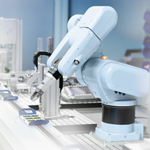 A gripping system for small parts that is both quick and powerful -- until now, that was often only possible with pneumatics. However, recently the leading expert for gripper systems and technology has developed a mechatronics-based EGP 40 gripper that easily achieves the same performance of its pneumatic counterparts. The drive that makes this impressive performance possible is FAULHABER small brushless DC servo motors from MICROMO.
Read the full article.
---
Mini linear motor stage with magnetic direct drive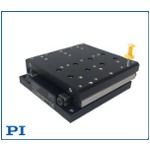 Motion and nanoposi-tioning industry leader PI expands its PIMag series of high-dynamics linear motor stages with a new compact positioner for automation tasks. The V-408 stage is equipped with an incremental linear encoder for direct position measurement and a high-force 3-phase linear motor drive. The V-408 features high load-capacity precision crossed roller elements with anti-creep cage assist and a zero-wear, non-contact linear motor -- ideal prerequisites for long lifetime in high duty-cycle industrial applications. The high-force linear motor achieves velocities up to 1.5m/sec. An integrated optical linear encoder provides 10-nm resolution. Two models are offered with 25-mm and 50-mm travel range.

---
Advanced pneumatic standard cylinders with Adaptive Cushioning System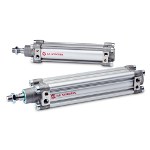 IMI Norgren's ISOLine is a true fit-and-forget ISO cylinder. Inside lies the new Adaptive Cushioning System (ACS), which automatically adjusts the cylinder cushioning for changing loads, so manual cushion screw setting is not required. This makes the ISOLine much simpler to install. Other benefits include lower breakaway pressure, lower minimum speed, reduced leakage, polyurethane seals that ensure efficient low-friction operation, and reduced weight (20% lighter than previous versions). All sizes supplied with magnetic piston rod as standard.
Click here to learn more.
---
Easily automate a simple axis of motion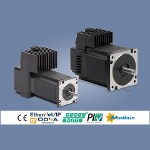 The Tolomatic ACSI integrated servo/motor/ controller is now available with PROFINET Industrial Ethernet protocol, allowing engineers to design easy-to-use and cost-effective electric actuator solutions for single-axis applications. The integrated package is ideal for replacing pneumatic cylinders and automating any simple axis of motion with Siemens or other PROFINET-enabled PLCs. With built-in configurations for Tolomatic electric actuators, the ACSI integrated controller automatically configures the motor, actuator, safety limits, and other key settings inside the controller for quick and seamless integration.
Click here to learn more.
---
Direct drive linear motor with integrated encoder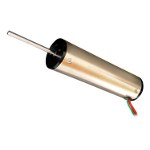 The new SDLM-019-070-01-01 direct drive linear motor is the latest addition to the series of zero-backlash, zero-cogging, high-acceleration, high-speed, high-resolution, long-life linear servo motors from Moticont. Also known as an electric cylinder, this compact direct drive linear motor is just 0.75 in. (19.1 mm) in diameter and 2.75 in (69.9 mm) long. Protected inside the motor housing, the linear optical quadrature encoder is directly connected to the shaft for the greatest possible accuracy. This unit has a stroke length of 0.500 in. (12.7 mm), a continuous force rating of 9.7 oz. (2.7 N), and peak force of 30.7 oz (8.5 N).
Click here for more information on this product series.
---
ABB's general-purpose motors combine quality, cost efficiency, and industry experience with short lead times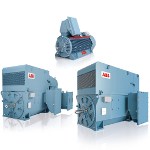 ABB has launched its N-series general-purpose motors to provide a high level of energy efficiency, reliability, and safety in applications where a highly customized motor in the 50- to 8,000-kW power range is not needed. The motors use cost-effective pre-packaged designs to meet the same high quality standards as all ABB motors but with lead times that are several weeks shorter. An easy-to-use online selection tool called "MachSize" simplifies motor configuration. Another tool called "DocStage" is a web-based system for sharing and managing documentation.
Click here to learn more.
---
New nanopositioning solutions catalog debuted at LASER 2017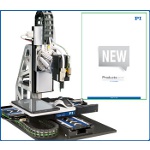 Motion and precision positioning systems expert PI (Physik Instrumente) issued a catalog on newly introduced precision motion solutions for photonics, robotics, microscopy, and highly accurate industrial automation applications at LASER World of PHOTONICS held in Munich, Germany, in June. The 80-page catalog covers products and custom-engineered systems, including automated photonics alignment engines, linear motor stages, piezo actuators, air bearings, hexapod Stewart platforms, and high-performance motion controllers.
Get your nanopositioning systems catalog today.
---
Get 'V8 power' and nanometer precision positioning with PI's new piezo linear motor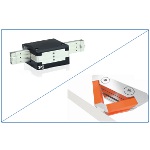 Motion control and piezo systems expert PI (Physik Instrumente) introduces a new robust OEM walking motor drive, the N-331, with its configuration rooted in existing patented piezo actuator technology and a patented piezo stepping motion principle design. Unlike traditional electromagnetic motors, piezo motors do not create magnetic fields, nor are they influenced by magnetic or electric fields. The new design is ideal for use in high-end applications that require extreme precision and durability. High push/pull and holding forces qualify this non-magnetic drive as the fastest and strongest of its size class.
Click here to see it in action.
See the specs, datasheet, and more information.
---
Mike Likes: Small brushless motor with big performance

The new 3274 BP4 brushless DC motor series from FAULHABER is overload‐resistant and operates without wear‐prone mechanical commutation, giving the 3274 BP4 longer operational life than conventional micro DC motors. Weighing just under 320 grams, the 3274 BP4 brushless servo motor packs massive continuous torque of 165 mNm, making it ideal for applications where high power and dynamic start/stop operation with the lowest possible weight are crucial.
Click here to learn more.
---
Rotate an object to a precise angular position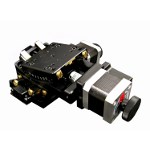 Goniometer stages can measure angles of objects such as crystals or move an object to a precise angular position along an arc in relation to a fixed point in space. Two goniometer stages mounted in an alpha-beta configuration (stacked) can rotate an object around a fixed point in space on a spherical surface. Optimal Engineering Systems (OES) offers stacked, precision-aligned goniometer stages like the compact AK110-15-10 with a rotation center 50 mm above the upper stage. Goniometers are used for identifying crystals, examining cutting edges of medical instruments, estimating hyperspectral bidirectional reflectance, gloss measurements, measurements of radiation patterns of LEDs, directing lasers, aligning mirrors, and manufacturing quartz oscillator plates using quartz cutting X-rays.
Click here to learn more.
---
Compact hexapod for industrial alignment applications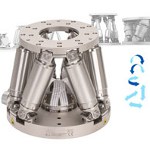 PI has added a higher performance model to its range of compact hexapods. The new H-811.i2 provides twice the velocity along with sensor resolution up to eight times higher compared to the current H-811.D2 miniature hexapod. The compact size, robust design with low-friction ballscrews, brushless motors, and powerful controller with multi-axis alignment capabilities make the new hexapod an ideal tool for high duty-cycle alignment applications in optics, automotive, and photonics applications.
Specifications, datasheets, more information >
Read technical articles and applications of PI hexapods >
---
Researchers develop safe, efficient way to produce hydrogen from aluminum particles and water to meet in-flight aircraft energy needs
Aerospace engineers at the Technion-Israel Institute of Technology have developed and patented a process that can be used onboard aircraft while in flight to produce hydrogen from water and aluminum particles safely and cheaply. The hydrogen can then be converted into electrical energy for inflight use. The breakthrough could pave the way for non-polluting, more-electric aircraft that replace current hydraulic and pneumatic systems typically powered by the main engine.
The groundbreaking work was reported in a recent paper published in the International Journal of Hydrogen Energy.
"Hydrogen produced onboard the aircraft during flight can be channeled to a fuel cell for electrical energy generation," said lead researcher Dr. Shani Elitzur of the Technion Faculty of Aerospace Engineering. "This technology offers a good solution to several challenges, such as hydrogen storage, without the problems associated with storing hydrogen in a liquid or gas state."
While the use of hydrogen fuels has been a potential greener energy solution for some time, storing hydrogen has always been a problem. The engineers were able to work around the hydrogen storage problem by using non-polluting Proton Exchange Membrane (PEM) fuel cells and a process of aluminum activation patented by the paper's co-authors, Prof. Alon Gany and Dr. Valery Rosenband.
Dr. Elitzur's research was focused on the reaction between the activated aluminum powder and water (from different types) to produce hydrogen. The foundation for the technology is in the chemical reaction between aluminum powder and water to produce hydrogen. Either fresh water or waste water, already onboard the aircraft, can be used for activation, which means the aircraft does not need to carry any additional water.
The spontaneous and sustained reaction between powdered aluminum and water is enabled by a special thermo-chemical process of aluminum activation the researchers developed. The protective properties of the oxide or hydroxide film covering the aluminum particle surface are modified by a small fraction of lithium-based activator diffused into aluminum bulk, allowing water at room temperature to react spontaneously with the aluminum.
The process does generate heat, which the researchers say can be used for a number of tasks, including heating water and food in the galley, de-icing operations, or heating aircraft fuel prior to starting the engines.
According to the researchers, their technology would provide:
Quieter operations onboard an aircraft;
Drastic reductions in CO2 emissions;
Compact storage -- no need for hydrogen storage tanks onboard aircraft;
More efficient electric power generation
A reduction in wiring (multiple fuel cells can be located near their point of use);
Thermal efficiency (fuel cell-generated heat can be used for de-icing, heating jet fuel); and
Reduced flammable vapors in fuel tanks (inert gas generation).
"The possibility of using available, onboard wastewater boosts both the efficiency and safety of the system," explained Dr. Rosenband. "Also, the PEM fuel cells exhibit high efficiency in electric energy generation."
Aircraft manufacturers, including Boeing and Airbus, have already investigated using onboard fuel cells. Boeing has experimented with them in smaller aircraft, in anticipation of using them on its 787-8, the current state-of-the-art electric airplane. According to the Technion researchers, fuel cells can even play an energy-saving role in airline and airport ground-support operations when they are used for systems such as de-icing and runway light towers.
"Efficient hydrogen production and storage represents the future for efficient and safe aircraft inflight energy needs." summarized Prof. Gany.
Source: The Technion-Israel Institute of Technology
Published June 2017
Rate this article