Cool Tools: Wireless pocket oscilloscope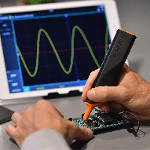 Saelig has introduced the IkaScope WS200, a pen-shaped battery-powered wireless oscilloscope that streams captured signals to almost any Wi-Fi-connected screen. This tool offers a 30-MHz bandwidth with its 200-MSa/s sampling rate, and the maximum input is +/-40 Vpp. It provides galvanically isolated measurements even when a USB connection is charging the internal battery. The IkaScope WS200 will work on desktop computers (Windows, Mac, and Linux) as well as on mobile devices like tablets or smartphones (iOS and Android Q4 2017). Application software can be downloaded for whichever platform is needed.
Click here to learn more.
---
Multi-axis robotic controller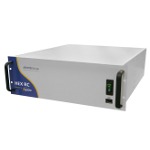 Aerotech's HEX RC is a 6-axis motion controller ideal for controlling robotic systems like hexapods. It is 4U rack-mountable and compatible with the Automation 3200 (A3200) motion platform. A high-performance processor provides the intense computing power needed to run up to 32 axes, perform complex, synchronized motion trajectories, manipulate I/O, and collect data at high speeds. This unit features 6 axes of drives capable of controlling any combination of brush, brushless, or stepper motors (both current loop and servo loop closures). An optional 6-axis jog pendant permits easy, manual control of the positioning system.
Click here to learn more.
---
Using natural refrigerants in cooling system design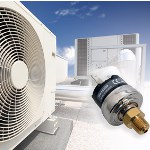 The use of natural refrigerants is on the rise, creating a new set of challenges for cooling system design. You can optimize safety and efficiency by understanding the implications of the trend on component design and selection. This new white paper from Sensata Technologies provides an overview of methods used to mitigate these technical challenges as well as a look at some of the HVAC and refrigeration hardware and safety technologies required, especially pressure switches and pressure sensors.
Read the white paper (no registration required).
---
Compact touchless position sensors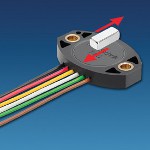 TFD Series touchless linear position sensors from Novotechnik provide wear-free operation in tight spaces for measurement of short stroke lengths. They use a magnetic position marker to provide a touchless measurement range of 0 to 14, 24, or 50 mm (depending on model). These sensors make measurements through air and non-magnetic materials. Applications include textile machinery, packaging machinery, sheet metal machinery, medical applications, marine, mobile engine management systems, industrial trucks, construction machinery, and agricultural and forestry machinery.
Click here to learn more.
---
Connectors: High-current DC power in compact design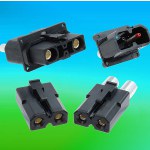 Amphenol Industrial Products Group now offers a versatile connection system that distributes high-current DC power in a compact design. Designed to connect wire to wire, wire to board, and busbar terminations, the Amphe-PD series distributes higher currents with less heat than similar-sized connectors on the market. Ideal for use in datacenter equipment, robotics, and industrial automation, the Amphe-PD series connectors offer wire terminations ranging from 12 AWG to 4 AWG.
Click here to learn more.
---
Cool Tools: Wireless digital micrometer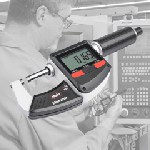 The new 40 EWRi is the latest addition to Mahr's Integrated wireless family of products, including digital calipers, indicators, and depth gages, which allow users to measure faster, more easily, and more reliably. Measurement data is transferred to an i-Stick on a computer without any interfering data cables, and MarCom software makes data acquisition simple: Just take a measurement and transmit measuring data directly into MS Excel or via a keyboard code into any Windows program or existing SPC application.
Click here to learn more.
---
EMI shielding gaskets offered in many materials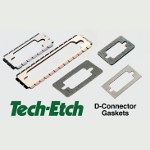 Tech-Etch offers EMI shielding D-Connector gaskets in a wide variety of materials. Five standard sizes of 9-, 15-, 25-, 37-, and 50-pin configurations are available in Stainless Steel; Beryllium Copper; X-, Y-, Z-axis Conductive Foam; and Metalized Fabric consisting of a metalized fabric over a polyurethane foam core. Additionally, four conductive elastomers fill out the D-Connector product line: Series 1000 Supershield silicone elastomer filled with conductive metal particles; Series 4000 Multishield composite material environmental seal; Series 5000 Monoshield for applications where the gasket is limited to 0.02-in. thickness and gap irregularities do not exceed 0.003 in.; and Series 5500 Weaveshield composite (woven aluminum wire screen impregnated with either a neoprene or silicone elastomer), and EMI shielding and pressure seal gasket material used for very small gaps. Custom gaskets can be manufactured.
Click here to learn more.
---
Wi-Fi high-temp air flow monitor for hazardous environments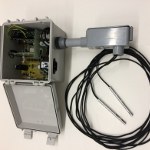 Wind Probe LLC has introduced a high-temp air flow monitor Wi-Fi instrument for large- and small-size ovens. This instrument combines the latest advances in materials, process control, and microprocessor technology and hardware and software design. The model 200 is small, lightweight, and suitable for harsh environments seen in high-temperature curing ovens. One of the most exciting markets includes air flow monitoring at 200 deg C in carbon composite honeycomb ovens. The software permits selecting data rates and running averaging in both temperature and air flow. The software is easily updated, and reference tables can be uploaded using the RS-232 communications interface.
Click here to learn more.
---
New Canfield Connector magnetic sensor adds reliability and safety to vehicles, machines, systems
The rugged Series CS Cylindrical Threaded Mount Sensor from Canfield Connector senses magnetism and triggers action in a variety of applications. The sensor's first field application equips a cement truck, where it picks up a signal from a magnet mounted to the mixing drum and controls how much the drum rotates. In an industrial automation setting, the sensor can detect the closure of a door and allow a machine to run, enhancing safety. The CS Sensor can also react to magnetism that identifies changes in liquid levels or positions of parts in a wide range of vehicles, machines, and systems.
Click here to learn more.
---
Industrial cybersecurity for small and medium-size businesses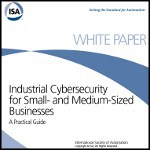 The International Society of Automation, at the request of the U.S. Department of Homeland Security, has developed a white paper designed to help small and medium-sized businesses (SMBs) recognize their vulnerability to industrial cyberattack and forge an effective cybersecurity plan based on established standards and practices. "Industrial Cybersecurity for Small and Medium Sized Businesses: A Practical Guide" leverages ISA's in-depth knowledge of industrial automation and control systems (IACS) and subject-matter expertise in industrial cybersecurity.
Get this valuable resource.
---
SNAP-TOP fasteners hold printed circuit boards securely without mating screws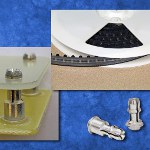 New PEM SMTSS ReelFast SNAP-TOP standoff fasteners from Penn-Engineering hold printed circuit boards securely in assemblies without requiring mating screws or other loose threaded hardware to complete attachment. These unthreaded standoffs promote streamlined production by easily installing in boards in the same manner and at the same time as other surface-mount components prior to the automated reflow solder process. They ultimately enable precise and reliable mounting and spacing of boards using less hardware and fewer operations.
Click here to learn more.
---
FUTEK mini load cells take on Shark Week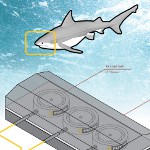 On the Discovery Channel's special "Shark School with Michael Phelps" last week, the team engineers at Peacock Productions used three FUTEK Donut/Through Hole load cells as well as FUTEK instrumentation to test a great white shark's bite force. The three LTH500 Donut/Through Hole Load Cells were placed in a special mold that mimicked the shark's prey. By combining the IHH500 Digital Hand Held Display and IAC200 4 Channel Summing Junction Box with the load cell setup, the production team was able to accurately measure the force of the great white shark's bite, which registered at 10,000 Newtons -- equivalent to a car crashing into a wall at 100 mph! The force reading was unprecedented; it was the first shark bite to register above 6,000 Newtons.
Check out the FUTEK setup for the Discovery Channel's "Shark School."
Watch the Discovery Channel's bite tester in action.
---
Everything you wanted to know about heatsinks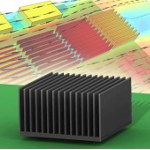 How well a heatsink performs depends on particular aspects of its design, such as the thermal conductivity of the material it's made of, its overall dimensions, fin type used, airflow rate, and system. A theoretical model can be used to predict performance, or it can be measured experimentally. But because of the complex 3D nature of today's electronic systems, engineers often use the numerical method via computational fluid dynamics (CFD) to determine the thermal performance of a heatsink before prototyping. This informative blog post from Mentor features two on-demand webinars to run through the basics of heatsink design and considerations.
Read the Mentor blog on heatsink design.
---
Mike Likes: Unit Conversion Tool

Convert popular spring units such as force or retaining ring thrust capacities into metric units with Smalley's engineering tools. Convert units such as mass and weight, angular measurements, velocities, temperatures, pressures and densities, and more.
Click here to learn more. You should bookmark this one.
---
Mike Likes: TI doubles power density with motor control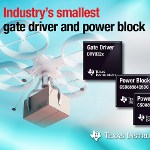 Texas Instruments recently introduced two new device families that help reduce size and weight in motor drive applications. When used together, the brushless DC (BLDC) gate drivers and power blocks require half the board space of competing solutions. An 18-V compact BLDC motor reference design demonstrates how these components can drive 11 W/cm3 power and enable engineers to jump start their designs for smaller, lighter weight power tools, integrated motor modules, drones, and more.
Read the full article.
---
What's next for internet privacy? Founder of World Wide Web Sir Tim Berners-Lee calls new U.S. ISP rules 'disgusting'
President Trump signed an executive order April 3 that finalized the repeal of the Federal Communications Commission's (FCC) internet privacy rules that would have stopped intrusive practices of ISPs. Internet service providers (ISPs) are now free to collect and share their subscribers' private data that includes precise geolocation, financial information, health information, children's information, and web browsing history. While ISPs are claiming they won't sell customer data, now that they are legally allowed to do it, there's lots of skepticism surrounding this claim.
According to the rights group Electronic Frontier Foundation, "Privacy and security are two sides of the same coin: privacy is about controlling who has access to information about you, and security is how you maintain that control."
Many experts say that the executive order is just the beginning -- and the signs of new developments are already visible.
A notice has already been served by the Trump administration that net neutrality -- which guarantees that all content is equally accessible -- will be possibly revoked. If that happens, Verizon and other ISPs will also be able to control which content users see, giving preference to more lucrative options, and making it harder for independent streaming services or smaller sites to compete. Verizon is likely to be one of the quickest ISPs to take advantage of the new liberties, and will seek to use the subscriber data in order to provide sharply targeted advertising.
As a result of the rights given to Internet Service Providers, a new type of ISP might emerge: an ISP that is also an ad network and content company, taking full advantage of data it receives from its tracking supercookies and other methods.
According to Sir Tim Berners-Lee, the founder of the World Wide Web, the measure repealing the FCC online privacy rules "was a disgusting bill, because when we use the web, we are so vulnerable." He said the problem with the internet is that it can be "ridiculously revealing" and notes that we have the right to go to a doctor in privacy, and similarly, we have to be able to go to the web in privacy.
NordVPN, a Virtual Private Network, which has seen its U.S. user inquiries triple in the past week, keeps warning American users about the necessity to take their own internet privacy into their own hands. "The next steps that ISPs might take to undermine internet user privacy are indeed worrying, so we want to stress that people need to use tools to protect themselves. If someone wants to swing the door wide open on your private life, make sure you have a key and a lock for that door," said Marty P. Kamden, CMO of NordVPN. "VPNs play the role of a lock when it comes to internet privacy. By encrypting all users' internet traffic into a secure tunnel that connects only to a VPN server, a VPN protects you from snoopers. It is the best known mechanism that keeps Internet traffic private and secure."
A VPN (Virtual Private Network) secures and encrypts Internet traffic, helping protect users' identity and data by hiding their IP address. It scrambles a user's online data, so an ISP cannot decode and use it for building an advertising profile. It also reroutes internet traffic through an encrypted tunnel, preventing any third parties (including the ISPs) from monitoring user's Internet traffic.
NordVPN has an obvious stake in this issue, because it provides VPN technologies.
Three more ways internet providers can impact online security
Here are three main ways that ISPs can potentially impact online security, given their new rights:
1. Storing large amounts of data could attract hackers. The storage security argument always reappears when discussing the mandatory ISP data-retention programs. Security experts and human rights groups usually agree that collecting citizens' data must be balanced with increased data protection. To make matters worse, the FCC Chairman Ajit Pai has recently halted the enforcement of another ISP regulation. It would have required providers to take measures to protect user private data from security breaches. As a result, even if users' data gets hacked because of lax security, broadband providers will bear no responsibility.
2. ISPs could use enhanced tracking techniques. According to a 2015 study, at least nine ISPs, including AT&T, Verizon, and Vodafone, were found to have been using a "supercookies." When supercookies are installed, every website a user visits, and every third party embedded in these websites, can track them. Even if a user deletes their browser's cookies or uses the Incognito mode, supercookies persist. Also, the effectiveness of some privacy tools may be weakened because the tracking could be added after the data leaves a device. To prevent trackers from being added on a network level, users would have to use a combination of tools to fully secure their internet traffic, such as a tracker blocker and a VPN for encryption. Thanks to FCC investigation, ISPs (such as Verizon) were fined and have since agreed to notify users about cookies and give an option to opt in before they can track their data. However, if FCC regulations keep getting struck down, ISPs might revert to using, or invent other, enhanced tracking methods.
3. ISP tactics might weaken web encryption. At the moment, ISPs can only track the portion of user traffic that is not encrypted. Although VPN service encryption is recommended, some people choose to rely on web page encryption offered by HTTPS protocol. Tracking is limited on HTTPS websites secured with SSL (Secure Socket Layer). In such websites, any data that is being sent between a user's browser and the server is encrypted. As such, SSL certificates pose a major problem for ISPs since their goal is to build advertising profiles based on their subscriber data. There have been talks of ISPs implementing a standard called Explicit Trusted Proxy, which would potentially allow ISPs to intercept encrypted HTTPS web-page data, decode it, process it, re-encrypt it, and then finally pass the re-encrypted data along to its original destination. Recent studies have shown that many tools used for inspecting HTTPS traffic end up weakening the encryption and potentially exposing it to various security breaches. If internet providers get their way and obtain access to HTTPS data, they could markedly reduce the security of the entire web.
Source: NordVPN
Published April 2017
Rate this article