SuperTruck Update:
Aerodynamics focus boosts big-rig fuel efficiency 124%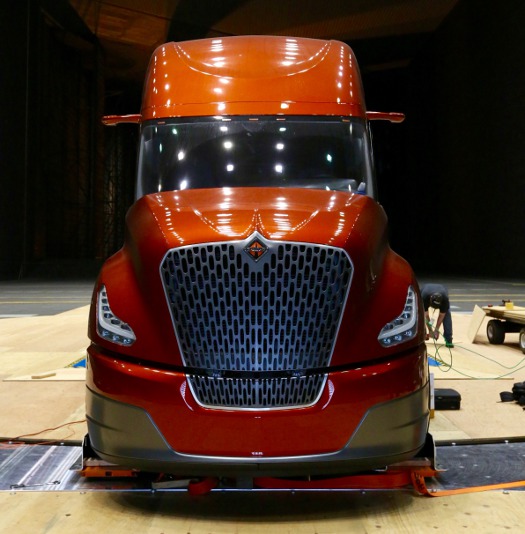 [Photos by Kate Hunts/LLNL]
Lawrence Livermore National Laboratory (LLNL) researchers, as part of the Navistar SuperTruck I team, helped design a new type of tractor-trailer truck that improves fuel economy by 124% compared to heavy vehicles on the road today. According to the Department of Energy, Class 7-8 tractor-trailers are responsible for 12% of the total U.S. consumption of petroleum.
Seventy-four percent out of 124% of this improvement comes from aerodynamic enhancements, while the rest comes from engine efficiency, tire rolling resistance, lightweighting, and other advancements. On a track test, the new SuperTruck I vehicle achieved 13 mpg, compared to a typical truck on the road that gets around 5.8 mpg.
The DOE's SuperTruck program, a five-year-long research and development initiative, is focused on improving freight efficiency, a measure of the payload carried while burning less fuel, versus 2009 base-model trucks. Its initial objective is to develop and demonstrate a 50% improvement in overall freight efficiency on a heavy-duty Class 8 tractor-trailer vehicle as measured in ton-miles per gallon of diesel fuel. Daimler/Freightliner, Cummins/Peterbilt, and Volvo are also leading SuperTruck projects, developing their own visions of trucking's future.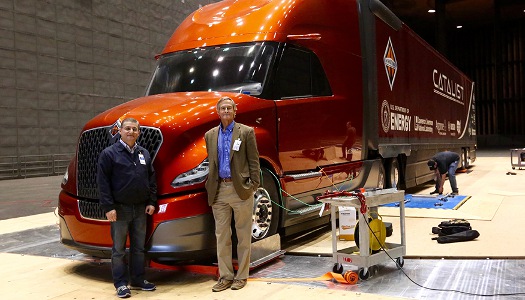 Lawrence Livermore National Laboratory's Kambiz Salari (left) and Steve Bohlen in front of the Navistar SuperTruck I in the Air Force National Full-Scale Aerodynamics Complex.
For heavy vehicles, most of the engine's usable energy goes into overcoming drag and rolling resistance at highway speeds. To combat this problem, the team used computer modeling to demonstrate new aerodynamic body shapes to significantly reduce drag.
Aerodynamic drag is caused from pressure differences around the vehicle -- the gap between the tractor and the trailer, the underbody (between the trailer axle and wheels), and the trailer body (base).
"The LLNL Generic Speed Form shape has demonstrated a breakthrough in aerodynamic performance of heavy vehicles," said Kambiz Salari, a fluid dynamics researcher who heads the project. "We're not only saving money, we are helping the environment by reducing carbon emissions."
The LLNL project is part of the Department of Energy (DOE) Heavy Vehicle Aerodynamic Drag Consortium R&D, which has led to the advances in fuel economy.
Salari and LLNL's Jason Ortega, as part of Navistar's SuperTruck I team, have helped improve the aerodynamic design of the SuperTruck. The truck also has other fuel-efficiency improvements, such as a more efficient engine, better rolling resistance, fewer tires, and other equipment.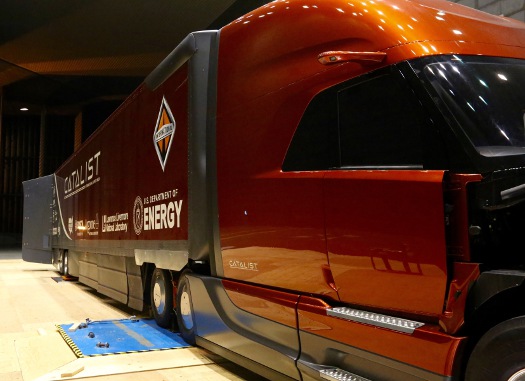 LLNL researchers used computer modeling to demonstrate new aerodynamic body shapes to reduce drag. Enhancements include reducing the space between the cab and the trailer; panels along the underbody (between the trailer axle and wheels), and back streamline panels.
The team has performed wind tunnel tests at the Air Force National Full-Scale Aerodynamics Complex (NFAC) at the NASA Ames Research Center and on-the-road testing using full-scale road conditions. The vehicles could be on the highway in as soon as five years.
LLNL is providing guidance to industry to improve the fuel efficiency of class 8 tractor-trailers and tankers through enhanced aerodynamics. Partners for the SuperTruck I effort include Navistar, Wabash National, Bosch, Argonne National Laboratory, Michelin, Mekra Lang, Delco Remy, PPG Industries, Eaton, and Sabic Global.
Future plans include: continuing tractor-trailer integration design for radical improvement in aerodynamic drag and fuel economy; continued use of experiments to design a more advanced integrated tractor-trailer; performing scaled experiments to design and validate the performance of aerodynamic add-on devices for integrated tractor-trailers and tankers; investigating fuel economy benefits of truck platooning (similar to a convoy) in collaboration with the National Renewable Energy Laboratory; and continued coordination of industry participation to design the next generation of highly aerodynamic heavy vehicles.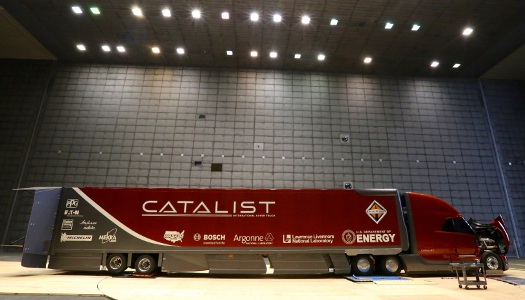 LLNL and Navistar researchers focused a lot of their SuperTruck I project efforts on aerodynamic enhancements.
Navistar's SuperTruck demonstration vehicle is called CatalIST. The last three letters of the vehicle's name stand for "International SuperTruck," referencing the company's International commercial truck brand. Innovations achieved through the program will serve as the catalyst for significant improvements in future Navistar (and other branded) commercial vehicles.
"The CatalIST's significant improvements in freight efficiency, achieved with the support of DOE's SuperTruck program, demonstrate tremendous potential for reduction in the trucking industry's consumption of energy," said Mark Stasell, vice president, Product Development, Navistar. "In addition, a number of the technology innovations we have achieved through the program are already being implemented in production vehicles today."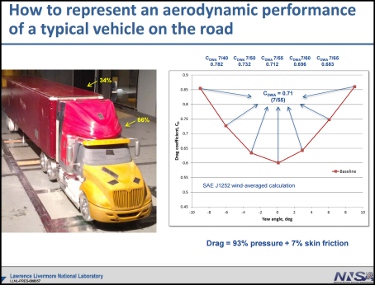 Learn many more details about this project by downloading the LLNL presentation "DOE's Effort to Improve Heavy Vehicle Fuel Efficiency through Improved Aerodynamics" by Kambiz Salari here.
Stasell said the company's predictive cruise control technology is one example of a significant technical innovation the company achieved through the program. Predictive cruise control looks ahead of the vehicle, recognizes the terrain, and continuously calculates the most efficient speed and gear for optimal fuel economy in real time. Unlike conventional predictive cruise technology, Navistar's predictive cruise control uses preinstalled GPS maps and the latest commercial route data to make adjustments to cruising speed without the need to pre-drive the route.
Other improvements include:

Advanced integration of Navistar N13 Engine utilizing proprietary intelligent controls and high-efficiency combustion.
Reduction in aerodynamic drag through replacement of cab- and hood-mounted mirrors with a series of cameras and interior-mounted monitors, which also yield equal or better indirect vision for the driver.
A new LED headlamp system that reduces lamp size for a more aerodynamic shape and cuts electrical power requirements by greater than 80%, while improving luminous output and light color for improved night-time direct driver vision and reduced driver fatigue.
An all-new shape with a sloped windshield and wedged cab for improved aerodynamics. Innovative use of lighter weight carbon-fiber panels in the upper body, roof headers, back panel, and dash panel.
A hybrid front suspension and lightweight rear suspension that leverages lightweight alloys with composite materials, reducing weight and enabling an electronic ride-height management system, which provides dynamic ride height and pitch control for improved aerodynamics.
Aerodynamic improvements that reduce the trailer's drag coefficient by more than 30%.
You may also be interested in reading:

"Volvo Trucks' latest concept vehicle sports a hybrid powertrain for big-rig long-haul transport," (Designfax, March 2017).
"Daimler's SuperTruck program exceeds Class 8 truck goals," (Designfax, April 2015).
"Cummins-Peterbilt SuperTruck gets Modine waste heat recovery heat exchangers," (Designfax, June 2014).
"SuperTruck delivers 54% increase in fuel economy," Cummins/Peterbilt SuperTruck program (Designfax, March 2013).
Sources: LLNL, Navistar
Published March 2017
Rate this article