Epoxy adhesive with no mixing required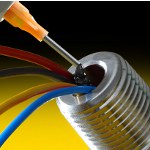 50-3122 is a one-component epoxy adhesive with a unique combination of physical properties. This adhesive provides both high shear and high peel strengths. It is also able to maintain exceptionally strong bonds over a wide temperature range of -60 C to 205 C. This product from Epoxies Etc. is formulated to offer superior resistance to impact, thermal shock, vibration, and stress fatigue cracking. It is used in electronic, electrical, aerospace, appliance, automotive, and industrial applications, and it passes NASA's outgassing requirements per ASTM E595-07.
Click here to learn more.
---
Antimicrobial master batches for medical device polymers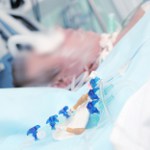 Foster Corporation introduces Combat antimicrobial master batches for blending with medical device polymers. Components made with these antimicrobial polymer blends kill harmful bacteria that lead to infections, including MRSA and CRE. Combat master batches, made from Sciessent's Agion ionic silver technology, provide an economical way for customers to evaluate several antimicrobial filler loadings in their device components by dry blending different ratios.
Click here to learn more.
---
Real LSR (liquid silicone rubber) parts really fast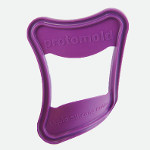 Proto Labs provides advanced liquid silicone rubber (LSR) injection molding services that provide custom prototypes and end-use production parts in 15 days or less -- sometimes in as little as 5 days. They use aluminum molds that offer cost-efficient tooling and accelerated manufacturing cycles, and they stock various grades and durometers of LSR materials. LSR is a thermoset engineering material that is particularly suitable for applications in the medical sector -- it can withstand sterilization and is biocompatible. LSR also lends itself to applications in the automotive and food appliance industries, typically in the form of seals, gaskets, valves, and cables.
Click here to learn more.
---
Adhesive vent for automotive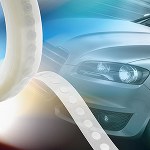 The 5-mm, low-profile AVS 110 adhesive vent from GORE is perfectly aligned with the need to further miniaturize automotive control units, sensors, actuators, and motors, and to better protect these high-value electronics from the rigors of under-hood and under-chassis environments. The vent's 100% ePTFE all-membrane construction reliably protects against hazards such as splashes or immersions and automotive fluids. More reliable venting performance can reduce the need for heavier housings, seals, and gaskets.
Click here to learn more.
---
New adhesive for optoelectronic applications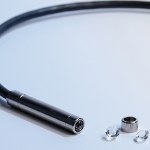 DELO has introduced a new adhesive for optoelectronic applications (components that convert electrical energy into light and vice versa). DELO DUALBOND OB786 is ideal for fixing components within seconds, while ensuring precision and high strength. This milky epoxy resin with medium viscosity ensures good adhesion to common substrates like aluminum, FR4, PPS, and LCP. This product cures under UV light but can be set in a convection oven for areas where light doesn't reach. Great for LED lens bonding, wafer-level/micro-optics, mini cameras, and more.
Click here for more information.
---
DuPont Performance Materials announces high-performance materials for 3D printing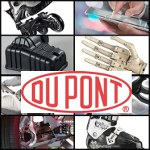 DuPont Performance Materials is getting into the 3D-printing game. The company now offers some of its most well-known high-performance materials in filament forms. Proven over decades of use, Hytrel, Zytel, and Surlyn offer high quality, reliability, and performance for various applications in a wide range of industries. Users will be able to achieve the true benefits of 3D printing -- greater design freedom, lightweighting, reduced product development cycles, and much more -- allowing for rapid prototyping, part production, and mass customization.
Click here to learn more.
---
PolyJet 3D printing now available from Proto Labs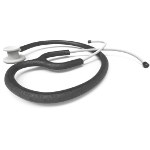 Proto Labs has added PolyJet technology to its industrial 3D-printing service offerings. PolyJet provides product designers and engineers with the ability to manufacture elastomeric and overmolded prototypes without investing in tooling. Product developers can leverage PolyJet to create 3D-printed parts comprised of both elastomeric and rigid materials as well as multiple colors. Its material selection includes multiple Shore A hardnesses of tear-resistant Agilus 30 for increased durability. PolyJet parts exhibit smooth surface finishes and can support complex geometries with flexible features.
Click here to learn more.
---
Did you know you can tint chrome?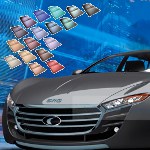 Push the boundaries of design. SRG Global, a leading global manufacturer of chrome-plated and painted plastic parts for the automotive, commercial truck, and household appliance industries, has introduced its G-Coat tint-over-chrome process solution. The G-Coat process delivers distinct metallic surface finishes for both exterior and interior applications and regularly improves paint adhesion to any chrome-plated plastic part. It offers nearly unlimited custom color options, including a high-optical-density deep black finish not achievable by other technologies. The process also provides enhanced corrosion protection and fingerprint resistance and meets multiple automotive OEM performance standards for basecoat and clear-coat paint systems.
Click here to learn more.
---
Laser Services adds high-power fiber-guided laser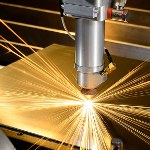 Laser Services, an ISO 9001:2008/ AS9100C and ITAR registered laser job shop, has purchased a customized, fiber-guided, high-power laser from TRUMPF. Benefits of the new 2-kW YAG laser include: greater beam power for cutting highly reflective, non-ferrous materials such as copper and aluminum up to 1/4 in. thick; hole drilling as small as 8 mils; fiber-guided positioning to allow for finer, less variable cut lines; less beam variability for higher yields; deeper/stronger welds for reliability; and greater range of motion and beam articulation for handling larger sheets and more complex patterns. Various shapes and sizes of stainless steel can also now be manufactured, including coils and springs. Welds can be made in surgical tools that are so flawless that very little post-production processing is required.
Click here to learn more.
---
Adhesives for composites drive lightweight designs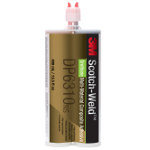 More and more design engineers are relying on composite substrates in an effort to reduce costs and increase lightweighting possibilities in assembly. With this in mind, 3M has introduced 3M Scotch-Weld Multi-Material Composite Urethane Adhesives DP6310NS and DP6330NS to its growing portfolio of structural adhesives, which create durable bonds with minimal surface prep between medium- to high-energy surfaces like carbon fiber, fiberglass, reinforced plastics, and painted or unpainted metal. These versatile adhesives are the perfect place to start when using composites because of their universal application and ability to effectively lightweight assemblies for trucks, buses, RVs, specialty vehicles and passenger rail, and other markets like sporting goods and panels.
Click here to learn more.
---
LED spot-curing system with flexibility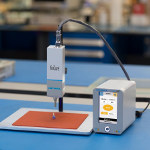 The BlueWave MX-150 from Dymax is a new smaller LED spot-curing system that can be used as a bench-top unit or integrated into an automated system. Its LED emitters are available in 365-nm, 385-nm, or 405-nm wavelengths. This system is uniquely designed to offer higher, more consistent curing intensities than traditional spot-curing systems. The emitter can be easily mounted to robotic arms or mounted further from the controller without fear of intensity variations.
Click here to learn more.
---
Fiber composite parts as strong as metal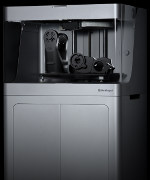 The Mark X by Markforged is the industry's most powerful fiber composite 3D printer. Markforged printers have two print heads. Combining carbon-reinforced nylon on one with revolutionary continuous fiber on the other results in parts that are amazingly strong -- as strong as aluminum. Breakthrough print capabilities for this machine include in-process laser inspection as well as a fine (50-micron) surface finish and a large build volume (13.0 in. x 9.8 in. x 7.9 in.).
Learn more about the Mark X from Markforged.
Find out purchasing details from reseller 3 HTi.
---
Etched and formed micro metal parts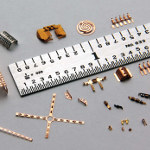 Tech-Etch combines photochemical etching with precision metal bending to create extremely small formed features in thin metal parts. A staff of talented and creative tool and die makers utilizes state-of-the-art techniques to manufacture tools capable of forming features down to .003 in. in a wide variety of metals. Parts range in thickness from .0005 in. and up. Photo etching produces burr-free parts with intricate and complex shapes. Prototypes can be delivered in five days. Laminating, plating, heat treating, and assembly are available in-house.
Click here to learn more.
---
New 3M metal bonding adhesive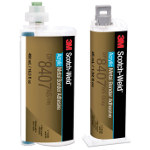 3M Scotch-Weld Metal Bonder Acrylic Adhesive DP8407NS delivers strength, corrosion resistance, and reliable performance for bonding metal without extensive surface prep. This high-strength, fast-curing structural adhesive offers high peel and durability, and maintains its strength at temps as low as -40 F. With the ability to bond active metals like steel, copper, brass, and bronze, 3M's Metal Bonder is ideal for a wide range of assemblies in metal fabrication, transportation, specialty vehicle, architectural panels, appliances, and office furniture. It bonds plastics and composites for multi-material bonding and is also well suited for bonding metals prior to powder coating and paint processes.
Click here to learn more.
---
Bio-based plastics made from castor beans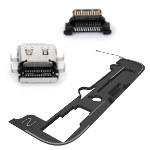 Royal DSM has extended its range of high-temp-resistant bio-based polymers with the introduction of new high-performance polyamide 4T materials, partially produced from renewable resources, called ForTii Eco. These materials fit with the growing need of faster, thinner, and more sustainable devices in the electronics, lighting, automotive, white goods, industrial, and aerospace industries. The polymer in the new grades is 30 percent to 60 percent derived from renewable resources. Castor beans provide the basis for the material's C10 chemistry, with a bio-content ranging from 10 percent to 25 percent. ForTii Eco E11, ForTii Eco E61, and ForTii Eco LDS62 provide halogen-free solutions for parts with thinner walls and demonstrate very good flow together with excellent mechanical and dielectrical properties.
Click here to learn more.
---
Engage the spin rocket motor: Drop of U.S. mock B61-12 nuclear weapon is first of new flight tests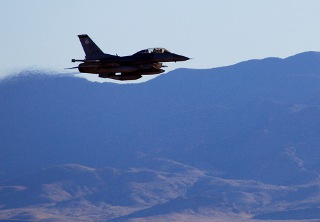 An F-16C makes a pass over Nevada's Tonopah Test Range after a March test of a mock nuclear weapon as part of a Sandia National Laboratories life extension program for the B61-12. Teams will spend months analyzing the data gathered from the test. [Photo: John Salois]
From a distance, the drop of a mock nuclear weapon -- containing only non-nuclear components -- was a mere puff of dust rising from a dry lake bed at Nevada's Tonopah Test Range. However, it marked the start of a new series of test flights vital to the nation's B61-12 weapon refurbishment program.
Initial data showed the March 14 test was a success, said officials at Sandia National Laboratories, which runs Tonopah. For months, teams will be analyzing a wealth of data they collected from this first of a qualification test series planned over the next three years.
Those watching from the tower of the range's Test Operations Center felt "excitement and pleasure that it all worked as we expected," said Anna Schauer, director of Sandia's Stockpile Resource Center.
The B61-12 consolidates and replaces four B61 variants in the nation's nuclear arsenal. The first production unit in the weapon's life-extension program is scheduled to be completed in 2020.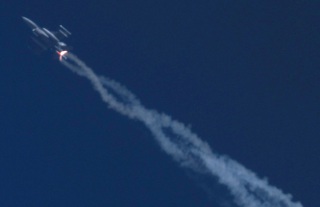 An F-16C from Nellis Air Force Base in Nevada releases a mock nuclear weapon for a March test at Tonopah Test Range. The test is the first in a series planned over the next three years. [Photo: James Galli]
Test day dawned cloudless and wind-free, perfect weather at the range, an area of 280 square miles with two main target areas on flat lake beds sitting between mountain ranges. Workers from Sandia and contractor Navarro Research and Engineering operated tracking telescopes, remote cameras, and other instruments in the field to gather information on the reliability, accuracy, and performance of the weapon under conditions meant to replicate operations.
An F-16C from Nellis Air Force Base near Las Vegas, chosen to drop the test unit representing a B61-12, began with a dry run over one of the lake beds. But during his next pass for the planned release, he had to roar off after a small group of wild horses ambled onto the lake bed.
A video feed from a remote camera in the area showed the horses trotting away to safety, herded by wranglers: security officers in a white pickup, its headlights and rack lights pulsing. "That's a first for us," said test director Joe Simile of Sandia. "We've never had to chase horses away from the target."
The extra pass meant the F-16 carrying the test unit and a companion wingman F-16 would have to refuel in flight from a tanker airplane circling the area before returning to base.
F-16 final pass: "Commence run"
Then, horses cleared off, the pilots circled back. The test director queried those responsible for the various aspects of the test, from telemetry to the pilot of the drop plane. One by one they gave the test a go and a disembodied voice over the intercom announced, "Range is green. Cleared to release."
The announcement, "Commence run," galvanized dozens of people watching and listening to live feeds of preparations at the tower. Most dashed out to the balconies to watch -- a natural reaction despite knowing the lake bed was miles away and they'd see nothing more than dust rising from the high-altitude drop. The video feed, a much closer look, showed the F-16 release the test unit, the unit's spin rocket motor ignite, and the mock weapon fall through the air.
"It's great to see things all come together: the weapon design, the test preparation, the aircraft, the range, and the people who made it happen," Schauer said.
The U.S. Department of Energy's website says, "In April 2003, the Nuclear Weapons Council Standing and Safety Committee (NWCSSC) approved the development of a new Spin Rocket Motor based on Sandia's assertions that test data collected between 1997 and 2002 showed the motors, due in large part to 'detrimental aging,' were not performing according to specifications. Detrimental aging occurs when a component's age prevents it from performing to meet military requirements."
According to a May 18, 2014, article in the Albuquerque Journal, "Spin motion is needed to stabilize the bomb as it glides toward its target. It's controlled by rocket motors and slanted fin tails. But in earlier B61 designs, air plumes from the motors have interfered with fin performance, thus weakening the push, or torque, created by the motors and reducing spin rates."
The article also says a new tail kit assembly "is important because it adds a guidance system to the bomb, basically converting it from a gravity-dependent dumb bomb into a smart one that can be aimed more precisely at a target."
These are only two of many steps taken in the broad nuclear arsenal modernization project.
"The bomb modernization program, which aims to extend the B61's life another 20 years, is one of the biggest endeavors undertaken at Sandia since before the Cold War ended," the Albuquerque Journal article states.
Hans Kristensen, a nuclear weapons analyst at the Federation of American Scientists in Washington, D.C., said in the Albuquerque Journal article, "The National Nuclear Security Administration estimated about $4 billion originally in 2010, and then in 2012 that ballooned to $8 billion. The new tail kit assembly alone could cost up to $1.5 billion."
"The U.S. Department of Defense now estimates total B61-12 program costs at $10.4 billion," the article said, attributing that estimate to Kristensen. "With about 400 B61 bombs to be refurbished, that's about $25 million per bomb."

VIDEO: Tonopah Test Range flight test.

After the drop, the two F-16s turned to scream past the control tower about a half mile away, giving observers a closer look at the planes.
On the lake bed, the only sign of the drop was a surprisingly neat hole. An hour or so after the test, Simile stood near the hole, describing plans to recover the weapon, his discussion punctuated by a warning beep-beep-beep from a truck backing up to unload recovery equipment.
Crews were back later to dig the mock weapon out of the dirt.
"The test unit recovery went very well, with the unit packaged up for return to Albuquerque," said Lee Post, B61-12 flight test lead. "We can only hope our future tests go this well."
Source: Sandia National Laboratories
Published April 2017
Rate this article