Synchronous motors/drives don't need encoder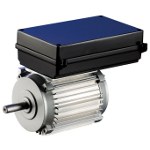 The SINOCHRON Motor design from ABM DRIVES offers advantages in continuous-duty applications like driving pumps and fans. The efficiency is also better in partially loaded duty cycles when compared to standard asynchronous motors. This motor can replace a stepper motor in some applications. Drive units are virtually loss-free in no-load operation. This motor design also offers advantages in powering conveying equipment, escalators, spooling machines, compressors, and traction drive units. By substituting existing line-powered three-phase drive units, energy savings of 20 to 35 percent can be expected.
Click here to learn more.
---
Mike Likes: TI doubles power density with motor control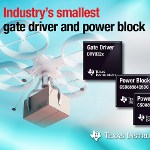 Texas Instruments recently introduced two new device families that help reduce size and weight in motor drive applications. When used together, the brushless DC (BLDC) gate drivers and power blocks require half the board space of competing solutions. An 18-V compact BLDC motor reference design demonstrates how these components can drive 11 W/cm3 power and enable engineers to jump start their designs for smaller, lighter weight power tools, integrated motor modules, drones, and more.
Read the full article.
---
Stepper motor controller delivers 2,000x basic resolution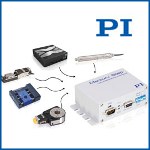 Precision positioning systems industry leader PI (Physik Instrumente) has released a higher performance model of its successful Mercury Stepper Motion controller. Stepper motors take up discrete positions in a revolution of a constant distance. Typical commercial models provide 200 to 1,000 full steps per revolution. Designed to deliver more than 2,000 times the basic motor resolution, the C-663.12 Mercury controller is the newest addition to PI's suite of motion control solutions.
Click here to learn more.
---
Micro gripper for small, fragile part assembly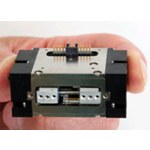 The MGR5 electric micro gripper from SMAC was designed for small, fragile part assembly. It features a light-force capability of 10 g or less and a soft-land capability for pick and place of delicate parts. Each jaw can be independently controlled in force, position, and velocity, with a 5-micron linear encoder standard (1 micron optional). Ideal for a wide range of positioning, measuring, and inspection applications, particularly where 100% verification is required.
See this new gripper in action.
Get more detailed info on this micro gripper.
---
Dual-feedback voice coil positioning stage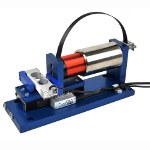 The VCS20-020-CR-01-MC-F3K voice coil positioning stage can operate under closed-loop position control with force monitoring or closed-loop force control with position monitoring. It uses H2W voice coil motor NCC20-18-020-1A to generate a continuous/peak force of 2 lb (8.9 N)/6 lb (26.7 N) with a total stroke length of 2 in. (50.8 mm). The 1-micron resolution encoder allows for precise positioning. The 3-kg rated force transducer allows for 0.01- to 3-kg of push/pull force feedback control. It comes supplied with a high-accuracy crossed roller bearing. The motor coil is the moving part of the assembly in order to reduce the moving mass of the system. Power is supplied to the motor via a high-flex, high-reliability flat ribbon cable.
Click here to learn more.
---
Thinnest moving coil linear motor in the world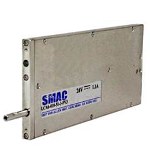 At 6 mm wide, SMAC Moving Coil Actuators claims the LCA6 is the thinnest linear moving coil in the world. This unit is cross-roller guided, increasing accuracy. Flat coils are centered between cross rollers, so deflection load is reduced and rigidity is increased. In addition, the LCA6 is small and stackable, conserving space. The LCA6 is great for electronic pick-and-place, biomedical dispensing, and QC measurement. Specs include a linear stroke of 10 mm and peak force [N] = 3.5 @ 1.2 amps (24V).
Click here to learn more about this product line.
---
Program templates make automation even easier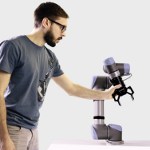 Robotiq offers new tools to help collaborative-robot beginners save a lot of time programming Robotiq products and UR robots. Program templates are now available and ready to be downloaded from Robotiq's online resource center. Every package includes a program file, step-by-step procedures, and a demonstration video. Four program templates are available: Stacking/Unstacking Using the Force Torque Sensors, Palletizing Using the Wrist Camera, Measuring Insertion Force, and Increasing the Wrist Camera's Field of View. New programs are expected to come out every week.
Click here to learn more.
---
New industrial-grade optical encoder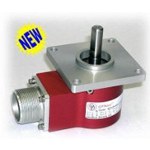 Quantum Devices' Model QDH20 provides an improved feedback solution in demanding applications typically using a standard size 20 package. Outputs consist of a quadrature A & B with reference pulse Z as a standard feature. The output can be configured with either the industrial standard 5-V to 26-V OL7272 line driver or open collector outputs. The QDH20 features two heavy-duty bearing sets holding the output shaft and two more bearings along with an integral flexible spring mount to isolate the working pieces of the encoder from mechanical stresses. Features include 500-kHz fundamental frequency response, high-temp option (100 C), and high noise immunity.
Click here to learn more.
---
Cool Tools: New Fluke motor diagnostics tool incorporates machine learning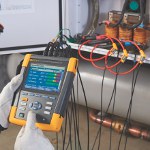 Fluke and Veros Systems have collaborated on asset performance and condition monitoring technologies to increase visibility into the efficiency and reliability of electric motor-driven machines. The Fluke 438-II Power Quality and Motor Analyzer is the first tool to result from that partnership. It analyzes three-phase power-quality measurements and uses an innovative method developed by Veros to calculate motor output torque, speed, horsepower, and efficiency. Using this information, engineers and technicians can evaluate system performance and detect overload conditions while the motor is operational, without the use of any mechanical sensing devices such as tachometers, strain gauges, or other intrusive sensors.
Click here to learn more.
---
Mini but mighty high-load linear actuator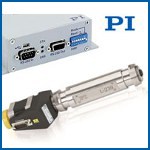 Equipped with precision ground ball screws for higher speed and a longer service life, the L-239 high-force actuator from Physik Instrumente (PI) has a positioning range of 52 mm (2 in.), pushing force of 300 N (66 lb), and 50-mm/sec (2-in./sec) maximum velocity. The nonrotating tip enables uniform motion, preventing wobble, torque, and wear at the point of contact. Noncontact limit switches protect the mechanics, while a direction-sensing reference point switch speeds up the homing procedure and supports automation applications. Special versions available for vacuum applications.
Click here to learn more.
---
Motor Tech: UAV camera stabilization with brushless motors

Today, recon is dominated by unmanned aerial vehicles (UAVs) and drones due largely to concerns for pilots' safety and costs. However, photos and videos obtained from UAVs are only useful if they are crisp and clear, which requires both precise focusing and extreme stabilization of the camera system. Compact and powerful FAULHABER brushless DC motors from MICROMO were selected to get the job done.
Read the full article.
---
Become a robot programmer in only 87 minutes!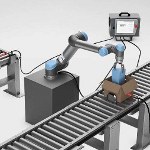 Learning how to set up and program a collaborative robot -- or cobot -- no longer depends on real-life access to a robot or a training class. Now everybody with a desire to learn the concepts of cobots can log in to the Universal Robots Academy and get the introduction necessary to master basic programming skills. Become a master of the cobots! (That's a pretty sweet title.)
Click here to learn more.
---
Low-cost spring-applied brakes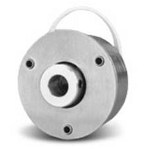 Inertia Dynamics type FSB brakes are designed to decelerate or hold inertial loads when the voltage is turned off. These brakes can be mounted to a bulkhead or motor. The FSB brakes are rated up to 100 lb-in. static torque and fit motors up to 5.3 in. OD. Features include 12-V, 24-V, 90-VDC, or 120-VAC windings; bore sizes from 1/4 in. to 3/4 in.; low current consumption; and low cost. Metric bores and special voltages available.
Click here to learn more.
---
Are you using the Right Coupling for your motion control application?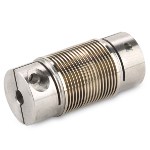 Servometer® precision motion control couplings are available with both set screw and clamp style ends. Electro-deposited bellows technology offers seamless construction and the best combination of flexibility and strength among couplings technologies. These versatile, flexible nickel and stainless steel shaft couplings are capable of accommodating misalignments for parallel, angular and axial motion. Our recently released video showcases their unique characteristics, capabilities, design and various applications.
View video ...
---
Smart sensors provide health checks for motors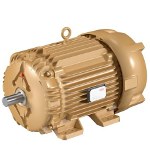 The ABB Ability Smart Sensor for motors uses compact sensors to pick up multiple data streams from low-voltage motors and provides information about motor health and performance via a smartphone or a dedicated web portal. By converting regular LV motors into intelligent, connected machines, the solution enables advanced maintenance planning that will help businesses cut costs and boost productivity. Predictive analytics based on data from the solution can reduce downtime up to 70%, extend motor lifetime by as much as 30%, and cut energy consumption up to 10%.
Click here to learn more.
---
Chevrolet debuts its first 9-speed auto with 2017 Malibu
Chevrolet's first nine-speed automatic transmission is making its debut in the 2017 Malibu and will be available in the 2017 Cruze Diesel and 2018 Equinox, moving forward the company's legacy of multispeed transmissions designed to optimize efficiency, performance, and refinement.
The General Motors-developed Hydra-Matic 9T50 nine-speed is paired with an available 2.0L Turbo engine in the Malibu, contributing to an EPA-estimated 33 mpg highway -- a 3 percent increase over the 2016 model with the eight-speed automatic.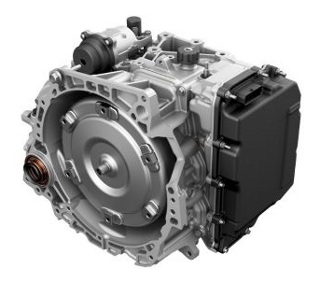 Chevrolet's first nine-speed automatic transmission, the Hydra-Matic 9T50, makes its debut this year.
"In addition to improved fuel efficiency, the 9T50 offers a strong overall balance of performance and refinement that customers will feel at all driving speeds," says Dan Nicholson, vice president, Global Propulsion Systems. "By the end of 2017, Chevrolet will offer four models with the new nine-speed."
The new nine-speed has a wider 7.6:1 overall ratio -- the difference between the first gear ratio and the top gear ratio -- compared to the eight-speed transmission, with a "deep" 4.69 first gear that supports excellent off-the-line acceleration and a "tall" 0.62 top gear for low-rpm highway cruising. That balance aims to optimize acceleration and fuel economy and reduce engine noise during cruising.
"The smaller steps between the gears, compared to the eight-speed, enable smooth, almost imperceptible upshifts for excellent refinement," says Nicholson. "No matter the engine torque or vehicle speed, the 9T50 is always in the perfect gear."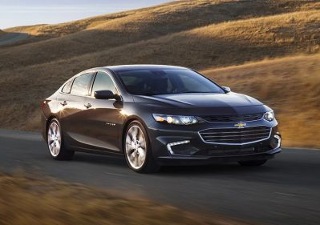 2017 Chevrolet Malibu.
The new transmission also supports stop/start technology that can help save fuel by allowing the engine to shut down in certain stop-and-go driving conditions.
New for GM: Selectable one-way clutch
Developed for the tight packaging requirements of transverse propulsion systems, the new 9T50 nine-speed automatic has an on-axis design, where all the gears are in line with the crankshaft, and GM's first application of a selectable one-way clutch. Both features help reduce the package size, making it roughly the same size as a six-speed transmission.
The selectable one-way clutch, which can hold torque or freewheel, depending on the desired operating mode, contributes to a smaller overall size by eliminating the need for an additional clutch pack.
"The selectable one-way clutch is one of the biggest enablers of the 9T50's balance of efficiency and refinement," says Steve Saia, chief engineer.
Shift smoothness
For precise and smooth shifts, a specific strategy is used in the selection of the gearsets, clutches, and torque converter. Five planetary gearsets are used with four stationary clutches and three rotating clutches, saving space compared to freewheeling designs. Gears change from second- to ninth-gear ratios with precise clutch-to-clutch shifting, where the clutch is engaged in one gear at exactly the same time it is released from another.
The first-to-second upshift is a freewheeling shift. The second-gear clutch engages while the first-gear one-way clutch spins freely. The aim is to provide greater refinement at lower vehicle speeds.
Additionally, this planetary-type automatic transmission employs new torque-converter technology to help it deliver smooth take-off performance and additional refinement. The converter features a hyper-elliptical oval cross-section that reduces the thickness of the torque converter, keeping the overall width of the engine and transmission as narrow as possible for packaging advantages.
The single-plate lock-up clutch uses GM's electronically controlled capacity clutch (ECCC) technology to dampen engine vibrations and ensure smooth operation.
9T50 nine-speed automatic gear ratios

First: 4.69
Second: 3.31
Third: 3.01
Fourth: 2.45
Fifth: 1.92
Sixth: 1.45
Seventh: 1.00
Eighth: 0.75
Ninth: 0.62
Reverse: 2.96
Shift controls and active oil management
Shift controls include automatic grade braking that selects a lower gear to help maintain desired vehicle speed when coasting or braking on a downgrade. This takes advantage of engine braking to help prevent unwanted acceleration and can help reduce the need to brake during a descent. The control module receives input that monitors brake pedal usage, vehicle acceleration, throttle position, grade, and whether a trailer is connected to the vehicle.
The 9T50's hydraulic system is controlled electronically to deliver the pressure and volume required for various operating temperatures for optimal efficiency. The valve body side cover acts as an internal expansion tank, holding the excess oil until it is required and then returning it to the sump when needed.
The 9T50 is filled with DEXRON-VI fluid that does not require changing under normal driving conditions. It was developed for a more consistent viscosity profile, consistent shift performance in extreme conditions, and less degradation over time.
Seamless stop/start performance
A unique accumulator within the new nine-speed transmission enables virtually seamless stop/start transitions. The accumulator stores energy for almost imperceptible engine restarts, while GM-designed transmission software calibrated for those restarts further contributes to smooth takeoffs.
Transmission control module
GM-developed transmission control logic resides in a 32-bit transmission control module (TCM). This module commands all shifting events to provide smooth and precise ratio changes. The TCM also monitors transmission performance and compensates for normal wear in components such as clutch plates so that performance remains consistent. Located outside the transmission to reduce overall packaging size, the module reduces manufacturing complexity and requires only vehicle-specific calibration to be added to the core program. The TCM also enables manual shift control and grade logic.
Source: Chevrolet
Published January 2017
Rate this article