Mike Likes: New innovative way to take up tolerances!

Smalley Linear Springs are a continuous wave-formed (marcelled) wire length produced from spring-tempered materials. They act as a load-bearing device, having approximately the same load/deflection characteristics as a wave spring. Linear Springs are now available as a standard part in carbon and stainless steel, with over 200 sizes.
Click here to learn more.
---
Top 15 acme/lead screw questions answered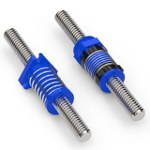 Acme lead screws convert rotary motion into linear motion by turning either the screw or the nut. Lead screws and nuts are highly customizable. But do lead screws and nuts need to be lubricated? And how do you decide which Acme screw product to use? Christopher Nook, CEO, Helix Linear Technologies, answers the most often asked questions for these versatile and vital mechanical components.
Read the blog post.
---
3D positioning system locks devices in space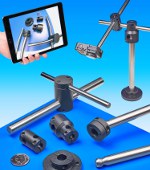 A new 3D positioning system that simplifies the setup of cameras and other devices for research, laboratory, process, and packaging applications has been introduced by Stafford Manufacturing Corp. The system consists of a rugged group of mounting components, including a base that can securely attach to any flat surface, stepped and straight-through couplings, and precision shafting that can be easily adjusted and locked. Featuring a ball-end shaft and clamp-mount accessory with an infinitely adjustable range of motion, this system lets users move, tilt, and swivel to position and lock devices in space.
Click here to learn more.
---
Smith Metals Products adds Titanium Metal Injection Molding capabilities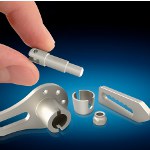 Smith Metals Products has added Titanium Metal Injection Molding (TiMIM) capabilities to its MIM portfolio of materials that include stainless steels, alloys, and ceramics. TiMIM involves mixing powdered Titanium metal with a binder material to compose a feedstock capable of being handled by injection molding equipment. Metal injection molding allows complex Titanium parts to be shaped with precision in a single operation and in high volume as compared to traditional Titanium machined metal components. Adding TiMIM capabilities opens a new, wider range of component applications for Smith Metal Products, where strength-to-weight ratio parts are desired. It is often accomplished with superior features using Titanium compared to other strong (but much heavier) metals like steels.
Click here to learn more.
---
Print labels at your desk or in the field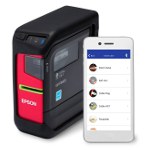 Epson LABELWORKS PX introduces the LW-PX400, a portable industrial label and wire-marking printer for creating professional labels and markers wirelessly or via USB. This unit is the smallest, lightest, and most flexible printer on the market and can work wirelessly in the field (iOS and Android mobile devices, PCs, and Macs). The Datacom app is designed to streamline labeling jobs common in the telecom and datacom industries. Pre-loaded TIA-606-B patch-panel templates from selected hardware manufacturers make it easy to fit data into different-sized panels. The iLabel app includes industrial graphics, photo import, pre-formatted templates, speech-to-text recognition, date-time stamp, and works with Google Drive and Dropbox cloud storage. Lifetime warranty.
Click here to learn more.
---
NanoSteel launches 3D-printable tool steel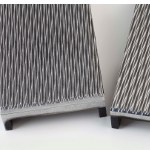 NanoSteel, a leader in nanostructured steel materials, has launched its first product for the laser powder bed fusion additive manufacturing process. BLDRmetal L-40 is a case-hardening steel powder that provides high hardness and ductility (case hardness >70HRC, 10%+ core elongation) and prints easily on standard commercial equipment. This alloy provides superior performance to M300 maraging steel and is an alternative to difficult-to-print tool steels such as H13. Expanding the potential use of 3D printing in a wide variety of hard materials markets, BLDRmetal L-40 is designed to be used for parts including tools, dies, bearings and gears.
Click here to learn more.
---
Multi-platform exhaust gas recirculation (EGR) coolers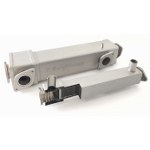 To support commercial vehicle manufacturers in meeting current and future emissions regulations, BorgWarner has developed an economical new series of multi-platform exhaust gas recirculation (EGR) coolers featuring a compact floating core. Unlike conventional solutions that must be specifically designed for each application, the company's modular cooler family includes four highly adaptable standard designs for maximum flexibility covering a wide range of engine sizes from 2.0- to 16.0-liter displacement. The new EGR solution offers high robustness against thermal fatigue and enhanced coolant distribution for durable performance even with minimum coolant flow, while reducing NOX emissions.
Click here to learn more.
---
Robotics modular kit for low-cost automation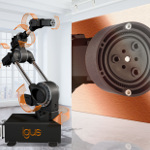 The Robolink D modular robotic kit from igus allows users to assemble custom robotic systems for a range of applications. Separate joints, which are motor-driven directly on the axis, are available in a range of installation sizes. A new, 6-axis arm with strain wave gearing (in two installation sizes) is also available, along with universal gripper adaptors. The gearing, available as an individual component or with integrated NEMA motor, consists of an outer ring gear and flexible, wear-resistant inner ring gear made from self-lubricating, wear-resistant iglide plastic. This solution offers minimal backlash and ensures a precise adjustment with incredible smoothness.
Click here to learn more.
---
SNAP-TOP fasteners hold printed circuit boards securely without mating screws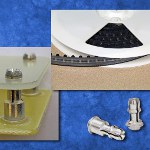 New PEM SMTSS ReelFast SNAP-TOP standoff fasteners from Penn-Engineering hold printed circuit boards securely in assemblies without requiring mating screws or other loose threaded hardware to complete attachment. These unthreaded standoffs promote streamlined production by easily installing in boards in the same manner and at the same time as other surface-mount components prior to the automated reflow solder process. They ultimately enable precise and reliable mounting and spacing of boards using less hardware and fewer operations.
Click here to learn more.
---
3D Printing: Sacrificial tool simplifies production of hollow composite parts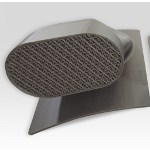 Sometimes 3D printing needs extra built-in technologies or final finishing work to get the job done. Dissolvable sacrificial materials provide a great option. Stratasys has introduced four new enhancements to Stratasys Fused Deposition Modelling (FDM)-based 3D printers, fully optimizing select models for creating functional product prototypes, production tools, and end-use parts for the most demanding manufacturing applications.
Read the full article.
---
FUTEK mini load cells take on Shark Week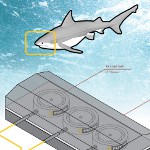 On the Discovery Channel's special "Shark School with Michael Phelps" last week, the team engineers at Peacock Productions used three FUTEK Donut/Through Hole load cells as well as FUTEK instrumentation to test a great white shark's bite force. The three LTH500 Donut/Through Hole Load Cells were placed in a special mold that mimicked the shark's prey. By combining the IHH500 Digital Hand Held Display and IAC200 4 Channel Summing Junction Box with the load cell setup, the production team was able to accurately measure the force of the great white shark's bite, which registered at 10,000 Newtons -- equivalent to a car crashing into a wall at 100 mph! The force reading was unprecedented; it was the first shark bite to register above 6,000 Newtons.
Check out the FUTEK setup for the Discovery Channel's "Shark School."
Watch the Discovery Channel's bite tester in action.
---
EXAIR's new Catalog 31 features new safety air guns, static eliminators, atomizing nozzles, air-operated conveyors, and more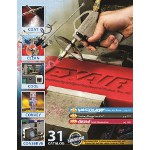 EXAIR's new Catalog 31 is a full-color technical guide offering solutions to common industrial conveying, cooling, cleaning, blowoff, drying, coating, and static electricity problems. The greatly expanded Catalog 31 introduces new VariBlast Compact Safety Air Guns, Gen4 Static Eliminators, 1/8 NPT Atomizing Nozzles, Sanitary Flange Air Operated Conveyors, and Digital Flowmeters with wireless capability. EXAIR products help companies conserve compressed air, reduce dangerous noise levels, and eliminate harmful dead-end pressures. Detailed technical explanations, performance data, application photos, and dimensional drawings are provided for each product. A price list is also included.
Request EXAIR's new Catalog 31.
---
World's darkest spray paint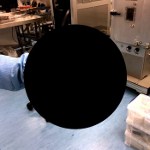 A whole range of products can now take advantage of the world's blackest coating, Vantablack, thanks to the development of a new spray version called Vantablack S-VIS. It is easily applied at large scale to virtually any surface. Vantablack's carbon nanotube matrix structure absorbs virtually all (99.8%) incident light, enabling precision optical systems to be optimized. The material's developer, UK-based Surrey NanoSystems, has mimicked the performance of its original Vantablack with this new version that can be sprayed onto objects, rather than deposited using a chemical vapor deposition (CVD) process.
Click here to learn more.
---
World's first affordable, office-friendly metal 3D-printing system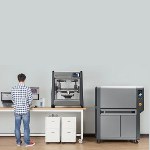 Desktop Metal has launched an office-friendly metal 3D-printing system for rapid prototyping. The Desktop Metal Studio System is 10 times less expensive than existing technology today. The system is a complete platform, including both a printer (starting at $49,900) and microwave-enhanced sintering furnace that, together, deliver complex and even impossible geometries of metal 3D-printed parts right in an engineer's office or on the shop floor. The larger DM Production System -- 100 times faster than today's laser-based additive manufacturing systems -- is also available.
Click here to learn more.
---
Proto Labs launches on-demand molded production parts service, opens metrology lab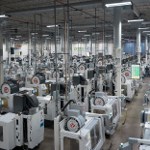 Digital manufacturing company Proto Labs has always been known for its rapid injection molding prototyping services. Now, the company has added a suite of capabilities designed specifically to address the on-demand manufacturing needs of the low-volume, high-mix product segment. And in another company first, they've built a new metrology lab that provides enhanced inspection reporting on end-use production parts.
Read the full article.
---
UW team develops fast, cheap method to make supercapacitor electrodes for electric cars, high-powered lasers
Supercapacitors are an aptly named type of device that can store and deliver energy faster than conventional batteries. They are in high demand for applications including electric cars, wireless telecommunications, and high-powered lasers.
But to realize these applications, supercapacitors need better electrodes, which connect the supercapacitor to the devices that depend on their energy. These electrodes need to be both quicker and cheaper to make on a large scale and also able to charge and discharge their electrical load faster. A team of engineers at the University of Washington thinks they've come up with a process for manufacturing supercapacitor electrode materials that will meet these stringent industrial and usage demands.
The researchers, led by UW assistant professor of materials science and engineering Peter Pauzauskie, published a paper on July 17 in the journal Nature Microsystems and Nanoengineering describing their supercapacitor electrode and the fast, inexpensive way they made it. Their novel method starts with carbon-rich materials that have been dried into a low-density matrix called an aerogel. This aerogel on its own can act as a crude electrode, but Pauzauskie's team more than doubled its capacitance, which is its ability to store electric charge.
These inexpensive starting materials, coupled with a streamlined synthesis process, minimize two common barriers to industrial application: cost and speed.
"In industrial applications, time is money," said Pauzauskie. "We can make the starting materials for these electrodes in hours, rather than weeks. And that can significantly drive down the synthesis cost for making high-performance supercapacitor electrodes."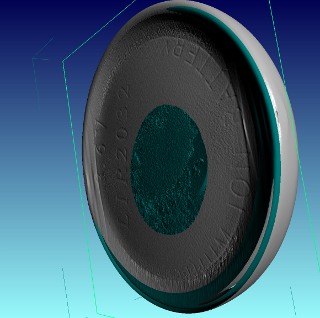 Full X-ray reconstruction of a coin cell supercapacitor.
Effective supercapacitor electrodes are synthesized from carbon-rich materials that also have a high surface area. The latter requirement is critical because of the unique way supercapacitors store electric charge. While a conventional battery stores electric charges via the chemical reactions occurring within it, a supercapacitor instead stores and separates positive and negative charges directly on its surface.
"Supercapacitors can act much faster than batteries because they are not limited by the speed of the reaction or byproducts that can form," said co-lead author Matthew Lim, a UW doctoral student in the Department of Materials Science & Engineering. "Supercapacitors can charge and discharge very quickly, which is why they're great at delivering these 'pulses' of power."
"They have great applications in settings where a battery on its own is too slow," said fellow lead author Matthew Crane, a doctoral student in the UW Department of Chemical Engineering. "In moments where a battery is too slow to meet energy demands, a supercapacitor with a high-surface-area electrode could 'kick' in quickly and make up for the energy deficit."
To get the high surface area for an efficient electrode, the team used aerogels. These are wet, gel-like substances that have gone through a special treatment of drying and heating to replace their liquid components with air or another gas. These methods preserve the gel's 3D structure, giving it a high surface area and extremely low density. It's like removing all the water out of Jell-O with no shrinking.
"One gram of aerogel contains about as much surface area as one football field," said Pauzauskie.
Crane made aerogels from a gel-like polymer, a material with repeating structural units, created from formaldehyde and other carbon-based molecules. This ensured that their device, like today's supercapacitor electrodes, would consist of carbon-rich materials.
Previously, Lim demonstrated that adding graphene -- which is a sheet of carbon just one atom thick -- to the gel imbued the resulting aerogel with supercapacitor properties. But Lim and Crane needed to improve the aerogel's performance, and make the synthesis process cheaper and easier.
In Lim's previous experiments, adding graphene hadn't improved the aerogel's capacitance. So they instead loaded aerogels with thin sheets of either molybdenum disulfide or tungsten disulfide. Both chemicals are used widely today in industrial lubricants.
The researchers treated both materials with high-frequency sound waves to break them up into thin sheets and incorporated them into the carbon-rich gel matrix. They could synthesize a fully loaded wet gel in less than two hours, while other methods would take many days. After obtaining the dried, low-density aerogel, they combined it with adhesives and another carbon-rich material to create an industrial "dough," which Lim could simply roll out to sheets just a few thousandths of an inch thick. They cut half-inch discs from the dough and assembled them into simple coin cell battery casings to test the material's effectiveness as a supercapacitor electrode.

Slice from X-ray computed tomography image of a supercapacitor coin cell assembled with the electrode materials. The thin layers -- just below the coin cell lid -- are layers of electrode materials and a separator. [Image: William Kuykendall]
Not only were their electrodes fast, simple, and easy to synthesize, but they also sported a capacitance at least 127 percent greater than the carbon-rich aerogel alone.
Lim and Crane expect that aerogels loaded with even thinner sheets of molybdenum disulfide or tungsten disulfide -- theirs were about 10 to 100 atoms thick -- would show an even better performance. But first, they wanted to show that loaded aerogels would be faster and cheaper to synthesize, a necessary step for industrial production. The fine-tuning comes next.
The team believes that these efforts can help advance science even outside the realm of supercapacitor electrodes. Their aerogel-suspended molybdenum disulfide might remain sufficiently stable to catalyze hydrogen production. And their method to trap materials quickly in aerogels could be applied to high-capacitance batteries or catalysis.
Co-author was doctoral student Xuezhe Zhou in the Department of Materials Science & Engineering. The research was conducted with the help of Energ2 Technologies, a UW start-up company based in Seattle that was recently acquired by BASF. The research was funded by the UW and the Clean Energy Institute. Pauzauskie is also affiliated with the Fundamental and Computational Sciences Directorate at the Pacific Northwest National Laboratory.
Source: University of Washington
Published August 2017
Rate this article