Advanced pneumatic standard cylinders with Adaptive Cushioning System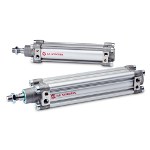 IMI Norgren's ISOLine is a true fit-and-forget ISO cylinder. Inside lies the new Adaptive Cushioning System (ACS), which automatically adjusts the cylinder cushioning for changing loads, so manual cushion screw setting is not required. This makes the ISOLine much simpler to install. Other benefits include lower breakaway pressure, lower minimum speed, reduced leakage, polyurethane seals that ensure efficient low-friction operation, and reduced weight (20% lighter than previous versions). All sizes supplied with magnetic piston rod as standard.
Click here to learn more.
---
Easily automate a simple axis of motion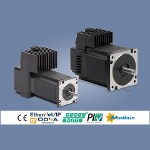 The Tolomatic ACSI integrated servo/motor/ controller is now available with PROFINET Industrial Ethernet protocol, allowing engineers to design easy-to-use and cost-effective electric actuator solutions for single-axis applications. The integrated package is ideal for replacing pneumatic cylinders and automating any simple axis of motion with Siemens or other PROFINET-enabled PLCs. With built-in configurations for Tolomatic electric actuators, the ACSI integrated controller automatically configures the motor, actuator, safety limits, and other key settings inside the controller for quick and seamless integration.
Click here to learn more.
---
Direct drive linear motor with integrated encoder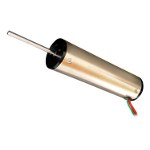 The new SDLM-019-070-01-01 direct drive linear motor is the latest addition to the series of zero-backlash, zero-cogging, high-acceleration, high-speed, high-resolution, long-life linear servo motors from Moticont. Also known as an electric cylinder, this compact direct drive linear motor is just 0.75 in. (19.1 mm) in diameter and 2.75 in (69.9 mm) long. Protected inside the motor housing, the linear optical quadrature encoder is directly connected to the shaft for the greatest possible accuracy. This unit has a stroke length of 0.500 in. (12.7 mm), a continuous force rating of 9.7 oz. (2.7 N), and peak force of 30.7 oz (8.5 N).
Click here for more information on this product series.
---
ABB's general-purpose motors combine quality, cost efficiency, and industry experience with short lead times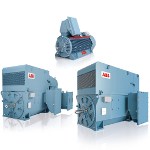 ABB has launched its N-series general-purpose motors to provide a high level of energy efficiency, reliability, and safety in applications where a highly customized motor in the 50- to 8,000-kW power range is not needed. The motors use cost-effective pre-packaged designs to meet the same high quality standards as all ABB motors but with lead times that are several weeks shorter. An easy-to-use online selection tool called "MachSize" simplifies motor configuration. Another tool called "DocStage" is a web-based system for sharing and managing documentation.
Click here to learn more.
---
New nanopositioning solutions catalog debuted at LASER 2017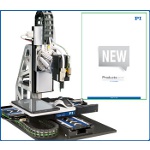 Motion and precision positioning systems expert PI (Physik Instrumente) issued a catalog on newly introduced precision motion solutions for photonics, robotics, microscopy, and highly accurate industrial automation applications at LASER World of PHOTONICS held in Munich, Germany, in June. The 80-page catalog covers products and custom-engineered systems, including automated photonics alignment engines, linear motor stages, piezo actuators, air bearings, hexapod Stewart platforms, and high-performance motion controllers.
Get your nanopositioning systems catalog today.
---
Get 'V8 power' and nanometer precision positioning with PI's new piezo linear motor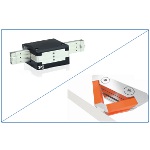 Motion control and piezo systems expert PI (Physik Instrumente) introduces a new robust OEM walking motor drive, the N-331, with its configuration rooted in existing patented piezo actuator technology and a patented piezo stepping motion principle design. Unlike traditional electromagnetic motors, piezo motors do not create magnetic fields, nor are they influenced by magnetic or electric fields. The new design is ideal for use in high-end applications that require extreme precision and durability. High push/pull and holding forces qualify this non-magnetic drive as the fastest and strongest of its size class.
Click here to see it in action.
See the specs, datasheet, and more information.
---
Mike Likes: Small brushless motor with big performance

The new 3274 BP4 brushless DC motor series from FAULHABER is overload‐resistant and operates without wear‐prone mechanical commutation, giving the 3274 BP4 longer operational life than conventional micro DC motors. Weighing just under 320 grams, the 3274 BP4 brushless servo motor packs massive continuous torque of 165 mNm, making it ideal for applications where high power and dynamic start/stop operation with the lowest possible weight are crucial.
Click here to learn more.
---
Rotate an object to a precise angular position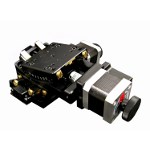 Goniometer stages can measure angles of objects such as crystals or move an object to a precise angular position along an arc in relation to a fixed point in space. Two goniometer stages mounted in an alpha-beta configuration (stacked) can rotate an object around a fixed point in space on a spherical surface. Optimal Engineering Systems (OES) offers stacked, precision-aligned goniometer stages like the compact AK110-15-10 with a rotation center 50 mm above the upper stage. Goniometers are used for identifying crystals, examining cutting edges of medical instruments, estimating hyperspectral bidirectional reflectance, gloss measurements, measurements of radiation patterns of LEDs, directing lasers, aligning mirrors, and manufacturing quartz oscillator plates using quartz cutting X-rays.
Click here to learn more.
---
Compact hexapod for industrial alignment applications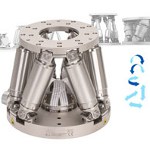 PI has added a higher performance model to its range of compact hexapods. The new H-811.i2 provides twice the velocity along with sensor resolution up to eight times higher compared to the current H-811.D2 miniature hexapod. The compact size, robust design with low-friction ballscrews, brushless motors, and powerful controller with multi-axis alignment capabilities make the new hexapod an ideal tool for high duty-cycle alignment applications in optics, automotive, and photonics applications.
Specifications, datasheets, more information >
Read technical articles and applications of PI hexapods >
---
Synchronous motors/drives don't need encoder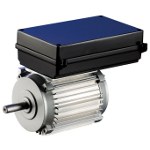 The SINOCHRON Motor design from ABM DRIVES offers advantages in continuous-duty applications like driving pumps and fans. The efficiency is also better in partially loaded duty cycles when compared to standard asynchronous motors. This motor can replace a stepper motor in some applications. Drive units are virtually loss-free in no-load operation. This motor design also offers advantages in powering conveying equipment, escalators, spooling machines, compressors, and traction drive units. By substituting existing line-powered three-phase drive units, energy savings of 20 to 35 percent can be expected.
Click here to learn more.
---
Mike Likes: TI doubles power density with motor control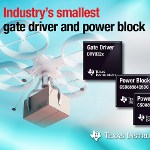 Texas Instruments recently introduced two new device families that help reduce size and weight in motor drive applications. When used together, the brushless DC (BLDC) gate drivers and power blocks require half the board space of competing solutions. An 18-V compact BLDC motor reference design demonstrates how these components can drive 11 W/cm3 power and enable engineers to jump start their designs for smaller, lighter weight power tools, integrated motor modules, drones, and more.
Read the full article.
---
Stepper motor controller delivers 2,000x basic resolution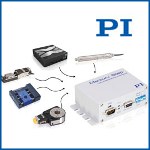 Precision positioning systems industry leader PI (Physik Instrumente) has released a higher performance model of its successful Mercury Stepper Motion controller. Stepper motors take up discrete positions in a revolution of a constant distance. Typical commercial models provide 200 to 1,000 full steps per revolution. Designed to deliver more than 2,000 times the basic motor resolution, the C-663.12 Mercury controller is the newest addition to PI's suite of motion control solutions.
Click here to learn more.
---
Micro gripper for small, fragile part assembly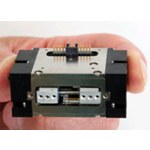 The MGR5 electric micro gripper from SMAC was designed for small, fragile part assembly. It features a light-force capability of 10 g or less and a soft-land capability for pick and place of delicate parts. Each jaw can be independently controlled in force, position, and velocity, with a 5-micron linear encoder standard (1 micron optional). Ideal for a wide range of positioning, measuring, and inspection applications, particularly where 100% verification is required.
See this new gripper in action.
Get more detailed info on this micro gripper.
---
Dual-feedback voice coil positioning stage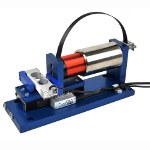 The VCS20-020-CR-01-MC-F3K voice coil positioning stage can operate under closed-loop position control with force monitoring or closed-loop force control with position monitoring. It uses H2W voice coil motor NCC20-18-020-1A to generate a continuous/peak force of 2 lb (8.9 N)/6 lb (26.7 N) with a total stroke length of 2 in. (50.8 mm). The 1-micron resolution encoder allows for precise positioning. The 3-kg rated force transducer allows for 0.01- to 3-kg of push/pull force feedback control. It comes supplied with a high-accuracy crossed roller bearing. The motor coil is the moving part of the assembly in order to reduce the moving mass of the system. Power is supplied to the motor via a high-flex, high-reliability flat ribbon cable.
Click here to learn more.
---
Thinnest moving coil linear motor in the world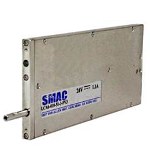 At 6 mm wide, SMAC Moving Coil Actuators claims the LCA6 is the thinnest linear moving coil in the world. This unit is cross-roller guided, increasing accuracy. Flat coils are centered between cross rollers, so deflection load is reduced and rigidity is increased. In addition, the LCA6 is small and stackable, conserving space. The LCA6 is great for electronic pick-and-place, biomedical dispensing, and QC measurement. Specs include a linear stroke of 10 mm and peak force [N] = 3.5 @ 1.2 amps (24V).
Click here to learn more about this product line.
---
Boeing to modernize, add muscle to next-generation Chinook helicopter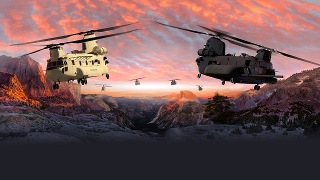 Boeing will build and test three U.S. Army CH-47F Block II Chinook helicopters as part of a modernization effort. [Boeing illustration]
Boeing recently announced it will build and test three U.S. Army CH-47F Block II Chinook helicopters as part of a modernization effort that will likely bring another two decades of work to the company's Philadelphia site.
A $276 million Army contract will fund those helicopters, which will validate technology advancements that will increase the iconic helicopter's lifting power.
"The Army's only heavy-lift helicopter exists to deliver decisive combat power for our ground commanders," said Col. Greg Fortier, U.S. Army project manager for Cargo Helicopters. "The Cargo family is anxious to build upon Col. Rob Barrie's efforts to establish this critical program and deliver an adaptive air vehicle. Increasing payload capacity today enhances battlefield agility and prepares the Chinook for even greater performance gains in the future."
An improved drivetrain will transfer greater power from the engines to the all-new, swept-tip Advanced Chinook Rotor Blades, which have been engineered to lift 1,500 additional pounds on their own. The current configuration of six fuel tanks -- three on each side -- will become two, allowing the aircraft to carry more fuel and shed weight. Additionally, the fuselage's structure will be strengthened in critical areas to allow the aircraft to carry additional payload.
"This latest upgrade for the Chinook fleet is a tribute to the robustness of its original design and exemplifies its 55-year legacy of technological advancements," said Chuck Dabundo, vice president, Cargo Helicopters and program manager, H-47. "The fact that the U.S. Army continues to use and value this platform and they are intending to continue to upgrade it to keep it flying for decades to come is a testament of the capabilities the Chinook team continues to bring."
Boeing will begin building the test aircraft next year. The test program begins in 2019, and first delivery of the Block II Chinook is expected in 2023. Eventually, the Army will upgrade more than 500 Chinooks to Block II configuration.
Source: Boeing
Published August 2017
Rate this article