Mike Likes:
Thomson offers embedded actuator synchronization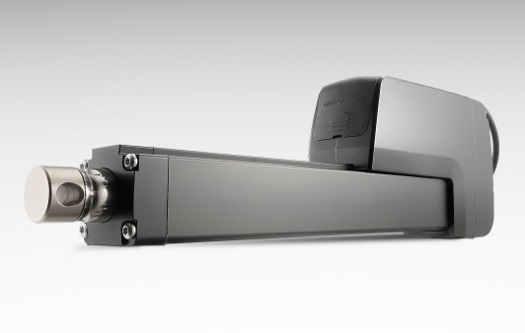 The Thomson Electrak HD, which boasts the most advanced onboard controls of any actuator in its class, has added a synchronization option to its feature set.
Designers of equipment that has to move large or awkward loads repeatedly and evenly, such as large solar panels or heavy hoods on construction equipment, can now simultaneously distribute that load using up to four actuators.
The clever solution comes from Thomson Industries, a leading manufacturer of mechanical motion control solutions, in the form of its Electrak HD heavy-duty electromechanical linear actuators.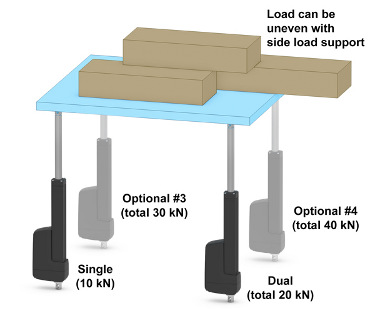 Synchronization enables motion integration of up to four Electrak HD actuators. When multiple units with the synchronization option are installed, designers can take advantage of a more stable and potentially quicker lift, no additional guides, and improved handling of uneven loads.
Traditional methods for synchronizing multiple actuators can be inflexible. Gas spring technology, for example, is limited in application, while hydraulic cylinders can be prone to leakage and costly to maintain. Non-integrated electronic systems have more flexibility and are cleaner, but they require external devices such as encoders and potentiometers to track position and send feedback to an external PLC or other logic solver.
"The ability to synchronize movement of large and potentially awkward loads is something our customers have been requesting as they seek to automate larger applications or improve ergonomics," says Chad Carlberg, product line manager for Industrial Actuators at Thomson. "We have tapped into the advanced electronics capabilities of our popular Electrak HD heavy-duty linear actuator technology to achieve synchronization more easily and cost effectively than is possible with any other available approach."
There are numerous opportunities to apply the benefits of synchronization. In addition to solar panels and off-highway agricultural equipment mentioned earlier, potential applications include:
Industrial logistics trains for automatic correction of imbalances between the front- and back-end loads, which can cause stoppage, noise, or unnecessary wear.
Doors on ovens and large processing equipment for smoother, safer opening and closing.
Ergonomic patient-handling equipment such as lift tables, synchronizing operation of lift columns for smoother movement and a higher quality patient experience.
Marine applications, such as rudder assemblies, for smoother, more responsive steering.
Structural engineering applications such as automatic loading doors in factories and warehouses.
Thomson achieves its synchronization by embedding all load-handling technology into a single electromechanical actuator, which is then wired in sequence with up to three other similarly equipped actuators. Designers install these wherever linear movement is needed without the need for external assemblies.
Once the actuators are installed, customers synchronize them instantly by wiring them together and operating a single unit with a simple switch. During operation, system electronics detect speed changes that indicate load imbalances, thereby eliminating bouncing or other effects of imbalance.
By using multiple actuators, synchronization increases system movement speed more efficiently. A larger load that might normally use a single, heavy-load actuator, for example, could be moved faster by combining multiple, lower load actuators.
Synchronization also retains all Electrak HD mechanical capabilities, including the handling of bidirectional loads up to 10 kN (2,250 lbf) with stroke lengths up to 1,000 mm (39 in.) and accuracy of 1 percent of stroke from 100 to 1,000 mm. High-quality ball screw assemblies provide efficient current draw and support speed options up to 43.5 mm/sec (1.7 in./sec) using the 1.7 kN (382 lbf) version.
Electrak HD linear actuators with synchronization capability are available immediately (choose SYN in "Electronic Options" after selecting an actuator part number). The same actuator can function as a master or slave in any multiple-unit configuration, simplifying replacement and reducing spares requirements.
Source: Thomson Industries
Published August 2017
Rate this article