Cool Tools: Wireless pocket oscilloscope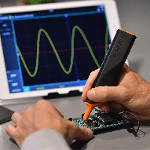 Saelig has introduced the IkaScope WS200, a pen-shaped battery-powered wireless oscilloscope that streams captured signals to almost any Wi-Fi-connected screen. This tool offers a 30-MHz bandwidth with its 200-MSa/s sampling rate, and the maximum input is +/-40 Vpp. It provides galvanically isolated measurements even when a USB connection is charging the internal battery. The IkaScope WS200 will work on desktop computers (Windows, Mac, and Linux) as well as on mobile devices like tablets or smartphones (iOS and Android Q4 2017). Application software can be downloaded for whichever platform is needed.
Click here to learn more.
---
Multi-axis robotic controller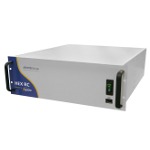 Aerotech's HEX RC is a 6-axis motion controller ideal for controlling robotic systems like hexapods. It is 4U rack-mountable and compatible with the Automation 3200 (A3200) motion platform. A high-performance processor provides the intense computing power needed to run up to 32 axes, perform complex, synchronized motion trajectories, manipulate I/O, and collect data at high speeds. This unit features 6 axes of drives capable of controlling any combination of brush, brushless, or stepper motors (both current loop and servo loop closures). An optional 6-axis jog pendant permits easy, manual control of the positioning system.
Click here to learn more.
---
Using natural refrigerants in cooling system design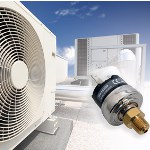 The use of natural refrigerants is on the rise, creating a new set of challenges for cooling system design. You can optimize safety and efficiency by understanding the implications of the trend on component design and selection. This new white paper from Sensata Technologies provides an overview of methods used to mitigate these technical challenges as well as a look at some of the HVAC and refrigeration hardware and safety technologies required, especially pressure switches and pressure sensors.
Read the white paper (no registration required).
---
Compact touchless position sensors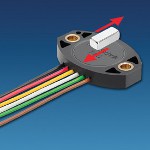 TFD Series touchless linear position sensors from Novotechnik provide wear-free operation in tight spaces for measurement of short stroke lengths. They use a magnetic position marker to provide a touchless measurement range of 0 to 14, 24, or 50 mm (depending on model). These sensors make measurements through air and non-magnetic materials. Applications include textile machinery, packaging machinery, sheet metal machinery, medical applications, marine, mobile engine management systems, industrial trucks, construction machinery, and agricultural and forestry machinery.
Click here to learn more.
---
Connectors: High-current DC power in compact design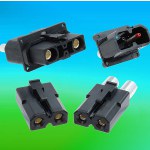 Amphenol Industrial Products Group now offers a versatile connection system that distributes high-current DC power in a compact design. Designed to connect wire to wire, wire to board, and busbar terminations, the Amphe-PD series distributes higher currents with less heat than similar-sized connectors on the market. Ideal for use in datacenter equipment, robotics, and industrial automation, the Amphe-PD series connectors offer wire terminations ranging from 12 AWG to 4 AWG.
Click here to learn more.
---
Cool Tools: Wireless digital micrometer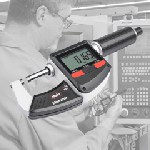 The new 40 EWRi is the latest addition to Mahr's Integrated wireless family of products, including digital calipers, indicators, and depth gages, which allow users to measure faster, more easily, and more reliably. Measurement data is transferred to an i-Stick on a computer without any interfering data cables, and MarCom software makes data acquisition simple: Just take a measurement and transmit measuring data directly into MS Excel or via a keyboard code into any Windows program or existing SPC application.
Click here to learn more.
---
EMI shielding gaskets offered in many materials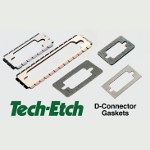 Tech-Etch offers EMI shielding D-Connector gaskets in a wide variety of materials. Five standard sizes of 9-, 15-, 25-, 37-, and 50-pin configurations are available in Stainless Steel; Beryllium Copper; X-, Y-, Z-axis Conductive Foam; and Metalized Fabric consisting of a metalized fabric over a polyurethane foam core. Additionally, four conductive elastomers fill out the D-Connector product line: Series 1000 Supershield silicone elastomer filled with conductive metal particles; Series 4000 Multishield composite material environmental seal; Series 5000 Monoshield for applications where the gasket is limited to 0.02-in. thickness and gap irregularities do not exceed 0.003 in.; and Series 5500 Weaveshield composite (woven aluminum wire screen impregnated with either a neoprene or silicone elastomer), and EMI shielding and pressure seal gasket material used for very small gaps. Custom gaskets can be manufactured.
Click here to learn more.
---
Wi-Fi high-temp air flow monitor for hazardous environments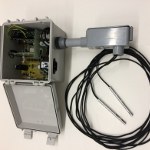 Wind Probe LLC has introduced a high-temp air flow monitor Wi-Fi instrument for large- and small-size ovens. This instrument combines the latest advances in materials, process control, and microprocessor technology and hardware and software design. The model 200 is small, lightweight, and suitable for harsh environments seen in high-temperature curing ovens. One of the most exciting markets includes air flow monitoring at 200 deg C in carbon composite honeycomb ovens. The software permits selecting data rates and running averaging in both temperature and air flow. The software is easily updated, and reference tables can be uploaded using the RS-232 communications interface.
Click here to learn more.
---
New Canfield Connector magnetic sensor adds reliability and safety to vehicles, machines, systems
The rugged Series CS Cylindrical Threaded Mount Sensor from Canfield Connector senses magnetism and triggers action in a variety of applications. The sensor's first field application equips a cement truck, where it picks up a signal from a magnet mounted to the mixing drum and controls how much the drum rotates. In an industrial automation setting, the sensor can detect the closure of a door and allow a machine to run, enhancing safety. The CS Sensor can also react to magnetism that identifies changes in liquid levels or positions of parts in a wide range of vehicles, machines, and systems.
Click here to learn more.
---
Industrial cybersecurity for small and medium-size businesses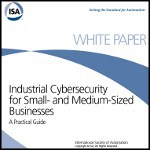 The International Society of Automation, at the request of the U.S. Department of Homeland Security, has developed a white paper designed to help small and medium-sized businesses (SMBs) recognize their vulnerability to industrial cyberattack and forge an effective cybersecurity plan based on established standards and practices. "Industrial Cybersecurity for Small and Medium Sized Businesses: A Practical Guide" leverages ISA's in-depth knowledge of industrial automation and control systems (IACS) and subject-matter expertise in industrial cybersecurity.
Get this valuable resource.
---
SNAP-TOP fasteners hold printed circuit boards securely without mating screws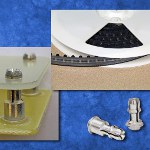 New PEM SMTSS ReelFast SNAP-TOP standoff fasteners from Penn-Engineering hold printed circuit boards securely in assemblies without requiring mating screws or other loose threaded hardware to complete attachment. These unthreaded standoffs promote streamlined production by easily installing in boards in the same manner and at the same time as other surface-mount components prior to the automated reflow solder process. They ultimately enable precise and reliable mounting and spacing of boards using less hardware and fewer operations.
Click here to learn more.
---
FUTEK mini load cells take on Shark Week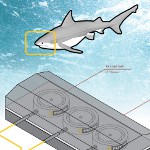 On the Discovery Channel's special "Shark School with Michael Phelps" last week, the team engineers at Peacock Productions used three FUTEK Donut/Through Hole load cells as well as FUTEK instrumentation to test a great white shark's bite force. The three LTH500 Donut/Through Hole Load Cells were placed in a special mold that mimicked the shark's prey. By combining the IHH500 Digital Hand Held Display and IAC200 4 Channel Summing Junction Box with the load cell setup, the production team was able to accurately measure the force of the great white shark's bite, which registered at 10,000 Newtons -- equivalent to a car crashing into a wall at 100 mph! The force reading was unprecedented; it was the first shark bite to register above 6,000 Newtons.
Check out the FUTEK setup for the Discovery Channel's "Shark School."
Watch the Discovery Channel's bite tester in action.
---
Everything you wanted to know about heatsinks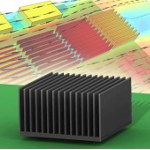 How well a heatsink performs depends on particular aspects of its design, such as the thermal conductivity of the material it's made of, its overall dimensions, fin type used, airflow rate, and system. A theoretical model can be used to predict performance, or it can be measured experimentally. But because of the complex 3D nature of today's electronic systems, engineers often use the numerical method via computational fluid dynamics (CFD) to determine the thermal performance of a heatsink before prototyping. This informative blog post from Mentor features two on-demand webinars to run through the basics of heatsink design and considerations.
Read the Mentor blog on heatsink design.
---
Mike Likes: Unit Conversion Tool

Convert popular spring units such as force or retaining ring thrust capacities into metric units with Smalley's engineering tools. Convert units such as mass and weight, angular measurements, velocities, temperatures, pressures and densities, and more.
Click here to learn more. You should bookmark this one.
---
Mike Likes: TI doubles power density with motor control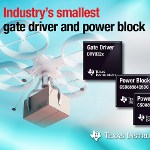 Texas Instruments recently introduced two new device families that help reduce size and weight in motor drive applications. When used together, the brushless DC (BLDC) gate drivers and power blocks require half the board space of competing solutions. An 18-V compact BLDC motor reference design demonstrates how these components can drive 11 W/cm3 power and enable engineers to jump start their designs for smaller, lighter weight power tools, integrated motor modules, drones, and more.
Read the full article.
---
100x today's fastest cell networks: Scientists report first data transmission through terahertz multiplexer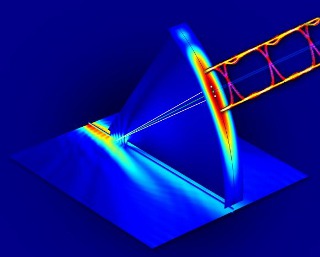 A research team led by a Brown University engineer has demonstrated the first data transmission through a terahertz multiplexer. [Mittleman lab/Brown University/Ducournau Lab/CNRS/University of Lille]
Multiplexing, the ability to send multiple signals through a single channel, is a fundamental feature of any voice or data communication system. An international research team has demonstrated for the first time a method for multiplexing data carried on terahertz waves, high-frequency radiation that may enable the next generation of ultra-high bandwidth wireless networks.
In the journal Nature Communications, the researchers report the transmission of two real-time video signals through a terahertz multiplexer at an aggregate data rate of 50 gigabits per second, approximately 100 times the optimal data rate of today's fastest cellular network.
"We showed that we can transmit separate data streams on terahertz waves at very high speeds and with very low error rates," said Daniel Mittleman, a professor in Brown's School of Engineering and the paper's corresponding author. "This is the first time anybody has characterized a terahertz multiplexing system using actual data, and our results show that our approach could be viable in future terahertz wireless networks."
Current voice and data networks use microwaves to carry signals wirelessly. But the demand for data transmission is quickly becoming more than microwave networks can handle. Terahertz waves have higher frequencies than microwaves and therefore a much larger capacity to carry data. However, scientists have only just begun experimenting with terahertz frequencies, and many of the basic components necessary for terahertz communication don't exist yet.
A system for multiplexing and demultiplexing (also known as mux/demux) is one of those basic components. It's the technology that allows one cable to carry multiple TV channels or hundreds of users to access a wireless Wi-Fi network.
The mux/demux approach Mittleman and his colleagues developed uses two metal plates placed parallel to each other to form a waveguide. One of the plates has a slit cut into it. When terahertz waves travel through the waveguide, some of the radiation leaks out of the slit. The angle at which radiation beams escape is dependent upon the frequency of the wave.
"We can put several waves at several different frequencies -- each of them carrying a data stream -- into the waveguide, and they won't interfere with each other because they're different frequencies; that's multiplexing," Mittleman said. "Each of those frequencies leaks out of the slit at a different angle, separating the data streams; that's demultiplexing."
Because of the nature of terahertz waves, signals in terahertz communications networks will propagate as directional beams, not omnidirectional broadcasts like in existing wireless systems. This directional relationship between propagation angle and frequency is the key to enabling mux/demux in terahertz systems. A user at a particular location (and therefore at a particular angle from the multiplexing system) will communicate on a particular frequency.
In 2015, Mittleman's lab first published a paper describing their waveguide concept. For that initial work, the team used a broadband terahertz light source to confirm that different frequencies did indeed emerge from the device at different angles.
While that was an effective proof of concept, Mittleman said, this latest work took the critical step of testing the device with real data.
Working with Guillaume Ducournau at Institut d'Electronique de Microélectronique et de Nanotechnologie, CNRS/University of Lille, in France, the researchers encoded two high-definition television broadcasts onto terahertz waves of two different frequencies: 264.7 GHz and 322.5 GHz. They then beamed both frequencies together into the multiplexer system, with a television receiver set to detect the signals as they emerged from the device. When the researchers aligned their receiver to the angle from which 264.7 GHz waves were emitted, they saw the first channel. When they aligned with 322.5 GHz, they saw the second.
Further experiments showed that transmissions were error-free up to 10 gigabits per second, which is much faster than today's standard Wi-Fi speeds. Error rates increased somewhat when the speed was boosted to 50 gigabits per second (25 gigabits per channel), but were still well within the range that can be fixed using forward error correction, which is commonly used in today's communications networks.
In addition to demonstrating that the device worked, Mittleman says the research revealed some surprising details about transmitting data on terahertz waves. When a terahertz wave is modulated to encode data -- meaning turned on and off to make zeros and ones -- the main wave is accompanied by sideband frequencies that also must be detected by a receiver in order to transmit all the data. The research showed that the angle of the detector with respect to the sidebands is important to keeping the error rate down.
"If the angle is a little off, we might be detecting the full power of the signal, but we're receiving one sideband a little better than the other, which increases the error rate." Mittleman explained. "So it's important to have the angle right."
Fundamental details like that will be critical, Mittleman said, when it comes time to start designing the architecture for complete terahertz data systems. "It's something we didn't expect, and it shows how important it is to characterize these systems using data rather than just an unmodulated radiation source."
The researchers plan to continue developing this and other terahertz components. Mittleman recently received a license from the FCC to perform outdoor tests at terahertz frequencies on the Brown University campus (see "Brown researchers issued FCC license for terahertz tests").
"We think that we have the highest frequency license currently issued by the FCC, and we hope it's a sign that the agency is starting to think seriously about terahertz communication," Mittleman said. "Companies are going to be reluctant to develop terahertz technologies until there's a serious effort by regulators to allocate frequency bands for specific uses, so this is a step in the right direction."
This work was supported by the U.S. National Science Foundation, the U.S. Army Research Office, the W.M. Keck Foundation, and France's Agence Nationale de la Recherche under the COM'TONIQ and TERALINKS research grants and in the framework of the CPER "Photonics for Society" developed within the Hauts-de-France region.
Source: Brown University
Published September 2017
Rate this article