Great Resources: Design guidelines for selecting/using stainless steels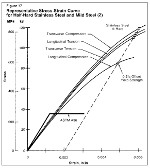 This extensive guide from the Nickel Institute helps designers better understand the large family of corrosion-resistant stainless steels. It describes typical corrosion modes and how to select materials to minimize or prevent corrosion. Forty-seven figures help illustrate important characteristics of, and end-use applications for, 57 different stainless steel types, including chemical compositions, physical and mechanical properties, properties at elevated temperatures, and heat-transfer characteristics.
Get your guide (no registration required).
---
Compressed Air: New website offers better ways to improve efficiency and safety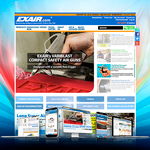 EXAIR.com® is the new digital home of Intelligent Compressed Air® products for industry. EXAIR's new website has improved the product selection process by providing descriptions immediately from the homepage. An improved account management and ordering process streamlines access to historical orders, allows one-click repeat orders, and eases editing of your information. This website is fully responsive to provide a consistent experience whether using a PC, tablet, or smartphone. A comprehensive search functionality enables users to quickly locate model numbers and related information.
Click here to check out EXAIR's new site.
---
SOLIDWORKS 2018 is here!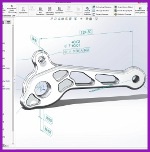 With SOLIDWORKS 2018, teams can collaborate concurrently to design a product or part more rapidly and cost efficiently, validate its function and manufacturability, manage its data and related processes, streamline and automate its manufacturing, and inspect it. Any changes in design or manufacturing are fast and easy to manage and automatically flow to all related models, programs, drawings, and documentation. A standout new feature is SOLIDWORKS CAM, which provides rules-based machining with knowledge capture for the automation of manufacturing programming. Plus, there are improvements to many of the SOLIDWORKS features you already use.
Learn all about the SOLIDWORKS 2018 launch.
---
Industry First: One hose, three uses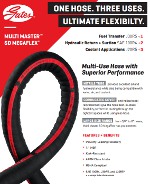 Gates has launched a multi-purpose hose that serves the needs of three distinct markets: fuel transfer, hydraulic return and suction lines, and 20R5 coolant applications. The Multi Master SD MegaFlex line is the first of its kind to simultaneously meet SAE 100R4, SAE J30R5, and SAE J20R5 requirements. It has a 1:1 bend radius, an ARPM Class A tube, and is also MSHA compliant. It features a corrugated chloroprene cover and steel helix reinforcement. Offered in sizes from 3/4 to 6 in.
Click here to learn more.
---
Designing for Moldability White Paper

Whether you're new to the injection molding process or a veteran of manufacturing, Designing for Moldability offers an insightful guide to draft, radii, surface finish, materials and other thermoplastic molding considerations. It's more than 20 rapid injection molding tips designed to help improve the moldability of your plastic parts.
Download your free copy today!
---
Mike Likes: New 3D-printing materials from DuPont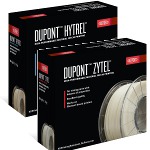 Proven over decades of use, DuPont Hytrel thermoplastic elastomers and DuPont Zytel nylons offer high quality, reliability, and performance in various applications in a wide range of industries -- and now the materials are available as 3D-printing filaments. Hytrel is available in two different hardness levels (Hytrel 3D4000FL with a shore D of 40 and Hytrel 3D4100 with a shore D of 60) for customers to make flexible, functional parts that combine resiliency, heat, and chemical resistance with strength and durability. With Zytel 3D1000FL, customers will be able to make strong and stiff functional parts that have a high heat deflection temperature, low warpage, low sensitivity to moisture, and excellent surface aesthetics.
Learn material specs on the DuPont site.
Purchase exclusively on the Coex site.
---
Carbon composite bellows springs for lightweighting and more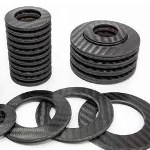 The Carbon Composite Bellows Spring (CCBS) from MW Industries is a system of carbon fiber elements that combine to work as a high-performance, lightweight, and design-flexible compression spring meant to replace conventional coil springs or metallic Belleville disc springs. It offers value through unique dynamic characteristics and unparalleled in-the-field design flexibility. A functional spring is made from several individual elements, paired in sets and joined to make a stack. The spring rate of the stack is determined by the number of elements, the base rate of each element, and their series or parallel orientation in the stack. Applications include motorsports, aerospace, outdoor recreation, general industry, and high-performance activities.
Click here to learn more.
---
Mike Likes: Designing with Wave Springs eBook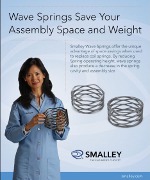 We know how critical it is to specify the right spring for your design. With tens of thousands of wave springs designed, and counting, Smalley has tackled design challenges in nearly every industry. Their eBook, "Designing with Wave Springs," helps you find the right spring for your application and details how Smalley engineers offer space-saving solutions.
Get this valuable resource.
---
How to replace metal with thermoplastics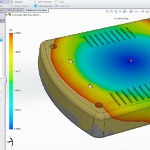 Have you ever considered replacing your metal parts with plastic parts? It could be a viable option -- especially when it comes to the flexibility of manufacture, faster production cycle times, and the cost effectiveness of replacing metal parts with plastic parts. SolidWorks' Jeff Osman details general best practices to keep in mind regarding both design and manufacturability Osman has more than 23 years of experience in the mechanical CAD industry.
Read this informative blog.
---
Compressed Air: Aluminum SmartPipe+ is clever solution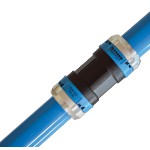 SmartPipe+ is now available from Kaeser Compressors. This versatile, modular, no-rust aluminum piping system features lightweight materials and simple, compression-style connections. Available in multiple sizes from 3/4 in. to 2-1/2 in., SmartPipe+ is ideal for headers and branch lines all the way down to the point of use. It has a low coefficient of friction and provides the best possible laminar flow. The full-bore fittings minimize pressure drop, while the leak-free connectors prevent costly compressed air loss. SmartPipe+ can easily be integrated into existing steel, copper, or aluminum systems and can be modified to accommodate changing needs. Ten-year warranty.
Click here to learn more.
---
Electromagnetic actuated clutches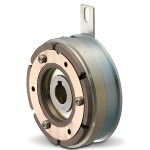 Miki Pulley's CS Electro-magnetic Actuated Clutches are durable, versatile, and have excellent torque-transmission features to provide an efficient connection between a motor and a load. Benefits include low inertia, minimal drag, and very quiet operation. They function utilizing the magnetic force generated by the energized coil, providing engagement of input and output members of the clutch. Available with three different armatures, they feature an integrated bearing design that makes mounting fast and easy while ensuring application concentricity and excellent system runout. Available in bores ranging from 10 mm to 15 mm, with brake torques ranging from 3.687 ft-lb to 236.02 ft-lb (5 Nm to 320 Nm).
Click here to learn more.
---
Mike Likes: New innovative way to take up tolerances!

Smalley Linear Springs are a continuous wave-formed (marcelled) wire length produced from spring-tempered materials. They act as a load-bearing device, having approximately the same load/deflection characteristics as a wave spring. Linear Springs are now available as a standard part in carbon and stainless steel, with over 200 sizes.
Click here to learn more.
---
Top 15 acme/lead screw questions answered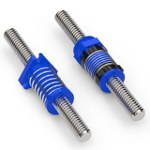 Acme lead screws convert rotary motion into linear motion by turning either the screw or the nut. Lead screws and nuts are highly customizable. But do lead screws and nuts need to be lubricated? And how do you decide which Acme screw product to use? Christopher Nook, CEO, Helix Linear Technologies, answers the most often asked questions for these versatile and vital mechanical components.
Read the blog post.
---
3D positioning system locks devices in space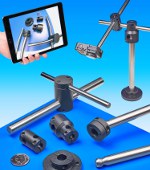 A new 3D positioning system that simplifies the setup of cameras and other devices for research, laboratory, process, and packaging applications has been introduced by Stafford Manufacturing Corp. The system consists of a rugged group of mounting components, including a base that can securely attach to any flat surface, stepped and straight-through couplings, and precision shafting that can be easily adjusted and locked. Featuring a ball-end shaft and clamp-mount accessory with an infinitely adjustable range of motion, this system lets users move, tilt, and swivel to position and lock devices in space.
Click here to learn more.
---
Smith Metals Products adds Titanium Metal Injection Molding capabilities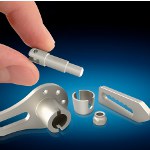 Smith Metals Products has added Titanium Metal Injection Molding (TiMIM) capabilities to its MIM portfolio of materials that include stainless steels, alloys, and ceramics. TiMIM involves mixing powdered Titanium metal with a binder material to compose a feedstock capable of being handled by injection molding equipment. Metal injection molding allows complex Titanium parts to be shaped with precision in a single operation and in high volume as compared to traditional Titanium machined metal components. Adding TiMIM capabilities opens a new, wider range of component applications for Smith Metal Products, where strength-to-weight ratio parts are desired. It is often accomplished with superior features using Titanium compared to other strong (but much heavier) metals like steels.
Click here to learn more.
---
Researchers engineer 'thubber,' a stretchable rubber that packs a thermal conductive punch
Carmel Majidi and Jonathan Malen of Carnegie Mellon University have developed a thermally conductive rubber material that represents a breakthrough for creating soft, stretchable machines and electronics. The findings were published in Proceedings of the National Academy of Sciences this past spring.
The new material, nicknamed "thubber," is an electrically insulating composite that exhibits an unprecedented combination of metal-like thermal conductivity and elasticity similar to soft, biological tissue that can stretch over six times its initial length.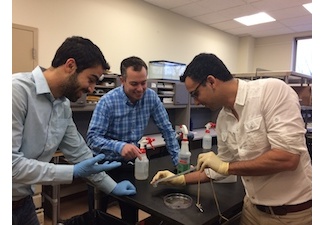 (From left) Navid Kazem, Jonathan Malen, and Carmel Majidi demonstrate the elasticity of a strip of "thubber."
"Our combination of high thermal conductivity and elasticity is especially critical for rapid heat dissipation in applications such as wearable computing and soft robotics, which require mechanical compliance and stretchable functionality," said Majidi, an associate professor of mechanical engineering.
Applications could extend to industries like athletic wear and sports medicine -- think of lighted clothing for runners and heated garments for injury therapy. Advanced manufacturing, energy, and transportation are other areas where stretchable electronic material could have an impact.
"Until now, high-power devices have had to be affixed to rigid, inflexible mounts that were the only technology able to dissipate heat efficiently," said Malen, an associate professor of mechanical engineering. "Now, we can create stretchable mounts for LED lights or computer processors that enable high performance without overheating in applications that demand flexibility, such as light-up fabrics and iPads that fold into your wallet."
The key ingredient in "thubber" is a suspension of non-toxic, liquid metal microdroplets. The liquid state allows the metal to deform with the surrounding rubber at room temperature. When the rubber is pre-stretched, the droplets form elongated pathways that are efficient for heat travel. Despite the amount of metal, the material is also electrically insulating.
VIDEO: The first part of the video demonstrates the thermally conductive "thubber" material (bottom, labeled LMEE) as it stretches and dissipates the heat of an embedded LED light. The plain rubber material (top) cannot dissipate the heat and ultimately breaks apart under the strain. The second part shows the caudal fin locomotion of a robotic fish with a thermal actuator made of "thubber."
To demonstrate these findings, the team mounted an LED light onto a strip of the material to create a safety lamp worn around a jogger's leg. The "thubber" dissipated the heat from the LED, which would have otherwise burned the jogger. The researchers also created a soft robotic fish that swims with a "thubber" tail, without using conventional motors or gears.
"As the field of flexible electronics grows, there will be a greater need for materials like ours," said Majidi. "We could also see it used in highly reconfigurable devices that use thermal actuators to undergo shape changes."
Majidi and Malen acknowledge the efforts of lead authors Michael Bartlett, Navid Kazem, and Matthew Powell-Palm in performing this multidisciplinary work. They also acknowledge funding from the Air Force, NASA, and the Army Research Office.
Resources: M. Bartlett, N. Kazem, M. Powell-Palm, X.Huang, W. Sun, J. Malen, C. Majidi, "High thermal conductivity in soft elastomers with elongated liquid metal inclusions," Proceedings of the National Academy of Sciences (2017). DOI: 10.1073/pnas.1616377114.
Published October 2017
Rate this article