World's highest force voice coil actuator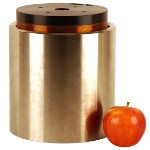 H2W Technologies has developed the world's highest force commercially available non-commutated DC linear actuator, otherwise known as a direct drive voice coil actuator. The model NCC08-75-3000-3X is capable of generating a continuous force of 300 lb (1330 N) and a peak force of 900 lb (4000 N) at a duty cycle of 10% (i.e., 1 sec on and 9 sec off). A moving mass of just under 8 lb (3.6 kg) allows for a maximum theoretical continuous acceleration of nearly 38 Gs.
Click here to learn more.
---
Reduce motion control application development time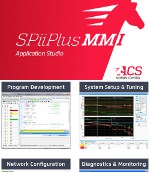 ACS Motion Control has launched a new version of its SPiiPlus Application Development Kit (ADK) Suite motion control software with new simulation and motion machine interface (MMI) tools. The SPiiPlus ADK Suite Version 2.50 provides enhanced diagnostics capabilities to minimize setup, tuning, and programming time for motion control applications. With updated ACSPL+ functions, variables, and commands, Version 2.50 enables the implementation of both highly complex motion-time-event sequences with accurate positioning and timing, and simpler tasks such as point-to-point control. The ACS simulator tool models an ideal closed-loop servo system.
Click here to learn more.
---
Sprague pumps, boosters, and power units now available from High Pressure Equipment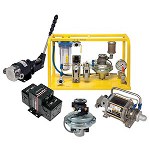 High Pressure Equipment Co. (HiP), a subsidiary of Graco Inc., has added Sprague hydraulic pumps, gas boosters, and power units to their family of products. Sprague air-driven power products have been providing high-pressure solutions to the oil and gas, process chemical, utility, aviation, and industrial markets for more than 60 years. The first Sprague air-operated pump was developed in 1947 and, other than minor modifications, is the same classic design today. HiP will manufacture all Sprague power products in their ISO 9001-certified Erie, PA, headquarters plant.
Learn about Sprague Air-Driven Hydraulic Pumps.
Learn about Sprague Air-Driven Gas Boosters.
Learn about Sprague Air-Driven Power Units.

---
Fast and compact direct-drive micro-positioning stages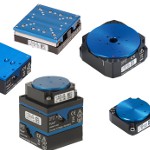 Precision motion and nanoposi-tioning leader PI (Physik Instrumente) delivers a family of compact linear and rotary stages driven by ceramic direct-drive motors. The patented ultrasonic motors provide smooth motion with high resolution and a high dynamic range. The self-clamping motor principle locks the stage into place, devoid of creep, once a target position has been reached. This intrinsic brake-like behavior comes at no extra cost and provides advantages that are not available with classic electro-magnetic drive technologies. Two linear stages with 18-mm and 22-mm travel are available, as well as an XY stage providing 22 mm x 22 mm. Several encoder options are standard. Applications include medical devices, optical instrumentation, photonics alignment, and super-resolution microscopy.
View the specs, datasheet, and more.
Read tech article about ultrasonic motors.
---
Selection tips for rodless electromechanical and electric rod actuators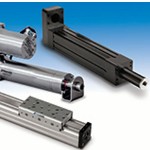 When you specify a linear actuator, some basic decisions come first. Do you go with electric or fluid-powered? Do you need the push/pull of an electric rod actuator or the load-carrying action of a rodless electromechanical actuator? Aaron Dietrich from Tolomatic may have your answer. Dietrich has compiled some very good tips for selecting these actuator types.
Learn about selecting linear actuators.
---
Software: Robot control systems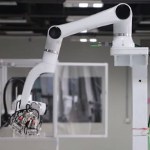 Han's Robot, a subsidiary of global Chinese manufacturer Han's Laser, has licensed Energid's Actin premier control software for its new line of cost-effective collaborative robots ("cobots"), called Elfins. Actin is an easy-to-use robot control and simulation framework that offers robot manufacturers faster time to market, reduced software development costs, and powerful control with real-time adaptive motion. Han's Robot was able to leverage powerful collaborative features including collision avoidance, simplified task-based programming, interactive control, and the ability to extend, customize, and rebrand any of the components for advanced product differentiation. Energid provides robotic control systems for a wide range of global customers.
Click here to learn more.
---
New Catalog: Custom engineered precision motion systems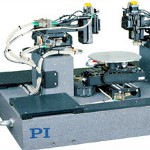 Motion and precision positioning systems expert PI (Physik Instrumente) has released a new catalog outlining its capabilities for engineered motion and automation solutions for high-tech industries such as photonics, precision optics, semiconductor, and medical engineering. Customers have saved considerable time and resources by requesting free advice from PI's engineering teams around the world, who draw upon thousands of standard products ranging from electromagnetic to piezoceramic motors, digital and analog controllers, serial and parallel kinematic motion systems, capacitive, inductive and optical nano-precision sensors, and guiding systems that span from flexures to magnetic levitation and air bearings.
Get your catalog today.
---
New planetary PMDC gearmotors from Bodine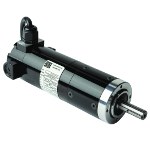 Bodine Electric Company introduces the new type 24A4-60P planetary gearmotor. This integral gearmotor combines Bodine's high-performance type 24A PMDC motor with the all-new 60P (60-mm) planetary gearhead. It is ideal for applications that require higher torque than conventional helical/spur gearheads of a similar size can provide, and where a very low-backlash gearhead is not required. Typical applications include conveyors, pumps, packaging, industrial automation, and a wide range of solar- or battery-powered equipment.
Click here to learn more.
---
Extreme force electric linear actuator controls lumber drying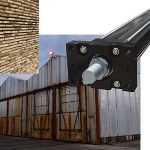 The lumber processing industry demands rugged, strong, reliable, and accurate equipment in all its operations. Conditions can be harsh. Hydraulic cylinders have been the go-to, but they have limitations, such as inconsistent control, leaks, temperature sensitivity, maintenance requirements, and lack of feedback. Now there are electric rod actuators powered by roller screws that can meet the requirements of these high-force applications.
Read the Tolomatic blog.
---
Medium-load hexapod 6-axis motion platform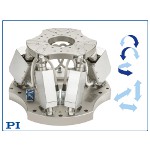 With the usability of 6-axis hexapods increasing in research and industry applications, PI introduces a new medium-load 6-axis precision motion platform, the H-825 hexapod. The H-825 provides a self-locking load capacity up to 30 kg (66 lb). The motion range is up to 55 mm (linear) and up to 38 degrees (rotation). High system precision is guaranteed by absolute encoders and an actuator resolution of 8 nanometers -- with excellent position repeatability of +/-0.1 µm and +/-2 µrad, respectively. The parallel-kinematic design of the hexapod makes it smaller and stiffer than traditional 6-axis positioning systems while providing a higher dynamic range. Features long-lifetime brushless servo motors.
>Read technical articles and applications of PI hexapods
>Watch Hexapod System Videos
>Specifications, Datasheet, More Information
---
Wheel drive assemblies for electric vehicles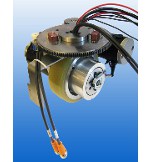 WheelMax Steering Drives from Allied Motion Technologies are fully integrated, electrically powered traction wheels with on-board steering systems for electric vehicles. Each WheelMax Steering Drive combines a traction wheel with tire, epicyclic gearbox, robust steering gear and bearing system, and two rugged PMDC brush motors, one for traction and one for steering power. The complete assembly is compact, easy to mount, and requires little to no maintenance. WheelMax Steering Drives handle loads up to 227 kg (500 lb) and provide 14 Nm (120 lb-in.) continuous torque at speeds up to 5 km/hr (3 mph). Applications include AGVs, autonomous robotic material handlers, pushers and tuggers, powered utility carts, and hospital patient handlers, among many others.
Click here to learn more.
---
Micro Solutions: Myoelectric robotic prosthesis hand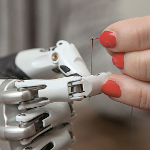 The Bebionic myoelectric hand prosthesis was recently developed to help with daily life challenges. Powerful and compact FAULHABER dc motors ensure that the prosthesis can grip without any problems, quickly and firmly, and maintain a constant gripping force. Two electrodes integrated into the prosthesis shaft detect the myoelectric signals and forward them to the control electronics. These signals are amplified and used to activate the 5 small electric motors.
Read the full article.
---
New frameless brushless servo motor kits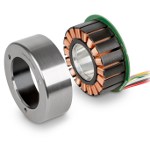 The new frameless motor kits from Maxon consist of only a rotor and stator -- no bearings or motor shaft. With outer diameters of only 43 mm to 90 mm, these pancake servo motor kits are extremely compact. Available in size ranges from 30 W to 260 W, these EC (electronically commutated) frameless slotted motors feature low-voltage windings, high pole pair count, and are shipped as BLDC motor kits with the rotor and stator delivered separately without bearings and motor shaft. The flat design, high torque output, and hollow-shaft construction provide plenty of space for cable glands, allowing for a high level of integration into OEM applications such as collaborative and mobile robots, AGVs, exoskeletons, and embedded robotic applications.
Click here to learn more.
---
New DENSO robot product catalog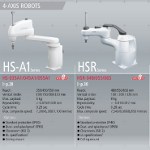 DENSO Robotics -- the world's largest manufacturer and user of small assembly robots -- has announced its new product catalog featuring a wide range of compact, high-speed industrial robots that have reaches of 350 mm to 1,300 mm, payload capacities as high as 20 kg, and repeatability to within +/-0.015 mm. The 52-page publication, which is offered in an interactive online version or as a download, features detailed descriptions, specifications, and schematics of DENSO's entire lineup of four-axis SCARA and five- and six-axis articulated robots, robot controllers, and programming software.
Click here to learn more.
---
New precision linear motor stage family with magnetic direct drive and absolute encoders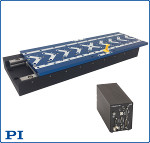 Motion and nanoposi-tioning industry leader PI further expands its PIMag series of high-dynamics linear motor stages with a family of 18, the V-508 -- a new series of compact linear positioning stages with high-force 3-phase linear motors and crossed roller guides. This line features high velocity, high duty cycle, and three travel ranges. A variety of incremental and absolute measuring linear encoders are available. PI's ultra-precise linear motor stages are well-suited for industry and research. Applications include metrology, testing, positioning, scanning, precision automation, micro-assembly, biotechnology, delay-lines, laser beam control, optics, lens testing, and photonics alignment.
Specifications, datasheet, more information >
Read tech article, "Performance of Direct-Drive Linear Motor Stages in Precision Positioning Applications" >
---
Sci-fi spinner: BAE Systems engineers unveil futuristic UAV concept that uses both fixed- and rotary-wing flight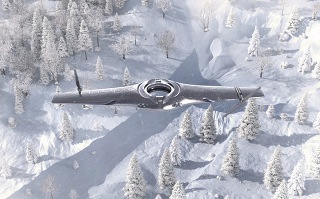 The BAE Systems Adaptable UAV concept melds fixed- and rotary-wing flight technologies.
Within the next few decades, armed forces could be using unmanned aerial vehicles (UAVs) with adaptable aircraft technologies that alternate between fixed- and rotary-wing flight.
Engineers from BAE Systems, together with students from Cranfield University (Bedfordshire, U.K.), have revealed a new technology concept -- named Adaptable UAVs -- that can alternate between the two different flight modes in the same mission. When in rotary-wing mode, the UAVs can be launched and recovered from battlefields and docked on a special pole.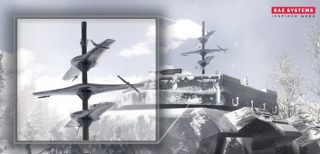 The Adaptable UAVs are a hybrid between fixed- and rotary-wing aircraft, and would use adaptive flight control and advanced navigation and guidance software, which would allow the aircraft to benefit from the greater speed and range afforded to fixed-wing aircraft, before alternating to rotary-wing mode to hover and achieve vertical takeoff and landing. This novel technology could allow UAVs to better adapt to evolving future battlefield situations and through working together in a swarm, tackle sophisticated air defenses, as well as operate in complex and cluttered urban environments.
In the rotary-wing mode of flight, the Adaptable UAVs can be easily and safely launched and recovered using a range of vehicles in dangerous environments that might be cluttered by personnel, other aircraft, or vehicles. The pole constrains the lateral or sideways movement of the UAV when being launched or recovered, so strong winds cannot dislodge them. This also avoids any damage to personnel nearby. This is particularly important when recovering a UAV to the aft of a ship or a land vehicle. The pole's gyro-stabilized element also ensures that it remains upright independently of the host vehicle's orientation, which may be rolling if on a ship, or in the case of a land vehicle driving up or down a slope at the time of the launch or recovery.
VIDEO: Like something right out of "Star Wars," the BAE Systems' Adaptable UAV concept is great to watch in action.
"The battlefield of the future will require novel solutions to meet emerging threats and to keep human operators safe wherever they may be," said Professor Nick Colosimo, BAE Systems' Futurist and Technologist. "The Adaptable UAVs concept and related technologies are one of a number of concepts being explored through close collaboration between industry and students in academia."
Cranfield University is one of BAE Systems Strategic University Partners. Research staff and students have explored a range of UAV technologies including research into adaptive flight control and advanced navigation and guidance software.
Source: BAE Systems
Published October 2017
Rate this article