High-performance mini ball screws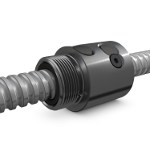 New SKF SP Series high-performance miniature ball screws have been optimized to deliver precise positioning, excellent repeatability, and smooth-running and quiet linear actuation. Their advanced internal ball recirculation system and thread design enable higher speed capabilities (up to 15,000 RPM) and longer operating life compared with conventional rolled ball screws. These robust solutions in small packages can help extend mini machine reliability, increase speed and output, and reduce noise for a wide range of medical, laboratory, automation, and other small-equipment applications. Diameter ranges from 8 mm to 16 mm.
Click here to learn more.
---
Eaton's hydraulic tech powers Valor first flight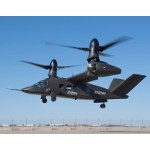 As members of Team Valor, power management company Eaton and Bell Helicopter closed 2017 on an uplifting note with the successful first flight of the Bell V-280 Valor. Created and led by Bell Helicopter, Team Valor is a group of leading aerospace companies working together to develop the next generation of vertical lift aircraft for the U.S. Army. Eaton provided components for the V-280's hydraulic power generation system along with system design and analysis support, component modification and qualification, and flight-test support.
Click here to learn more.
---
Sealing tapes and die-cut gaskets approved for F-16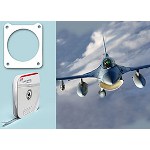 GORE SKYFLEX Aerospace Materials products have been approved for use on F-16 wing access panels. These materials effectively seal panels and protect against mechanical forces and harsh environments that can damage aircraft structures, such as vibration, corrosion, high temperatures, aggressive fluids, UV radiation, and other environmental hazards that tend to break down and weaken traditional materials. Unlike traditional two-component sealants, the materials are lightweight and non-curing, and they simplify the process by reducing installation steps. They are available in a variety of form-in-place (FIP) tapes and die-cut gaskets in various sizes.
Click here to learn more.
---
It's all about precision: Photo etching specialty stainless steels and more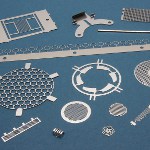 Tech-Etch uses the photo etching process to produce component parts for industrial, aerospace, and medical applications. Precision thin metal parts can be made from specialty stainless steel alloys like MP35N used in implanted medical devices, Elgiloy used in replacement heart valves, and 716 and 420 alloys used for surgical blades. Other etched materials include Inconel, Hastelloy, titanium, niobium, nitinol, and magnesium, which is gaining interest as a bioresorbable surgical implant material. Parts range in thickness from .0005 in. and up. While providing quick turnaround and low tooling costs, photo etching produces burr-free parts with intricate and complex shapes. Designs can be proved in preproduction quantities without having to commit to expensive tooling. Forming, heat treating, plating, laminating, and assembly are available in house.
Learn more. Precision Engineered Parts Capabilities Brochure available too.
---
Lock your gears, sprockets, pulleys, and more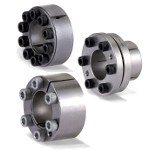 Posi-Lock bushings from Miki Pulley provide system designers with a keyless option for locking into position gears, pulleys, sprockets, and other components in a mechanical system. These bushings feature socket-head cap screws that tighten quickly and easily, allowing the inner and outer hub of the Posi-Lock to move along shaft contact surfaces. Three different models are available. Applications include machine tools, pumps, molding machines, printing systems, robots, and all types of mechanical systems where hub-to-shaft connections are required.
Click here to learn more.
---
How specialized coatings make mechanical parts harder
Although bearings, gears, rollers, and other precision components are generally made of hardened steel or metal alloys, those used in high-load applications still can fail due to excessive wear, surface fatigue, pitting, galling, and corrosion. To address this problem, product engineers and component manufacturers often turn to specialized PVD (physical vapor deposition) coatings that can further harden the surface of these parts. Oerlikon Balzers provides solid solutions.
Read the full article.
---
Air gun with variable flow from the squeeze of a trigger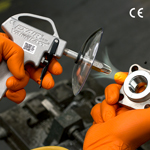 EXAIR's new VariBlast® Compact Safety Air Guns are a small and lightweight cast aluminum air gun capable of handling tough jobs. Because of the engineered variable flow trigger, they are able to produce light, medium, or heavy force upon a target simply by pulling the trigger. This comfortable and ergonomic air gun has two 1/4 NPT air inlets and a storage hanger for convenience. Air consumption of the VariBlast Compact air gun is only 10-17.5 SCFM, depending on the nozzle installed, which is among EXAIR's most efficient air guns. It is capable of producing up to 1 lb of force, making it a great choice for light- to medium-duty applications. Extensions up to 72 in. long available.
Click here to learn more.
---
Cool Tools: FARO Design ScanArm 2.0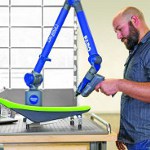 The portable, next-gen FARO Design ScanArm 2.0 was specifically designed to address the most demanding challenges and requirements faced by product design and product engineering professionals. It offers an exceptional combination of flexibility, reliability, value, and performance through best-in-class accuracy, resolution, and ergonomics. The new unit delivers up to 25% improved system accuracy compared to the previous generation. It also incorporates advanced blue laser technology and rapid scanning of up to 600,000 points per second.
Click here to learn more.
---
Increase bearing life, eliminate noise and vibration

Bearing Preload is the process of adding a sustained axial load, independent of external loads. Properly preloading a bearing can increase its life and eliminate vibration and noise that result from specified clearance, manufacturing precision, and wear. The Smalley Bearing Preload Wave Spring Series is designed with gap or overlap geometry to prevent binding in tight radial spaces. Over 10,000 parts stocked and customs can be made from .157" and 4 mm to 120" and 3000 mm diameters with No-Tooling-Costs™.
Click here to learn more.
---
Carbon composite bellows springs for lightweighting and more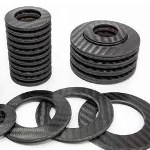 The Carbon Composite Bellows Spring (CCBS) from MW Industries is a system of carbon fiber elements that combine to work as a high-performance, lightweight, and design-flexible compression spring meant to replace conventional coil springs or metallic Belleville disc springs. It offers value through unique dynamic characteristics and unparalleled in-the-field design flexibility. A functional spring is made from several individual elements, paired in sets and joined to make a stack. The spring rate of the stack is determined by the number of elements, the base rate of each element, and their series or parallel orientation in the stack. Applications include motorsports, aerospace, outdoor recreation, general industry, and high-performance activities.
Click here to learn more.
---
Make your own bearings with world's first printable bearing material filament for 3D printers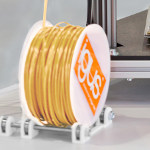 Plastics expert igus has introduced the world's first plastic filament for 3D printers enhanced with tribological, or low-friction, properties. The iglide material, 50 times more resistant to wear and abrasion than conventional 3D-printer materials, is ideally suited for creating custom bearings.
Click here to learn more.
---
Replace metal parts: KyronMAX outperforms long fiber thermoplastics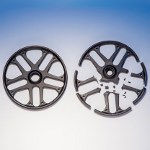 Responding to customer demand for a short fiber thermoplastic material that would outperform the mechanical strength of long fiber thermoplastic (LFT) materials, Piper Plastics developed the KyronMAX series of structural thermoplastic compounds, the next generation in injection-moldable metal replacement technology. KyronMAX is based on short fiber technology, so the polymer behaves more like the isotropic nature of metal and eliminates the processing and fiber breakage concerns associated with LFT compounds. The technology enables very complex parts to be molded with unrivaled mechanical performance and consistency -- and often 20 percent lighter and 20 to 50 percent stronger than LFT.
Click here to learn more.
---
Reverse Engineering add-in 2018 for SOLIDWORKS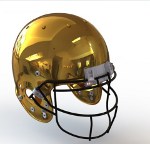 ReverseEngineering.com 2018 for SOLIDWORKS is a reverse engineering application fully integrated into SOLIDWORKS. Users can easily process point clouds, hard probe, and 3D laser scans directly in SOLIDWORKS. Tube measure and quick settings tooling dialog are two features new to the software. Other new capabilities and enhancements include:
No wait time when processing gigabytes of point cloud scan data with Voxel thinning.
Automatic function generates profile curves through a point cloud, allowing users to define and order equal number and spacing of points for parametric spline creation.
Enhanced lock plane simplifies your work flow, users can define point-to-plane snap tolerance capture with a hard probe or 3D scanner.
A standalone Integrated Point Cloud module that doesn't require a SOLIDWORKS license to visualize points, hard probe, or laser scan.
Click here to learn more and read a Schutt Sports application story.
---
Two-stage rotary latch is rugged and secure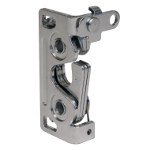 Southco has expanded its successful line of rotary latching solutions with the addition of a stainless steel version of its popular R4-30 series. This two-stage rotary latch is constructed of high-strength, corrosion-resistant stainless steel, making it an ideal choice for enclosures applications exposed to demanding environments, such as an outdoor antenna tower access panel. The design prevents false latching conditions in enclosure applications and provides concealed latching for increased security and industrial design.
Click here to learn more.
---
New adhesives for bonding displays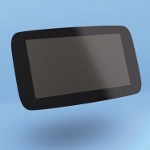 DELO now offers two reliable adhesives that are suitable for bonding display frames as well as cover glass and can be used for joining a display panel to a housing. DELO PHOTOBOND LA4860 is a one-component, light-activated urethane polymer adhesive. Because of its unique curing mechanism, opaque components, like display frames, which often have a black mask on the edge of areas or are bonded to the housings, can be quickly and reliably joined without the need for additional heat curing. Initial strength is reached after a few minutes. DELO-PUR SJ9356 is a two-component, polyurethane hybrid adhesive. This flexible adhesive ensures stable and tension-equalizing bonds and seals, even with changing loads. It is an optimal solution for sealing large bonding gaps.
Click here to learn more.
---
Forget those stitches and staples: Newly developed 'squirtable' elastic glue seals wounds in 60 seconds
Biomedical engineers from the University of Sydney in Australia and a number of universities in the United States have collaborated on the development of a potentially life-saving surgical glue called MeTro.
MeTro's high elasticity makes it ideal for sealing wounds in body tissues that continually expand and relax -- such as lungs, hearts, and arteries -- that are otherwise at risk of re-opening.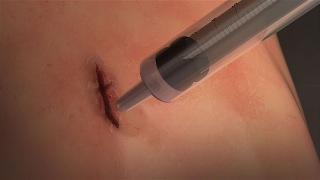 The MeTro biomedical glue is squirted directly onto the wound and activated with light.
The material also works on internal wounds that are often in hard-to-reach areas and have typically required staples or sutures due to surrounding body fluid, hampering the effectiveness of other sealants.
MeTro sets in just 60 seconds once treated with UV light, and the technology has a built-in degrading enzyme that can be modified to determine how long the sealant lasts -- from hours to months, in order to allow adequate time for the wound to heal.
The liquid or gel-like material has quickly and successfully sealed incisions in the arteries and lungs of rodents and the lungs of pigs, without the need for sutures and staples.
The results were published Oct. 5 in Science Translational Medicine, in a paper by the University of Sydney's Charles Perkins Center and Faculty of Science; Boston's Northeastern University, the Wyss Institute for Biologically Inspired Engineering at Harvard University, and the Beth Israel Deaconess Medical Center (BIDMC) in Boston.
MeTro combines the natural elastic protein technologies (developed in collaboration with author and University of Sydney McCaughey Chair in Biochemistry Professor Anthony Weiss) with light-sensitive molecules (developed in collaboration with author and Director of the Biomaterials Innovation Research Center at Harvard Medical School Professor Ali Khademhosseini). Elastin is the protein that gives blood vessels and skin their strength and flexibility.
Lead author of the study, Assistant Professor Nasim Annabi from the Department of Chemical Engineering at Northeastern University, oversaw the application of MeTro in a variety of clinical settings and conditions.
"The beauty of the MeTro formulation is that, as soon as it comes in contact with tissue surfaces, it solidifies into a gel-like phase without running away," said Annabi. "We then further stabilize it by curing it on-site with a short light-mediated crosslinking treatment. This allows the sealant to be very accurately placed and to tightly bond and interlock with structures on the tissue surface."
The University of Sydney's Professor Anthony Weiss described the process as resembling that of silicone sealants used around bathroom and kitchen tiles. "When you watch MeTro, you can see it act like a liquid, filling the gaps and conforming to the shape of the wound," he said. "It responds well biologically and interfaces closely with human tissue to promote healing. The gel is easily stored and can be squirted directly onto a wound or cavity."
VIDEO: Watch Professor Anthony Weiss demonstrate how the MeTro elastic surgical sealant works and potential applications.
The potential applications are powerful -- from treating serious internal wounds at emergency sites such as following car accidents and in war zones, as well as improving hospital surgeries, said Weiss.
Professor Khademhosseini from Harvard Medical School was optimistic about the study's findings.
"MeTro seems to remain stable over the period that wounds need to heal in demanding mechanical conditions, and later it degrades without any signs of toxicity; it checks off all the boxes of a highly versatile and efficient surgical sealant with potential also beyond pulmonary and vascular suture and stapleless applications," he said.
The next stage for the technology is clinical testing, Professor Weiss said.
"We have shown MeTro works in a range of different settings and solves problems other available sealants can't. We're now ready to transfer our research into testing on people. I hope MeTro will soon be used in the clinic, saving human lives."
A company called Elastagen Pty Ltd is commercializing the technology.
Source: University of Sydney
Published November 2017
Rate this article