Tips for selecting linear actuators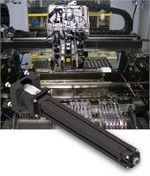 Aaron Dietrich from Tolomatic runs through the main specifying considerations for electric actuators, citing their high performance, adaptability, low total cost of ownership, and easy integration. But what about accuracy and repeatability? Should you go with a rod-style actuator or a screw type? What kind of force should you expect if you are considering converting from hydraulic to electric actuation? Tolomatic also offers an extensive ebook to help with your decision-making if you need it.
Click here to learn more.
---
Cost-optimized BLDC motors for series production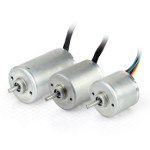 With the DBL36, Nanotec now offers a brushless DC motor that is designed for large quantities. This motor is available in three lengths with a rated power of 7.5 W (size S), 18 W (size M), and 33 W (size L). These electronically commuted 3-phase motors are equipped with three Hall sensors that provide information on the rotor position. They are characterized by very high efficiency and, thanks to their precision ball bearings, smooth running characteristics. The rated speed is 4,800 rpm for sizes S and M and 4,500 rpm for size L; its rated voltage is 24 V. With a rated torque of 1.5 to 7 Ncm and a diameter of 36 mm, the DBL36 is an extremely economical solution for a wide range of applications. The winding can be adapted to other rated speeds and voltages in series production.
Click here to learn more.
---
Centralized control supports dynamic machine functionality with maximum efficiency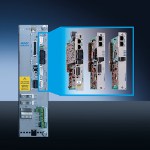 The AMKASYN centralized control and drive portfolio from AMK Automation includes KE/KW servo converters, KE/KW controller cards, the A Series motion controller, and AMKAMAC I/O. The portfolio supports dynamic machine functions with maximum efficiency. The AMKASYN KE/KW servo motors combine an extremely compact design with a cost-effective modular structure that provides several flexible combination options for machine builders. With a choice of cooling systems, single- and multi-axis solutions, and choice of controller cards, this system is ideal for highly dynamic positioning tasks requiring maximum energy efficiency.
Click here to learn more.
---
Gain more torque -- motor has integrated cooling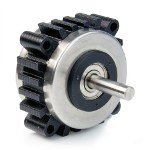 The slim-design G3718V whisper torque motor from Lin Engineering incorporates a heat-sink design within the stator laminations to allow for passive cooling. When your motor operates cooler, you can increase power to gain more torque without overheating, or you can save energy and still perform at an optimal performance. At only 22.8 mm long, this motor produces 25 oz-in. of torque.
Click here to learn more.
---
Mini voice coil motor has high force-to-size ratio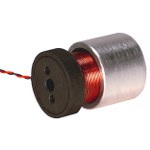 Smaller in diameter than a quarter, the miniature linear voice coil motor (LVCM-019-016-02) from Moticont has a high force-to-size ratio. It produces 8.9 oz. (2.5 N) of continuous force and 28.0 oz. (7.8 N) of peak force in a compact 0.750-in. (19.1-mm) diameter x 0.94-in. (23.8-mm) long envelope (at mid stroke). This high-speed motor has zero cogging and features high accuracy and high repeatability when operated in a closed loop as a DC servo motor. Ideal applications include: pick-and-place; testing; laser steering; mirror positioning; scanning; oscillation; switching; and hand-held medical, dental, or industrial applications.
Click here to learn more.
---
Advanced Motor Tech: Precision motion for X-ray optics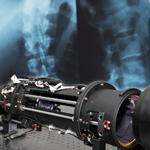 Despite their potential danger, X-rays are one of the most powerful instruments and resources utilized in medical diagnostics to help medical professionals restore health by identifying the correct prognosis. When it comes to achieving the best imaging with the lowest X-ray exposure, lenses made by Optec are almost inevitably involved. Their aperture, focus, filters, and zoom are moved by FAULHABER motors.
Read the full article.
---
How hexapods advance production processes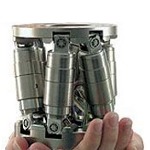 Hexapods, six-legged parallel-kinematic machines, are quickly gaining ground in a broad range of industrial automation applications after "learning" how to directly communicate with PLC or CNC controllers via fieldbus interfaces. They are used in such varied processes as aligning the smallest optical components in silicon photonics to positioning entire body parts for automotive production, and the intrinsic hexapod features contribute to a wealth of new possibilities in robotics. PI (Physik Instrumente) gives a comprehensive rundown on the state-of-the-art in hexapod tech.
Read the full article.
---
World's highest force voice coil actuator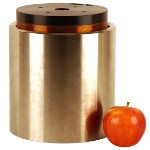 H2W Technologies has developed the world's highest force commercially available non-commutated DC linear actuator, otherwise known as a direct drive voice coil actuator. The model NCC08-75-3000-3X is capable of generating a continuous force of 300 lb (1330 N) and a peak force of 900 lb (4000 N) at a duty cycle of 10% (i.e., 1 sec on and 9 sec off). A moving mass of just under 8 lb (3.6 kg) allows for a maximum theoretical continuous acceleration of nearly 38 Gs.
Click here to learn more.
---
Reduce motion control application development time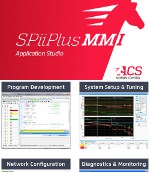 ACS Motion Control has launched a new version of its SPiiPlus Application Development Kit (ADK) Suite motion control software with new simulation and motion machine interface (MMI) tools. The SPiiPlus ADK Suite Version 2.50 provides enhanced diagnostics capabilities to minimize setup, tuning, and programming time for motion control applications. With updated ACSPL+ functions, variables, and commands, Version 2.50 enables the implementation of both highly complex motion-time-event sequences with accurate positioning and timing, and simpler tasks such as point-to-point control. The ACS simulator tool models an ideal closed-loop servo system.
Click here to learn more.
---
Sprague pumps, boosters, and power units now available from High Pressure Equipment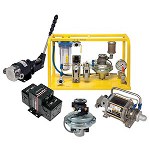 High Pressure Equipment Co. (HiP), a subsidiary of Graco Inc., has added Sprague hydraulic pumps, gas boosters, and power units to their family of products. Sprague air-driven power products have been providing high-pressure solutions to the oil and gas, process chemical, utility, aviation, and industrial markets for more than 60 years. The first Sprague air-operated pump was developed in 1947 and, other than minor modifications, is the same classic design today. HiP will manufacture all Sprague power products in their ISO 9001-certified Erie, PA, headquarters plant.
Learn about Sprague Air-Driven Hydraulic Pumps.
Learn about Sprague Air-Driven Gas Boosters.
Learn about Sprague Air-Driven Power Units.

---
Fast and compact direct-drive micro-positioning stages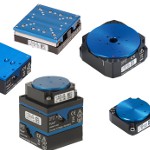 Precision motion and nanoposi-tioning leader PI (Physik Instrumente) delivers a family of compact linear and rotary stages driven by ceramic direct-drive motors. The patented ultrasonic motors provide smooth motion with high resolution and a high dynamic range. The self-clamping motor principle locks the stage into place, devoid of creep, once a target position has been reached. This intrinsic brake-like behavior comes at no extra cost and provides advantages that are not available with classic electro-magnetic drive technologies. Two linear stages with 18-mm and 22-mm travel are available, as well as an XY stage providing 22 mm x 22 mm. Several encoder options are standard. Applications include medical devices, optical instrumentation, photonics alignment, and super-resolution microscopy.
View the specs, datasheet, and more.
Read tech article about ultrasonic motors.
---
Selection tips for rodless electromechanical and electric rod actuators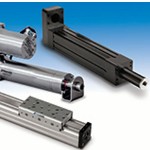 When you specify a linear actuator, some basic decisions come first. Do you go with electric or fluid-powered? Do you need the push/pull of an electric rod actuator or the load-carrying action of a rodless electromechanical actuator? Aaron Dietrich from Tolomatic may have your answer. Dietrich has compiled some very good tips for selecting these actuator types.
Learn about selecting linear actuators.
---
Software: Robot control systems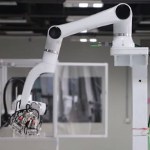 Han's Robot, a subsidiary of global Chinese manufacturer Han's Laser, has licensed Energid's Actin premier control software for its new line of cost-effective collaborative robots ("cobots"), called Elfins. Actin is an easy-to-use robot control and simulation framework that offers robot manufacturers faster time to market, reduced software development costs, and powerful control with real-time adaptive motion. Han's Robot was able to leverage powerful collaborative features including collision avoidance, simplified task-based programming, interactive control, and the ability to extend, customize, and rebrand any of the components for advanced product differentiation. Energid provides robotic control systems for a wide range of global customers.
Click here to learn more.
---
New Catalog: Custom engineered precision motion systems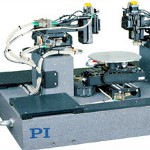 Motion and precision positioning systems expert PI (Physik Instrumente) has released a new catalog outlining its capabilities for engineered motion and automation solutions for high-tech industries such as photonics, precision optics, semiconductor, and medical engineering. Customers have saved considerable time and resources by requesting free advice from PI's engineering teams around the world, who draw upon thousands of standard products ranging from electromagnetic to piezoceramic motors, digital and analog controllers, serial and parallel kinematic motion systems, capacitive, inductive and optical nano-precision sensors, and guiding systems that span from flexures to magnetic levitation and air bearings.
Get your catalog today.
---
New planetary PMDC gearmotors from Bodine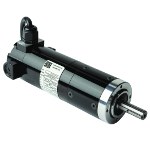 Bodine Electric Company introduces the new type 24A4-60P planetary gearmotor. This integral gearmotor combines Bodine's high-performance type 24A PMDC motor with the all-new 60P (60-mm) planetary gearhead. It is ideal for applications that require higher torque than conventional helical/spur gearheads of a similar size can provide, and where a very low-backlash gearhead is not required. Typical applications include conveyors, pumps, packaging, industrial automation, and a wide range of solar- or battery-powered equipment.
Click here to learn more.
---
Your smartphone as a car diagnostic device: New software lets your automobile tell you what it needs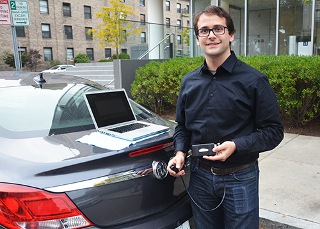 MIT's Joshua Siegel is developing a smartphone app that analyzes a car's sounds and vibrations, as measured by a phone's microphone and accelerometers, to provide diagnostic information and guidance. [Photo courtesy: MIT]
By David L. Chandler, MIT
Imagine hopping into a ride-share car, glancing at your smartphone, and telling the driver that the car's left front tire needs air, its air filter should be replaced next week, and its engine needs two new spark plugs.
Within the next year or two, people may be able to get that kind of diagnostic information in just a few minutes, in their own cars or any car they happen to be in. They wouldn't need to know anything about the car's history or to connect to it in any way; the information would be derived from analyzing the car's sounds and vibrations, as measured by the phone's microphone and accelerometers.
The MIT research behind this idea has been reported in a series of papers, most recently in the November issue of the journal Engineering Applications of Artificial Intelligence. The new paper's co-authors include research scientist Joshua Siegel PhD '16; Sanjay Sarma, the Fred Fort Flowers and Daniel Fort Flowers Professor of Mechanical Engineering and vice president of open learning at MIT; and two others.
A smartphone app combining the various diagnostic systems the team developed could save the average driver $125 a year and improve their overall gas mileage by a few percentage points, Siegel says. For large transport trucks, the savings could run to $600 a year, not counting the benefits of avoiding breakdowns that could result in lost income.
With today's smartphones, Siegel explains, "the sensitivity is so high, you can do a good job [of detecting the relevant signals] without needing any special connection." For some diagnostics, though, mounting the phone to a dashboard holder would improve the level of accuracy. Already, the accuracy of the results from the diagnostic systems they have developed, he says, are "all well in excess of 90 percent." And tests for misfire detection have produced no false positives where a problem was incorrectly identified.
The basic idea is to provide diagnostic information that can warn the driver of upcoming issues or needed routine maintenance, before these conditions lead to breakdowns or blowouts.
Take the air filter, for example -- the topic of the team's latest findings. An engine's sounds can reveal telltale signs of how clogged the air filter is and when to change it. And unlike many routine maintenance tasks, it's just as bad to change air filters too soon as to wait too long, Siegel says.
That's because brand-new air filters let more particles pass through, until they eventually build up enough of a coating of particles that the pore sizes get smaller and reach an optimal level of filtration. "As they age, they filter better," he says. Then, as the buildup continues, eventually the pores get so small that they restrict the airflow to the engine, reducing its performance. Knowing just the right time to replace the filter can make a measurable difference in an engine's performance and operating costs.
How can the phone tell the filter is getting clogged? "We're listening to the car's breathing, and listening for when it starts to snore," Siegel says. "As it starts to get clogged, it makes a whistling noise as air is drawn in. Listening to it, you can't differentiate it from the other engine noise, but your phone can."
To develop and test the various diagnostic systems, which also include detecting engine misfires that signal a bad spark plug or the need for a tune up, Siegel and his colleagues tested data from a variety of cars, including some that ran perfectly and others in which one of these issues, from a clogged filter to a misfire, was deliberately induced. Often, in order to test different models, the researchers rented cars, created a condition they wanted to be able to diagnose, and then restored the car to normal.
"For our data, we've induced failures [after renting] a perfectly good vehicle" and then fixed it and "returned the car better than when we took it out. I've rented cars and given them new air filters, balanced their tires, and done an oil change" before taking them back, he recalls.
Some of the diagnostics require a complicated multistep process. For example, to tell if a car's tires are getting bald and will need to be replaced soon, or that they are overinflated and might risk a blowout, the researchers use a combination of data collection and analysis. First, the system uses the phone's built-in GPS system to monitor the car's actual speed. Then, vibration data can be used to determine how fast the wheels are turning. That in turn can be used to derive the wheel's diameter, which can be compared with the diameter that would be expected if the tire were new and properly inflated.
Many of the diagnostics are derived by using machine-learning processes to compare many recordings of sound and vibration from well-tuned cars with similar ones that have a specific problem. The machine learning systems can then extract even very subtle differences. For example, algorithms designed to detect wheel balance problems did a better job at detecting imbalances than expert drivers from a major car company, Siegel says.
A prototype smartphone app that incorporates all these diagnostic tools is being developed and should be ready for field testing in about six months, Siegel says, and a commercial version should be available within about a year after that. The system will be commercialized by a startup company Siegel founded called Data Driven.
Published November 2017
Rate this article