New precision linear motor stage family with magnetic direct drive and absolute encoders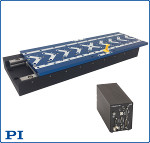 Motion and nanoposi-tioning industry leader PI further expands its PIMag series of high-dynamics linear motor stages with a family of 18, the V-508 -- a new series of compact linear positioning stages with high-force 3-phase linear motors and crossed roller guides. This line features high velocity, high duty cycle, and three travel ranges. A variety of incremental and absolute measuring linear encoders are available. PI's ultra-precise linear motor stages are well-suited for industry and research. Applications include metrology, testing, positioning, scanning, precision automation, micro-assembly, biotechnology, delay-lines, laser beam control, optics, lens testing, and photonics alignment.
Specifications, datasheet, more information >
Read tech article, "Performance of Direct-Drive Linear Motor Stages in Precision Positioning Applications" >
---
Flexible servo drive system for demanding geared motor applications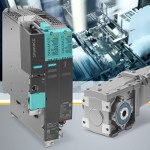 Siemens has expanded its extensive drive portfolio for servo applications to include the Simotics S-1FG1 servo geared motors, which are designed for use with the Sinamics S120 drive system. Sinamics S120 drives and Simotics S-1FG1 servo geared motors are an integral component of Siemens Totally Integrated Automation (TIA), which reduces engineering time and costs. The units have electronic rating plates, and the motors are connected via the Drive-Cliq system interface, so the system can be brought online quickly. The engineering of the Simotics S-1FG1 servo geared motor includes high efficiency and low torsional backlash for precise, dynamic motion sequences and is available in the following versions: helical, parallel shaft, bevel and helical worm gearboxes with up to 25 transmission ratios.
Click here to learn more.
---
First 7-axis motion and pressure sensor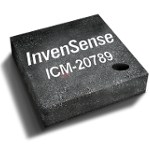 TDK has announced the availability of the InvenSense ICM-20789 MEMS 7-axis integrated inertial device, combining a 3-axis gyroscope, 3-axis accelerometer, and an ultra low-noise MEMS capacitive barometric pressure sensor. The ICM-20789 features a single small footprint, with the industry's lowest pressure noise of 0.4Pa RMS and excellent temperature stability with a temp coefficient of +/-0.5 Pa/°C. Applications include: drones and flying toys; smart watches, wearables, activity monitoring; motion-based gaming controllers; virtual reality headsets and controllers; and indoor and outdoor navigation.
Click here to learn more.
---
Motor Tech: UAV camera stabilization with brushless motors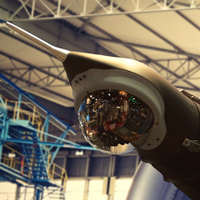 Today, recon is dominated by unmanned aerial vehicles (UAVs) and drones due largely to concerns for pilots' safety and costs. However, photos and videos obtained from UAVs are only useful if they are crisp and clear, which requires both precise focusing and extreme stabilization of the camera system. Compact and powerful FAULHABER brushless DC motors from MICROMO were selected to get the job done.
Read the full article.
---
Mobility Tech Ideas: Scissor lift for UTVs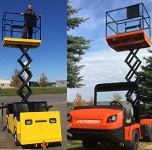 The UTX Scissor lift from Innovative Equipment is designed to be easily fitted and removed from almost any utility vehicle (UTV) in approximately 3 minutes without any heavy lifting. It provides the user with a working height of 18 to 19 ft on nearly any terrain. It can be leveled on slopes up to 12 deg. It has a lifting capacity of 500 to 600 lb and enables users to take a scissor lift "where no scissor lift has gone before." Stability has been tested to five times the ANSI requirements. It also has safety features that will not allow it to be used in unsafe conditions.
See it in action.
---
Become a robot programmer in 87 minutes!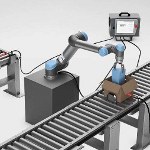 Learning how to set up and program a collaborative robot -- or cobot -- no longer depends on real-life access to a robot or a training class. Now everybody with a desire to learn the concepts of cobots can log in to the Universal Robots Academy and get the introduction necessary to master basic programming skills. Become a master of the cobots! (That's a pretty sweet title.)
Click here to learn more.
---
Multi-axis robotic controller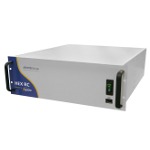 Aerotech's HEX RC is a 6-axis motion controller ideal for controlling robotic systems like hexapods. It is 4U rack-mountable and compatible with the Automation 3200 (A3200) motion platform. A high-performance processor provides the intense computing power needed to run up to 32 axes, perform complex, synchronized motion trajectories, manipulate I/O, and collect data at high speeds. This unit features 6 axes of drives capable of controlling any combination of brush, brushless, or stepper motors (both current loop and servo loop closures). An optional 6-axis jog pendant permits easy, manual control of the positioning system.
Click here to learn more.
---
Single-rail positioning stage (H-gantry)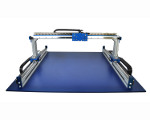 H2W Technologies' latest single-rail positioning stage design is an open-frame XY positioning system. It has two bottom parallel axes with one cross axis connecting the two (H-gantry). Each linear axis uses H2W's brushless linear motors (BLDM-B04). Each has a total stroke length of 25.67 in. (652 mm) and can generate 6.2 lb (27.8 N) of continuous force and 18.7 lb (83.3 N) of peak force, or a combined 12.4 lb (55.6 N) continuous force and 37.4 lb (166.6 N) peak force on the bottom axis. The non-contact 1-micron resolution encoders allow for precise positioning. The moving tables are guided by a precision recirculating linear ball bearing system. Additional options include a home positioning sensor, end-of-travel-sensors, and custom mounting holes.
Click here to learn more.
Watch this stage in action.
---
Getting a grip on precision: Mechatronics vs. pneumatics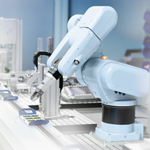 A gripping system for small parts that is both quick and powerful -- until now, that was often only possible with pneumatics. However, recently the leading expert for gripper systems and technology has developed a mechatronics-based EGP 40 gripper that easily achieves the same performance of its pneumatic counterparts. The drive that makes this impressive performance possible is FAULHABER small brushless DC servo motors from MICROMO.
Read the full article.
---
Mini linear motor stage with magnetic direct drive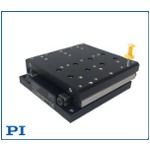 Motion and nanoposi-tioning industry leader PI expands its PIMag series of high-dynamics linear motor stages with a new compact positioner for automation tasks. The V-408 stage is equipped with an incremental linear encoder for direct position measurement and a high-force 3-phase linear motor drive. The V-408 features high load-capacity precision crossed roller elements with anti-creep cage assist and a zero-wear, non-contact linear motor -- ideal prerequisites for long lifetime in high duty-cycle industrial applications. The high-force linear motor achieves velocities up to 1.5m/sec. An integrated optical linear encoder provides 10-nm resolution. Two models are offered with 25-mm and 50-mm travel range.

---
Advanced pneumatic standard cylinders with Adaptive Cushioning System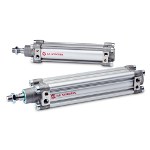 IMI Norgren's ISOLine is a true fit-and-forget ISO cylinder. Inside lies the new Adaptive Cushioning System (ACS), which automatically adjusts the cylinder cushioning for changing loads, so manual cushion screw setting is not required. This makes the ISOLine much simpler to install. Other benefits include lower breakaway pressure, lower minimum speed, reduced leakage, polyurethane seals that ensure efficient low-friction operation, and reduced weight (20% lighter than previous versions). All sizes supplied with magnetic piston rod as standard.
Click here to learn more.
---
Easily automate a simple axis of motion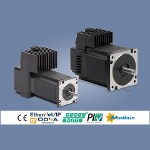 The Tolomatic ACSI integrated servo/motor/ controller is now available with PROFINET Industrial Ethernet protocol, allowing engineers to design easy-to-use and cost-effective electric actuator solutions for single-axis applications. The integrated package is ideal for replacing pneumatic cylinders and automating any simple axis of motion with Siemens or other PROFINET-enabled PLCs. With built-in configurations for Tolomatic electric actuators, the ACSI integrated controller automatically configures the motor, actuator, safety limits, and other key settings inside the controller for quick and seamless integration.
Click here to learn more.
---
Direct drive linear motor with integrated encoder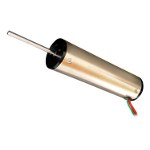 The new SDLM-019-070-01-01 direct drive linear motor is the latest addition to the series of zero-backlash, zero-cogging, high-acceleration, high-speed, high-resolution, long-life linear servo motors from Moticont. Also known as an electric cylinder, this compact direct drive linear motor is just 0.75 in. (19.1 mm) in diameter and 2.75 in (69.9 mm) long. Protected inside the motor housing, the linear optical quadrature encoder is directly connected to the shaft for the greatest possible accuracy. This unit has a stroke length of 0.500 in. (12.7 mm), a continuous force rating of 9.7 oz. (2.7 N), and peak force of 30.7 oz (8.5 N).
Click here for more information on this product series.
---
ABB's general-purpose motors combine quality, cost efficiency, and industry experience with short lead times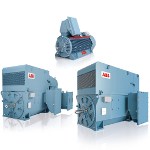 ABB has launched its N-series general-purpose motors to provide a high level of energy efficiency, reliability, and safety in applications where a highly customized motor in the 50- to 8,000-kW power range is not needed. The motors use cost-effective pre-packaged designs to meet the same high quality standards as all ABB motors but with lead times that are several weeks shorter. An easy-to-use online selection tool called "MachSize" simplifies motor configuration. Another tool called "DocStage" is a web-based system for sharing and managing documentation.
Click here to learn more.
---
New nanopositioning solutions catalog debuted at LASER 2017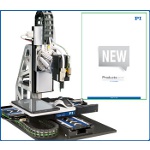 Motion and precision positioning systems expert PI (Physik Instrumente) issued a catalog on newly introduced precision motion solutions for photonics, robotics, microscopy, and highly accurate industrial automation applications at LASER World of PHOTONICS held in Munich, Germany, in June. The 80-page catalog covers products and custom-engineered systems, including automated photonics alignment engines, linear motor stages, piezo actuators, air bearings, hexapod Stewart platforms, and high-performance motion controllers.
Get your nanopositioning systems catalog today.
---
Your smartphone as a car diagnostic device: New software lets your automobile tell you what it needs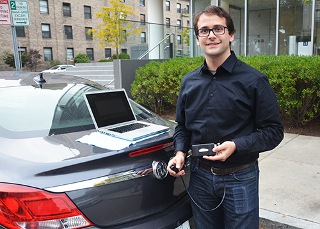 MIT's Joshua Siegel is developing a smartphone app that analyzes a car's sounds and vibrations, as measured by a phone's microphone and accelerometers, to provide diagnostic information and guidance. [Photo courtesy: MIT]
By David L. Chandler, MIT
Imagine hopping into a ride-share car, glancing at your smartphone, and telling the driver that the car's left front tire needs air, its air filter should be replaced next week, and its engine needs two new spark plugs.
Within the next year or two, people may be able to get that kind of diagnostic information in just a few minutes, in their own cars or any car they happen to be in. They wouldn't need to know anything about the car's history or to connect to it in any way; the information would be derived from analyzing the car's sounds and vibrations, as measured by the phone's microphone and accelerometers.
The MIT research behind this idea has been reported in a series of papers, most recently in the November issue of the journal Engineering Applications of Artificial Intelligence. The new paper's co-authors include research scientist Joshua Siegel PhD '16; Sanjay Sarma, the Fred Fort Flowers and Daniel Fort Flowers Professor of Mechanical Engineering and vice president of open learning at MIT; and two others.
A smartphone app combining the various diagnostic systems the team developed could save the average driver $125 a year and improve their overall gas mileage by a few percentage points, Siegel says. For large transport trucks, the savings could run to $600 a year, not counting the benefits of avoiding breakdowns that could result in lost income.
With today's smartphones, Siegel explains, "the sensitivity is so high, you can do a good job [of detecting the relevant signals] without needing any special connection." For some diagnostics, though, mounting the phone to a dashboard holder would improve the level of accuracy. Already, the accuracy of the results from the diagnostic systems they have developed, he says, are "all well in excess of 90 percent." And tests for misfire detection have produced no false positives where a problem was incorrectly identified.
The basic idea is to provide diagnostic information that can warn the driver of upcoming issues or needed routine maintenance, before these conditions lead to breakdowns or blowouts.
Take the air filter, for example -- the topic of the team's latest findings. An engine's sounds can reveal telltale signs of how clogged the air filter is and when to change it. And unlike many routine maintenance tasks, it's just as bad to change air filters too soon as to wait too long, Siegel says.
That's because brand-new air filters let more particles pass through, until they eventually build up enough of a coating of particles that the pore sizes get smaller and reach an optimal level of filtration. "As they age, they filter better," he says. Then, as the buildup continues, eventually the pores get so small that they restrict the airflow to the engine, reducing its performance. Knowing just the right time to replace the filter can make a measurable difference in an engine's performance and operating costs.
How can the phone tell the filter is getting clogged? "We're listening to the car's breathing, and listening for when it starts to snore," Siegel says. "As it starts to get clogged, it makes a whistling noise as air is drawn in. Listening to it, you can't differentiate it from the other engine noise, but your phone can."
To develop and test the various diagnostic systems, which also include detecting engine misfires that signal a bad spark plug or the need for a tune up, Siegel and his colleagues tested data from a variety of cars, including some that ran perfectly and others in which one of these issues, from a clogged filter to a misfire, was deliberately induced. Often, in order to test different models, the researchers rented cars, created a condition they wanted to be able to diagnose, and then restored the car to normal.
"For our data, we've induced failures [after renting] a perfectly good vehicle" and then fixed it and "returned the car better than when we took it out. I've rented cars and given them new air filters, balanced their tires, and done an oil change" before taking them back, he recalls.
Some of the diagnostics require a complicated multistep process. For example, to tell if a car's tires are getting bald and will need to be replaced soon, or that they are overinflated and might risk a blowout, the researchers use a combination of data collection and analysis. First, the system uses the phone's built-in GPS system to monitor the car's actual speed. Then, vibration data can be used to determine how fast the wheels are turning. That in turn can be used to derive the wheel's diameter, which can be compared with the diameter that would be expected if the tire were new and properly inflated.
Many of the diagnostics are derived by using machine-learning processes to compare many recordings of sound and vibration from well-tuned cars with similar ones that have a specific problem. The machine learning systems can then extract even very subtle differences. For example, algorithms designed to detect wheel balance problems did a better job at detecting imbalances than expert drivers from a major car company, Siegel says.
A prototype smartphone app that incorporates all these diagnostic tools is being developed and should be ready for field testing in about six months, Siegel says, and a commercial version should be available within about a year after that. The system will be commercialized by a startup company Siegel founded called Data Driven.
Published November 2017
Rate this article