Universal Robots and ARC Specialties launch MIG welding system at FABTECH
A pioneer of collaborative robots introduces SnapWeld Collaborative Robotic Welding, featuring seamless hardware and software integration through the Universal Robots+ product platform. Many other impressive UR technologies are debuted.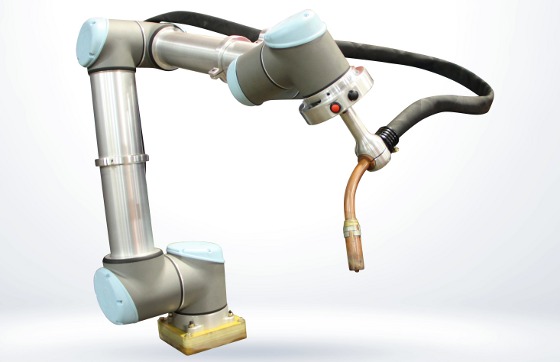 Can a little cobot arm take over the world? One industry after another, we've seen what UR cobots can do.
Now, small job shops struggling with the budget, programming, and space requirements of traditional welding robots have an alternative solution. The new SnapWeld Collaborative Robot Welding package developed by ARC Specialties and Universal Robots is a cobot-assisted, interactive welding system that can be deployed easily and flexibly in existing, manual welding booths, eliminating the need for costly new robotic cells.
"We are getting a lot of requests for integrating Universal Robots in welding booths, so we saw this as a unique opportunity to develop an integrated low-cost system for gas metal arc welding (GMAW) applications that no one else in the market is currently offering," said John Martin, Vice President of ARC Specialties, a Certified Systems Integrator of UR robots.
The SnapWeld was shown for the first time at FABTECH in Chicago (Nov. 6-9) at Universal Robots' booth B-25094 and in interactive demos at ARC Specialties' own booth B-35047. At the show, attendees could simply grab the UR10 robot arm and perform stitch welding by "teaching" the robot the start and stop points, as well as the number and length of the stitch weld. The SnapWeld moved along the start and stop path and welded only during specified stitch areas, reducing robotic programming from hours to minutes.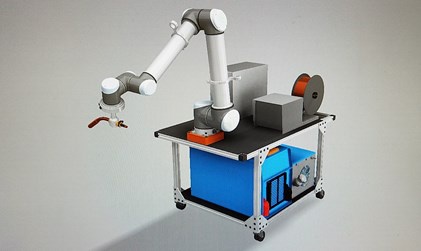 ARC Specialties' SnapWeld.
The welding system integrated with the UR robot is comprised of a Profax wire feeder and water-cooled torch enabling welds up to 600 amps, with torch bracket, all cables, and hose packages included. The simplified programming is enabled by direct software integration into Universal Robots' own programming environment through the Universal Robots+ platform that allows users to program advanced settings directly on the teach pendant that comes with the UR robot. Settings include features such as wire-feed speed and burn-back time, gas-flow time, and crater fill time with instant feedback on welding volts and amps.
"This UR+ welding package is the perfect solution for low-volume/high-mix fabrication shops, allowing operators to manage robot programs and welding parameters on the fly," said Manuel Sordo, area sales manager of Universal Robots.
Metrology
Another UR+ product on display at FABTECH was 3D Infotech's Universal Metrology Automation (UMA) solution powered by Streamline, arguably the most flexible automated quality control solution in the market. UMA was showcased on a UR5 cobot mated to a Creaform MetraSCAN-R laser scanner.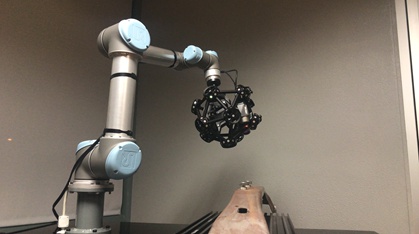 3D Infotech's application with Creaform scanner.
"The UR5 robot demonstrates the exceptional flexibility and ease of use that our customers in aerospace, automotive, consumer products, and the medical device industries appreciate," said Paul Oberle, director of business development, 3D Infotech.
Within a couple minutes, UMA captures a full 3D image of the physical part and compares this to CAD or manufacturing intent. UMA has been demonstrated to be significantly faster, more repeatable, safer, and easier to use than manual gaging, CMM, or portable CMM. "The entire line of Universal Robots works perfectly with UMA; it is inherently safe and simple to work with. Our customers implement it in weeks, gaining a return on investment within months because they get a complete view of quality and how to address un-intended changes in the manufacturing process for any size of application," said Oberle.
Machine tending
Also at Universal Robots' FABTECH booth was READY Robotics' TaskMate system, a fully integrated turnkey solution for machine tending that incorporates the UR robots. They exhibited a TaskMate R5, utilizing a UR5 arm to demonstrate the flexibility of the system through a series of dynamic interactive demonstrations.
ReadyRobotics' TaskMate.
"READY Robotics is working to change the way customers approach robotic automation by providing a fully plug-and-play platform architecture, allowing customers to easily build whatever automation system they need for a given application," said Ben Gibbs, CEO of READY Robotics. "By integrating with Universal Robots, we are able to leverage tremendously useful robot hardware to further reduce the integration overhead customers and integrators experience in trying to address their automation application needs."
UR cobots get mobile
FABTECH was also the launch pad for the CoBase, which debuted at the UR booth. Developed by LTW Ergonomic Solutions (LTW), a leader in ergonomically adjustable machine bases, operator platforms, and workstations, the CoBase maximizes Universal Robots' efficiency and ergonomics.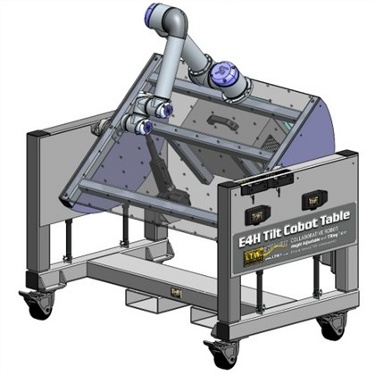 LTW's CoBase table.
A touch of a button changes the table height or angle to maximize the ergonomics between the operator and the robot, and this mobile table allows for easy transport of the UR cobot between tasks in high-mix/low-volume production environments.
The CoBase has custom mounts for the controller box and cable, a custom bolt pattern for easy installation of any UR model, and a built-in 110-V power outlet, so end users only need a single wall outlet to power the entire CoBase solution.
Originally built as a tilt table for a Tier 1 automotive supplier's robotic inspection of bulky items, the CoBase is now ready to be rolled out to all users of UR cobots in need of a mobile, flexible automation solution. "Our goal is to provide a place for everything that comes with a UR cobot, fitting it all directly onto the frame of the CoBase," said John Lanphear, president of LTW.
Source: Universal Robots
Published November 2017
Rate this article