Fastest production Corvette ever!
2019 Corvette ZR1 makes its debut
Edited by Mike Foley, Editor, Designfax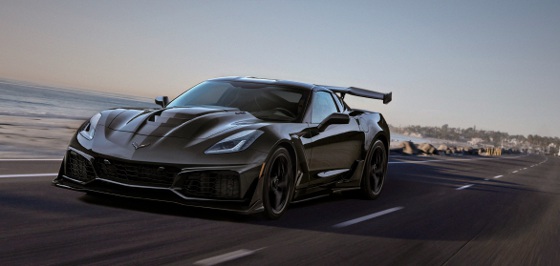 Is it too late to add just one more item to your 2017 wish list? Or too early to start one for 2018? Either way, make an exception for the 2019 Corvette ZR1. Just add it on -- in bold and underline. It is a wish list, after all. It's not like you're getting a grade.
So what if the ZR1 starts at $119,995. It's wish money! And this is the fastest, most powerful production Corvette ever.
And just look at it. That should do it.
If not, well here are some more things to consider.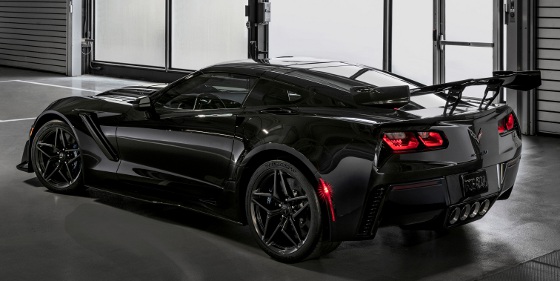 It's got a beefy power plant
The Corvette ZR1's LT5 supercharged engine, which is rated at an SAE-certified 755 hp (563 kW) and 715 lb-ft of torque (969 Nm), delivers the highest output ever for a Chevrolet production vehicle. This is thanks, in part, to a new, more efficient 2.65-liter intercooled supercharger system that offers 52 percent more displacement than the 2015 seventh-generation Z06's LT4 supercharger. Compared to the LT4 model, this supercharger generates more boost while spinning at a slightly slower speed.
And GM's first dual fuel-injection system, which employs primary direct injection and supplemental port injection, also helps the LT5 achieve its record output. Seven-speed manual and eight-speed paddle-shift automatic transmissions are available with the LT5. It's the first time an automatic transmission has been offered in a ZR1.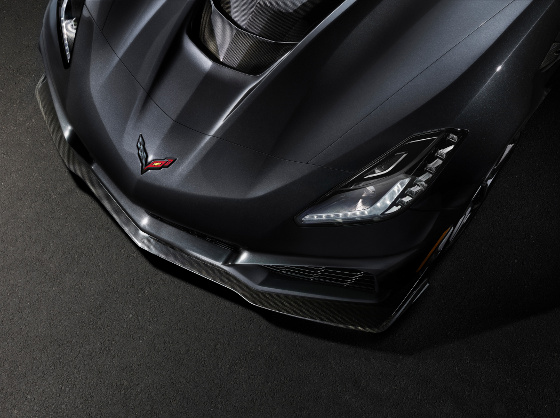 As for top speed, you're looking at 212 mph. Preliminary testing has shown 0 to 60 mph in under 3.0 seconds and the quarter mile in the high 10-second range when the engine is equipped with the eight-speed automatic.
Fuel economy runs 15 mpg city and 22 mpg highway for the manual. Automatic manages 13 mpg city and 23 mpg highway.
It breathes deep
Chevy says the all-new front fascia is designed to channel air for propulsion-system and drivetrain cooling, with four new radiators bringing the heat-exchanger total to 13. A special carbon-fiber "Halo" hood is open in the middle to clear the LT5 engine's supercharger/intercooler assembly.
Kirk Bennion, exterior design manager, Corvette, told Designfax exclusively that for designers in the Performance Studio, working over the new larger-than-life LT5 intercooler was a major challenge.
"We did not want to inhibit the ZR1's performance in any way but needed a solution that would allow the driver to see over the hood and still look like it was meant for this iconic performance car," said Bennion. "It took us months of iterating different hood ideas. We finally came up with the 'Halo' hood. This allowed us to lower the carbon fiber center cover and have it attached directly to the LT5 intercooler. We still needed to raise the front fenders, so that we could integrate the (38-mm higher than the Z06) raised hood surround. We would then carefully tailor the body-color hood surface to accent the slightly raised carbon fiber hood area." [Hood shown in next photo.]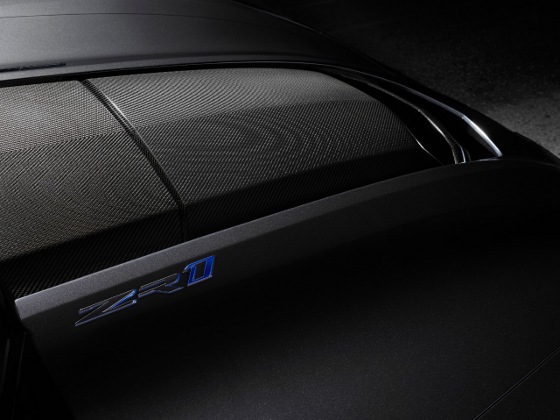 "Upon feeding air into this new LT5 engine, we also needed to pack as much front-end airflow as possible into this new front end by providing three large grille openings in front of a triple radiator layout," added Bennion. "The Halo hood extractor vents provided air flow relief, allowing the increased airflow to escape through the raised ZR1's hood."
It hugs the ground but wants to fly
Additional features, including aero packages with stanchion-mounted wings, help push the ZR1 harder onto the track for more confident handling and faster lap times.
The ZR1 will offer two aero packages: a standard rear Low Wing, which delivers the highest top speed, and an available two-way-adjustable High Wing that offers maximum downforce (estimated 950 lb) on the track for the quickest lap times -- about 60 percent more downforce than the Z06 with the available Z07 Performance Package. The High Wing can be manually adjusted by 5 degrees. (Pretty old school!) All models also feature a Chevrolet-first, downforce-enhancing front underwing.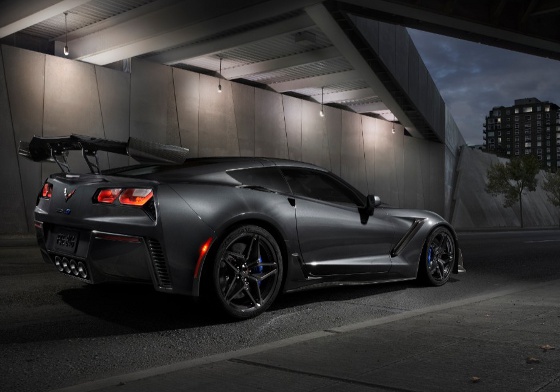 The adjustable High Wing is part of the new $2,995 ZTK Performance Package, which also includes a front splitter with carbon-fiber end caps (this car as a base package is already full of carbon fiber details), Michelin Pilot Sport Cup 2 summer-only tires, and specific chassis and Magnetic Ride Control tuning for greater cornering grip. The top speed is lower with the High Wing, but it still exceeds 200 mph.
Both of the ZR1's wings are tied into the chassis, like the Corvette Racing C7.R racecar, for strength and stability.
It's got more than one growl
A new, patent-pending exhaust system is the "voice" of the supercharged LT5 engine, providing arguably the most aggressive sound ever for a production Corvette. And now you can switch it up.
Building on the bi-modal exhaust system offered on other Corvette models, it features four distinct modes and sound levels: Stealth, Tour, Sport, and Track. In Stealth mode, the ZR1 is quieter than the Corvette Z06, while in Track mode it is significantly louder. In Track mode, a spring-loaded passive valve closes to allow virtually unrestricted exhaust flow for maximum performance. Chevy says the exhaust notes for all modes were carefully tuned to deliver distinctive sounds.
Choices
Ugh! You mean we have to choose? Wasn't wish-listing in general enough?
Of course there will be lots of color choices, but the standout option for the 2019 Corvette ZR1 is the Sebring Orange Design Package. Besides its namesake Sebring Orange Tintcoat exterior color, the package includes orange brake calipers, orange rocker and splitter accent stripes, orange seat belts, orange interior stitching, and funky bronze aluminum interior trim.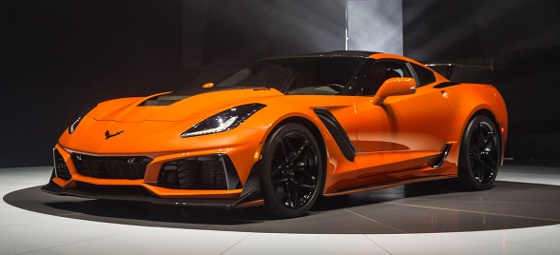 The driver-focused, well-appointed cockpit includes standard leather-trimmed seats. Sueded microfiber inserts are offered. Heated and vented Napa leather-trimmed seating is also available, as well as a carbon fiber-rimmed steering wheel, competition sport seats, Performance Data Recorder, Bose premium audio system, and more.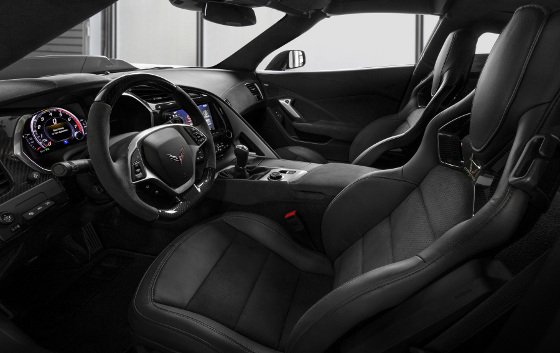 You can also pick the ZR1 convertible, which is the first ZR1 drop-top since the original 1970 model-year ZR1. Tick this box on your list and you're looking at a start price of $123,995. The strength of the Corvette's aluminum chassis means the only structural changes in the convertible are accommodations for the folding top and repositioned safety belt mounts. In fact, the curb weight difference between the ZR1 coupe and convertible is less than 60 lb, with most of the difference attributed to the folding top hardware. The power top can be operated remotely or while driving up to 30 mph.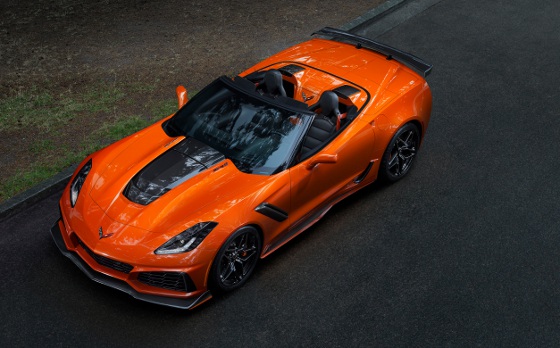 The 2019 Corvette ZR1 goes on sale next spring. If you're a Chevy fan, can you wait that long for your wish to come true?
VIDEO: 2019 Corvette ZR1 makes its worldwide debut in Dubai.
Source: Chevrolet
Published December 2017
Rate this article