Xmas tree-type fasteners

Micro Plastics' product line of "X-MAS TREE TYPE FASTENERS" has been expanded to include over 50 new standard sizes, with 8 special item clips. In addition, a metric line of over 20 sizes is also available. These uniquely designed fastening snap-in clips feature a ribbed shank that ensures fast and easy installation. Clips hold secure in a wide range of materials and work effectively in blind hole applications. A variety of head, prong, and point styles are available. The standard line offers fasteners to fit hole sizes of 1/8 in. through 3/8 in. and will accommodate panel thicknesses from .062 in. to 2.00 in. The metric line accommodates hole sizes of 3 mm through 8 mm and panel thicknesses from 1.6 mm to 50 mm. Fasteners are molded in corrosion-, abrasion-, and vibration-resistant black nylon.
Click here to learn more.
---
Alternatives to screws for compact electronics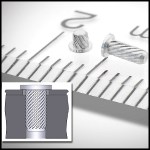 Aluminum and stainless steel microPEM TackSert pins from Penn-Engineering provide cost-effective alternatives to micro screws for attaching top panels to base panels or chassis in compact electronic assemblies. They will attach top panels of any material to a base or chassis manufactured from common cast metals (such as magnesium and aluminum) or plastics (such as ABS and printed circuit boards). The pins ultimately eliminate many of the costs and issues associated with screws and integrate unique design features, promoting reliable and effective performance.
Click here to learn more.
---
5 easy ways to reduce 3D-printing costs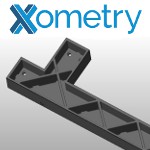 According to Marcus Morrissette at Xometry, there are two main drivers to consider when pricing for outsourced 3D-printed parts: material cost and machine run time. Understanding these factors and how to optimize them is important to lowering costs for all of the 3D-printing processes Xometry offers, including Selective Laser Sintering (SLS), Fused Deposition Modeling (FDM), Direct Metal Laser Sintering (DMLS), PolyJet (PJ3D), and Binder Jet Metal (BJ3D). Consider these suggestions when designing your 3D CAD file.
Read the full article.
---
Easy programming for hydraulic proportional controls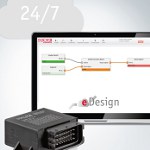 HAWE Hydraulik's eDesign, a new cloud-based, graphical programming interface for electronic control systems, enables users to design programs and to install them directly on the electronic control without knowing a programming language. HAWE eDesign already includes a large number of functions to program either the CAN-knot type CAN-IO or the company's electronic amplifier plug type EV2S. The programming interface is ideally suited to facilitate the transition from on/off valve technology to proportional control, and is primarily intended for low to medium complex programming. Built-in tutorials and hints simplify use.
Click here to learn more.
---
Proto Labs expands into sheet metal fabrication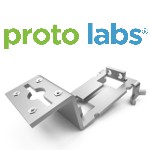 Proto Labs has entered into a definitive agreement to acquire privately held company Rapid Manufacturing Group (RAPID), a New Hampshire-based custom parts supplier specializing in quick-turn sheet metal fabrication and CNC machining. With the acquisition, Proto Labs will be able to offer its customers another quick-turn manufacturing service while expanding its CNC machining capabilities. RAPID was founded in 2001 on the idea of using automation to provide custom sheet metal parts faster than traditional methods -- a story that closely parallels Proto Labs' own by optimizing product development and improving supply-chain efficiencies through a variety of digital manufacturing methods.
Click here to learn more.
---
All about edge-welded metal bellows

BellowsTech, an industry leader in the development and manufacture of metal bellows using edge-welded metal bellows technology, proudly serves the aerospace, semiconductor, UHV, Cryogenic, Oil and Gas, and various other high-technology markets. Learn how edge-welded bellows can work in your application. This product video focuses on the unique characteristics and parameters of edge-welded metal bellows.
View video.
---
Gen4 Ionizing Point delivers precision static elimination

EXAIR's new Gen4™ Ionizing Point delivers a high concentration of positive and negative ions to neutralize static electricity without requiring compressed air. This compact and shockless static eliminator is the ideal way to eliminate static electricity problems occurring in small spaces. They are perfect for keeping small parts or products separate or from sticking to other surfaces. Gen4 Ionizing Points can protect sensors; eliminate improper readings of sensitive electronics; keep powder-filling nozzles clear of clogs; and prevent jamming, tearing, or dust attraction on slitting, winding, rewinding, ink jetting, and silk-screening applications.
Learn more.
---
Titanium springs resist corrosion

Titanium springs from Atlantic Spring-MW Industries offer improved resistance to corrosion, lower torsion modulus, shorter free length, greater strength, and significant weight reduction over steel springs. These attributes make titanium springs ideal for various aircraft, space, military, and defense applications. Atlantic Spring offers rapid prototyping services. Prototypes can be available within 3 to 5 days dependent upon design complexity and material availability. ISO9100C certified and ITAR registered.
Download capabilities flyer.
---
SKF launches re-engineered mounted ball bearing units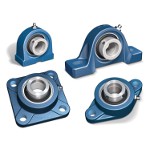 SKF has launched a newly re-engineered product line of mounted ball bearing units with industry-standard inch series cast iron housings in several designs, high-performance SKF inch or metric insert bearings, and several shaft-locking methods. These mounted bearing units will suit a wide range of light- and medium-duty industrial applications, including conveyor systems, fans and air-handling equipment, and similar machinery across industries.
Click here to learn more.
---
Extremely fine stainless steel MicroEtch screens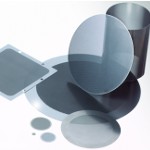 Fine stainless steel MicroEtch Screens are manufactured by Tech-Etch using photo etching technology enabling hole sizes from .003 in. and up. Photo etching enables designers to specify a straight hole or a tapered hole, which facilitates liquid filtration and back-flow cleaning. Unlike stamping, photo etching yields a burr-free product resulting in cleaner, more efficient screens with greater material integrity. MicroEtch screens feature a tighter tolerance on hole sizes and greater dimensional stability than woven wire mesh, making them ideal in applications requiring frequent cleaning or in devices where there is mechanical contact.
Click here to learn more.
---
Mike Likes: C-Solder joins carbon materials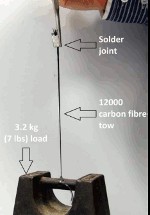 Wow, you can probably file this under, "I really haven't heard of that before!" Materials specialist Goodfellow has just released a new tin-based, flux-free soldering alloy called C-Solder that enables the joining of carbon materials in both carbon-carbon and carbon-metal combinations. Using a classic soldering iron, heat gun, or torch, the resulting bond is both mechanically strong and electrically conductive. But what can you do with it? With C-Solder you can join carbon materials, including carbon fibers or carbon nanotube fibers in carbon-carbon arrangements; carbon to metals (e.g., copper aluminum, titanium, stainless steel), ceramics, and glass materials; and aluminum to aluminum without using flux. This lead-free product has excellent flow, does not leave a residue, and is not flammable.
Learn more about this truly unique product.
---
Totally New: Smallest wave springs on the market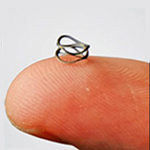 Smalley has expanded the Crest-to-Crest® Wave Spring Series. Smalley's popular C (imperial) and CM (metric) Series have been expanded; standard sizes are now available from stock down to .188 in. and 5 mm in diameter. Smalley Wave Springs can replace conventional coil springs while occupying only half the space and providing the same force and deflection. Request complimentary samples today!
Click here to learn more.
---
Fasteners: Self-clinching free-running locknuts with modified threads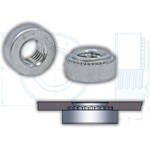 New PEM S-RT self-clinching free-running locknuts from Penn-Engineering feature a modified thread angle enabling easier tightening of mating screws and superior vibration-resistant locking performance in thin metal assemblies. The modified thread formation allows mating screws to spin freely during the attachment process until clamp load is induced during the screw-tightening process. The applied clamp load then engages the locknut's vibration-resistant locking feature, which securely and reliably locks the screw in place. Compared with traditional locknuts, excellent joint clamp load remains consistent, even after many on/off cycles.
Click here to learn more.
---
High-deflection isolation mounts for diesel engines and low-frequency applications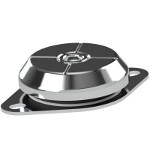 Tech Products Corporation, a leader in vibration and shock isolation solutions, has released its latest line of fail-safe vibration mounts called the Bell Mount Series. This line of vibration isolators includes global industry standard sizes of common diesel engine mounts. Typical applications include generator sets, compressors, pumps, off-highway, and construction equipment. Zinc-plated steel protects the high-strength natural rubber from fuel, oil, and weather. The rugged design incorporates interlocking metal components that make these some of the most durable mounts on the market.
Click here to learn more.
---
DIY graphene: Graphene oxide available in 3 forms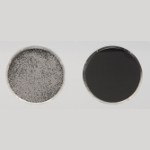 Goodfellow has announced the availability of graphene oxide for use in a wide range of applications. The chemical reduction of graphene oxide is the most suitable method of mass production of graphene. Graphene oxide is easily dispersed in water, other organic solvents, and different matrices; can be embedded in different ceramic or polymeric matrices to improve electrical, thermal, and mechanical properties; and is adaptable for many applications through functionalization. Goodfellow offers this versatile product dispersed in water, reduced, or in a film.
Click here to learn more.
---
Artificial intelligence system finds 'recipes' for producing new and novel materials by poring through millions of research papers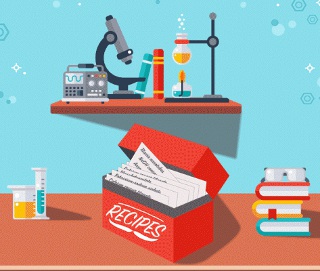 A new artificial-intelligence system aims to pore through research papers to deduce "recipes" for producing particular materials. [Image: Chelsea Turner/MIT]
By Larry Hardesty, MIT
In recent years, research efforts such as the Materials Genome Initiative and the Materials Project have produced a wealth of computational tools for designing new materials useful for a range of applications, from energy and electronics to aeronautics and civil engineering.
But developing processes for producing those materials has continued to depend on a combination of experience, intuition, and manual literature reviews.
A team of researchers at MIT, the University of Massachusetts at Amherst, and the University of California at Berkeley hopes to close that materials-science automation gap with a new artificial-intelligence system that would pore through research papers to deduce "recipes" for producing particular materials.
"Computational materials scientists have made a lot of progress in the 'what' to make -- what material to design based on desired properties," says Elsa Olivetti, the Atlantic Richfield Assistant Professor of Energy Studies in MIT's Department of Materials Science and Engineering (DMSE). "But because of that success, the bottleneck has shifted to, 'Okay, now how do I make it?'"
The researchers envision a database that contains materials recipes extracted from millions of papers. Scientists and engineers could enter the name of a target material and any other criteria -- precursor materials, reaction conditions, fabrication processes -- and pull up suggested recipes.
As a step toward realizing that vision, Olivetti and her colleagues have developed a machine-learning system that can analyze a research paper, deduce which of its paragraphs contain materials recipes, and classify the words in those paragraphs according to their roles within the recipes: names of target materials, numeric quantities, names of pieces of equipment, operating conditions, descriptive adjectives, and the like.
In a paper appearing in the latest issue of the journal Chemistry of Materials, they also demonstrate that a machine-learning system can analyze the extracted data to infer general characteristics of classes of materials -- such as the different temperature ranges that their synthesis requires -- or particular characteristics of individual materials -- such as the different physical forms they will take when their fabrication conditions vary.
Olivetti is the senior author on the paper, and she's joined by Edward Kim, an MIT graduate student in DMSE; Kevin Huang, a DMSE postdoc; Adam Saunders and Andrew McCallum, computer scientists at UMass Amherst; and Gerbrand Ceder, a Chancellor's Professor in the Department of Materials Science and Engineering at Berkeley.
Filling in the gaps
The researchers trained their system using a combination of supervised and unsupervised machine-learning techniques. "Supervised" means that the training data fed to the system is first annotated by humans; the system tries to find correlations between the raw data and the annotations. "Unsupervised" means that the training data is unannotated, and the system instead learns to cluster data together according to structural similarities.
Because materials-recipe extraction is a new area of research, Olivetti and her colleagues didn't have the luxury of large, annotated data sets accumulated over years by diverse teams of researchers. Instead, they had to annotate their data themselves -- ultimately, about 100 papers.
By machine-learning standards, that's a pretty small data set. To improve it, they used an algorithm developed at Google called Word2vec. Word2vec looks at the contexts in which words occur -- the words' syntactic roles within sentences and the other words around them -- and groups together words that tend to have similar contexts. So, for instance, if one paper contained the sentence "We heated the titanium tetracholoride to 500 C," and another contained the sentence "The sodium hydroxide was heated to 500 C," Word2vec would group "titanium tetracholoride" and "sodium hydroxide" together.
With Word2vec, the researchers were able to greatly expand their training set, since the machine-learning system could infer that a label attached to any given word was likely to apply to other words clustered with it. Instead of 100 papers, the researchers could thus train their system on around 640,000 papers.
Tip of the iceberg
To test the system's accuracy, however, they had to rely on the labeled data, since they had no criterion for evaluating its performance on the unlabeled data. In those tests, the system was able to identify with 99 percent accuracy the paragraphs that contained recipes and to label with 86 percent accuracy the words within those paragraphs.
The researchers hope that further work will improve the system's accuracy, and in ongoing work they are exploring a battery of deep learning techniques that can make further generalizations about the structure of materials recipes, with the goal of automatically devising recipes for materials not considered in the existing literature.
Much of Olivetti's prior research has concentrated on finding more cost-effective and environmentally responsible ways to produce useful materials, and she hopes that a database of materials recipes could abet that project.
"This is landmark work," says Ram Seshadri, the Fred and Linda R. Wudl Professor of Materials Science at the University of California at Santa Barbara. "The authors have taken on the difficult and ambitious challenge of capturing, through AI methods, strategies employed for the preparation of new materials. The work demonstrates the power of machine learning, but it would be accurate to say that the eventual judge of success or failure would require convincing practitioners that the utility of such methods can enable them to abandon their more instinctual approaches."
This research was supported by the National Science Foundation, Office of Naval Research, the Department of Energy, and seed support through the MIT Energy Initiative. Kim was partially supported by Natural Sciences and Engineering Research Council of Canada.
Published December 2017
Rate this article