Medium-load hexapod 6-axis motion platform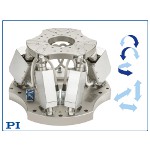 With the usability of 6-axis hexapods increasing in research and industry applications, PI introduces a new medium-load 6-axis precision motion platform, the H-825 hexapod. The H-825 provides a self-locking load capacity up to 30 kg (66 lb). The motion range is up to 55 mm (linear) and up to 38 degrees (rotation). High system precision is guaranteed by absolute encoders and an actuator resolution of 8 nanometers -- with excellent position repeatability of +/-0.1 µm and +/-2 µrad, respectively. The parallel-kinematic design of the hexapod makes it smaller and stiffer than traditional 6-axis positioning systems while providing a higher dynamic range. Features long-lifetime brushless servo motors.
>Read technical articles and applications of PI hexapods
>Watch Hexapod System Videos
>Specifications, Datasheet, More Information
---
Wheel drive assemblies for electric vehicles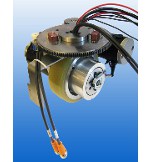 WheelMax Steering Drives from Allied Motion Technologies are fully integrated, electrically powered traction wheels with on-board steering systems for electric vehicles. Each WheelMax Steering Drive combines a traction wheel with tire, epicyclic gearbox, robust steering gear and bearing system, and two rugged PMDC brush motors, one for traction and one for steering power. The complete assembly is compact, easy to mount, and requires little to no maintenance. WheelMax Steering Drives handle loads up to 227 kg (500 lb) and provide 14 Nm (120 lb-in.) continuous torque at speeds up to 5 km/hr (3 mph). Applications include AGVs, autonomous robotic material handlers, pushers and tuggers, powered utility carts, and hospital patient handlers, among many others.
Click here to learn more.
---
Micro Solutions: Myoelectric robotic prosthesis hand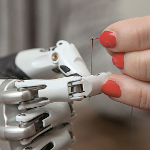 The Bebionic myoelectric hand prosthesis was recently developed to help with daily life challenges. Powerful and compact FAULHABER dc motors ensure that the prosthesis can grip without any problems, quickly and firmly, and maintain a constant gripping force. Two electrodes integrated into the prosthesis shaft detect the myoelectric signals and forward them to the control electronics. These signals are amplified and used to activate the 5 small electric motors.
Read the full article.
---
New frameless brushless servo motor kits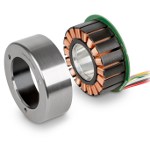 The new frameless motor kits from Maxon consist of only a rotor and stator -- no bearings or motor shaft. With outer diameters of only 43 mm to 90 mm, these pancake servo motor kits are extremely compact. Available in size ranges from 30 W to 260 W, these EC (electronically commutated) frameless slotted motors feature low-voltage windings, high pole pair count, and are shipped as BLDC motor kits with the rotor and stator delivered separately without bearings and motor shaft. The flat design, high torque output, and hollow-shaft construction provide plenty of space for cable glands, allowing for a high level of integration into OEM applications such as collaborative and mobile robots, AGVs, exoskeletons, and embedded robotic applications.
Click here to learn more.
---
New DENSO robot product catalog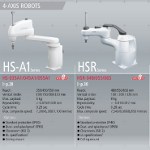 DENSO Robotics -- the world's largest manufacturer and user of small assembly robots -- has announced its new product catalog featuring a wide range of compact, high-speed industrial robots that have reaches of 350 mm to 1,300 mm, payload capacities as high as 20 kg, and repeatability to within +/-0.015 mm. The 52-page publication, which is offered in an interactive online version or as a download, features detailed descriptions, specifications, and schematics of DENSO's entire lineup of four-axis SCARA and five- and six-axis articulated robots, robot controllers, and programming software.
Click here to learn more.
---
New precision linear motor stage family with magnetic direct drive and absolute encoders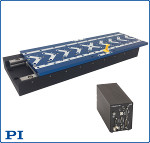 Motion and nanoposi-tioning industry leader PI further expands its PIMag series of high-dynamics linear motor stages with a family of 18, the V-508 -- a new series of compact linear positioning stages with high-force 3-phase linear motors and crossed roller guides. This line features high velocity, high duty cycle, and three travel ranges. A variety of incremental and absolute measuring linear encoders are available. PI's ultra-precise linear motor stages are well-suited for industry and research. Applications include metrology, testing, positioning, scanning, precision automation, micro-assembly, biotechnology, delay-lines, laser beam control, optics, lens testing, and photonics alignment.
Specifications, datasheet, more information >
Read tech article, "Performance of Direct-Drive Linear Motor Stages in Precision Positioning Applications" >
---
Flexible servo drive system for demanding geared motor applications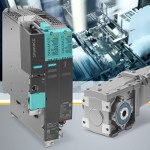 Siemens has expanded its extensive drive portfolio for servo applications to include the Simotics S-1FG1 servo geared motors, which are designed for use with the Sinamics S120 drive system. Sinamics S120 drives and Simotics S-1FG1 servo geared motors are an integral component of Siemens Totally Integrated Automation (TIA), which reduces engineering time and costs. The units have electronic rating plates, and the motors are connected via the Drive-Cliq system interface, so the system can be brought online quickly. The engineering of the Simotics S-1FG1 servo geared motor includes high efficiency and low torsional backlash for precise, dynamic motion sequences and is available in the following versions: helical, parallel shaft, bevel and helical worm gearboxes with up to 25 transmission ratios.
Click here to learn more.
---
First 7-axis motion and pressure sensor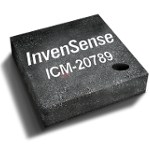 TDK has announced the availability of the InvenSense ICM-20789 MEMS 7-axis integrated inertial device, combining a 3-axis gyroscope, 3-axis accelerometer, and an ultra low-noise MEMS capacitive barometric pressure sensor. The ICM-20789 features a single small footprint, with the industry's lowest pressure noise of 0.4Pa RMS and excellent temperature stability with a temp coefficient of +/-0.5 Pa/°C. Applications include: drones and flying toys; smart watches, wearables, activity monitoring; motion-based gaming controllers; virtual reality headsets and controllers; and indoor and outdoor navigation.
Click here to learn more.
---
Motor Tech: UAV camera stabilization with brushless motors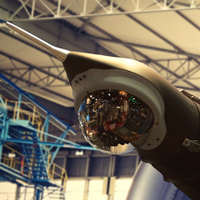 Today, recon is dominated by unmanned aerial vehicles (UAVs) and drones due largely to concerns for pilots' safety and costs. However, photos and videos obtained from UAVs are only useful if they are crisp and clear, which requires both precise focusing and extreme stabilization of the camera system. Compact and powerful FAULHABER brushless DC motors from MICROMO were selected to get the job done.
Read the full article.
---
Mobility Tech Ideas: Scissor lift for UTVs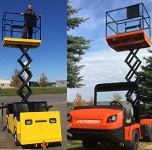 The UTX Scissor lift from Innovative Equipment is designed to be easily fitted and removed from almost any utility vehicle (UTV) in approximately 3 minutes without any heavy lifting. It provides the user with a working height of 18 to 19 ft on nearly any terrain. It can be leveled on slopes up to 12 deg. It has a lifting capacity of 500 to 600 lb and enables users to take a scissor lift "where no scissor lift has gone before." Stability has been tested to five times the ANSI requirements. It also has safety features that will not allow it to be used in unsafe conditions.
See it in action.
---
Become a robot programmer in 87 minutes!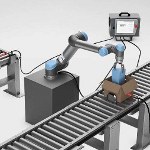 Learning how to set up and program a collaborative robot -- or cobot -- no longer depends on real-life access to a robot or a training class. Now everybody with a desire to learn the concepts of cobots can log in to the Universal Robots Academy and get the introduction necessary to master basic programming skills. Become a master of the cobots! (That's a pretty sweet title.)
Click here to learn more.
---
Multi-axis robotic controller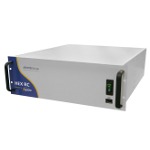 Aerotech's HEX RC is a 6-axis motion controller ideal for controlling robotic systems like hexapods. It is 4U rack-mountable and compatible with the Automation 3200 (A3200) motion platform. A high-performance processor provides the intense computing power needed to run up to 32 axes, perform complex, synchronized motion trajectories, manipulate I/O, and collect data at high speeds. This unit features 6 axes of drives capable of controlling any combination of brush, brushless, or stepper motors (both current loop and servo loop closures). An optional 6-axis jog pendant permits easy, manual control of the positioning system.
Click here to learn more.
---
Single-rail positioning stage (H-gantry)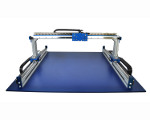 H2W Technologies' latest single-rail positioning stage design is an open-frame XY positioning system. It has two bottom parallel axes with one cross axis connecting the two (H-gantry). Each linear axis uses H2W's brushless linear motors (BLDM-B04). Each has a total stroke length of 25.67 in. (652 mm) and can generate 6.2 lb (27.8 N) of continuous force and 18.7 lb (83.3 N) of peak force, or a combined 12.4 lb (55.6 N) continuous force and 37.4 lb (166.6 N) peak force on the bottom axis. The non-contact 1-micron resolution encoders allow for precise positioning. The moving tables are guided by a precision recirculating linear ball bearing system. Additional options include a home positioning sensor, end-of-travel-sensors, and custom mounting holes.
Click here to learn more.
Watch this stage in action.
---
Getting a grip on precision: Mechatronics vs. pneumatics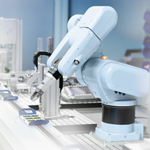 A gripping system for small parts that is both quick and powerful -- until now, that was often only possible with pneumatics. However, recently the leading expert for gripper systems and technology has developed a mechatronics-based EGP 40 gripper that easily achieves the same performance of its pneumatic counterparts. The drive that makes this impressive performance possible is FAULHABER small brushless DC servo motors from MICROMO.
Read the full article.
---
Mini linear motor stage with magnetic direct drive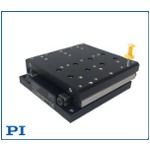 Motion and nanoposi-tioning industry leader PI expands its PIMag series of high-dynamics linear motor stages with a new compact positioner for automation tasks. The V-408 stage is equipped with an incremental linear encoder for direct position measurement and a high-force 3-phase linear motor drive. The V-408 features high load-capacity precision crossed roller elements with anti-creep cage assist and a zero-wear, non-contact linear motor -- ideal prerequisites for long lifetime in high duty-cycle industrial applications. The high-force linear motor achieves velocities up to 1.5m/sec. An integrated optical linear encoder provides 10-nm resolution. Two models are offered with 25-mm and 50-mm travel range.

---
Human pilot vs. artificial intelligence: In 40-mph drone race, who wins?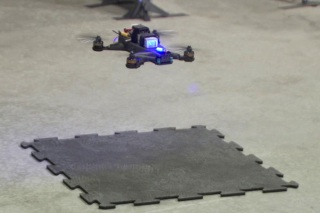 JPL engineers recently finished developing three drones and the artificial intelligence needed for them to navigate an obstacle course by themselves. As a test of these algorithms, they raced the drones against a professional human pilot. [Image Credit: NASA/JPL-Caltech]
Drone racing is a high-speed sport demanding instinctive reflexes -- but humans won't be the only competitors for long.
Researchers at NASA's Jet Propulsion Laboratory in Pasadena, CA, put their work to the test recently. Timing laps through a twisting obstacle course, they raced drones controlled by artificial intelligence (A.I.) against a professional human pilot.
The race, held Oct. 12, capped off two years of research into drone autonomy funded by Google. The company was interested in JPL's work with vision-based navigation for spacecraft -- technologies that can also be applied to drones. To demonstrate the team's progress, JPL set up a timed trial between their A.I. and world-class drone pilot Ken Loo.
VIDEO: JPL drone race -- Human vs. machine.
The team built three custom drones (dubbed Batman, Joker, and Nightwing) and developed the complex algorithms the drones needed to fly at high speeds while avoiding obstacles. These algorithms were integrated with Google's Tango technology, which JPL also worked on.
The drones were built to racing specifications and could easily go as fast as 80 mph (129 kph) in a straight line. But on the obstacle course set up in a JPL warehouse, they could only fly at 30 or 40 mph (48 to 64 kph) before they needed to apply the brakes.
"We pitted our algorithms against a human, who flies a lot more by feel," said Rob Reid of JPL, the project's task manager. "You can actually see that the A.I. flies the drone smoothly around the course, whereas human pilots tend to accelerate aggressively, so their path is jerkier."
Compared to Loo, the A.I. drones flew more cautiously but consistently. Their algorithms are still a work in progress. For example, the drones sometimes moved so fast that motion blur caused them to lose track of their surroundings.
Loo attained higher speeds and was able to perform impressive aerial corkscrews. But he was limited by exhaustion, something the A.I.-piloted drones didn't have to deal with.
"This is definitely the densest track I've ever flown," Loo said. "One of my faults as a pilot is I get tired easily. When I get mentally fatigued, I start to get lost, even if I've flown the course 10 times."
While the A.I. and human pilot started out with similar lap times, after dozens of laps, Loo learned the course and became more creative and nimble. For the official laps, Loo averaged 11.1 seconds, compared to the autonomous drones, which averaged 13.9 seconds.
Humans win!
But the A.I. drones were more consistent overall. Where Loo's times varied more, the A.I was able to fly the same racing line every lap.
"Our autonomous drones can fly much faster," Reid said. "One day you might see them racing professionally!"
Without a human pilot, autonomous drones typically rely on GPS to find their way around. That's not an option for indoor spaces like warehouses or dense urban areas. A similar challenge is faced by autonomous cars.
Camera-based localization and mapping technologies have various potential applications, Reid added. These technologies might allow drones to check on inventory in warehouses or assist search-and-rescue operations at disaster sites. They might even be used eventually to help future robots navigate the corridors of a space station.
Source: JPL
Published December 2017
Rate this article