New ultra high-brightness LCDs for outdoor viewing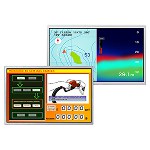 The Tianma Group has introduced two new LCDs: a 10.1-in. WXGA and 15.6-in. WXGA, both with ultra-high luminance. These modules are ideal for industrial applications needing superior viewing in outdoor or other high ambient light environments such as ATMs and payment terminals. The 10.1-in.-wide model has a luminance of 1000 cd/m2, and the 15.6-in.-wide model has a luminance of 1250 cd/m2. The ultra-high luminance of these models results in displays with vivid colors and excellent visibility, even in direct sunlight, and further expand Tianma's extensive offering of industrial products.
Click here to learn more.
---
Mouser Electronics New Product Insider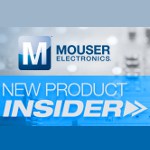 Mouser Electronics specializes in the rapid introduction of new products and technologies. As the industry leader in New Product Introductions (NPIs), Mouser makes it a priority to stock the newest products and technologies from their 700+ manufacturer partners, giving customers an edge and helping speed time to market. In 2017, Mouser launched a total of 2,326 new products. Last month, Mouser launched more than 270 new products ready for same-day shipment. Latest products include: Linear Technology/Analog Devices DC1962C-KIT Starter Kit step-down DC/DC controller; TE Connectivity AmbiMate Sensor Module MS4 Series that provides motion, light, temperature, and humidity sensors plus optional sound; andON Semiconductor RSL10 Multi-Protocol Bluetooth 5 System-on-Chip.
See the latest from Mouser Electronics.
---
LED panel-mount indicators are all about flexibility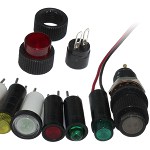 Visual Communica-tions Company's (VCC) 90 Series panel-mount indicators are designed for an extended life and quick installation, and they are unique because they deliver enhanced design flexibility through three termination styles: cartridge, bi-pin, and wire leads. They save time during installation and maintenance and require less-frequent replacement. The P80 Series LED panel mount indicator is designed to streamline installation with a snap-in mounting design that requires no additional hardware. It is offered in six single LED colors (red, orange, amber, green, blue, and clear). Five lens colors are also available: red, amber, green, blue, and clear.
Click here to learn more.
---
Flexible Printed Circuits Design Guide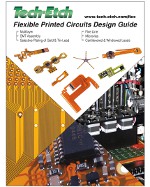 Tech-Etch manufactures high-reliability flexible printed circuits on polyimide substrates using advanced manufacturing processes to create circuits for today's sophisticated electronic applications. Special processes include the ability to selectively plate a single circuit with two different finishes, contoured circuits with variable metal thickness, semi-additive and subtractive techniques to manufacture trace patterns, BGA pad arrays, and open window or cantilevered contact leads. Surface mount technology (SMT) for component assembly is employed for both prototypes and full production runs. Tech-Etch specializes in flexible circuits for medical device, medical implant, diagnostic ultrasound, telecommunications and patient monitoring applications, in addition to telecommunications, aerospace, semiconductor, industrial, and other high-reliability electronic applications.
Learn more and download the guide (no registration required).
---
Compact angle sensor for robotics and other applications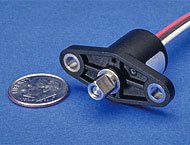 See the robotics video demonstrating ease of programming and robotics application of certain angle sensors from Novotechnik. Novotechnik's Vert-X 1600 Series of angle sensors (shown here) features easy mounting in tight spaces with a 16 mm diameter body. The sensors measure 0 to 360° with linearity ≤ ±0.3%, 14-bit resolution and repeatability to 0.1°. A variety of analog and digital output options are available.
View the video.
---
M8 12-pin connectors with gold-plated contacts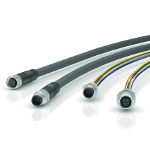 Binder USA has added the M8 12-pin to their Series 718 & 768 lines of M8 Connectors. The 12 gold-plated contacts allow for more data connections in a small-form connector, making it easy to combine multiple connections into one connector to save panel space. The IP67-rated connectors are typically used with automation-related products including photoelectric, proximity, and temperature sensors. Available in male or female molded cable and panel-mount connectors with cable lengths of 2 m and 5 m and standard single-wire length of 200 mm.
Click here to learn more.
---
Full line of industrial laser modules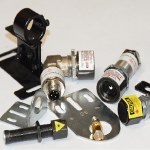 BEA Lasers' full line of ruggedized Industrial Laser modules are now available for use in factories, machine shops, and other harsh environments for alignment and positioning of products, components, and machine parts. The laser diode modules (Series MIL, GPL, SEN, MIC, IND) each include a housing and cable apparatus to alleviate hard wiring for replacements. All are offered with a choice of green or red laser light and include laser dot and line patterns; many available with a crosshair pattern. Most Industrial Laser families are available with 1-, 3-, or 5-mW output power. In addition, BEA's "Yellow Sub" and "Yellow Torpedo" lasers can be used for leveling. Other laser applications include drilling, event detection, edge detection, security, cutting, vision systems, metrology, bar code readers, education, robotic control, and laboratory or test operations.
Click here to learn more.
---
Microcontroller for automotive and industrial radar systems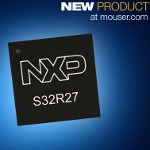 Mouser Electronics is now stocking the S32R274 radar microcontroller from NXP Semicon-ductors. Engineered to meet the high-performance computation demands required by modern beam-forming and fast chirp-modulation radar systems, the S32R274 combines signal-processing acceleration with a multicore architecture to provide up to four times the power performance in industrial and automotive applications, compared to previous generations of products. This device offers a multifaceted solution for general software tasks and car bus interfacing. Combined with radio frequency (RF) front-end technologies (RFCMOS or BiCMOS), the S32R274 provides designers a scalable solution that addresses ultra-short-range, short-range, mid-range, and long-range radar systems.
Click here to learn more.
---
New option for flexible heater applications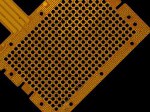 Rogers Corp. has introduced ARLON raPId polyimide substrates, a new, innovative solution for streamlining manufacturing and improving performance of flexible heater applications. These substrates incorporate the benefits of polyimide heater dielectrics with the flexibility and usability of a silicone adhesive system. This makes a big difference during manufacturing, because the innovative thermosetting silicone adhesive system locks the foil-etched circuit in place, minimizing circuit "swimming" during capping, while minimizing delamination and voids. This solution is ideal for high-reliability applications as a replacement for acrylic or FEP adhesives in polyimide flexible heaters.
Learn more.
---
Cool Tools: Rugged smartphone with built-in thermal imaging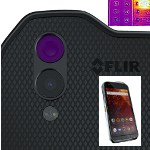 The ruggedized Cat S61 is equipped with FLIR Lepton, the industry's smallest, lightest, and lowest cost thermal imaging camera core. This smartphone enables users to see in total darkness and visualize heat that is invisible to the naked eye. The new model includes a variety of technical improvements, including an increased temperature range of -20 to 400 C (great for things like vehicle diagnostics and asphalt monitoring), upgraded visible HD camera and thermal image processing, and live thermal imagery streaming for sharing results in real time. Available 3Q 2018. Under $1,000.
Click here to learn more.
---
Faster, cooler-running new Raspberry Pi unit -- still $35!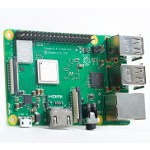 After a two-year wait since its last upgrade, Raspberry Pi released a new and improved version of its wildly popular single-board computer on March 14 -- Pi Day, of course. The Raspberry Pi 3 Model B+ boasts a 200-MHz increase in peak CPU clock frequency, roughly three times the wired and wireless network throughput, and the ability to sustain high performance for much longer periods. Features include: a 1.4-GHz 64-bit quad-core ARM Cortex-A53 CPU, dual-band 802.11ac wireless LAN and Bluetooth 4.2, faster Ethernet (Gigabit Ethernet over USB 2.0), Power-over-Ethernet support (with separate PoE HAT), improved PXE network and USB mass-storage booting, and improved thermal management.
Learn all about the new Raspberry Pi 3 Model B+.
---
Cool Tools: World's fastest digital ultra-high-speed camera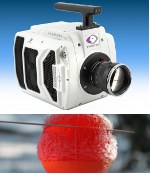 Vision Research has introduced the Phantom v2640, the fastest 4-Megapixel (MPx) camera available. It features a new proprietary 4-Mpx CMOS image sensor (2048 x 1952) that delivers unprecedented image quality at up to 26 Gpx/sec, while reaching 6,600 frames per second (fps) at full 2048 x 1952 resolution, and 11,750 fps at 1920 x 1080. This is an excellent tool for researchers, scientists, and engineers who need to capture clean, high-resolution images at super high speeds. Go to the Videos tab on the product webpage to see it in action.
Click here to learn more.
---
Alternatives to screws for compact electronics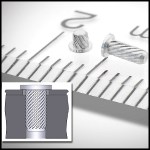 Aluminum and stainless steel microPEM TackSert pins from Penn-Engineering provide cost-effective alternatives to micro screws for attaching top panels to base panels or chassis in compact electronic assemblies. They will attach top panels of any material to a base or chassis manufactured from common cast metals (such as magnesium and aluminum) or plastics (such as ABS and printed circuit boards). The pins ultimately eliminate many of the costs and issues associated with screws and integrate unique design features, promoting reliable and effective performance.
Click here to learn more.
---
New series of tall board-to-board stacker connectors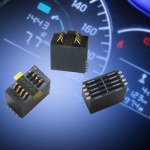 AVX Corporation has released a new series of tall board-to-board stacker connectors. The new 00-9148 Series tall stacker connectors are cost-effective, reliable, and robust; exhibit excellent resistance to shock and vibration; and help reduce tolerance accumulation in a variety of demanding applications across the automotive, consumer, medical, and industrial markets. The single-piece connectors also reduce assembly time and shorten BOM lists, and feature a double-row design with an 8-mm (+/- 0.2-mm) board-stacking height, a 1-mm pitch, and eight positions, each rated for 1A continuous current. Rated for 125 V, 50 cycles, and temperatures spanning -40 C to 125 C.
Click here to learn more.
---
Development kit for IoT applications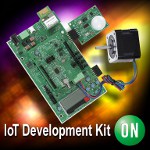 ON Semiconductor is helping engineers address a broader range of high-growth Internet of Things (IoT) applications through the release of a new multi-sensor shield and expansion of software support for its IoT Development Kit (IDK). The IDK gives access to a wide variety of sensing, processing, connectivity, and actuation possibilities through a range of shields/daughter cards that attach to the Arm SoC motherboard. The multi-sensor shield adds a variety of inertial and environmental sensors. These coupled with, for example, the recently announced Bluetooth low energy (BLE) connectivity shield, enable the rapid prototyping of a wide range of ultra-low power smart home, industrial IoT, and wearable solutions.
Click here to learn more.
---
Scientists design solar cell that pushes toward 50 percent efficiency
It's expensive, but the technology creates a highly efficient new type of solar cell.

Scientists at George Washington University have designed and constructed a prototype for a new solar cell that integrates multiple cells stacked into a single device capable of capturing nearly all of the energy in the solar spectrum. The new design converts direct sunlight to electricity with 44.5 percent efficiency, giving it the potential to become the most efficient solar cell in the world.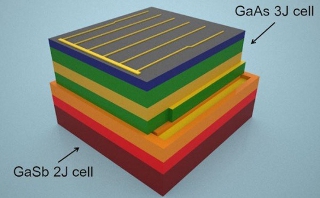 Stacked solar cell. [Credit: Matthew Lumb]
The approach is different from the solar panels one might commonly see on rooftops or in fields. The new device uses concentrator photovoltaic (CPV) panels that employ lenses to concentrate sunlight onto tiny, micro-scale solar cells. Because of their small size -- less than 1 mm sq -- solar cells utilizing more sophisticated materials can be developed cost effectively.
The stacked cell acts almost like a sieve for sunlight, with the specialized materials in each layer absorbing the energy of a specific set of wavelengths. By the time the light is funneled through the stack, just under half of the available energy has been converted into electricity. By comparison, the most common solar cell today converts only a quarter of the available energy into electricity.
"Around 99 percent of the power contained in direct sunlight reaching the surface of Earth falls between wavelengths of 250 nm and 2,500 nm, but conventional materials for high-efficiency multi-junction solar cells cannot capture this entire spectral range," said Matthew Lumb, lead author of the study and a research scientist at the GW School of Engineering and Applied Science. "Our new device is able to unlock the energy stored in the long-wavelength photons, which are lost in conventional solar cells, and therefore provides a pathway to realizing the ultimate multi-junction solar cell."
While scientists have worked toward more efficient solar cells for years, this approach has two novel aspects. First, it uses a family of materials based on gallium antimonide (GaSb) substrates, which are usually found in applications for infra-red lasers and photodetectors. The novel GaSb-based solar cells are assembled into a stacked structure along with high-efficiency solar cells grown on conventional substrates that capture shorter wavelength solar photons. In addition, the stacking procedure uses a technique known as transfer-printing, which enables three-dimensional assembly of these tiny devices with a high degree of precision.
This particular solar cell is very expensive, however researchers believe it was important to show the upper limit of what is possible in terms of efficiency. Despite the current costs of the materials involved, the technique used to create the cells shows much promise. Eventually, a similar product may be brought to market, enabled by cost reductions from very high solar-concentration levels and technology to recycle the expensive growth substrates.
The research builds off of the advancements made by the MOSAIC Program, a $24 million research project funded by the Advanced Research Projects Agency-Energy (ARPA-E) that funds 11 separate teams across the United States, each seeking to develop technologies and concepts to revolutionize photovoltaic performance and reduce costs. The researchers note that funding for this type of research is essential for developing viable commercial technology in the future.
The study, "GaSb-based Solar Cells for Full Solar Spectrum Energy Harvesting," was published in Advanced Energy Materials on July 10.
Source: George Washington University
Published July 2017
Rate this article