Air spray: The comeback of stunning military aircraft paint jobs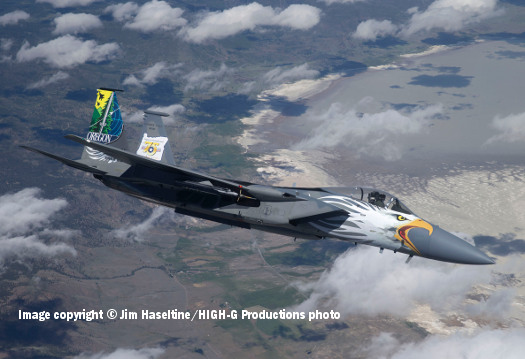 An F-15 Eagle operated by the Oregon National Guard wears the artwork of its namesake bird. The aircraft received its new look to help elevate base morale and commemorate the National Guard's 75th anniversary in Oregon. [Jim Haseltine/HIGH-G Productions photo]
By Dan Raley
Eight Oregon Air National Guard members received a call to arms. Their wing commander handed them an assignment, stressing high priority. They worked 33 consecutive days, some pulling night shifts.
Their orders: Paint a Boeing-built F-15 Eagle jet fighter in a manner that would elevate base morale at Kingsley Field in Klamath Falls, OR, and commemorate the Air National Guard's 75th anniversary across the state.
The outcome of this exercise: Mission accomplished -- and more, according to Master Sgt. Paul Allen, chief architect behind the jet's new color scheme.
Goose bumps and high-fives
"Everybody flocked to it," Allen said of the F-15's spring rollout. "It gave everybody goose bumps. Everybody was doing high-fives. It was awesome to see their reaction. We knew we had done something big."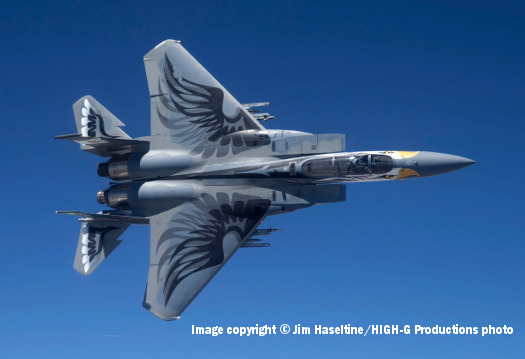 Oregon National Guard F-15 Eagle. [Jim Haseltine/HIGH-G Productions photo]
The fighter, painted from nose to tail, accentuated the sleek attributes of its namesake eagle in a bold design -- a far cry from the basic camouflage colors of solid gray, green or brown that adorn most military aircraft. A white eagle's head with a screeching yellow beak emblazoned the fuselage below the cockpit, and stenciled feathers in black, gray and white plumed the wing areas. A tail section accented by a forest of green trees and the word "Oregon" provided a geographical connection.
Aviation art, as depicted on this jet and others, is enjoying a resurgence. Wartime once was the primary push for bringing out the paint sprayers, whereas milestones and messages of honor are similarly responsible now, according to Michael Lombardi, Boeing historian. And many of the aircraft receiving these makeovers are Boeing-made.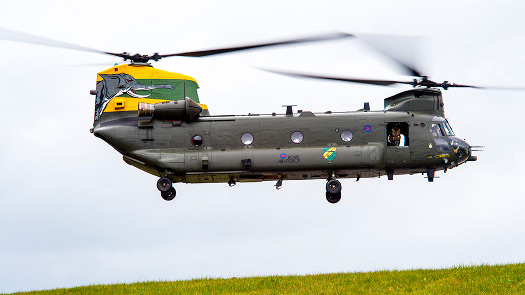 A CH-47 Chinook for the Royal Air Force displays an elephant caricature on its back engine, saluting squadron mascot "Nellie." [Bob Ferguson photo]
As it performed maneuvers this past year across the United Kingdom, a Royal Air Force (RAF) CH-47 Chinook carried the image of a green elephant head with protruding white tusks across its rear engine. The Boeing-produced helicopter was dressed up for two reasons: to celebrate 27 Squadron's centennial and to recognize the history behind the squadron through its century-old mammal mascot named "Nellie," originally created to identify an extra-large World War I airplane.
In North Carolina, a Boeing-produced V-22 Osprey operated by the U.S. Marine Corps lifted off the ground, displaying a series of colorful symbols and messages across its exterior. A painted rear section of the VMM-226 Flying Griffins aircraft paid homage to prisoners of war and those missing in action through images representing a soldier and a prison camp tower, framed by the words: "You are not forgotten." Another painted panel saluted troops who had perished in the line of duty. Yet another singled out the accomplishments of one of the most decorated Marines in history, the late Lt. Gen. Lewis Burwell "Chesty" Puller, who was awarded five U.S. Navy crosses for valor in combat.
Airplane nose art originated during World War II, as a means to inspire the troops on the front lines, historian Lombardi said. Images of pinup models or cartoon characters frequently adorned bombers and fighters. This practice since has expanded to cover all sections of an aircraft, while involving a wide array of subjects during more peaceful times. The Oregon Air National Guard F-15 Eagle, which was flown to an air show in Finland to show off its new look and now is used for training purposes, is one example.
"It's about personalizing an airplane," Lombardi said. "If it's a special occasion or filling a special role, you will see art. And, today, it's gone beyond nose art -- and that has become very popular."
At RAF Odiham in England, Flight Lt. Andy Donovan, an Operational Conversion Flight student and artist, provided on request centennial designs for Chinook squadrons. The paint facility team at his airfield put his "Nellie" caricature on the rear engine of a 27 Squadron helicopter. As the paint project neared completion, word came that RAF Flight Lt. Geraint "Roly" Roberts, a former Chinook senior crewman, had been killed in the line of duty in Afghanistan. Base personnel rushed to have Roberts' name painted across the helicopter's starboard entry door to pay respects to him.
The Chinook livery was so well received that RAF units elsewhere asked the Odiham airmen for design help in painting their airplane transports. The public also reacted favorably to seeing "Nellie" flying on a helicopter overhead, according to Flight Lt. Matt Holloway, 27 Squadron Chinook training captain.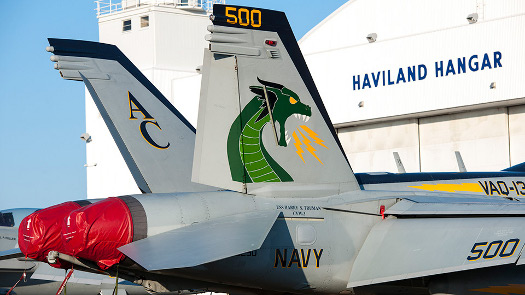 One EA-18G Growler per squadron typically gets selected to wear its mascot caricature at Naval Air Station Whidbey Island in Oak Harbor, WA. [Boeing photo]
At North Carolina's Marine Corps Air Station New River, one Osprey per squadron is selected to have its tail painted, typically the commanding officer's, said Shawn Bittner, Boeing field service manager for the base. Boeing-built EA-18G Growlers at Naval Air Station Whidbey Island in Washington state operate under similar conditions, painting mascots and other symbols on a lone jet that represents a squadron.
In Oregon, Allen was asked to come up with a centennial design for the F-15, which receives a touch-up paint job every three years and a full coat every six years as part of its regular maintenance. Mindful of the time and cost involved, he designed something conservative. Allen's commander then informed him this was a once-in-a-lifetime opportunity -- and to not hold back.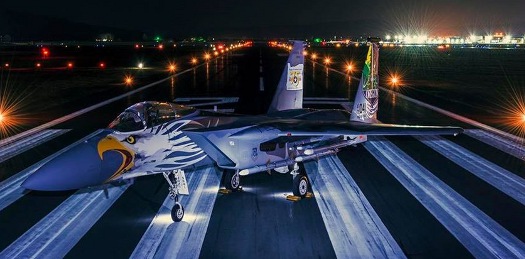 The commemorative Oregon Air National Guard 75th Anniversary F-15 Eagle from the 173rd Fighter Wing is lit up at night on the runway at Kingsley Field in Klamath Falls, OR. [Photo courtesy: USAF/Scott Wolff/released]
Allen, who hails from an artistic family, settled on an eagle rendering for the F-15 because the bird was symbolic to the region. He also thought his design might stir strong emotions among his fellow troops. Airplane nose art had decreased over the previous decade as wartime conflicts found resolution and budgets got tighter, he said.
"These things are coming back because some of our senior leaders see that morale is important to the mission and that this keeps people motivated and involved," Allen said.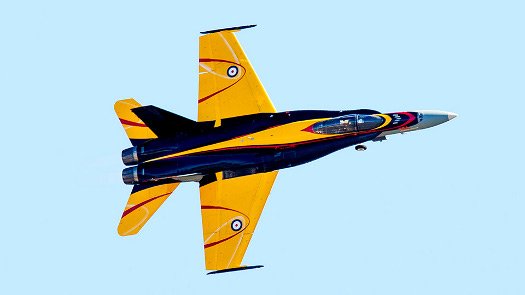 Canada's CF-18 Hornet shows off its brightly colored exterior at the 2016 Farnborough International Airshow in England. [Kevin Flynn photo]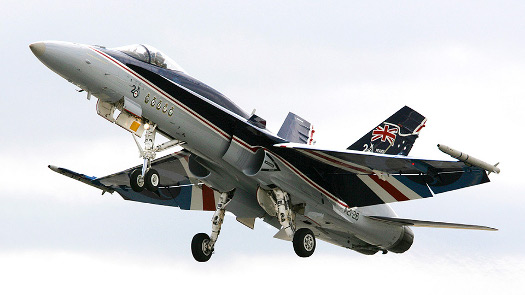 An Australia Air Force F-18 Hornet, sporting its country's blue and red, takes off from Victoria, Australia. [Kevin Flynn photo]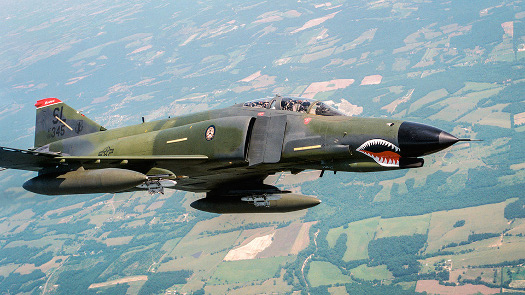 An F-4E, formerly operated by the Missouri Air National Guard, bares its painted-on shark teeth during flight. [Boeing photo]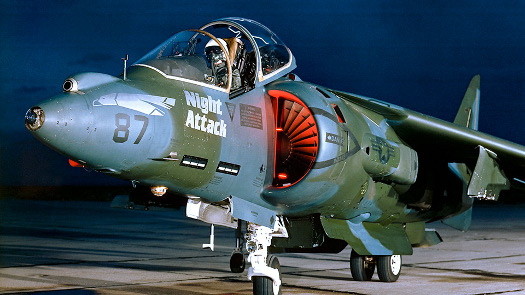 In camouflage colors, an AV-8B rolls down the flight line at Naval Air Weapons Station China Lake in California. [Boeing photo]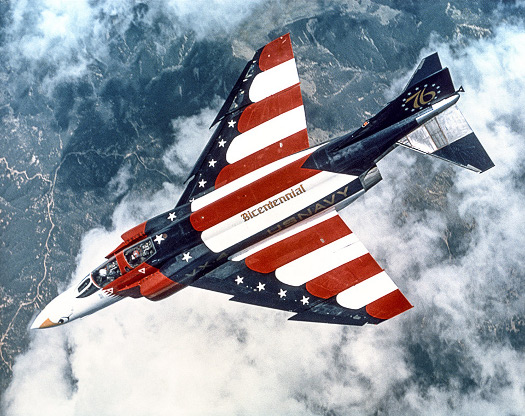 An F-4 Phantom is painted in red, white and blue, with stars and stripes, to celebrate the United States bicentennial in 1976. [Boeing photo]
Allen, a National Guardsman for eight years, headed up the paint team and provided guidelines for newer airmen. He had done smaller projects before. He grew up in Washington, not far from Boeing, and developed an affinity for airplane liveries -- the Seahawks imagery once displayed on a Boeing 747-8 was a personal favorite.
The F-15 fighter will carry his eagle design until this spring when it will be flown to a Georgia depot facility, stripped down and repainted in basic gray again, with the Air National Guard's anniversary well served.
"It's a temporary thing, but we invest in it with that in mind," Allen said. "It was an honor to do this for all the troops and see their reaction. It was an honor just to do it."
This article first appeared on the Boeing website and is republished with full permissions from Boeing. Special thanks to Boeing and to Jim Haseltine/HIGH-G Productions for permission to publish his photos.
Source: Boeing
Published May 2017
Rate this article