Mercedes brings yacht style to the Maybach 6 Cabriolet concept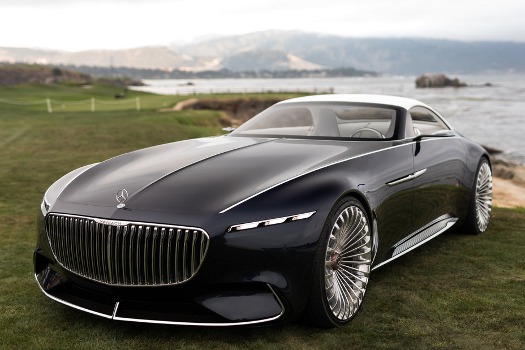 The Vision Mercedes-Maybach 6 Cabriolet concept at Pebble Beach. [All images courtesy: Daimler AG/Mercedes-Benz]
Edited by Mike Foley, Designfax
If Thurston Howell III dreamed of the far-distant future while shipwrecked on "Gilligan's Island," he probably imagined tooling around the mainland with Lovey in something like the yacht-inspired Vision Mercedes-Maybach 6 Cabriolet concept.
Recently displayed at Monterey Car Week in California, the 750-hp (550-kW) electric hard-top convertible is luxurious, pretentious, exaggerated, and a real head turner -- but it's full of clever and impressive design details too.
Mercedes says the nearly 20-ft-long, art-deco-inspired two-seater "pays homage to the glorious automotive haute couture of hand-finished, exclusive cabriolets" and combines "intelligent beauty with classic, aesthetic proportions and a reduced, technoid appearance." Back in the day we simply called a car this long a "boat," but it's a sexy boat at that. Its official dimensions are 18.7 x 6.9 x 4.4 ft.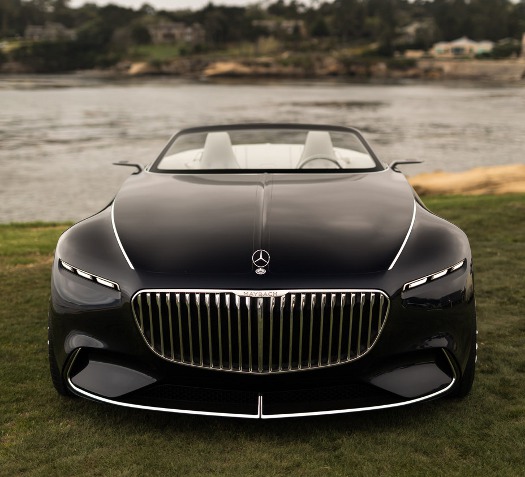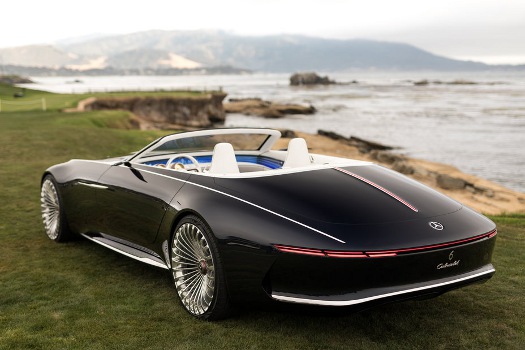 The show car is finished in a dark blue paintwork aptly named "nautical blue metallic," which can look like a dark midnight blue in some lighting or an electric ultramarine blue in others. Its curved body with extremely long hood boasts a laid-back, stretched design characterized by three sharp, horizontal feature lines. The top side lines are outlined in chrome. The grille has a thick, toothy grin that matches the beefy spokes in the center-lock, 24-in. light-alloy wheels (nice touch!).
The extended, round "boat tail," complete with squinty tail-light runs, clearly carries through on the luxury-yacht design concept. In fact, from here on out you kind of get hit over the head with it.
The transition between the vehicle rear, the area of the trunk lid, and the interior flows purposefully to bring the exterior and interior together in a way that really does look like you're stepping into a super-luxe speedboat. It's a very clever spatial design, where the back of the inside interior starts low, wraps up through the doors, and finally becomes the top of the dashboard wing. Contact surfaces feature a lavish, quilted crystal-white nappa leather finish. The floor is wood with inlaid aluminum.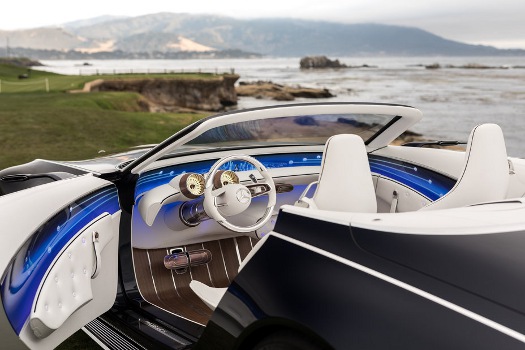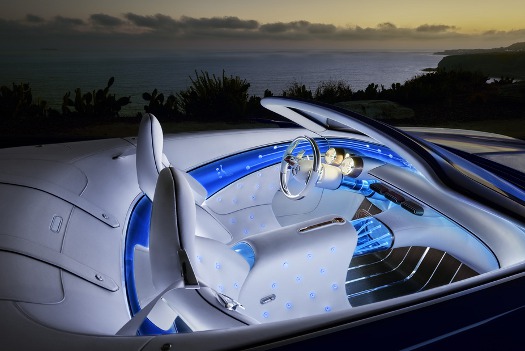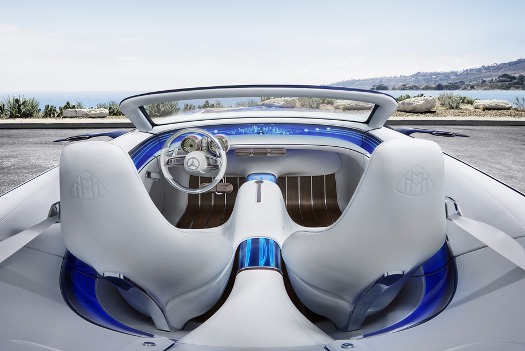 Above the "360° luxury lounge," the wraparound blue display strip links doors, dashboard, and the rear area. The majority of electronic display elements are integrated into this continuous glass trim part. The windscreen also provides a head-up display. In stark contrast, classic round dials, such as the instrument cluster, are positioned prominently in a minimalist floating design before the driver. The combination of digital displays with real needles is spot on for the "hyperanalog" trend.
On the downside, a weird center console element features a transparent tunnel area with blue fiber optics that aims to help passengers visualize the drive system's electrical energy flow. But why? We're land-yachting. We're cruising. We're carefree! Wouldn't this space be better utilized if it housed a robot hand that serves emergency martinis?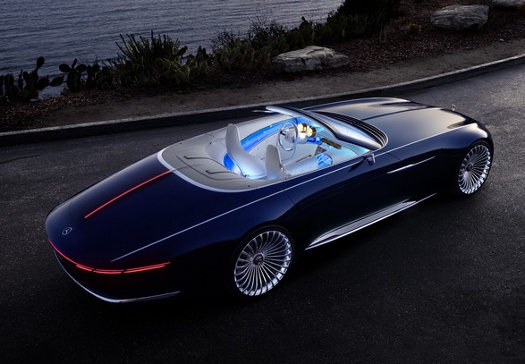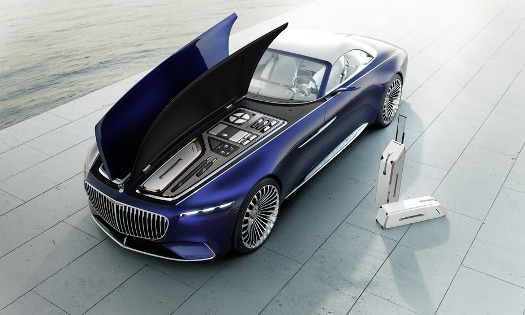 Thanks to its four compact permanent magnet synchronous electric motors, the Vision Mercedes-Maybach 6 features all-wheel drive. It will do 0 to 60 mph in under 4 seconds, so hold on to your hat, Lovey! The single-charge range bests 250 miles.
The flat battery sits in the underbody. Probably one of the most practical design features is the quick-charge function. Using DC charging based on the CCS standard, the system allows a charging capacity up to 350 kW. In just 5 minutes, enough power can be charged to achieve an additional range of more than 60 miles.
So it's nice to know you have some options, and you won't get stranded if you run low on juice -- at least not for long. Without them you'd just be sitting there and dreaming of making headway in a fabulous vehicle, like Thurston Howell III.
Source: Daimler AG/Mercedes-Benz
Published September 2017
Rate this article