Reverse Engineering add-in 2018 for SOLIDWORKS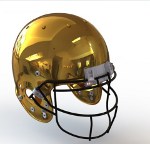 ReverseEngineering.com 2018 for SOLIDWORKS is a reverse engineering application fully integrated into SOLIDWORKS. Users can easily process point clouds, hard probe, and 3D laser scans directly in SOLIDWORKS. Tube measure and quick settings tooling dialog are two features new to the software. Other new capabilities and enhancements include:
No wait time when processing gigabytes of point cloud scan data with Voxel thinning.
Automatic function generates profile curves through a point cloud, allowing users to define and order equal number and spacing of points for parametric spline creation.
Enhanced lock plane simplifies your work flow, users can define point-to-plane snap tolerance capture with a hard probe or 3D scanner.
A standalone Integrated Point Cloud module that doesn't require a SOLIDWORKS license to visualize points, hard probe, or laser scan.
Click here to learn more and read a Schutt Sports application story.
---
Two-stage rotary latch is rugged and secure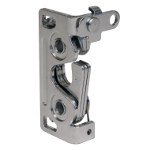 Southco has expanded its successful line of rotary latching solutions with the addition of a stainless steel version of its popular R4-30 series. This two-stage rotary latch is constructed of high-strength, corrosion-resistant stainless steel, making it an ideal choice for enclosures applications exposed to demanding environments, such as an outdoor antenna tower access panel. The design prevents false latching conditions in enclosure applications and provides concealed latching for increased security and industrial design.
Click here to learn more.
---
New adhesives for bonding displays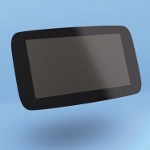 DELO now offers two reliable adhesives that are suitable for bonding display frames as well as cover glass and can be used for joining a display panel to a housing. DELO PHOTOBOND LA4860 is a one-component, light-activated urethane polymer adhesive. Because of its unique curing mechanism, opaque components, like display frames, which often have a black mask on the edge of areas or are bonded to the housings, can be quickly and reliably joined without the need for additional heat curing. Initial strength is reached after a few minutes. DELO-PUR SJ9356 is a two-component, polyurethane hybrid adhesive. This flexible adhesive ensures stable and tension-equalizing bonds and seals, even with changing loads. It is an optimal solution for sealing large bonding gaps.
Click here to learn more.
---
New anti-static Super Air Knife with 34% better performance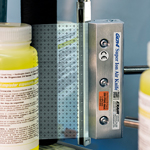 EXAIR's new Gen4 Super Ion Air Knife eliminates static electricity 34% better at low inlet pressures, which saves compressed air and money. Production speeds, product quality, and surface cleanliness can improve dramatically. It eliminates static on plastics, webs, sheet stock, and other product surfaces where tearing, jamming, or hazardous shocks are a problem. Gen4 products have undergone independent laboratory tests to certify they meet the rigorous safety, health, and environmental standards of the USA, EU, and Canada that are required to attain the CE and UL marks. They are also RoHS compliant. New design features include a metal armored high-voltage cable to protect against abrasion and cuts, integrated ground connection, and electromagnetic shielding.
Click here to learn more.
---
Producing large 3D-printed metal parts gets automated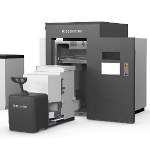 3D Systems has introduced a next-generation additive metal production platform designed to allow manufacturers to easily scale their 3D-printing efforts and integrate them seamlessly into the factory floor. Based on the company's Direct Metal Printing (DMP) precision metals technology, the automated DMP 8500 Factory Solution features an efficient and fully integrated workflow -- from powder in to part out -- to produce repeatable, high-quality parts with a lower total cost of operation (TCO).
Read the full article.
---
Mike Likes: C Series and CM Series springs get really small

Smalley has expanded the Crest-to-Crest® Wave Spring Series. Smalley's popular C (imperial) and CM (metric) Series have been expanded; standard sizes are now available from stock down to .188 in. and 5 mm in diameter. Smalley Wave Springs can replace conventional coil springs while occupying only half the space and providing the same force and deflection.
Request complimentary samples today!
---
Dual-curing adhesive simplifies production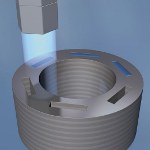 DELO now offers a dual-curing adhesive for structural bonds. DELO DUALBOND SJ2718 combines high strength and temperature resistance with a simple production process, making it ideal for use in automotive applications like the production of electric motors, where buried magnets are fixed in the rotor package. Designed for use where adhesive bonds are exposed to large mechanical stress and increased temperatures, this new, two-stage light-curing and heat-curing adhesive is faster and easier to use as compared to traditional epoxy resins that generally need additional equipment to hold components in position on production lines and in curing ovens. This product can be prefixed in 1 to 5 seconds, depending on the intensity of the UV light. With a strength on aluminum of 60 MPa and on high-performance plastic PA6 of 30 MPa, its performance is comparable to purely heat-curing structural adhesives.
Click here to learn more.
---
Intelligent slewing ring bearing simplifies equipment monitoring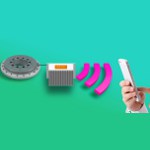 igus has developed an intelligent slewing ring bearing (SRB) that is installed with an isense PRT.W wireless sensor that detects wear, so the need for a replacement can be indicated with enough time in advance via the system's icom module. Slewing rings from igus are used in applications that handle high cycle speeds and loads, including control desks, welding equipment, indexing tables, and chainsaws. iglide slewing ring bearings have plastic sliding elements between aluminum or stainless-steel inner and outer bearing rings. These sliding elements are made of the high-performance, self-lubricating iglide J plastic, making them maintenance-free and friction and wear resistant.
Click here to learn more.
---
Reduce automation costs with igus belt drive axes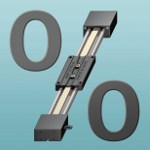 Mechanical engineers often need a basic, space-saving linear guide when designing technology that performs simple tasks, such as vending machines. However, most solutions on the market are very advanced, leaving manufacturers forced to either pay for features they do not need or develop their own linear guide. igus is now offering the drylin ZLW eco, a ready-to-install entry-level series that is making simple positioning and adjustment tasks extremely efficient and cost effective. A toothed belt axis of this entry-level series with a stroke length of 100 mm starts as low as $150. Two sizes handle loads of 3 kg or 10 kg.
Click here to learn more.
---
Xmas tree-type fasteners

Micro Plastics' product line of "X-MAS TREE TYPE FASTENERS" has been expanded to include over 50 new standard sizes, with 8 special item clips. In addition, a metric line of over 20 sizes is also available. These uniquely designed fastening snap-in clips feature a ribbed shank that ensures fast and easy installation. Clips hold secure in a wide range of materials and work effectively in blind hole applications. A variety of head, prong, and point styles are available. The standard line offers fasteners to fit hole sizes of 1/8 in. through 3/8 in. and will accommodate panel thicknesses from .062 in. to 2.00 in. The metric line accommodates hole sizes of 3 mm through 8 mm and panel thicknesses from 1.6 mm to 50 mm. Fasteners are molded in corrosion-, abrasion-, and vibration-resistant black nylon.
Click here to learn more.
---
Alternatives to screws for compact electronics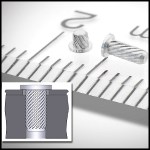 Aluminum and stainless steel microPEM TackSert pins from Penn-Engineering provide cost-effective alternatives to micro screws for attaching top panels to base panels or chassis in compact electronic assemblies. They will attach top panels of any material to a base or chassis manufactured from common cast metals (such as magnesium and aluminum) or plastics (such as ABS and printed circuit boards). The pins ultimately eliminate many of the costs and issues associated with screws and integrate unique design features, promoting reliable and effective performance.
Click here to learn more.
---
5 easy ways to reduce 3D-printing costs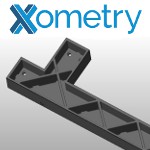 According to Marcus Morrissette at Xometry, there are two main drivers to consider when pricing for outsourced 3D-printed parts: material cost and machine run time. Understanding these factors and how to optimize them is important to lowering costs for all of the 3D-printing processes Xometry offers, including Selective Laser Sintering (SLS), Fused Deposition Modeling (FDM), Direct Metal Laser Sintering (DMLS), PolyJet (PJ3D), and Binder Jet Metal (BJ3D). Consider these suggestions when designing your 3D CAD file.
Read the full article.
---
Easy programming for hydraulic proportional controls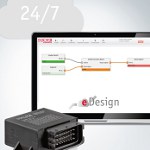 HAWE Hydraulik's eDesign, a new cloud-based, graphical programming interface for electronic control systems, enables users to design programs and to install them directly on the electronic control without knowing a programming language. HAWE eDesign already includes a large number of functions to program either the CAN-knot type CAN-IO or the company's electronic amplifier plug type EV2S. The programming interface is ideally suited to facilitate the transition from on/off valve technology to proportional control, and is primarily intended for low to medium complex programming. Built-in tutorials and hints simplify use.
Click here to learn more.
---
Proto Labs expands into sheet metal fabrication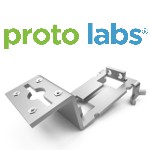 Proto Labs has entered into a definitive agreement to acquire privately held company Rapid Manufacturing Group (RAPID), a New Hampshire-based custom parts supplier specializing in quick-turn sheet metal fabrication and CNC machining. With the acquisition, Proto Labs will be able to offer its customers another quick-turn manufacturing service while expanding its CNC machining capabilities. RAPID was founded in 2001 on the idea of using automation to provide custom sheet metal parts faster than traditional methods -- a story that closely parallels Proto Labs' own by optimizing product development and improving supply-chain efficiencies through a variety of digital manufacturing methods.
Click here to learn more.
---
All about edge-welded metal bellows

BellowsTech, an industry leader in the development and manufacture of metal bellows using edge-welded metal bellows technology, proudly serves the aerospace, semiconductor, UHV, Cryogenic, Oil and Gas, and various other high-technology markets. Learn how edge-welded bellows can work in your application. This product video focuses on the unique characteristics and parameters of edge-welded metal bellows.
View video.
---
White graphene added to ceramics can give them outstanding properties
A little hBN in ceramics could give them outstanding properties, according to a Rice University scientist.
Rouzbeh Shahsavari, an assistant professor of civil and environmental engineering, suggested the incorporation of ultrathin hexagonal boron nitride (hBN) sheets between layers of calcium-silicates would make an interesting bilayer crystal with multifunctional properties. These could be suitable for construction and refractory materials and applications in the nuclear industry, oil and gas, aerospace, and other areas that require high-performance composites.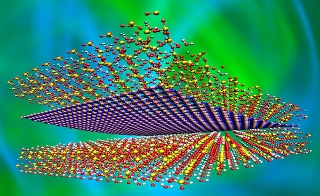 Bilayer white graphene (middle layer) combined with calcium-silicate creates a multifunctional ceramic with high strength and toughness, according to a Rice University lab. The material may be suitable for construction and refractory materials and applications in the nuclear industry, oil and gas, aerospace, and other areas that require high-performance composites. [Illustration by Rouzbeh Shahsavari]
Combining the materials would make a ceramic that's not only tough and durable but resistant to heat and radiation. By Shahsavari's calculations, calcium-silicates with inserted layers of two-dimensional hBN could be hardened enough to serve as shielding in nuclear applications like power plants.
The research appears in the American Chemical Society journal ACS Applied Materials and Interfaces.
Two-dimensional hBN is nicknamed white graphene and looks like graphene from above, with linked hexagons forming an ultrathin plane. But hBN differs from graphene because it consists of alternating boron and nitrogen, rather than carbon, atoms.
"This work shows the possibility of material reinforcement at the smallest possible dimension, the basal plane of ceramics," Shahsavari said. "This results in a bilayer crystal where hBN is an integral part of the system as opposed to conventional reinforcing fillers that are loosely connected to the host material.
"Our high-level study shows energetic stability and significant property enhancement owing to the covalent bonding, charge transfer and orbital mixing between hBN and calcium silicates," he said.
The form of ceramic the lab studied, known as tobermorite, tends to self-assemble in layers of calcium and oxygen held together by silicate chains as it dries into hardened cement. Shahsavari's molecular-scale study showed that hBN mixes well with tobermorite, slips into the spaces between the layers as the boron and oxygen atoms bind, and buckles the flat hBN sheets.
This accordion-like buckling is due to the chemical affinity and charge transfer between the boron atoms and tobermorite that stabilizes the composite and gives it high strength and toughness, properties that usually trade off against each other in engineered materials, Shahsavari said. The explanation appears to be a two-phase mechanism that takes place when the hBN layers are subjected to strain or stress.
Shahsavari's models of horizontally stacked tobermorite and tobermorite-hBN showed the composite was three times stronger and about 25 percent stiffer than the plain material. Computational analysis showed why: While the silicate chains in tobermorite failed when forced to rotate along their axes, the hBN sheets relieved the stress by first unbuckling and then stiffening.
When compressed, plain tobermorite displayed a low yield strength (or elastic modulus) of about 10 gigapascals (GPa) with a yield strain (the point at which a material deforms) of 7 percent. The composite displayed yield strength of 25 GPa and strain up to 20 percent.
"A major drawback of ceramics is that they are brittle and shatter upon high stress or strain," Shahsavari said. "Our strategy overcomes this limitation, providing enhanced ductility and toughness while improving strength properties.
"As a bonus, the thermal and radiation tolerance of the system also increases, rendering multifunctional properties," he said. "These features are all important to prevent deterioration of ceramics and increase their lifetime, thereby saving energy and maintenance costs."
When the material was tested from other angles, differences between the pure tobermorite and the composite were less pronounced, but on average, hBN improved the material's properties significantly.
"Compared with one-dimensional fillers such as conventional fibers or carbon nanotubes, 2D materials like hBN are two-sided, so they have twice the surface area per unit mass," Shahsavari said. "This is perfect for reinforcement and adhesion to the surrounding matrix."
He said other 2D materials like molybdenum disulfide, niobium diselenide, and layered double hydroxide may also be suitable for the bottom-up design of high-performance ceramics and other multifunctional composite materials.
The National Science Foundation supported the research. Supercomputing resources were supplied by the National Institutes of Health and an IBM Shared University Research Award in partnership with Cisco, Qlogic, and Adaptive Computing, as well as Rice's National Science Foundation-supported DAVinCI supercomputer administered by the Center for Research Computing and procured in partnership with Rice's Ken Kennedy Institute for Information Technology.
Source: Rice University
Published February 2018
Rate this article