How mobile equipment manufacturers benefit from using formed thermoplastic hoses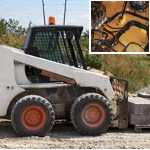 The proper assembly, installation, and specifying of the right hoses and tubing for the application are critical to the trouble-free operation of mobile equipment employed in construction, forestry, mining, and similar industries. This latest blog from Parker examines how formed thermoplastic hoses address these challenges and details how a skid-steer manufacturer reduced labor time and realized significant cost savings.
Read the full article.
---
Inch-size mounting clamps with swivel ball joint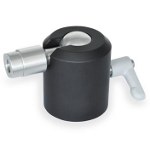 GN 784 mounting clamps with swivel ball joint from JW Winco allow precise and variable adjustment of the ball pivot within the rotation range. This is a particular advantage when adjusting scanners, cameras, lighting, monitors, etc. Thanks to the efficient clamping mechanism, only small amounts of torque on the clamping screw result in comparatively strong clamping pressure on the ball. This force is easily applied by the clamping lever.
Learn more.
---
Precision ceramic and glass microcomponents
Goodfellow, a favorite materials provider for Designfax readers, also supplies a wide variety of ceramic and glass microcomponents, both standard items and items precision-machined to customer specifications. Examples include: ultra-thin glass microsheet for use as transparent substrates and electrical insulators; precision spheres for use as precision spacers and optical components; micro optics such as prisms, lenses, and windows; injection-molded ceramic microcomponents for surgical equipment and fiber-optic applications; polished sapphire bearings and sub-mm bore nozzles; and single- and multi-bore capillary tubing. Other items are available upon request.
Learn more.
---
Cool Tools: Unit Conversion Tool

Convert popular spring units such as force or retaining ring thrust capacities into metric units with Smalley's engineering tools. Convert units such as mass and weight, angular measurements, velocities, temperatures, pressures and densities, and more.
Click here to learn more. You should bookmark this one.
---
Smith Metal Products adds Titanium Metal Injection Molding capabilities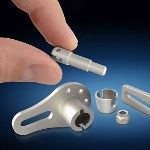 Smith Metal Products has added Titanium Metal Injection Molding (TiMIM) capabilities to its MIM portfolio of materials that include stainless steels, alloys, and ceramics. TiMIM involves mixing powdered Titanium metal with a binder material to compose a feedstock capable of being handled by injection molding equipment. Metal injection molding allows complex Titanium parts to be shaped with precision in a single operation and in high volume as compared to traditional Titanium machined metal components.
Learn more.
---
Linear miniature torque splines and nuts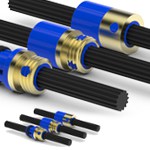 Helix Miniature Torque Splines provide a convenient and efficient device that allows low-friction linear motion while transmitting torque. In a Helix PT Spline assembly, the high-strength composite polymer bushing carries the load between the rotating member (inner race) and the rotating/translating member (bushing). Helix PT Splines are coated with Helix H10X PTFE coating for long life and anti-friction. Available in three bushing styles: Cylinder Mount, Thread Mount, and Anti-Backlash.
Click here to learn more.
---
Entry-level industrial-grade 3D printer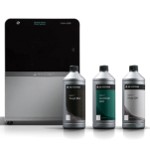 The FabPro 1000 from 3D Systems is a new entry-level system that packs 30 years of industrial 3D-printing know-how into its design to deliver superior quality at up to 3X faster high-throughput print speeds than competing printers. Digital Light Printing (DLP) Stereolithography uses a projector to image each layer within a UV-curable, liquid plastic material. This easy-to-use system, with a build size of 125 x 70 x 120 mm (4.92 x 2.76 x 4.72 in.), has 3D Sprint file preparation and print software included -- all at a price of $4,995.
Learn more about it.
---
Save time with Spirolox® retaining rings

Unlike die-stamped circlips, Spirolox retaining rings and constant section rings are coiled on edge to the exact diameter required. Spirolox rings have no protruding ears to interfere with mating components in an assembly and do not require special tools for removal or installation. Unlike traditional fasteners, retaining rings eliminate machining and threading, reducing costs and weight. Spiral retaining rings do not require special tools for removal and are supplied standard with removal notches for easy extraction from a groove. Smalley offers over 6,000 standard rings, which are readily available in both carbon and stainless steel. For more information, download the eBook. Visit Smalley.com to request a catalog and product samples, or contact one of Smalley's engineers with questions.
---
Polyplastics develops metal-resin bonding tech for automotive and electrical/electronics
Polyplastics (Tokyo), a global supplier of engineering thermoplastics, has developed an innovative technology for direct metal-resin bonding, a process that uses metal insert molding. Metal parts and resins are firmly bonded by introducing molten resin through injection molding to metal parts that have already undergone sufficient surface treatment. Metal-resin composites deliver the properties of metals (high rigidity, electrical conductivity) and engineering plastics (low density, electrical insulation). This technology has overcome the many factors that traditionally have had an adverse effect and prevented stable bonding. Polyplastics has a U.S. presence in Farmington Hills, MI.
Click here to learn more.
---
Surface treatment available for strongest cast aluminum alloy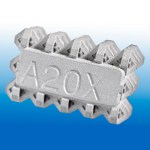 General Magnaplate Corp. has made an exclusive license agreement with the U.K.'s Poeton Industries for the Apticote A20X surface enhancement process, used for treating the innovative A20X aluminum alloy. A20X is MMPDS certified (as AA205) and is the strongest cast aluminum alloy available today, with strength properties comparable to 7000 series wrought material. A20X cast and additively manufactured parts are in production today for major aerospace customers. The AptiMag-X treatment enhances the surface of A20X parts, improving wear resistance, hardening, and finish. The agreement means that General Magnaplate will become the exclusive supplier of Apticote A20X, which they will brand AptiMag-X in North America. Licensed A20X foundries, additive manufacturing companies, and aerospace customers will be able to have parts treated with AptiMag-X at the company's facilities in Linden, NJ, and Arlington, TX.
Click here to learn more.
---
New bearings for high-speed applications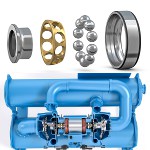 A clear trend in compressor and pump applications is to raise the power density by increasing the rotational speed. To fulfill this requirement, SKF has developed a new range of single-row angular contact ball bearings. The goals have been threefold: to increase the limiting speed by 40 percent, to reduce the noise levels, and to increase the robustness of the bearing in unfavorable operating conditions (shock loads, shaft misalignment, etc.). Apart from these, SKF is helping manufacturers to meet customer demands for even higher levels of energy efficiency and reliability.
Read the full article.
---
What are the strongest adhesives for bonding titanium?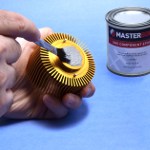 Master Bond's labs recently tested the tensile lap shear strength of a variety of adhesives when bonding titanium to titanium. The surfaces were properly roughened and cleaned with acetone in preparation for the tests. Each of the 11 one- and two-part epoxies tested features different thermal, electrical, and chemical resistance properties that can make them more appealing for specific applications. Therefore, it's important to consider the operational conditions before deciding that the system with the highest strength value is the best for the titanium bonding job.
Learn more.
---
Build a mini synchronous drive system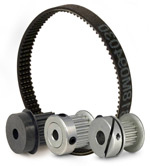 With the Miniature Synchronous Drive System from Stock Drive Products (SDP), you can put your own 1-, 2-, or 3-mm design together in a snap. The tiny timing belts and pulleys are engineered and manufactured to give high accuracy and smooth, dependable operation in 3D printers, moving security cameras, med devices, robotic surgical equipment, self-service machines, and more. Advantages include no-slip synchronization, accurate positioning, high torque transmission with low backlash, quiet operation, and long belt life.
Click here to learn more.
---
New light and tough structural compounds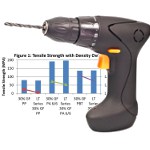 RTP Company has developed new light and tough (LT) Compounds, a series of thermoplastic compounds that weigh 5 to 10 percent less than typical filled compounds, but with equivalent mechanical properties and similar shrinkage values. LT Compounds are a fast and easy way to accomplish weight reductions in parts molded with glass fiber reinforcement without compromising performance or requiring modifications to existing tools. They are best used as lightweight alternatives when the goal is to minimize energy consumption or the amount of human effort required to use the part.
Click here to learn more.
---
Mix-and-match cup mount offers flexibility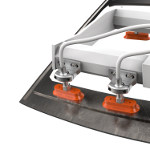 Piab has introduced a flexible mounting system for suction cups that enables users to easily install and configure vacuum technology-based tools and fixtures perfectly tailored for handling such items as automotive body parts or plastic details. The company's Flexible Suction Cup Mount comprises a broad range of interchangeable parts. Several different mounting options for industry-standard end-of-arm tooling connections are available, including Universal joint (C-C 4 4mm), Profile mount (2 x 8/10.5 mm), Lock-pin (19 mm), and Ball-joint. Rods are available in two sizes and are held in place by a clever and user-friendly ball-joint fastening mechanism.
Learn more.
---
White graphene added to ceramics can give them outstanding properties
A little hBN in ceramics could give them outstanding properties, according to a Rice University scientist.
Rouzbeh Shahsavari, an assistant professor of civil and environmental engineering, suggested the incorporation of ultrathin hexagonal boron nitride (hBN) sheets between layers of calcium-silicates would make an interesting bilayer crystal with multifunctional properties. These could be suitable for construction and refractory materials and applications in the nuclear industry, oil and gas, aerospace, and other areas that require high-performance composites.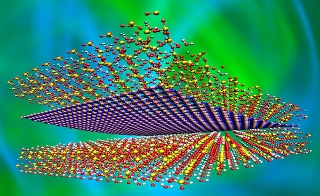 Bilayer white graphene (middle layer) combined with calcium-silicate creates a multifunctional ceramic with high strength and toughness, according to a Rice University lab. The material may be suitable for construction and refractory materials and applications in the nuclear industry, oil and gas, aerospace, and other areas that require high-performance composites. [Illustration by Rouzbeh Shahsavari]
Combining the materials would make a ceramic that's not only tough and durable but resistant to heat and radiation. By Shahsavari's calculations, calcium-silicates with inserted layers of two-dimensional hBN could be hardened enough to serve as shielding in nuclear applications like power plants.
The research appears in the American Chemical Society journal ACS Applied Materials and Interfaces.
Two-dimensional hBN is nicknamed white graphene and looks like graphene from above, with linked hexagons forming an ultrathin plane. But hBN differs from graphene because it consists of alternating boron and nitrogen, rather than carbon, atoms.
"This work shows the possibility of material reinforcement at the smallest possible dimension, the basal plane of ceramics," Shahsavari said. "This results in a bilayer crystal where hBN is an integral part of the system as opposed to conventional reinforcing fillers that are loosely connected to the host material.
"Our high-level study shows energetic stability and significant property enhancement owing to the covalent bonding, charge transfer and orbital mixing between hBN and calcium silicates," he said.
The form of ceramic the lab studied, known as tobermorite, tends to self-assemble in layers of calcium and oxygen held together by silicate chains as it dries into hardened cement. Shahsavari's molecular-scale study showed that hBN mixes well with tobermorite, slips into the spaces between the layers as the boron and oxygen atoms bind, and buckles the flat hBN sheets.
This accordion-like buckling is due to the chemical affinity and charge transfer between the boron atoms and tobermorite that stabilizes the composite and gives it high strength and toughness, properties that usually trade off against each other in engineered materials, Shahsavari said. The explanation appears to be a two-phase mechanism that takes place when the hBN layers are subjected to strain or stress.
Shahsavari's models of horizontally stacked tobermorite and tobermorite-hBN showed the composite was three times stronger and about 25 percent stiffer than the plain material. Computational analysis showed why: While the silicate chains in tobermorite failed when forced to rotate along their axes, the hBN sheets relieved the stress by first unbuckling and then stiffening.
When compressed, plain tobermorite displayed a low yield strength (or elastic modulus) of about 10 gigapascals (GPa) with a yield strain (the point at which a material deforms) of 7 percent. The composite displayed yield strength of 25 GPa and strain up to 20 percent.
"A major drawback of ceramics is that they are brittle and shatter upon high stress or strain," Shahsavari said. "Our strategy overcomes this limitation, providing enhanced ductility and toughness while improving strength properties.
"As a bonus, the thermal and radiation tolerance of the system also increases, rendering multifunctional properties," he said. "These features are all important to prevent deterioration of ceramics and increase their lifetime, thereby saving energy and maintenance costs."
When the material was tested from other angles, differences between the pure tobermorite and the composite were less pronounced, but on average, hBN improved the material's properties significantly.
"Compared with one-dimensional fillers such as conventional fibers or carbon nanotubes, 2D materials like hBN are two-sided, so they have twice the surface area per unit mass," Shahsavari said. "This is perfect for reinforcement and adhesion to the surrounding matrix."
He said other 2D materials like molybdenum disulfide, niobium diselenide, and layered double hydroxide may also be suitable for the bottom-up design of high-performance ceramics and other multifunctional composite materials.
The National Science Foundation supported the research. Supercomputing resources were supplied by the National Institutes of Health and an IBM Shared University Research Award in partnership with Cisco, Qlogic, and Adaptive Computing, as well as Rice's National Science Foundation-supported DAVinCI supercomputer administered by the Center for Research Computing and procured in partnership with Rice's Ken Kennedy Institute for Information Technology.
Source: Rice University
Published February 2018
Rate this article