New food-grade high-performance PEEK polymers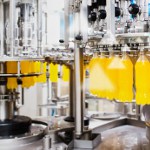 To help OEMs meet the stringent regulatory and quality demands affecting the food equipment industry, Victrex is introducing a dedicated PEEK food-grade portfolio. Compared to metal components, the new VICTREX FG family of high-performing thermoplastics offers additional benefits in terms of cost effectiveness, productivity, and performance for OEMs -- and the neutral taste expected by consumers. In addition, with the adoption of Industry 4.0 technology, VICTREX PEEK can offer food and beverage manufacturers the opportunity to optimize efficiency and reduce production costs, when compared to the use of metals.
Learn more.
---
Structural adhesive offers high-temperature stability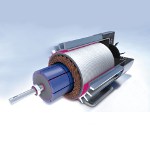 DELO MONOPOX HT2860 achieves up to three times the strength at a temperature of 150 C compared to previous product generations. Ideal for bonding magnets in electric motors used in cars, drilling, milling tools, washing machines, as well as in many other applications, this new adhesive has a glass transition temperature (Tg) of 168 C. It achieves a strength of 18 MPa on sand-blasted aluminum at 150 C. This is up to three times higher than standard epoxy resins. The versatile epoxy resin can be heat-cured in an oven for 40 minutes at 150 C or by induction.
Learn more.
---
How specialized coatings can make mechanical parts harder for extreme industrial applications
Although bearings, gears, rollers, and other precision components are generally made of hardened steel or metal alloys, those used in high-load applications still can fail due to excessive wear, surface fatigue, pitting, galling, and corrosion. To address this problem, product engineers and component manufacturers often turn to specialized PVD (physical vapor deposition) coatings that can further harden the surface of these parts. Oerlikon Balzers provides solid solutions.
Read the full article.
---
Stainless steel multiple-joint hinges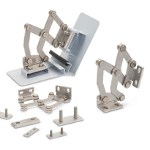 JW Winco now offers GN 7237 Stainless Steel Multiple-Joint Hinges with internal mounting brackets and a maximum opening angle of 180 deg. These multi-joint hinges are installed on the inside of flaps, hatches, or compartment doors to save space and ensure protection against vandalism. These hinges are generally used in pairs, meaning that one type L (left-hand) and one type R (right-hand) are used per opening. For higher loads, such as from large hatches, these can be supplemented with additional hinges of either type.
Learn more.
---
Automated formed-in-place gasket foam process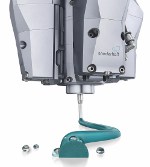 Formulated to conform to highly intricate metal and plastic components, Fermapor K31 from Sonderhoff USA (now part of Henkel AG & Co.) is a product line of two-component, crosslinking polyurethane formed-in-place (FIP) foam sealants designed to create a barrier gasket that effectively protects industrial assemblies from moisture, dust, dirt, liquids, and other contaminants. Fermapor K31 products offer dramatic cost and performance advantages over prefabricated, manually applied cut gaskets. The technology effectively seals electrical and electronic housings, lighting enclosures, appliances, automotive components, and other contaminant-sensitive consumer and industrial assemblies.
Learn more.
---
New carbon fiber material for SAAM additive systems from Cincinnati Inc.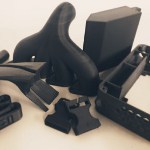 Cincinnati Inc. (CI) has released a new carbon fiber resin material for its SAAM (Small Area Additive Manufacturing) fused filament fabrication 3D-printing system. The new material is impact resistant, lightweight, and has a very high strength-to-weight ratio. Carbon fiber reinforcement makes the material stiff, durable, and very low warping -- and advanced inter-layer adhesion results in accurate, quality parts with good dimensions. The material's superior surface finish makes it perfect for custom tooling applications, as well as assembly, CMM, welding, and CNC fixtures.
Learn more about the carbon fiber material.
Learn more about Small Area Additive Manufacturing system.
---
World's first particle foam based on polyethersulfone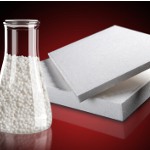 After two years of intensive research, BASF is now able to present prototypes of the world's first particle foam based on polyethersulfone (PESU). The foam is characterized by its unique combination of properties: high-temperature resistance, inherent flame retardancy, and extreme light weight coupled with great stiffness and strength. It is therefore particularly well suited for complex-shaped components in cars, airplanes, and trains.
Learn more.
---
Modern CAD for Machine Design (new eBook)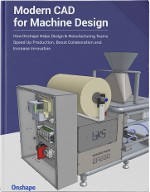 In Onshape's latest eBook, "Modern CAD For Machine Design," you'll be introduced to five machinery companies that recently modernized their entire design and manufacturing process with one key decision: switching to a modern, cloud-based CAD system, enabling their design teams to cast aside old software headaches and focus on doing their best work. You'll read insights from: GKS Packaging (Vertical Form, Fill and Seal Machines), Universal Logic (Artificial Intelligence/Robotics), Voxel Innovations (Pulsed Electrochemical Machining), Hirebotics (Robotics), and Absolute Machinery (Injection Molding).
Get your eBook today.
---
Conserve precious liquids with patented no-drip atomizing nozzles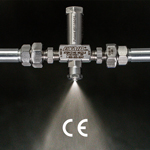 EXAIR's new 1/8 NPT No Drip External Mix Atomizing Spray Nozzles mix liquid and air outside the nozzle and allow the air and liquid flows to be adjusted independently. The new, patented No Drip External Mix Atomizing Spray Nozzles work in the same way the company's standard atomizing nozzles do, but have the added benefit of positively stopping liquid flow when compressed air is shut off. Post-spray drips waste precious resources such as expensive coatings, chemicals, or water.
Learn more.
---
Compact electronic slide bolt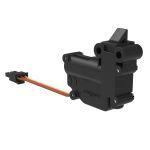 Southco has expanded its line of electronic access control solutions with a compact electronic slide bolt that simplifies the upgrade from mechanical to electromechanical latching. The lightweight EM-05 5 Series Electronic Slide Bolt is suitable for light-load applications where space is limited, and the efficient gear motor-driven mechanism can be easily integrated with any control system. This unit features simple push-to-close functionality and offers an upgrade in energy efficiency compared with solenoid solutions, as no power is required to maintain the product's retracted or extended position. It offers simple installation and retrofits.
Click here to learn more.
---
Spinning flare nuts eliminate loose fasteners in thin metal sheet applications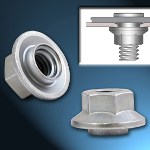 PEM SFN spinning flare nuts from Penn-Engineering become permanently captivated upon installation in thin metal sheets and, when paired with a self-clinching stud or other fixed externally threaded hardware, can eliminate all loose fasteners (including flange nuts) in attachment applications. These one-piece, flanged hex nuts additionally will spin freely in a sheet enabling quick attachment to mating hardware. Their use ultimately promotes savings in assembly time and costs.
Learn more.
---
Test your knowledge: High-temp adhesives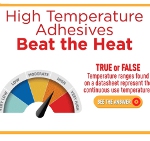 Put your knowledge to the test by trying to answer these key questions on how to choose the right high temperature-resistant adhesive. The technical experts from Master Bond cover critical information necessary for the selection process, including questions on glass transition temperature and service temperature range. Some of the answers may surprise even the savviest of engineers.
Take the quiz.
---
Maintenance-free bearings help pool owners keep it clean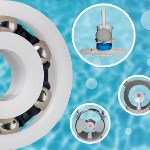 A company in Austria has designed a swimming pool cleaning device with maintenance-free polymer ball bearings from igus that helps people keep their water crystal clear. Poolwonder designers chose corrosion-resistant and maintenance-free components because of the unique application for underwater use.
Read the full article.
---
Build a mini synchronous drive system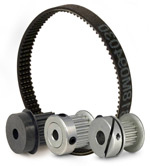 With the Miniature Synchronous Drive System from Stock Drive Products (SDP), you can put your own 1-, 2-, or 3-mm design together in a snap. The tiny timing belts and pulleys are engineered and manufactured to give high accuracy and smooth, dependable operation in 3D printers, moving security cameras, med devices, robotic surgical equipment, self-service machines, and more. Advantages include no-slip synchronization, accurate positioning, high torque transmission with low backlash, quiet operation, and long belt life.
Click here to learn more.
---
How colorants affect plastic characteristics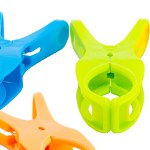 If you're starting a custom plastic injection molding project, you'll want to select a material with the properties most suitable for the function of your parts. One aspect of polymer characteristics that doesn't always get the consideration it deserves is the addition of colorant. Believe it or not, there is a whole scientific body of knowledge about the ways in which adding color to plastic can affect the behavioral properties of the plastic. This short article by Denny Scher of ICO Mold takes a high-level look at some of the different, and surprising, ways colorants can have an effect on plastics.
Read the full article.
---
White graphene added to ceramics can give them outstanding properties
A little hBN in ceramics could give them outstanding properties, according to a Rice University scientist.
Rouzbeh Shahsavari, an assistant professor of civil and environmental engineering, suggested the incorporation of ultrathin hexagonal boron nitride (hBN) sheets between layers of calcium-silicates would make an interesting bilayer crystal with multifunctional properties. These could be suitable for construction and refractory materials and applications in the nuclear industry, oil and gas, aerospace, and other areas that require high-performance composites.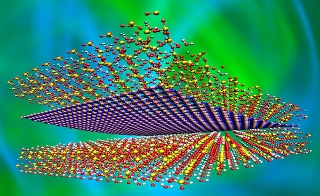 Bilayer white graphene (middle layer) combined with calcium-silicate creates a multifunctional ceramic with high strength and toughness, according to a Rice University lab. The material may be suitable for construction and refractory materials and applications in the nuclear industry, oil and gas, aerospace, and other areas that require high-performance composites. [Illustration by Rouzbeh Shahsavari]
Combining the materials would make a ceramic that's not only tough and durable but resistant to heat and radiation. By Shahsavari's calculations, calcium-silicates with inserted layers of two-dimensional hBN could be hardened enough to serve as shielding in nuclear applications like power plants.
The research appears in the American Chemical Society journal ACS Applied Materials and Interfaces.
Two-dimensional hBN is nicknamed white graphene and looks like graphene from above, with linked hexagons forming an ultrathin plane. But hBN differs from graphene because it consists of alternating boron and nitrogen, rather than carbon, atoms.
"This work shows the possibility of material reinforcement at the smallest possible dimension, the basal plane of ceramics," Shahsavari said. "This results in a bilayer crystal where hBN is an integral part of the system as opposed to conventional reinforcing fillers that are loosely connected to the host material.
"Our high-level study shows energetic stability and significant property enhancement owing to the covalent bonding, charge transfer and orbital mixing between hBN and calcium silicates," he said.
The form of ceramic the lab studied, known as tobermorite, tends to self-assemble in layers of calcium and oxygen held together by silicate chains as it dries into hardened cement. Shahsavari's molecular-scale study showed that hBN mixes well with tobermorite, slips into the spaces between the layers as the boron and oxygen atoms bind, and buckles the flat hBN sheets.
This accordion-like buckling is due to the chemical affinity and charge transfer between the boron atoms and tobermorite that stabilizes the composite and gives it high strength and toughness, properties that usually trade off against each other in engineered materials, Shahsavari said. The explanation appears to be a two-phase mechanism that takes place when the hBN layers are subjected to strain or stress.
Shahsavari's models of horizontally stacked tobermorite and tobermorite-hBN showed the composite was three times stronger and about 25 percent stiffer than the plain material. Computational analysis showed why: While the silicate chains in tobermorite failed when forced to rotate along their axes, the hBN sheets relieved the stress by first unbuckling and then stiffening.
When compressed, plain tobermorite displayed a low yield strength (or elastic modulus) of about 10 gigapascals (GPa) with a yield strain (the point at which a material deforms) of 7 percent. The composite displayed yield strength of 25 GPa and strain up to 20 percent.
"A major drawback of ceramics is that they are brittle and shatter upon high stress or strain," Shahsavari said. "Our strategy overcomes this limitation, providing enhanced ductility and toughness while improving strength properties.
"As a bonus, the thermal and radiation tolerance of the system also increases, rendering multifunctional properties," he said. "These features are all important to prevent deterioration of ceramics and increase their lifetime, thereby saving energy and maintenance costs."
When the material was tested from other angles, differences between the pure tobermorite and the composite were less pronounced, but on average, hBN improved the material's properties significantly.
"Compared with one-dimensional fillers such as conventional fibers or carbon nanotubes, 2D materials like hBN are two-sided, so they have twice the surface area per unit mass," Shahsavari said. "This is perfect for reinforcement and adhesion to the surrounding matrix."
He said other 2D materials like molybdenum disulfide, niobium diselenide, and layered double hydroxide may also be suitable for the bottom-up design of high-performance ceramics and other multifunctional composite materials.
The National Science Foundation supported the research. Supercomputing resources were supplied by the National Institutes of Health and an IBM Shared University Research Award in partnership with Cisco, Qlogic, and Adaptive Computing, as well as Rice's National Science Foundation-supported DAVinCI supercomputer administered by the Center for Research Computing and procured in partnership with Rice's Ken Kennedy Institute for Information Technology.
Source: Rice University
Published February 2018
Rate this article