New 22-mm brushless servo motor packs a punch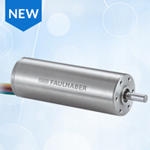 MICROMO has launched the brand new FAULHABER 2264 BP4 series brushless dc servo motor, which is ideally suited for handheld tools and devices such as motorized surgical instruments, grippers and robotics, advanced prosthetics, aerospace applications, and even for electric pruning shears and motorized screwdrivers. At 22 mm in diameter, 64 mm in length, and weighing only 140 grams, the 2264 BP4 series delivers 59 mNm of continuous torque and reaches speeds up to 34,500 rpm. These impressive power and performance characteristics are possible due to a new segmented winding of the coil, which also improves the overall efficiency of the motor.
Click here to learn more.
---
New telescopic pillars for medical equipment support heavier loads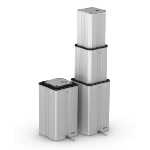 SKF CPMT telescopic pillars from SKF Motion Technologies for integration into surgical tables, procedure chairs, and similar medical equipment are complete plug-and-play systems that provide OEM designers with ideal technologies to equip healthcare facilities with reliable, safe, and virtually maintenance-free vertical motion solutions. CPMT telescopic pillars combine a low retracted height (320 mm or 12.6 in.) with a high stroke range (up to 600 mm or 23.6 in.) to improve accessibility for patients without compromising the extended height necessary for procedures. Other capabilities include a high load-carrying capacity (up to 6,000 N or 1,350 lb), as well as fast positioning speeds and the ability to access pre-set positions for overall clinical efficiencies.
Click here to learn more.
---
Tips for selecting linear actuators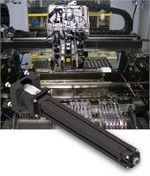 Aaron Dietrich from Tolomatic runs through the main specifying considerations for electric actuators, citing their high performance, adaptability, low total cost of ownership, and easy integration. But what about accuracy and repeatability? Should you go with a rod-style actuator or a screw type? What kind of force should you expect if you are considering converting from hydraulic to electric actuation? Tolomatic also offers an extensive ebook to help with your decision-making if you need it.
Click here to learn more.
---
Universal Robots' CTO wins 'Nobel Prize of Robotics' for pioneering cobots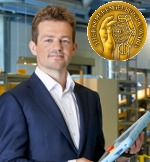 The Robotic Industries Association (RIA) recently announced Esben Østergaard as the recipient of the Engelberger Robotics Award. Østergaard spearheads the development of Universal Robots' collaborative robot arms, representing one of the most significant technology breakthroughs coming out of the robotics community in decades.
Read the full article.
---
High-performance, high-load linear stages for industrial use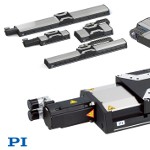 The new reference-class linear stages from precision nano-positioning global leader PI (Physik Instrumente) are available in ballscrew (L-417) and linear motor (V-417) configurations. Both cost-effective designs offer high resolution with improved tracking performance, smaller tracking error, and improved settling time. Applications include laser cutting, scanning, digital printing, electronics assembly and inspection, and more. The L-417 precision heavy-duty ball screw model easily accommodates a load capacity of 450 N on its 166-m width frame with a travel up to 813 mm. Powered by an ironless linear motor, the V-417 has a similar load capacity, width, and travel range.
Learn more about the L-417 ball screw model.
Learn more about the V-417 ironless linear motor model.
---
Motor-to-motor communication is 1-2 punch for machine builders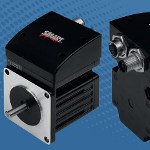 Combitronic™ is a propri-etary communica-tions protocol developed by Moog Animatics exclusively for its SmartMotor™. With Combitronic technology, any SmartMotor can read from, write to, and control any other SmartMotor, can act as the master, and can pass master control from one SmartMotor to another -- virtually eliminating the need for a PLC or other bus master. Combined with the CDS7 motor option, the technology allows a simple, single-cable, power and communications connection from motor to motor, giving the machine builder a simple, cost-effective way to build a network of Class 5 D-Style SmartMotor integrated servos.
Learn more.
---
Complete guided motion solutions from A to X-Y-Z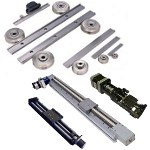 Bishop-Wisecarver invented and patented DualVee Motion Technology® more than 40 years ago to provide a solution for harsh environment applications where existing technologies were ineffective. DualVee® also proved excellent for long length, smooth motion, and low noise requirements. Today, Bishop-Wisecarver remains the recognized expert and the most trusted name in guide wheel technology, with the widest range of guide wheel-based linear motion products in the world.
Discover the benefits of Bishop-Wisecarver Guide Wheel Technology.
---
New rodless pneumatic cylinder supports compact machine design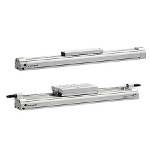 Aventics now offers a new product for applications where the basic variants just won't do the trick, but high-performance cylinders are too powerful. The new RTC-SB slide bearing version rounds off the pneumatics specialist's RTC range of rodless cylinders. At the heart of the RTC-SB (slide bearing) is its oval piston shape. In relation to its size, it offers a very high load capacity. As a result, engineers can draft even more compact machine designs. Equipped with a lubrication-free slide bearing, the cylinder is maintenance-free and resistant to water, chemicals, and dirt. The slide play is optimally adjusted at the factory. Max speed is 6.5 m/sec (21.3 ft/sec). Maximum stroke is around 6,000 mm (21.6 ft).
Learn more.
---
Revolutionary new high-pressure electric pump system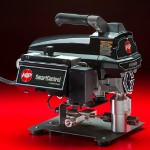 High Pressure Equipment Co. (HiP), a subsidiary of Graco, introduces the eTensifer pump, the first-of-its-kind high-pressure electric pump system. The plug-and-play pump simply plugs into a wall outlet -- no need for an air compressor like other high-pressure pumps on the market. The portable, lightweight (only 46 lb) eTensifier will deliver hydraulic/liquid pressures to 36,500 psi with a smoother flow rate from zero to full pressure and a quiet electric motor. SmartControl™ technology allows for two operational modes: a traditional pressure knob for standard jobs and an industry-first pressure test mode. Another first is the ProConnect™ quick-connect system that allows users to switch out the Sprague pump lower.
Learn more.
---
World's smallest stepper motor is a big win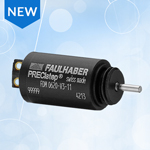 MICROMO presents the FAULHABER FDM 0620 series stepper motor. Measuring just 6 mm in diameter and 9.7 mm in length, including all components and connections, and with a 0.25-mNm holding torque rating, the FDM 0620 stepper motor series is small enough to fit in the most compact spaces for limitless applications. This micro stepper motor is also now available for purchase online with and without leadscrew options.
Click here to learn more.
---
Small brush DC motors drive handheld biopsy system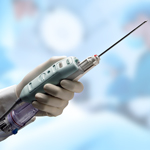 When developing an automated, handheld system capable of harvesting multiple samples with a single insertion to reduce patient tissue trauma and sampling time, this medical device manufacturer turned to MICROMO for compact and high-efficiency FAULHABER® brush DC motors.
Read the full article.
---
Compact angle sensor for robotics and other applications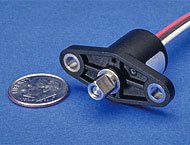 See the robotics video demonstrating ease of programming and robotics application of certain angle sensors from Novotechnik. Novotechnik's Vert-X 1600 Series of angle sensors (shown here) features easy mounting in tight spaces with a 16 mm diameter body. The sensors measure 0 to 360° with linearity ≤ ±0.3%, 14-bit resolution and repeatability to 0.1°. A variety of analog and digital output options are available.
View the video.
---
Zero-backlash servo rotary indexing table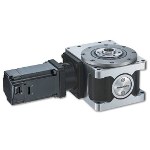 The Sankyo Automation RollerDrive Reducer is a precision gear reducer that uses a zero-backlash roller gear mechanism. The unit is constructed from an input shaft and a turret (output shaft) that is assembled with roller followers. The roller followers are preloaded against a screw-like input shaft to eliminate backlash. Sankyo servo indexing tables offer a constant lead cam with a servo motor drive for programmable motion and provide fast, highly accurate motion, with the added capability to move medium to heavy loads. The RU Series servo indexing table is available in 11 different sizes and varying ratios.
Click here to learn more.
---
Plug-in motor controller for fast integration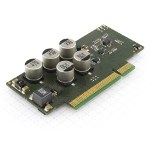 Nanotec has introduced a new controller specifically for integration into devices: the NP5 plug-in motor controller, which is suitable for both brushless DC motors and stepper motors. A PCI Express connector allows for fast and easy integration into a customer-specific board, offering a compact and affordable solution that reduces wiring effort, particularly for multi-axis applications. The NP5 controller can control motors with a rated current up to 6 A via FOC, Hall sensors, or sensorless control. In addition to position, speed, and torque control, operating modes with cyclical set value specification are also available for interpolated multi-axis operation. Nanotec offers the free Plug & Drive Studio software for parameterization and programming.
Click here to learn more.
---
Low-profile rotary air bearing stages achieve superior accuracy with virtually unlimited life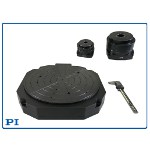 The new A-635/A-637 PIglide low-profile rotary air bearing stages from PI (Physik Instrumente) have no rolling or sliding elements and deliver frictionless, non-contact motion, resulting in negligible reversal error and better wobble eccentricity and velocity stability -- ideal prerequisites for high-end industrial applications such as inspection, metrology, calibration, and scanning, including cleanroom environments. Featuring 3-phase, low-cogging slotless torque motors with velocity to 500 rpm and optical encoders, these stages provide outstanding resolution, repeatability, and absolute accuracy.
Click here to learn more.
Watch PI's Air Bearing Design & Manufacturing Operation Video.
---
DARPA turns its unmanned anti-submarine ship prototype over to Navy for further development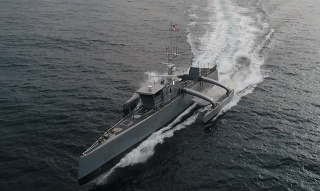 The Office of Naval Research (ONR) will continue developing DARPA's revolutionary prototype vehicle called Sea Hunter as the Medium Displacement Unmanned Surface Vehicle (MDUSV).
DARPA has successfully completed its Anti-Submarine Warfare (ASW) Continuous Trail Unmanned Vessel (ACTUV) program and has officially transferred the technology demonstration vessel, christened Sea Hunter, to the Office of Naval Research (ONR). ONR will continue developing the revolutionary prototype vehicle -- the first of what could ultimately become an entirely new class of ocean-going vessel -- as the Medium Displacement Unmanned Surface Vehicle (MDUSV). One feature that makes the vessel a standout is that it is able to traverse thousands of kilometers over open seas for months at a time -- without a single crew member aboard.
ACTUV is a 130-ft twin-screw trimaran, designed for enhanced stability in all kinds of weather. It has a number of unusual features, because it does not need to accommodate people. For example, interior spaces are accessible for maintenance but aren't designed to support a permanent crew.
"It has enough range and endurance that it can get anywhere in the world from U.S. territory," said Scott Littlefield, program manager in DARPA's Tactical Technology Office, at the vessel's christening event in 2016. "There are two diesel engines; one port, one starboard. Two shafts, two reduction gears, so two completely separate propulsion trains." Its max speed is 27 knots.
VIDEO: ACTUV construction time lapse.
But of broader technical significance is that ACTUV embodies breakthroughs in autonomous navigational capabilities with the potential to change the nature of U.S. maritime operations. Through at-sea testing on a surrogate vessel, ACTUV's autonomy suite has proven capable of operating the ship in compliance with maritime laws and conventions for safe navigation -- including International Regulations for Preventing Collisions at Sea, or COLREGS. ACTUV accomplishes this feat through advanced software and hardware that serve as automated lookouts, enabling the ship to operate safely near manned maritime vessels in all weather and traffic conditions, day or night. ACTUV is designed to normally operate under sparse remote supervisory control but can also serve as a remotely piloted vessel, should the mission or specific circumstances require it. In either case, it would operate at a fraction of the cost of manned vessels that are today deployed for similar missions
"ACTUV's move from DARPA to ONR marks a significant milestone in developing large-scale USV technology and autonomy capabilities," said Alexander Walan, a program manager in DARPA's Tactical Technology Office (TTO). "Our collaboration with ONR has brought closer to reality a future fleet in which both manned warships and capable large unmanned vessels complement each other to accomplish diverse, evolving missions."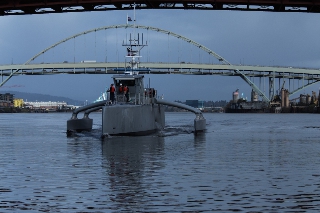 ACTUV Prototype Vessel during on-water tests in Portland, OR, in 2016.
The Sea Hunter was developed as an unmanned vessel optimized to track quiet diesel electric submarines. The program is structured around three primary goals:
Explore the performance potential of a surface platform conceived from concept to field demonstration under the premise that a human is never intended to step aboard at any point in its operating cycle. As a result, a new design paradigm emerges with reduced constraints on conventional naval architecture elements such as layout, accessibility, crew support systems, and reserve buoyancy. The objective is to generate a vessel design that exceeds state-of-the art platform performance to provide propulsive overmatch against diesel electric submarines at a fraction of their size and cost.
Advance unmanned maritime system autonomy to enable independently deploying systems capable of missions spanning thousands of kilometers of range and months of endurance under a sparse remote supervisory control model. This includes autonomous compliance with maritime laws and conventions for safe navigation, autonomous system management for operational reliability, and autonomous interactions with an intelligent adversary.
Demonstrate the capability of the ACTUV system to use its unique characteristics to employ non-conventional sensor technologies that achieve robust continuous track of the quietest submarine targets over their entire operating envelope.
While the Sea Hunter (ACTUV) program has been focused on demonstrating the anti-submarine tracking capability in this configuration, the core platform and autonomy technologies are broadly extendable to underpin a wide range of missions and configurations for future unmanned naval vessels.
"ACTUV represents a new vision of naval surface warfare that trades small numbers of very capable, high-value assets for large numbers of commoditized, simpler platforms that are more capable in the aggregate," said Fred Kennedy, TTO director. "The U.S. military has talked about the strategic importance of replacing 'king' and 'queen' pieces on the maritime chessboard with lots of 'pawns,' and ACTUV is a first step toward doing exactly that."
The agencies' collaboration started in September 2014, when DARPA and ONR agreed to jointly fund an extended test phase of an ACTUV prototype. An April 2016 christening ceremony marked the vessel's formal transition from a DARPA-led design and construction project to a new stage of open-water testing conducted jointly with ONR in San Diego, CA.
In October 2016, DARPA and ONR began at-sea testing of Sea Hunter's sensing and autonomy suites. Between February and September 2017, the vessel passed three progressively challenging tests to integrate the suites and use them to comply with International Regulations for Preventing Collisions at Sea (COLREGS) in operationally realistic scenarios.
DARPA and ONR also conducted tests to prove a key element of the ACTUV/MDUSV design: the flexibility to handle diverse missions by switching among modular payloads. Sea Hunter had a successful joint test in September 2016 with DARPA's Towed Airborne Lift of Naval Systems (TALONS) research effort. In August 2017, the vessel conducted at-sea tests with a mine countermeasures (MCM) payload.
ONR plans additional at-sea tests to further develop ACTUV/MDUSV technologies, including automating payload and sensor data processing, rapidly developing new mission-specific autonomous behaviors, and exploring autonomous coordination among multiple USVs. Pending test results, MDUSV could transition to U.S. Navy operations by the end of 2018.
Source: DARPA
Published February 2018
Rate this article