High-performance mini ball screws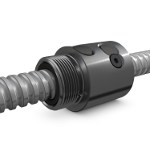 New SKF SP Series high-performance miniature ball screws have been optimized to deliver precise positioning, excellent repeatability, and smooth-running and quiet linear actuation. Their advanced internal ball recirculation system and thread design enable higher speed capabilities (up to 15,000 RPM) and longer operating life compared with conventional rolled ball screws. These robust solutions in small packages can help extend mini machine reliability, increase speed and output, and reduce noise for a wide range of medical, laboratory, automation, and other small-equipment applications. Diameter ranges from 8 mm to 16 mm.
Click here to learn more.
---
Eaton's hydraulic tech powers Valor first flight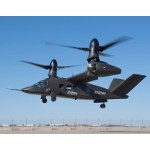 As members of Team Valor, power management company Eaton and Bell Helicopter closed 2017 on an uplifting note with the successful first flight of the Bell V-280 Valor. Created and led by Bell Helicopter, Team Valor is a group of leading aerospace companies working together to develop the next generation of vertical lift aircraft for the U.S. Army. Eaton provided components for the V-280's hydraulic power generation system along with system design and analysis support, component modification and qualification, and flight-test support.
Click here to learn more.
---
Sealing tapes and die-cut gaskets approved for F-16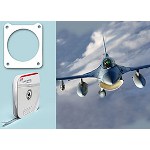 GORE SKYFLEX Aerospace Materials products have been approved for use on F-16 wing access panels. These materials effectively seal panels and protect against mechanical forces and harsh environments that can damage aircraft structures, such as vibration, corrosion, high temperatures, aggressive fluids, UV radiation, and other environmental hazards that tend to break down and weaken traditional materials. Unlike traditional two-component sealants, the materials are lightweight and non-curing, and they simplify the process by reducing installation steps. They are available in a variety of form-in-place (FIP) tapes and die-cut gaskets in various sizes.
Click here to learn more.
---
It's all about precision: Photo etching specialty stainless steels and more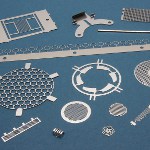 Tech-Etch uses the photo etching process to produce component parts for industrial, aerospace, and medical applications. Precision thin metal parts can be made from specialty stainless steel alloys like MP35N used in implanted medical devices, Elgiloy used in replacement heart valves, and 716 and 420 alloys used for surgical blades. Other etched materials include Inconel, Hastelloy, titanium, niobium, nitinol, and magnesium, which is gaining interest as a bioresorbable surgical implant material. Parts range in thickness from .0005 in. and up. While providing quick turnaround and low tooling costs, photo etching produces burr-free parts with intricate and complex shapes. Designs can be proved in preproduction quantities without having to commit to expensive tooling. Forming, heat treating, plating, laminating, and assembly are available in house.
Learn more. Precision Engineered Parts Capabilities Brochure available too.
---
Lock your gears, sprockets, pulleys, and more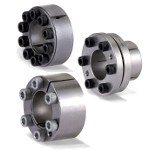 Posi-Lock bushings from Miki Pulley provide system designers with a keyless option for locking into position gears, pulleys, sprockets, and other components in a mechanical system. These bushings feature socket-head cap screws that tighten quickly and easily, allowing the inner and outer hub of the Posi-Lock to move along shaft contact surfaces. Three different models are available. Applications include machine tools, pumps, molding machines, printing systems, robots, and all types of mechanical systems where hub-to-shaft connections are required.
Click here to learn more.
---
How specialized coatings make mechanical parts harder
Although bearings, gears, rollers, and other precision components are generally made of hardened steel or metal alloys, those used in high-load applications still can fail due to excessive wear, surface fatigue, pitting, galling, and corrosion. To address this problem, product engineers and component manufacturers often turn to specialized PVD (physical vapor deposition) coatings that can further harden the surface of these parts. Oerlikon Balzers provides solid solutions.
Read the full article.
---
Air gun with variable flow from the squeeze of a trigger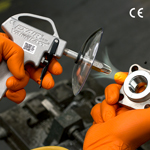 EXAIR's new VariBlast® Compact Safety Air Guns are a small and lightweight cast aluminum air gun capable of handling tough jobs. Because of the engineered variable flow trigger, they are able to produce light, medium, or heavy force upon a target simply by pulling the trigger. This comfortable and ergonomic air gun has two 1/4 NPT air inlets and a storage hanger for convenience. Air consumption of the VariBlast Compact air gun is only 10-17.5 SCFM, depending on the nozzle installed, which is among EXAIR's most efficient air guns. It is capable of producing up to 1 lb of force, making it a great choice for light- to medium-duty applications. Extensions up to 72 in. long available.
Click here to learn more.
---
Cool Tools: FARO Design ScanArm 2.0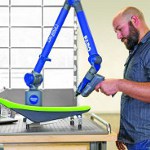 The portable, next-gen FARO Design ScanArm 2.0 was specifically designed to address the most demanding challenges and requirements faced by product design and product engineering professionals. It offers an exceptional combination of flexibility, reliability, value, and performance through best-in-class accuracy, resolution, and ergonomics. The new unit delivers up to 25% improved system accuracy compared to the previous generation. It also incorporates advanced blue laser technology and rapid scanning of up to 600,000 points per second.
Click here to learn more.
---
Increase bearing life, eliminate noise and vibration

Bearing Preload is the process of adding a sustained axial load, independent of external loads. Properly preloading a bearing can increase its life and eliminate vibration and noise that result from specified clearance, manufacturing precision, and wear. The Smalley Bearing Preload Wave Spring Series is designed with gap or overlap geometry to prevent binding in tight radial spaces. Over 10,000 parts stocked and customs can be made from .157" and 4 mm to 120" and 3000 mm diameters with No-Tooling-Costs™.
Click here to learn more.
---
Carbon composite bellows springs for lightweighting and more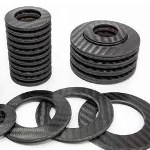 The Carbon Composite Bellows Spring (CCBS) from MW Industries is a system of carbon fiber elements that combine to work as a high-performance, lightweight, and design-flexible compression spring meant to replace conventional coil springs or metallic Belleville disc springs. It offers value through unique dynamic characteristics and unparalleled in-the-field design flexibility. A functional spring is made from several individual elements, paired in sets and joined to make a stack. The spring rate of the stack is determined by the number of elements, the base rate of each element, and their series or parallel orientation in the stack. Applications include motorsports, aerospace, outdoor recreation, general industry, and high-performance activities.
Click here to learn more.
---
Make your own bearings with world's first printable bearing material filament for 3D printers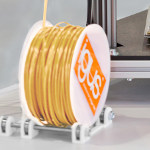 Plastics expert igus has introduced the world's first plastic filament for 3D printers enhanced with tribological, or low-friction, properties. The iglide material, 50 times more resistant to wear and abrasion than conventional 3D-printer materials, is ideally suited for creating custom bearings.
Click here to learn more.
---
Replace metal parts: KyronMAX outperforms long fiber thermoplastics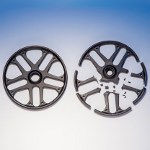 Responding to customer demand for a short fiber thermoplastic material that would outperform the mechanical strength of long fiber thermoplastic (LFT) materials, Piper Plastics developed the KyronMAX series of structural thermoplastic compounds, the next generation in injection-moldable metal replacement technology. KyronMAX is based on short fiber technology, so the polymer behaves more like the isotropic nature of metal and eliminates the processing and fiber breakage concerns associated with LFT compounds. The technology enables very complex parts to be molded with unrivaled mechanical performance and consistency -- and often 20 percent lighter and 20 to 50 percent stronger than LFT.
Click here to learn more.
---
Reverse Engineering add-in 2018 for SOLIDWORKS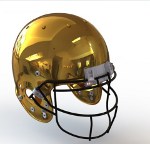 ReverseEngineering.com 2018 for SOLIDWORKS is a reverse engineering application fully integrated into SOLIDWORKS. Users can easily process point clouds, hard probe, and 3D laser scans directly in SOLIDWORKS. Tube measure and quick settings tooling dialog are two features new to the software. Other new capabilities and enhancements include:
No wait time when processing gigabytes of point cloud scan data with Voxel thinning.
Automatic function generates profile curves through a point cloud, allowing users to define and order equal number and spacing of points for parametric spline creation.
Enhanced lock plane simplifies your work flow, users can define point-to-plane snap tolerance capture with a hard probe or 3D scanner.
A standalone Integrated Point Cloud module that doesn't require a SOLIDWORKS license to visualize points, hard probe, or laser scan.
Click here to learn more and read a Schutt Sports application story.
---
Two-stage rotary latch is rugged and secure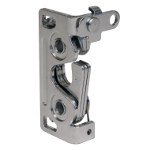 Southco has expanded its successful line of rotary latching solutions with the addition of a stainless steel version of its popular R4-30 series. This two-stage rotary latch is constructed of high-strength, corrosion-resistant stainless steel, making it an ideal choice for enclosures applications exposed to demanding environments, such as an outdoor antenna tower access panel. The design prevents false latching conditions in enclosure applications and provides concealed latching for increased security and industrial design.
Click here to learn more.
---
New adhesives for bonding displays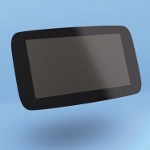 DELO now offers two reliable adhesives that are suitable for bonding display frames as well as cover glass and can be used for joining a display panel to a housing. DELO PHOTOBOND LA4860 is a one-component, light-activated urethane polymer adhesive. Because of its unique curing mechanism, opaque components, like display frames, which often have a black mask on the edge of areas or are bonded to the housings, can be quickly and reliably joined without the need for additional heat curing. Initial strength is reached after a few minutes. DELO-PUR SJ9356 is a two-component, polyurethane hybrid adhesive. This flexible adhesive ensures stable and tension-equalizing bonds and seals, even with changing loads. It is an optimal solution for sealing large bonding gaps.
Click here to learn more.
---
Hypersonic aircraft, lasers, and artificial intelligence: DARPA chief describes promising future defense technologies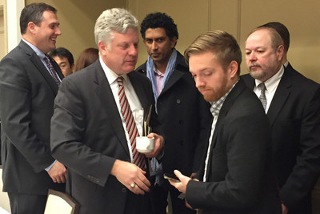 Steven H. Walker, center, the director of the Defense Advanced Research Projects Agency, speaks with a reporter after a discussion with the Defense Writers' Group in Washington. Walker said the agency is being true to its roots in examining technologies and giving DoD options. [DoD photo by Jim Garamone]
By Jim Garamone, Department of Defense
The Defense Advanced Research Projects Agency (DARPA) will employ enhanced funding to discover technologies used to defend the homeland, bolster deterrence, and aid service members engaged in counterterror and counterinsurgency fights, the agency's director said on March 1.
Speaking with the Defense Writers' Group, Steven H. Walker said his agency is working on artificial intelligence projects, hypersonic technologies, promising biological technologies and advanced electronics, among other technologies.
"We understand we are in competition with countries like Russia and China," he said.
Competition with Russia, China
Russia and China are investing heavily in hypersonic technologies involving aircraft that travel between Mach 4 (about 3,070 mph) and Mach 8 (about 6,100 mph), and the two countries also worked on the capability to increase the range of their missiles and decrease the chance that they could be shot down.
DARPA, the U.S. Air Force, and NASA have been working together for years on the technology. At the beginning of the administration, Walker approached Defense leaders with the need for a national initiative to develop hypersonics.
"We did push for a comprehensive initiative in the budget process this fall," he said. "We did receive a budget increase at DARPA and some of the services to do more in hypersonics. I don't think we got all we wanted, but it was a good first step."
Walker looks forward to working with Mike Griffin, the new undersecretary of defense for research and engineering and former NASA administrator. "He understands this problem very well, and I've been told by Mike personally that this will be one of his top priorities," Walker said.
DARPA has supported experiments with hypersonic capabilities, and the boost in funding will allow the agency to assess what can be done with the systems, how effective they are, and how affordable they will be.
He expects test flights next year.
Laser technology
DARPA has also pushed the area of solid-state lasers being tested at White Sands Missile Range in New Mexico. Service members may use directed-energy weapons in a tactical environment soon. "These are not the size of a [Star Wars] light saber, but they can drive it around," Walker said.
In space systems, the agency is looking at the feasibility of very capable low-Earth-orbit satellites to handle a variety of needs from command and control to intelligence, surveillance and reconnaissance, to tactical warfighting.
"We've been talking about this for a while," Walker said. "The difference today is, the technology has moved along to allow you to think about having some pretty capable small satellites that you can put in at (low-Earth orbit) and in larger constellations. We are starting a program called Blackjack ... which is looking at how we leverage the commercial sector and what they want to do at [low-Earth orbit]."
This would be naturally resilient, because it would force an adversary to target a large number of satellites. They would be in low-Earth orbit and relatively cheap to place -- current satellites are in geosynchronous orbit more than 22,300 miles above the Earth.
Artificial intelligence
The director believes the United States is not falling behind Russia and China in artificial intelligence. AI has been on DARPA's plate since the 1960s, he said, and he makes a distinction between "autonomy at rest" and "autonomy in motion" when he discussed AI.
Autonomy at rest involves applications that use judgment to help humans make decisions or to search an area or to collate data.
Autonomy in motion deals with AI systems operating on their own, and while there is a place for these it stops short of the lethal-force decision. Walker said the United States will not allow a machine to make that judgment.
Walker says there needs to be more research in biological fields. He said DARPA is looking at developing flu vaccines in days rather than months or years. He wants the agency to look at ways to protect the nation from biological attack. He wants to look at the issue of gene editing that China, for example, is pushing ahead with. "Biology is a fast-paced field, and certainly you can see China is making a big investment in DNA sequencing and their DNA database," he said.
The United States also needs to invest in advanced electronics, Walker said. China is looking to bring all electronics manufacturing onshore.
"We're looking at the electronics resurgence initiative," he said. "This is $150 million to look at new designs and manufacturing techniques to bridge the gap between our global multinational companies in this country that are at the forefront of electronics in this country and the defense industrial base."
DARPA at its heart is a risk-taking organization, Walker said. World-class scientists are there for between three and five years and then move on.
"We get a lot of support from the White House, the Congress, the Pentagon -- apolitical support -- to do the right thing, to take risks," the director said. "They give us a lot of freedom to make decisions and to think differently and to start and stop our own programs. If you want an organization to produce out-of-the-box ideas and projects, to continue to disrupt the status quo and to question, then you want that organization to have some autonomy and flexibility."
Published March 2018
Rate this article