LED headlights installed on San Francisco's historic cable cars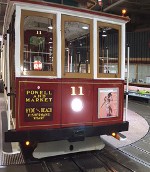 Since 1873, the best lighting the historic San Francisco Municipal Cable Cars had was dim incandescent headlights that did not do anything for illumination. They were merely bright enough to serve as an indicator that a cable car was coming. After over 140 years, that finally changed with their upgrade to LED light bulbs from LEDtronics. Along with the PAR46 LED headlights, A19-style LED light bulbs were also installed inside the passenger cabins. Savings on energy costs and maintenance are major benefits.
Learn more.
---
Verify color accuracy in real time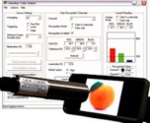 The LEX-1000 sensor from EMX Industries is used to measure the relative color characteristics for a wide variety of light sources and illuminated objects. It focuses the light onto a sensitive RGB photodiode, where it is measured for its red, green, and blue (RGB) composition. When all three colors fall within the programmed tolerance, the output indicates a match. This is a great solution for evaluation of all visible light sources, LCD and LED display quality, and automotive lighting verification.
Learn more.
---
Solenoid valves for commercial space vehicles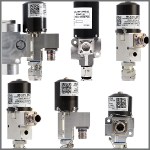 Marotta Controls has launched CoRe Flow Controls, a new series of commercially available, high-performance solenoid valves for today's NewSpace generation of reusable launch vehicles. It enables system designers to quickly move through the development phase with minimal risk, and its versatility allows for integration into a wide variety of critical applications, including pressurization systems, stage separation, and engine controls. The line consists of six flight-qualified solenoid valves designed around common components with operating pressures up to 6,000 psi (41 MPa). This standardized, high-volume production approach enables Marotta to offer lower cost components with shorter lead times.
Click here to learn more.
---
Waterproof 6-axis acceleration and angular rate sensor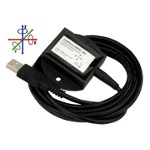 Code Mercenaries has released the JoyWarrior 56FR1-WP, a cost-efficient, waterproof, six-axis MEMS motion sensor that provides 3-axis measurements of both acceleration and angular rate with 16-bit resolution for motion, vibration, or orientation sensing applications. Readings are taken at 833 measurements per sec in standard mode, while a high-speed mode generates 6,664 data points per sec. The different range settings at which acceleration and angular rate can be measured can be stored permanently in the sensor. Comes with a 6-ft cable and USB interface. Available from U.S. distributor Saelig.
Click here to learn more.
---
Advancements in reed switch-based technology for liquid-level sensing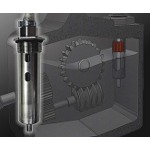 Madison Company has developed an advancement in proven reed switch-based technology that provides ultra-high resolution, very tight tolerances, and consistent repeatable measurements in liquid level sensor designs. Sensors can be also designed to withstand extreme shock or vibration as well as corrosive conditions and temperature variations. Applications include: power generators, commercial compressors, power transmission equipment, chemical processing, and hydraulic systems.
Learn more.
---
New touchless angle sensors with CANBus interface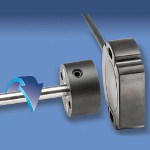 Novotechnik, U.S. introduces the RFC4800 Series of touchless angle sensors measuring angular position up to 360°, revolution counter, and speed -- with J1939 CANBus interface in addition to CANopen. Features include programmable zero-point offset, measurement averaging, and sign of rotational direction. RFC4800 Series has a resolution of 14-bits across 360°, repeatability of 0.36°, and independent linearity of +/-0.5% of full scale. J1939 CANBus provides a different feature set than CANopen. It has peer-to-peer or broadcast signaling and fixed messages rather than configurable. There are other differences too.
Learn more.
---
Inline Code Matcher makes for reliable packaging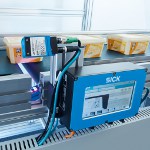 The Inline Code Matcher is a stand-alone quality-control system featuring SICK Lector 6xx image-based code readers that reliably read 1D and 2D codes on packages to match packaging with the correct products. The Inline Code Matcher system software uses a 7-in. touch screen with an intuitive user interface for operation and to visualize data. The Inline Code Matcher's modular design and auto set-up feature allow for easy integration into existing plants. Products can be changed over during a live operation on the basis of an example product or manually with a hand-held scanner.
Click here to learn more.
---
Minimizing noise in electric linear motion systems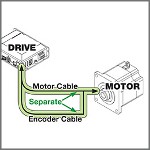 Under most circumstances, electric linear motion systems are quiet. They certainly don't create the hissing and bang-bang noises associated with pneumatic systems. However, there's another type of noise that comes with electric systems of all types: electrical noise or interference. The results can be anything from erratic movements to complete system failure. Patrick Hobart from Tolomatic runs through best practices for minimizing noise in these automation systems.
Read this insightful blog.
---
Sony releasing 0.5-type OLED microdisplay with top-of-class UXGA resolution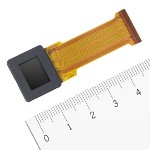 Sony Corporation recently announced the upcoming release of the ECX339A OLED Microdisplay featuring UXGA (1,600 x 1,200 resolution), the highest in class for a 0.5-type. This product achieves the world's smallest pixel pitch of 6.3μm by leveraging Sony's OLED display technology and miniaturization technology, enabling a resolution 1.6x higher than the previous model. By employing a new drive circuit design that operates on half the voltage of the previous model, the new product achieves the same level of low-power operation as its predecessor but with much higher resolution.
Learn more.
---
Want to make your factory wireless? NIST how-to guide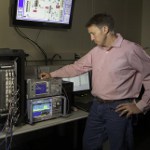 The National Institute of Standards and Technology (NIST) has published the first-ever set of science-based guidelines to help users select the best wireless system for any specific industrial environment, custom-design the setup to make it work, successfully deploy it, and then ensure that the network performs as needed. The publication is called, "Guide to Industrial Wireless Systems Deployments." By eliminating physical connections such as wires and cables from a facility's communication network, wireless technology offers many manufacturing, chemical processing, and utility organizations a means to run their entire operation more efficiently, more productively, and at less cost.
Get the guide. No registration required.
---
Mike Likes: Fixed-mount infrared cameras help you analyze the heat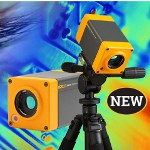 For precise research, science, and engineering applications, just seeing heat is not enough -- it needs to be measured and analyzed as well. The new Fluke RSE300 and RSE600 Infrared Cameras are the first fully radiometric, fixed-mount cameras from Fluke with advanced features including MATLAB and LabVIEW software plug-ins to easily analyze thermal data. These cameras continuously stream up to 60 frames of data per sec, allowing for detailed monitoring of temperature patterns and variances. With the included SmartView desktop software, users can remotely focus the camera, auto-capture images, adjust level and span, and analyze infrared videos frame by frame. The software also makes it easy to edit images, generate customized reports, and export images to multiple formats to share thermal data quickly.
Learn more.
---
LED controller for automotive lighting designs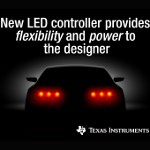 Texas Instruments (TI) has introduced the first 3-channel high-side linear automotive light-emitting diode (LED) controller without internal MOSFETs, which gives designers greater flexibility for their lighting designs. The TPS92830-Q1's novel architecture enables higher power and better thermal dissipation than conventional LED controllers, and is particularly beneficial for automotive LED lighting applications that require high performance and reliability. The LED controller's flexible on-board features give designers the freedom to select the best MOSFET for their system requirements. With this new approach, designers can optimize their lighting power designs more quickly and efficiently for automotive system requirements and desired dimming features.
Click here to learn more.
---
New ultra high-brightness LCDs for outdoor viewing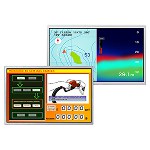 The Tianma Group has introduced two new LCDs: a 10.1-in. WXGA and 15.6-in. WXGA, both with ultra-high luminance. These modules are ideal for industrial applications needing superior viewing in outdoor or other high ambient light environments such as ATMs and payment terminals. The 10.1-in.-wide model has a luminance of 1000 cd/m2, and the 15.6-in.-wide model has a luminance of 1250 cd/m2. The ultra-high luminance of these models results in displays with vivid colors and excellent visibility, even in direct sunlight, and further expand Tianma's extensive offering of industrial products.
Click here to learn more.
---
Mouser Electronics New Product Insider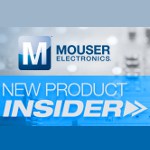 Mouser Electronics specializes in the rapid introduction of new products and technologies. As the industry leader in New Product Introductions (NPIs), Mouser makes it a priority to stock the newest products and technologies from their 700+ manufacturer partners, giving customers an edge and helping speed time to market. In 2017, Mouser launched a total of 2,326 new products. Last month, Mouser launched more than 270 new products ready for same-day shipment. Latest products include: Linear Technology/Analog Devices DC1962C-KIT Starter Kit step-down DC/DC controller; TE Connectivity AmbiMate Sensor Module MS4 Series that provides motion, light, temperature, and humidity sensors plus optional sound; andON Semiconductor RSL10 Multi-Protocol Bluetooth 5 System-on-Chip.
See the latest from Mouser Electronics.
---
LED panel-mount indicators are all about flexibility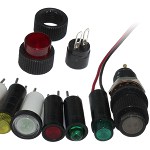 Visual Communica-tions Company's (VCC) 90 Series panel-mount indicators are designed for an extended life and quick installation, and they are unique because they deliver enhanced design flexibility through three termination styles: cartridge, bi-pin, and wire leads. They save time during installation and maintenance and require less-frequent replacement. The P80 Series LED panel mount indicator is designed to streamline installation with a snap-in mounting design that requires no additional hardware. It is offered in six single LED colors (red, orange, amber, green, blue, and clear). Five lens colors are also available: red, amber, green, blue, and clear.
Click here to learn more.
---
Researchers demonstrate existence of new form of electronic matter
Researchers at the University of Illinois Urbana-Champaign have produced a "human scale" demonstration of a new phase of matter called quadrupole topological insulators (QTIs) that was recently predicted using theoretical physics. These are the first experimental findings to validate this theory.
The researchers reported their findings in the journal Nature.
The team's work with QTIs was born out of the decade-old understanding of the properties of a class of materials called topological insulators. "TIs are electrical insulators on the inside and conductors along their boundaries, and may hold great potential for helping build low-power, robust computers and devices, all defined at the atomic scale," said mechanical science and engineering professor and senior investigator Gaurav Bahl.
The uncommon properties of TIs make them a special form of electronic matter. "Collections of electrons can form their own phases within materials. These can be familiar solid, liquid, and gas phases like water, but they can also sometimes form more unusual phases like a TI," said co-author and physics professor Taylor Hughes.
TIs typically exist in crystalline materials (and other studies confirm TI phases present in naturally occurring crystals), but there are still many theoretical predictions that need to be confirmed, Hughes said.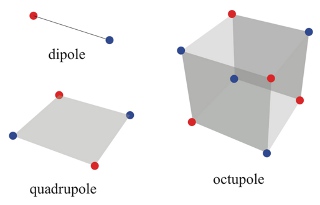 A dipole moment can be represented by two charges, one positive and one negative, separated in one dimension. A quadrupole moment can be represented by four charges separated in two dimensions, etc. [Graphic courtesy: Kitt Peterson]
One such prediction was the existence of a new type of TI having an electrical property known as a quadrupole moment. "Electrons are single particles that carry charge in a material," said physics graduate student Wladimir Benalcazar. "We found that electrons in crystals can collectively arrange to give rise not only to charge dipole units -- that is, pairings of positive and negative charges -- but also high-order multipoles in which four or eight charges are brought together into a unit. The simplest member of these higher-order classes are quadrupoles in which two positive and two negative charges are coupled."
It is not currently feasible to engineer a material atom by atom, let alone control the quadrupolar behavior of electrons. Instead, the team built a workable-scale analog of a QTI using a material created from printed circuit boards. Each circuit board holds a square of four identical resonators -- devices that absorb electromagnetic radiation at a specific frequency. The boards are arranged in a grid pattern to create the full crystal analog.
"Each resonator behaves as an atom, and the connections between them behave as bonds between atoms," said Kitt Peterson, the lead author and an electrical engineering graduate student. "We apply microwave radiation to the system and measure how much is absorbed by each resonator, which tells us about how electrons would behave in an analogous crystal. The more microwave radiation is absorbed by a resonator, the more likely it is to find an electron on the corresponding atom."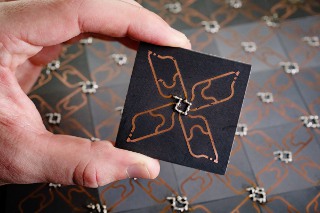 A single circuit board, foreground, that when joined with others forms the experimental array of the quadrupole topological insulator. [Photo by L. Brian Stauffer]
The detail that makes this a QTI and not a TI is a result of the specifics of the connections between resonators, the researchers said.
"The edges of a QTI are not conductive like you would see in a typical TI," Bahl said, "Instead, only the corners are active, that is, the edges of the edges, and are analogous to the four localized point charges that would form what is known as a quadrupole moment. Exactly as Taylor and Wladimir predicted."
"We measured how much microwave radiation each resonator within our QTI absorbed, confirming the resonant states in a precise frequency range and located precisely in the corners," Peterson said. "This pointed to the existence of predicted protected states that would be filled by electrons to form four corner charges."
Those corner charges of this new phase of electronic matter may be capable of storing data for communications and computing. "That may not seem realistic using our 'human scale' model," Hughes said. "However, when we think of QTIs on the atomic scale, tremendous possibilities become apparent for devices that perform computation and information processing, possibly even at scales below that we can achieve today."
The researchers said the agreement between experiment and prediction offered promise that scientists are beginning to understand the physics of QTIs well enough for practical use.
"As theoretical physicists, Wladimir and I could predict the existence of this new form of matter, but no material has been found to have these properties so far," Hughes said. "Collaborating with engineers helped turn our prediction into reality."
The National Science Foundation and U.S. Office of Naval Research supported this study.
Source: University of Illinois Urbana-Champaign
Published April 2018
Rate this article