New planetary BLDC gearmotors: High torque and compact design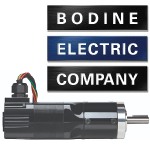 Bodine Electric Company introduces the new type 22B4-60P planetary gearmotor. This integral gearmotor combines Bodine's high-performance type 22B brushless DC motor with the new 60P (60-mm) planetary gearhead. It is ideal for applications that require higher torque than conventional helical/spur gearheads of a similar size can provide, and where a very low backlash gearhead is not required. Typical applications include conveyors, pumps, packaging, industrial automation, and a wide range of solar- or battery-powered equipment.
Learn more.
---
Compact brushless DC servo motor with integrated controller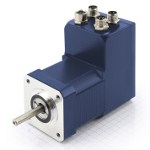 Nanotec has developed the compact PD2-C-IP, a brushless DC servo motor with integrated controller and 42-mm flange size for use in harsh environmental conditions (class IP65). The PD2-C-IP is available as a brushless DC motor, with an operating voltage of 12 V to 48 V and a rated power of 105 W, and as a stepper motor with a nominal torque up to 0.5 Nm. Due to the field-oriented control based on an integrated encoder, both motors are controlled in the same way and differ only in their working point. Each motor is available in a USB or CANopen version. They offer effective and economical drive solutions when high precision and maximum benefit are required.
Click here to learn more.
---
DriveWare 7.4.2 released with stepper motor support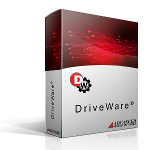 DriveWare is ADVANCED Motion Controls' no-cost software tool that allows users to set drive limits, tune the control loops, configure various types of feedback, auto-commutate, analyze signals over a built-in multi-channel oscilloscope, and more. Because of its powerful capabilities and user-friendly interface, DriveWare is the best way to commission and configure the company's DigiFlex Performance series drives. The biggest update to DriveWare 7.4.2 is the expanded support for stepper motors -- making it easy to configure closed-loop steppers while streamlined algorithms make autocommutation 75% faster. DigiFlex Performance servo drives can operate two-phase and three-phase steppers in addition to rotary and linear permanent magnet, brushed, and brushless servo motors.
Click here to learn more.
---
Plug-and-play motion system in a box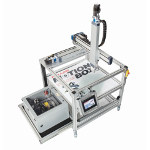 Rollon Corp. has launched Motion Box, a new pre-engineered Cartesian robot system designed to deliver users six different motion profiles that can be set up and running in a couple of hours. Motion Box covers everything from the human-machine interface (HMI) to the output of reliable motion. Even the cable management is included. The initial system setup is already complete, so end users can get parts moving in a reliable and repeatable manner. Motion Box incorporates the Q-Motion Controller from Mitsubishi Electric, which features four-axis motion control, energy-efficient drivers, integrated I/O and network access, and a clean, efficient HMI setup.
Learn more.
---
High-torque rotary voice coil actuators
H2W Technologies has developed several high-torque rotary voice coil actuators, otherwise known as a limited angle torque motors (LATs). The model TWR-015-346-2RC was designed to allow for a low moving mass (68 grams per coil) and inertia, as well as dual independent coils to allow for two independent motion profiles or couple the coils together to double the torque output. This rotary voice coil actuator can generate a continuous torque of 185 in.-oz (1.29 Nm) and a peak torque of 555 in.-oz (3.88 Nm) at a duty cycle of 10% (i.e., 1 sec on and 9 sec off) in each coil on a 4-in. (102-mm) rotation arm. By coupling the coils, the continuous torque doubles. Applications include driving a gimbal axis in scanning applications and providing stabilizing torques for image stabilization.
Click here to learn more.
---
Linear actuators for medical applications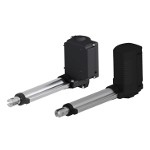 SKF Ecomag linear actuators from SKF Motion Technologies enable safe and precise power-driven movement and positioning of procedure tables and chairs in medical settings. Standard Ecomag actuators can be supplied in four versions: push models ECO 2/4 and ECO 6/8, and push/pull models ECO 3/5 and ECO 7/9. Depending on the model, the actuators can deliver push-load force up to 6,000 N or 1,348 lb and pull-load force up to 4,000 N or 899 lb, stroke ranges up to 300 mm or 12 in., and fast positioning speeds up to 13 mm/s or 0.5 in./s. All versions integrate built-in limit switches. As an option, encoder signals can be specified for added positioning functionality.
Click here to learn more.
---
Linear motion catalog and design guide 2018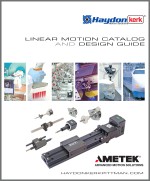 Haydon Kerk Motion Solutions, a business unit of AMETEK Advanced Motion Solutions, announces the release of its new Catalog and Design Guide, revised for 2018 to illustrate a wide range of products engineered for use as building blocks in sophisticated linear motion assemblies. It is divided into three major sections: 1) Precision lead screw and nut assemblies; 2) Linear actuators and stepper motor drives; and 3) Motorized and non-motorized linear rail systems. In addition to basic product information, each section includes a brief overview of the technology behind the products, part number construction, sizing charts, and product comparison charts. Applications include industrial automation and robotics.
Get your catalog (no registration required).
---
Integrated motors for high-throughput applications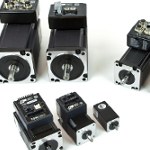 Applied Motion Products introduces three models of StepSERVO Integrated Motors that provide cost-effective and high-speed motion control for high-throughput applications such as packaging and labeling, automated test and measurement, and automated assembly. With encoder feedback and advanced control loops that incorporate servo control, StepSERVO Integrated Motors provide a motion control system that operates faster, cooler, and quieter than competitive technology. The three model series (TSM, SSM, and TXM) support different options for step and direction, streaming commands, fieldbus communications, and stored Q programming for standalone operations.
Learn more.
---
Minimizing noise in electric linear motion systems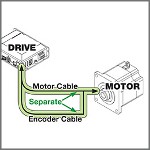 Under most circumstances, electric linear motion systems are quiet. They certainly don't create the hissing and bang-bang noises associated with pneumatic systems. However, there's another type of noise that comes with electric systems of all types: electrical noise or interference. The results can be anything from erratic movements to complete system failure. Patrick Hobart from Tolomatic runs through best practices for minimizing noise in these automation systems.
Read this insightful blog.
---
New 22-mm brushless servo motor packs a punch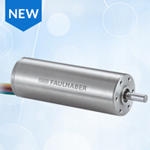 MICROMO has launched the brand new FAULHABER 2264 BP4 series brushless dc servo motor, which is ideally suited for handheld tools and devices such as motorized surgical instruments, grippers and robotics, advanced prosthetics, aerospace applications, and even for electric pruning shears and motorized screwdrivers. At 22 mm in diameter, 64 mm in length, and weighing only 140 grams, the 2264 BP4 series delivers 59 mNm of continuous torque and reaches speeds up to 34,500 rpm. These impressive power and performance characteristics are possible due to a new segmented winding of the coil, which also improves the overall efficiency of the motor.
Click here to learn more.
---
New telescopic pillars for medical equipment support heavier loads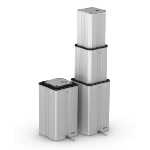 SKF CPMT telescopic pillars from SKF Motion Technologies for integration into surgical tables, procedure chairs, and similar medical equipment are complete plug-and-play systems that provide OEM designers with ideal technologies to equip healthcare facilities with reliable, safe, and virtually maintenance-free vertical motion solutions. CPMT telescopic pillars combine a low retracted height (320 mm or 12.6 in.) with a high stroke range (up to 600 mm or 23.6 in.) to improve accessibility for patients without compromising the extended height necessary for procedures. Other capabilities include a high load-carrying capacity (up to 6,000 N or 1,350 lb), as well as fast positioning speeds and the ability to access pre-set positions for overall clinical efficiencies.
Click here to learn more.
---
Tips for selecting linear actuators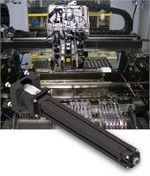 Aaron Dietrich from Tolomatic runs through the main specifying considerations for electric actuators, citing their high performance, adaptability, low total cost of ownership, and easy integration. But what about accuracy and repeatability? Should you go with a rod-style actuator or a screw type? What kind of force should you expect if you are considering converting from hydraulic to electric actuation? Tolomatic also offers an extensive ebook to help with your decision-making if you need it.
Click here to learn more.
---
Universal Robots' CTO wins 'Nobel Prize of Robotics' for pioneering cobots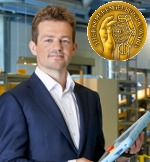 The Robotic Industries Association (RIA) recently announced Esben Østergaard as the recipient of the Engelberger Robotics Award. Østergaard spearheads the development of Universal Robots' collaborative robot arms, representing one of the most significant technology breakthroughs coming out of the robotics community in decades.
Read the full article.
---
High-performance, high-load linear stages for industrial use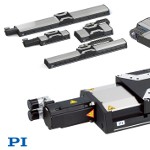 The new reference-class linear stages from precision nano-positioning global leader PI (Physik Instrumente) are available in ballscrew (L-417) and linear motor (V-417) configurations. Both cost-effective designs offer high resolution with improved tracking performance, smaller tracking error, and improved settling time. Applications include laser cutting, scanning, digital printing, electronics assembly and inspection, and more. The L-417 precision heavy-duty ball screw model easily accommodates a load capacity of 450 N on its 166-m width frame with a travel up to 813 mm. Powered by an ironless linear motor, the V-417 has a similar load capacity, width, and travel range.
Learn more about the L-417 ball screw model.
Learn more about the V-417 ironless linear motor model.
---
Motor-to-motor communication is 1-2 punch for machine builders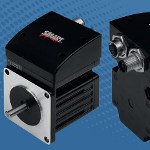 Combitronic™ is a propri-etary communica-tions protocol developed by Moog Animatics exclusively for its SmartMotor™. With Combitronic technology, any SmartMotor can read from, write to, and control any other SmartMotor, can act as the master, and can pass master control from one SmartMotor to another -- virtually eliminating the need for a PLC or other bus master. Combined with the CDS7 motor option, the technology allows a simple, single-cable, power and communications connection from motor to motor, giving the machine builder a simple, cost-effective way to build a network of Class 5 D-Style SmartMotor integrated servos.
Learn more.
---
Game of drones? Video games to help Navy recruit unmanned systems operators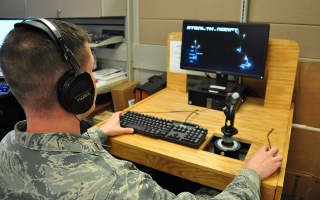 An Air Force officer operates a computer game designed to aid the U.S. Navy discover future operators for its remotely operated, unmanned vehicles (UxV). The project, titled StealthAdapt, is being developed by The Naval Aerospace Medical Institute and Adaptive Immersion Technologies, a software company, and is sponsored by the Office of Naval Research. [USAF photo by Staff Sgt. Alexx Pons]
By Warren Duffie Jr., Office of Naval Research
Can a video game help the U.S. Navy find future operators for its remotely operated, unmanned vehicles (UxV), popularly called drones?
To find out, the Naval Aerospace Medical Institute and Adaptive Immersion Technologies, a software company, are developing a computer game to identify individuals with the right skills to be UxV operators. The project, sponsored by the Office of Naval Research (ONR), is called StealthAdapt.
"The Navy currently doesn't have a test like this to predict who might excel as UxV operators," said Lt. Cmdr. Peter Walker, a program officer in ONR's Warfighter Performance Department. "This fast-paced, realistic computer simulation of UxV missions could be an effective recruitment tool."
Since the wars in Afghanistan and Iraq began, UxV have played ever-larger roles in intelligence, surveillance and reconnaissance, and other missions. Consequently, there's an increasing need for well-trained UxV operators.
In recent years, the Air Force established its own formal screening process for remotely piloted aircraft operators, and the Marine Corps designated an unmanned aviation systems (UAS) career path for its ranks.
The Navy, however, doesn't have an official selection and training pipeline specifically for its UxV operators, who face challenges unique to the service. For UAS duty, the Navy has taken aviators who already earned their wings; provided on-the-job, UAS-specific training; and placed them in temporary positions.
However, this presents challenges. It's costly and time-consuming to add more training hours, and it takes aviators away from their manned aircraft duties. Finally, the cognitive skills needed for successful manned aviation can vary from those needed for unmanned operators.
StealthAdapt is designed to address this issue. It consists of a cognitive test, personality assessment, and biographical history assessment. The cognitive exam actually is the game-based component of the system and takes the form of a search-and-rescue mission. Each player's assignment is to rescue as many stranded friendly forces as possible, within a pre-set time limit, while avoiding fire from hostile forces.
If that's not stressful enough, players must simultaneously monitor chat-based communications, make sure they have enough fuel and battery power to complete missions, memorize and enter authentication codes required for safe rescue of friendlies, decode encrypted information, and maintain situational awareness.
"We're trying to see how well players respond under pressure, which is critical for success as an unmanned operator," said Dr. Phillip Mangos, president and chief scientist at Adaptive Immersion Technologies. "We're looking for attention to detail, the ability to multitask and prioritize, and a talent for strategic planning-thinking 10 moves ahead of your adversary."
To maintain this pressure, players complete multiple 5- to 10-minute missions in an hour. Each scenario changes, with different weather, terrain, number of friendlies and hostiles, and potential communication breakdowns.
After finishing the game portion, participants answer questions focusing on personality and biographical history. Mangos' team then crunches this data with game-performance metrics to create a comprehensive operator evaluation.
Last year, over 400 civilian and military volunteers participated as StealthAdapt research subjects at various Navy and Air Force training centers. Mangos and his research team currently are reviewing the results and designing an updated system for validation by prospective Navy and Air Force unmanned operators. It will be ready for fleet implementation this year.
Mangos envisions StealthAdapt serving as a standalone testing and recruitment tool, or as part of a larger screening process such as the Selection for UAS Personnel, also known as SUPer. SUPer is an ONR-sponsored series of specialized tests that assesses cognitive abilities and personality traits of aspiring UxV operators.
Published April 2018
Rate this article