Through-beam object-detecting fork sensors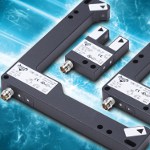 Fork sensors (slot sensors) from Automation-Direct are U- or L-shaped through-beam object-detecting sensors that have the transmitter and receiver built into the opposing "fork" arms of the sensor housing. New PS series fork sensor additions include harsh-duty U-frame sensors for food applications, L-frame or angled fork sensors for unique mounting situations, and fork sensors for liquid detection. Depending on the model, PS series fork sensors are available in visible red, infrared, and laser lighting and in sensing ranges from 5 mm to 220 mm.
Learn more.
---
Application Note: Cooling for automotive applications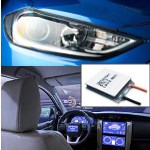 Advances in automotive technologies such as smart headlights, autonomous systems for collision avoidance, and infotainment systems require enhanced thermal protection of critical electronics to ensure optimized performance. Packing more functionality into smaller footprints has increased the heat flux density and thermal challenges in automotive electronics. Designing active cooling systems will provide a thermal management solution needed to operate each sensitive device within its temperature range and optimize its performance. Get this in-depth application note from Laird Thermal Systems.
Read the app note (no registration required).
---
Collect and understand vibration condition data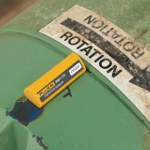 Vibration monitoring is one of the most effective ways to detect potential equipment failures before they cause downtime. However, vibration analysis is complex, and it can be cost prohibitive to place sensors on noncritical assets. The new, wireless Fluke 3561 FC Vibration Sensor allows maintenance teams to improve uptime by adding remote, continuous vibration monitoring to virtually any rotating equipment. With a frequency range of 10 to 1,000 hertz, the 3561 FC detects and notifies users of conditional changes caused by critical faults like imbalance, misalignment, looseness, and bearing wear, providing warning of impending equipment failure.
Learn more.
---
Polyimide heater kit -- tons of uses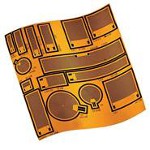 The Polyimide heater kit from Omega Engineering contains thin and flexible heaters with adhesive backing to conform to practically any flat or curved surface. With 15 different shapes, this kit can suit almost any application. Heater configurations are outlined on a 0.3-m x 0.3-m (1-ft x 1-ft) sheet, with line markings for easy selection and cutout. When used in combination, these heaters can provide a number of resistances and wattages. Leads can be soldered on or connected with alligator clips. Typical applications include: aerospace, analytical equipment, tooling, commercial equipment, agriculture, packaging, and material handling.
Learn more.
---
LED headlights installed on San Francisco's historic cable cars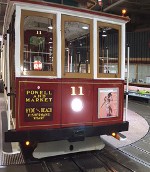 Since 1873, the best lighting the historic San Francisco Municipal Cable Cars had was dim incandescent headlights that did not do anything for illumination. They were merely bright enough to serve as an indicator that a cable car was coming. After over 140 years, that finally changed with their upgrade to LED light bulbs from LEDtronics. Along with the PAR46 LED headlights, A19-style LED light bulbs were also installed inside the passenger cabins. Savings on energy costs and maintenance are major benefits.
Learn more.
---
Verify color accuracy in real time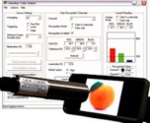 The LEX-1000 sensor from EMX Industries is used to measure the relative color characteristics for a wide variety of light sources and illuminated objects. It focuses the light onto a sensitive RGB photodiode, where it is measured for its red, green, and blue (RGB) composition. When all three colors fall within the programmed tolerance, the output indicates a match. This is a great solution for evaluation of all visible light sources, LCD and LED display quality, and automotive lighting verification.
Learn more.
---
Solenoid valves for commercial space vehicles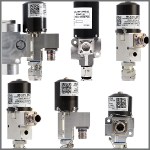 Marotta Controls has launched CoRe Flow Controls, a new series of commercially available, high-performance solenoid valves for today's NewSpace generation of reusable launch vehicles. It enables system designers to quickly move through the development phase with minimal risk, and its versatility allows for integration into a wide variety of critical applications, including pressurization systems, stage separation, and engine controls. The line consists of six flight-qualified solenoid valves designed around common components with operating pressures up to 6,000 psi (41 MPa). This standardized, high-volume production approach enables Marotta to offer lower cost components with shorter lead times.
Click here to learn more.
---
Waterproof 6-axis acceleration and angular rate sensor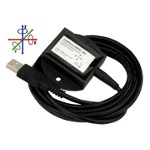 Code Mercenaries has released the JoyWarrior 56FR1-WP, a cost-efficient, waterproof, six-axis MEMS motion sensor that provides 3-axis measurements of both acceleration and angular rate with 16-bit resolution for motion, vibration, or orientation sensing applications. Readings are taken at 833 measurements per sec in standard mode, while a high-speed mode generates 6,664 data points per sec. The different range settings at which acceleration and angular rate can be measured can be stored permanently in the sensor. Comes with a 6-ft cable and USB interface. Available from U.S. distributor Saelig.
Click here to learn more.
---
Advancements in reed switch-based technology for liquid-level sensing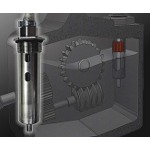 Madison Company has developed an advancement in proven reed switch-based technology that provides ultra-high resolution, very tight tolerances, and consistent repeatable measurements in liquid level sensor designs. Sensors can be also designed to withstand extreme shock or vibration as well as corrosive conditions and temperature variations. Applications include: power generators, commercial compressors, power transmission equipment, chemical processing, and hydraulic systems.
Learn more.
---
New touchless angle sensors with CANBus interface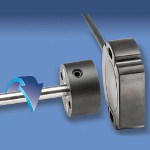 Novotechnik, U.S. introduces the RFC4800 Series of touchless angle sensors measuring angular position up to 360°, revolution counter, and speed -- with J1939 CANBus interface in addition to CANopen. Features include programmable zero-point offset, measurement averaging, and sign of rotational direction. RFC4800 Series has a resolution of 14-bits across 360°, repeatability of 0.36°, and independent linearity of +/-0.5% of full scale. J1939 CANBus provides a different feature set than CANopen. It has peer-to-peer or broadcast signaling and fixed messages rather than configurable. There are other differences too.
Learn more.
---
Inline Code Matcher makes for reliable packaging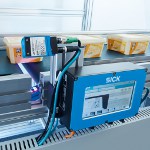 The Inline Code Matcher is a stand-alone quality-control system featuring SICK Lector 6xx image-based code readers that reliably read 1D and 2D codes on packages to match packaging with the correct products. The Inline Code Matcher system software uses a 7-in. touch screen with an intuitive user interface for operation and to visualize data. The Inline Code Matcher's modular design and auto set-up feature allow for easy integration into existing plants. Products can be changed over during a live operation on the basis of an example product or manually with a hand-held scanner.
Click here to learn more.
---
Minimizing noise in electric linear motion systems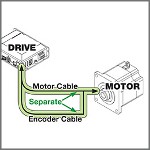 Under most circumstances, electric linear motion systems are quiet. They certainly don't create the hissing and bang-bang noises associated with pneumatic systems. However, there's another type of noise that comes with electric systems of all types: electrical noise or interference. The results can be anything from erratic movements to complete system failure. Patrick Hobart from Tolomatic runs through best practices for minimizing noise in these automation systems.
Read this insightful blog.
---
Sony releasing 0.5-type OLED microdisplay with top-of-class UXGA resolution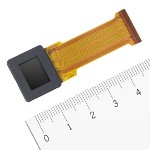 Sony Corporation recently announced the upcoming release of the ECX339A OLED Microdisplay featuring UXGA (1,600 x 1,200 resolution), the highest in class for a 0.5-type. This product achieves the world's smallest pixel pitch of 6.3μm by leveraging Sony's OLED display technology and miniaturization technology, enabling a resolution 1.6x higher than the previous model. By employing a new drive circuit design that operates on half the voltage of the previous model, the new product achieves the same level of low-power operation as its predecessor but with much higher resolution.
Learn more.
---
Want to make your factory wireless? NIST how-to guide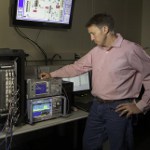 The National Institute of Standards and Technology (NIST) has published the first-ever set of science-based guidelines to help users select the best wireless system for any specific industrial environment, custom-design the setup to make it work, successfully deploy it, and then ensure that the network performs as needed. The publication is called, "Guide to Industrial Wireless Systems Deployments." By eliminating physical connections such as wires and cables from a facility's communication network, wireless technology offers many manufacturing, chemical processing, and utility organizations a means to run their entire operation more efficiently, more productively, and at less cost.
Get the guide. No registration required.
---
Mike Likes: Fixed-mount infrared cameras help you analyze the heat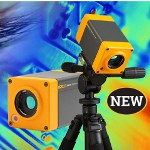 For precise research, science, and engineering applications, just seeing heat is not enough -- it needs to be measured and analyzed as well. The new Fluke RSE300 and RSE600 Infrared Cameras are the first fully radiometric, fixed-mount cameras from Fluke with advanced features including MATLAB and LabVIEW software plug-ins to easily analyze thermal data. These cameras continuously stream up to 60 frames of data per sec, allowing for detailed monitoring of temperature patterns and variances. With the included SmartView desktop software, users can remotely focus the camera, auto-capture images, adjust level and span, and analyze infrared videos frame by frame. The software also makes it easy to edit images, generate customized reports, and export images to multiple formats to share thermal data quickly.
Learn more.
---
200,000 trillion calculations per second: America's new top science supercomputer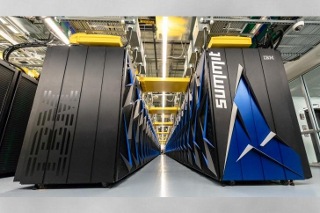 The U.S. Department of Energy's Oak Ridge National Laboratory (ORNL) unveiled Summit as the world's most powerful and smartest scientific supercomputer on June 8. Secretary of Energy Rick Perry attended the debut to meet with the ORNL team and see first-hand this monumental supercomputer.
With a peak performance of 200,000 trillion calculations per second -- or 200 petaflops, Summit will be eight times more powerful than America's current top-ranked system, Titan, which is also housed at ORNL. For certain scientific applications, Summit will also be capable of more than 3 billion-billion mixed precision calculations per second. Summit will provide unprecedented computing power for research in energy, advanced materials, and artificial intelligence (AI), among other domains. Summit will enable scientific discoveries that were previously impractical or impossible.
"It's going to have a profound impact in energy research, scientific discovery, economic competitiveness, and national security," said Secretary Perry. "It moves the nation one step closer to the goal of delivering an exascale supercomputing system by 2021."
Summit's computing capacity is so powerful that it has the ability to compute 30 years' worth of data saved on a desktop computer in just one hour. These capabilities mark a huge increase in computing efficiency that will revolutionize the future of American science. ORNL researchers have also figured out how to harness the power and intelligence of Summit's state-of-art architecture to successfully run the world's first exascale scientific calculation, or exaops, as DOE's fleet of proposed exascale computing systems come online in the next five years.
"From its genesis 75 years ago, ORNL has a history and culture of solving large and difficult problems with national scope and impact," said ORNL Director Thomas Zacharia. "ORNL scientists were among the scientific teams that achieved the first gigaflops calculations in 1988, the first teraflops calculations in 1998, the first petaflops calculations in 2008, and now the first exaops calculations in 2018."
In addition to scientific modeling and simulation, Summit offers unparalleled opportunities for the integration of AI and scientific discovery, enabling researchers to apply techniques like machine learning and deep learning to problems in human health, high-energy physics, materials discovery, and other areas. The opportunities that Summit will bring align with the White House Artificial Intelligence for America initiative announced last month.
Summit will be open to select projects this year while ORNL and IBM work through the acceptance process for the machine. In 2019, the bulk of access to the IBM system will go to research teams selected through DOE's Innovative and Novel Computational Impact on Theory and Experiment (INCITE) program.
Source: Oak Ridge National Laboratory
Published June 2018
Rate this article