How mobile equipment manufacturers benefit from using formed thermoplastic hoses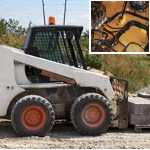 The proper assembly, installation, and specifying of the right hoses and tubing for the application are critical to the trouble-free operation of mobile equipment employed in construction, forestry, mining, and similar industries. This latest blog from Parker examines how formed thermoplastic hoses address these challenges and details how a skid-steer manufacturer reduced labor time and realized significant cost savings.
Read the full article.
---
Inch-size mounting clamps with swivel ball joint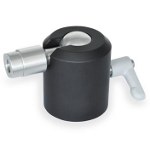 GN 784 mounting clamps with swivel ball joint from JW Winco allow precise and variable adjustment of the ball pivot within the rotation range. This is a particular advantage when adjusting scanners, cameras, lighting, monitors, etc. Thanks to the efficient clamping mechanism, only small amounts of torque on the clamping screw result in comparatively strong clamping pressure on the ball. This force is easily applied by the clamping lever.
Learn more.
---
Precision ceramic and glass microcomponents
Goodfellow, a favorite materials provider for Designfax readers, also supplies a wide variety of ceramic and glass microcomponents, both standard items and items precision-machined to customer specifications. Examples include: ultra-thin glass microsheet for use as transparent substrates and electrical insulators; precision spheres for use as precision spacers and optical components; micro optics such as prisms, lenses, and windows; injection-molded ceramic microcomponents for surgical equipment and fiber-optic applications; polished sapphire bearings and sub-mm bore nozzles; and single- and multi-bore capillary tubing. Other items are available upon request.
Learn more.
---
Cool Tools: Unit Conversion Tool

Convert popular spring units such as force or retaining ring thrust capacities into metric units with Smalley's engineering tools. Convert units such as mass and weight, angular measurements, velocities, temperatures, pressures and densities, and more.
Click here to learn more. You should bookmark this one.
---
Smith Metal Products adds Titanium Metal Injection Molding capabilities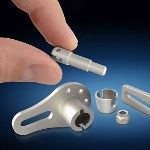 Smith Metal Products has added Titanium Metal Injection Molding (TiMIM) capabilities to its MIM portfolio of materials that include stainless steels, alloys, and ceramics. TiMIM involves mixing powdered Titanium metal with a binder material to compose a feedstock capable of being handled by injection molding equipment. Metal injection molding allows complex Titanium parts to be shaped with precision in a single operation and in high volume as compared to traditional Titanium machined metal components.
Learn more.
---
Linear miniature torque splines and nuts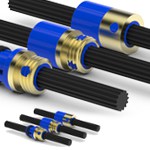 Helix Miniature Torque Splines provide a convenient and efficient device that allows low-friction linear motion while transmitting torque. In a Helix PT Spline assembly, the high-strength composite polymer bushing carries the load between the rotating member (inner race) and the rotating/translating member (bushing). Helix PT Splines are coated with Helix H10X PTFE coating for long life and anti-friction. Available in three bushing styles: Cylinder Mount, Thread Mount, and Anti-Backlash.
Click here to learn more.
---
Entry-level industrial-grade 3D printer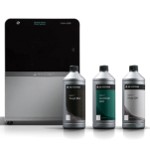 The FabPro 1000 from 3D Systems is a new entry-level system that packs 30 years of industrial 3D-printing know-how into its design to deliver superior quality at up to 3X faster high-throughput print speeds than competing printers. Digital Light Printing (DLP) Stereolithography uses a projector to image each layer within a UV-curable, liquid plastic material. This easy-to-use system, with a build size of 125 x 70 x 120 mm (4.92 x 2.76 x 4.72 in.), has 3D Sprint file preparation and print software included -- all at a price of $4,995.
Learn more about it.
---
Save time with Spirolox® retaining rings

Unlike die-stamped circlips, Spirolox retaining rings and constant section rings are coiled on edge to the exact diameter required. Spirolox rings have no protruding ears to interfere with mating components in an assembly and do not require special tools for removal or installation. Unlike traditional fasteners, retaining rings eliminate machining and threading, reducing costs and weight. Spiral retaining rings do not require special tools for removal and are supplied standard with removal notches for easy extraction from a groove. Smalley offers over 6,000 standard rings, which are readily available in both carbon and stainless steel. For more information, download the eBook. Visit Smalley.com to request a catalog and product samples, or contact one of Smalley's engineers with questions.
---
Polyplastics develops metal-resin bonding tech for automotive and electrical/electronics
Polyplastics (Tokyo), a global supplier of engineering thermoplastics, has developed an innovative technology for direct metal-resin bonding, a process that uses metal insert molding. Metal parts and resins are firmly bonded by introducing molten resin through injection molding to metal parts that have already undergone sufficient surface treatment. Metal-resin composites deliver the properties of metals (high rigidity, electrical conductivity) and engineering plastics (low density, electrical insulation). This technology has overcome the many factors that traditionally have had an adverse effect and prevented stable bonding. Polyplastics has a U.S. presence in Farmington Hills, MI.
Click here to learn more.
---
Surface treatment available for strongest cast aluminum alloy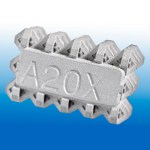 General Magnaplate Corp. has made an exclusive license agreement with the U.K.'s Poeton Industries for the Apticote A20X surface enhancement process, used for treating the innovative A20X aluminum alloy. A20X is MMPDS certified (as AA205) and is the strongest cast aluminum alloy available today, with strength properties comparable to 7000 series wrought material. A20X cast and additively manufactured parts are in production today for major aerospace customers. The AptiMag-X treatment enhances the surface of A20X parts, improving wear resistance, hardening, and finish. The agreement means that General Magnaplate will become the exclusive supplier of Apticote A20X, which they will brand AptiMag-X in North America. Licensed A20X foundries, additive manufacturing companies, and aerospace customers will be able to have parts treated with AptiMag-X at the company's facilities in Linden, NJ, and Arlington, TX.
Click here to learn more.
---
New bearings for high-speed applications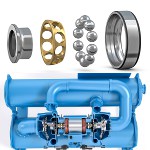 A clear trend in compressor and pump applications is to raise the power density by increasing the rotational speed. To fulfill this requirement, SKF has developed a new range of single-row angular contact ball bearings. The goals have been threefold: to increase the limiting speed by 40 percent, to reduce the noise levels, and to increase the robustness of the bearing in unfavorable operating conditions (shock loads, shaft misalignment, etc.). Apart from these, SKF is helping manufacturers to meet customer demands for even higher levels of energy efficiency and reliability.
Read the full article.
---
What are the strongest adhesives for bonding titanium?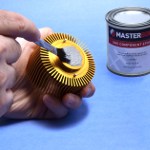 Master Bond's labs recently tested the tensile lap shear strength of a variety of adhesives when bonding titanium to titanium. The surfaces were properly roughened and cleaned with acetone in preparation for the tests. Each of the 11 one- and two-part epoxies tested features different thermal, electrical, and chemical resistance properties that can make them more appealing for specific applications. Therefore, it's important to consider the operational conditions before deciding that the system with the highest strength value is the best for the titanium bonding job.
Learn more.
---
Build a mini synchronous drive system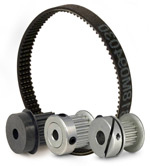 With the Miniature Synchronous Drive System from Stock Drive Products (SDP), you can put your own 1-, 2-, or 3-mm design together in a snap. The tiny timing belts and pulleys are engineered and manufactured to give high accuracy and smooth, dependable operation in 3D printers, moving security cameras, med devices, robotic surgical equipment, self-service machines, and more. Advantages include no-slip synchronization, accurate positioning, high torque transmission with low backlash, quiet operation, and long belt life.
Click here to learn more.
---
New light and tough structural compounds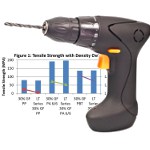 RTP Company has developed new light and tough (LT) Compounds, a series of thermoplastic compounds that weigh 5 to 10 percent less than typical filled compounds, but with equivalent mechanical properties and similar shrinkage values. LT Compounds are a fast and easy way to accomplish weight reductions in parts molded with glass fiber reinforcement without compromising performance or requiring modifications to existing tools. They are best used as lightweight alternatives when the goal is to minimize energy consumption or the amount of human effort required to use the part.
Click here to learn more.
---
Mix-and-match cup mount offers flexibility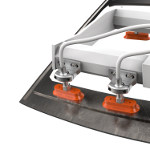 Piab has introduced a flexible mounting system for suction cups that enables users to easily install and configure vacuum technology-based tools and fixtures perfectly tailored for handling such items as automotive body parts or plastic details. The company's Flexible Suction Cup Mount comprises a broad range of interchangeable parts. Several different mounting options for industry-standard end-of-arm tooling connections are available, including Universal joint (C-C 4 4mm), Profile mount (2 x 8/10.5 mm), Lock-pin (19 mm), and Ball-joint. Rods are available in two sizes and are held in place by a clever and user-friendly ball-joint fastening mechanism.
Learn more.
---
Novel transmitter protects wireless devices from hackers
Today, more than 8 billion devices are connected around the world, forming an "internet of things" that includes medical devices, wearables, vehicles, and smart household and city technologies. By 2020, experts estimate that number will rise to more than 20 billion devices, all uploading and sharing data online.
But those devices are vulnerable to hacker attacks that locate, intercept, and overwrite the data, jam signals, and generally wreak havoc. One method to protect the data is called "frequency hopping," which sends each data packet, containing thousands of individual bits, on a random, unique radio frequency (RF) channel, so hackers can't pin down any given packet. Hopping large packets, however, is just slow enough that hackers can still pull off an attack.
Now MIT researchers have developed a novel transmitter that frequency hops each individual 1 or 0 bit of a data packet, every microsecond, which is fast enough to thwart even the quickest hackers.
The transmitter leverages frequency-agile devices called bulk acoustic wave (BAW) resonators and rapidly switches between a wide range of RF channels, sending information for a data bit with each hop. In addition, the researchers incorporated a channel generator that, each microsecond, selects the random channel to send each bit. On top of that, the researchers developed a wireless protocol -- different from the protocol used today -- to support the ultrafast frequency hopping.
"With the current existing [transmitter] architecture, you wouldn't be able to hop data bits at that speed with low power," says Rabia Tugce Yazicigil, a postdoc in the Department of Electrical Engineering and Computer Science and first author on a paper describing the transmitter, which is being presented at the IEEE Radio Frequency Integrated Circuits Symposium. "By developing this protocol and radio frequency architecture together, we offer physical-layer security for connectivity of everything." Initially, this could mean securing smart meters that read home utilities, control heating, or monitor the grid.
"More seriously, perhaps, the transmitter could help secure medical devices, such as insulin pumps and pacemakers, that could be attacked if a hacker wants to harm someone," Yazicigil says. "When people start corrupting the messages [of these devices], it starts affecting people's lives."
Co-authors on the paper are Anantha P. Chandrakasan, dean of MIT's School of Engineering and the Vannevar Bush Professor of Electrical Engineering and Computer Science (EECS); former MIT postdoc Phillip Nadeau; former MIT undergraduate student Daniel Richman; EECS graduate student Chiraag Juvekar; and visiting research student Kapil Vaidya.
Ultrafast frequency hopping
One particularly sneaky attack on wireless devices is called selective jamming, where a hacker intercepts and corrupts data packets transmitting from a single device but leaves all other nearby devices unscathed. Such targeted attacks are difficult to identify, as they're often mistaken for poor a wireless link and are difficult to combat with current packet-level frequency-hopping transmitters.
With frequency hopping, a transmitter sends data on various channels, based on a predetermined sequence shared with the receiver. Packet-level frequency hopping sends one data packet at a time, on a single 1-megahertz channel, across a range of 80 channels. A packet takes around 612 microseconds for BLE-type transmitters to send on that channel. But attackers can locate the channel during the first 1 microsecond and then jam the packet.
"Because the packet stays in the channel for long time, and the attacker only needs a microsecond to identify the frequency, the attacker has enough time to overwrite the data in the remainder of the packet," Yazicigil says.
To build their ultrafast frequency-hopping method, the researchers first replaced a crystal oscillator -- which vibrates to create an electrical signal -- with an oscillator based on a BAW resonator. However, the BAW resonators only cover about 4 to 5 megahertz of frequency channels, falling far short of the 80-megahertz range available in the 2.4-gigahertz band designated for wireless communication. Continuing recent work on BAW resonators -- in a 2017 paper co-authored by Chandrakasan, Nadeau, and Yazicigil -- the researchers incorporated components that divide an input frequency into multiple frequencies. An additional mixer component combines the divided frequencies with the BAW's radio frequencies to create a host of new radio frequencies that can span about 80 channels.
Randomizing everything
The next step was randomizing how the data is sent. In traditional modulation schemes, when a transmitter sends data on a channel, that channel will display an offset -- a slight deviation in frequency. With BLE modulations, that offset is always a fixed 250 kilohertz for a 1 bit and a fixed -250 kilohertz for a 0 bit. A receiver simply notes the channel's 250-kilohertz or -250-kilohertz offset as each bit is sent and decodes the corresponding bits.
But that means, if hackers can pinpoint the carrier frequency, they too have access to that information. If hackers can see a 250-kilohertz offset on, say, channel 14, they'll know that's an incoming 1 and begin messing with the rest of the data packet.
To combat that, the researchers employed a system that each microsecond generates a pair of separate channels across the 80-channel spectrum. Based on a preshared secret key with the transmitter, the receiver does some calculations to designate one channel to carry a 1 bit and the other to carry a 0 bit. But the channel carrying the desired bit will always display more energy. The receiver then compares the energy in those two channels, notes which one has a higher energy, and decodes for the bit sent on that channel.
For example, by using the preshared key, the receiver will calculate that 1 will be sent on channel 14 and a 0 will be sent on channel 31 for one hop. But the transmitter only wants the receiver to decode a 1. The transmitter will send a 1 on channel 14, and send nothing on channel 31. The receiver sees channel 14 has a higher energy and, knowing that's a 1-bit channel, decodes a 1. In the next microsecond, the transmitter selects two more random channels for the next bit and repeats the process.
Because the channel selection is quick and random, and there is no fixed frequency offset, a hacker can never tell which bit is going to which channel. "For an attacker, that means they can't do any better than random guessing, making selective jamming infeasible," Yazicigil says.
As a final innovation, the researchers integrated two transmitter paths into a time-interleaved architecture. This allows the inactive transmitter to receive the selected next channel, while the active transmitter sends data on the current channel. Then, the workload alternates. Doing so ensures a 1-microsecond frequency-hop rate and, in turn, preserves the 1-megabyte-per-second data rate similar to BLE-type transmitters.
Source: Massachusetts Institute of Technology
Published June 2018
Rate this article