Get 'Digital Manufacturing for Dummies' book gratis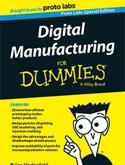 Proto Labs has put together a comprehensive guide to the major 3D-printing, CNC machining, and injection-molding technologies that are frequently used in digital manufacturing. The book helps readers to compare processes, explore material options, and see how digital manufacturing can fit into every stage of the product life cycle.
Get your copy on the house.
---
Precision ceramic and glass microcomponents
Goodfellow, a favorite materials provider for Designfax readers, also supplies a wide variety of ceramic and glass microcomponents, both standard items and items precision-machined to customer specifications. Examples include: ultra-thin glass microsheet for use as transparent substrates and electrical insulators; precision spheres for use as precision spacers and optical components; micro optics such as prisms, lenses, and windows; injection-molded ceramic microcomponents for surgical equipment and fiber-optic applications; polished sapphire bearings and sub-mm bore nozzles; and single- and multi-bore capillary tubing. Other items are available upon request.
Learn more.
---
Smith Metal Products adds Titanium Metal Injection Molding capabilities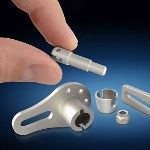 Smith Metal Products has added Titanium Metal Injection Molding (TiMIM) capabilities to its MIM portfolio of materials that include stainless steels, alloys, and ceramics. TiMIM involves mixing powdered Titanium metal with a binder material to compose a feedstock capable of being handled by injection molding equipment. Metal injection molding allows complex Titanium parts to be shaped with precision in a single operation and in high volume as compared to traditional Titanium machined metal components.
Learn more.
---
Entry-level industrial-grade 3D printer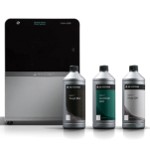 The FabPro 1000 from 3D Systems is a new entry-level system that packs 30 years of industrial 3D-printing know-how into its design to deliver superior quality at up to 3X faster high-throughput print speeds than competing printers. Digital Light Printing (DLP) Stereolithography uses a projector to image each layer within a UV-curable, liquid plastic material. This easy-to-use system, with a build size of 125 x 70 x 120 mm (4.92 x 2.76 x 4.72 in.), has 3D Sprint file preparation and print software included -- all at a price of $4,995.
Learn more about it.
---
Polyplastics develops metal-resin bonding tech for automotive and electrical/electronics
Polyplastics (Tokyo), a global supplier of engineering thermoplastics, has developed an innovative technology for direct metal-resin bonding, a process that uses metal insert molding. Metal parts and resins are firmly bonded by introducing molten resin through injection molding to metal parts that have already undergone sufficient surface treatment. Metal-resin composites deliver the properties of metals (high rigidity, electrical conductivity) and engineering plastics (low density, electrical insulation). This technology has overcome the many factors that traditionally have had an adverse effect and prevented stable bonding. Polyplastics has a U.S. presence in Farmington Hills, MI.
Click here to learn more.
---
Surface treatment available for strongest cast aluminum alloy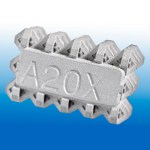 General Magnaplate Corp. has made an exclusive license agreement with the U.K.'s Poeton Industries for the Apticote A20X surface enhancement process, used for treating the innovative A20X aluminum alloy. A20X is MMPDS certified (as AA205) and is the strongest cast aluminum alloy available today, with strength properties comparable to 7000 series wrought material. A20X cast and additively manufactured parts are in production today for major aerospace customers. The AptiMag-X treatment enhances the surface of A20X parts, improving wear resistance, hardening, and finish. The agreement means that General Magnaplate will become the exclusive supplier of Apticote A20X, which they will brand AptiMag-X in North America. Licensed A20X foundries, additive manufacturing companies, and aerospace customers will be able to have parts treated with AptiMag-X at the company's facilities in Linden, NJ, and Arlington, TX.
Click here to learn more.
---
New light and tough structural compounds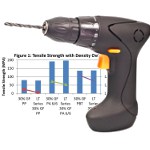 RTP Company has developed new light and tough (LT) Compounds, a series of thermoplastic compounds that weigh 5 to 10 percent less than typical filled compounds, but with equivalent mechanical properties and similar shrinkage values. LT Compounds are a fast and easy way to accomplish weight reductions in parts molded with glass fiber reinforcement without compromising performance or requiring modifications to existing tools. They are best used as lightweight alternatives when the goal is to minimize energy consumption or the amount of human effort required to use the part.
Click here to learn more.
---
How colorants affect plastic characteristics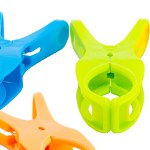 If you're starting a custom plastic injection molding project, you'll want to select a material with the properties most suitable for the function of your parts. One aspect of polymer characteristics that doesn't always get the consideration it deserves is the addition of colorant. Believe it or not, there is a whole scientific body of knowledge about the ways in which adding color to plastic can affect the behavioral properties of the plastic. This short article by Denny Scher of ICO Mold takes a high-level look at some of the different, and surprising, ways colorants can have an effect on plastics.
Read the full article.
---
SABIC adds unique PP Ultra Melt Strength resin to its global foam portfolio for lightweighting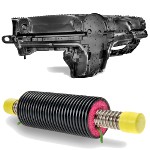 SABIC PP-UMS (Ultra Melt Strength) resin is a completely new generation of melt strength polypropylene. This new resin is unique in the market, with a melt strength of more than 65 cN and outstanding foam-ability. It can be used by all industry segments as a building block to develop new foaming solutions that enable an unprecedented level of lightweighting, from automotive to packaging to the building and construction markets.
Click here to learn more.
---
Understanding how metal 3D parts are made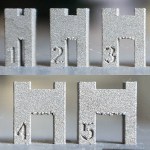 Greg Paulsen, Xometry's director of applications engineering, explores key design considerations for Metal 3D Printing. Learn how support structures and build orientations impact the finished part's features and surface finish, so you can know what to expect from your next Direct Metal Laser Sintering (DMLS) project.
Read this insightful blog full of useful examples.
---
Dow structural adhesive joining solutions enhance lightweight module construction in automotive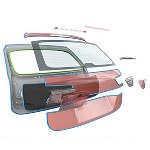 Dow Automotive Systems is leveraging its existing structural adhesives portfolio as well as its development expertise to offer BETAFORCE, BETAMATE, and BETASEAL solutions that enhance lightweight module construction. Liftgate/hatchback, decklids, and front-end carrier modules are increasingly designed using a multi-material mix to decrease weight while maintaining design flexibility, styling, and safety performance.
Read the full article.
---
Epoxy adhesives approved for military use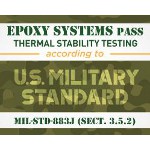 Master Bond has six epoxy compounds -- EP17HTDA-1, EP21TDCHT, EP33, EP46HT-1AO, Supreme 11AOHT, and Supreme 12AOHT-LO -- that have passed MIL-STD-883J section 3.5.2., the subsection of the U.S. Military Standards set by the U.S. DoD that refers to the thermal stability of a material. This test indicates a consistent product performance for temperatures up to 200 C. MIL-STD-883 section 3.8.5 defines that thermal stability testing should be done by performing a thermogravitmetric analysis (TGA) according to ASTM D3850. TGA is the study of a material's weight change as a function of temperature and time under a controlled atmosphere. It can be used to determine the thermal stability of a material.
Learn more about military-grade epoxies.
---
Bosch chooses Ultimaker 3 Extended printers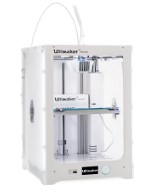 Robert Bosch GmbH is investing on a global scale in Ultimaker 3 Extended printers. After comparing several desktop 3D printers, the Additive Manufacturing department of Bosch selected Ultimaker as the most reliable, easy-to-use, and professional machine. The printers will now be used in different locations across Germany, Hungary, China, India, the United States, and Mexico for printing prototypes, tooling, jigs, and fixtures -- all in a bid to boost innovation while cutting manufacturing and design costs. Materials include nylon, ABS, CPE, PC, and TPU, along with both a PVA water-soluble support material and a dry breakaway support material.
See what makes Ultimaker dual-extrusion printers a standout.
---
Make your own bearings with world's first printable bearing material filament for 3D printers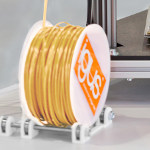 Plastics expert igus has introduced the world's first plastic filament for 3D printers enhanced with tribological, or low-friction, properties. The iglide material, 50 times more resistant to wear and abrasion than conventional 3D-printer materials, is ideally suited for creating custom bearings.
Click here to learn more.
---
Replace metal parts: KyronMAX outperforms long fiber thermoplastics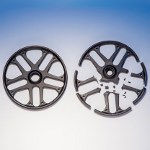 Responding to customer demand for a short fiber thermoplastic material that would outperform the mechanical strength of long fiber thermoplastic (LFT) materials, Piper Plastics developed the KyronMAX series of structural thermoplastic compounds, the next generation in injection-moldable metal replacement technology. KyronMAX is based on short fiber technology, so the polymer behaves more like the isotropic nature of metal and eliminates the processing and fiber breakage concerns associated with LFT compounds. The technology enables very complex parts to be molded with unrivaled mechanical performance and consistency -- and often 20 percent lighter and 20 to 50 percent stronger than LFT.
Click here to learn more.
---
Scientists discover a link between superconductivity and the periodic table
Scientists from Moscow Institute of Physics and Technology and Skoltech have demonstrated the high-temperature superconductivity of actinium hydrides and discovered a general principle for calculating the superconductivity of hydrides based on the periodic table alone. The results of their study were published in March in The Journal of Physical Chemistry Letters.
High-temperature superconductivity is a phenomenon of zero electrical resistance in certain materials at temperatures above -196 C (the temperature of liquid nitrogen) that physicists, chemists, and materials scientists worldwide have been intensely researching for decades, as room-temperature superconductors open up vast prospects for the power industry, transport, and other technology-driven sectors.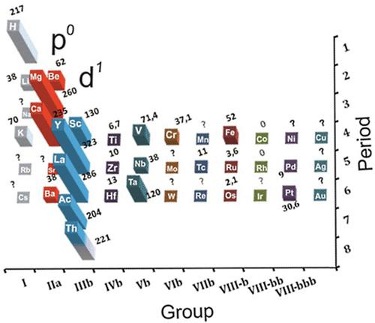 Scientists in Moscow propose that p0 and d1 metals with low-lying empty orbitals tend to form phonon-mediated high-temperature superconducting (HTSC) metal polyhydrides. The correlation to the pattern in the periodic table may help identify promising superconducting materials more quickly. [Credit: Dmitrii V. Semenok et al./The Journal of Physical Chemistry Letters]
Currently, the record holder in high-temperature superconductivity is hydrogen sulfide (H3S), which functions as a superconductor at 1.5 million atmospheres and temperatures down to -70 C. Such pressure levels can only be attained in a lab environment, not in real life, and the temperature is way below room temperature, so the search continues for new superconductors. Perhaps an even higher-temperature superconductivity can be attained in metal-hydrogen compounds. Yet the link between chemical composition and superconductivity was unclear, leaving scientists to puzzle it all out by trial and error.
A group of chemists led by Artem R. Oganov, professor at Moscow Institute of Physics and Technology and Skoltech, recently discovered that certain elements capable of forming superconducting compounds are arranged in a specific pattern in the periodic table.
They theorized that high-temperature superconductivity develops in substances containing metal atoms that come close to populating a new electronic subshell. Metal atoms inside the crystal are thought to become highly sensitive to the positions of the neighboring atoms, which results in strong electron-phonon interaction -- the underlying effect of conventional superconductivity.
Based on this assumption and looking at the periodic table, the scientists supposed that high-temperature superconductivity could occur in actinium hydrides -- substances that fit the desired subshell pattern. Their supposition was verified and confirmed: superconductivity was predicted for AcH16 at temperatures of -69 to -22 C at 1.5 million atmospheres.
"The very idea of a connection between superconductivity and the periodic table was first put forward by Dmitry Semenok, a student at my lab," said Oganov. The principle he discovered is very simple, and it is really amazing that no one had hit upon it before."
Source: Moscow Institute of Physics and Technology
Published April 2018
Rate this article