Custom-made wave springs

Smalley can manufacture custom Wave Springs quickly and economically to meet your specific application requirements. Because force and deflection requirements are application-specific, custom springs are often needed. With Smalley's No-Tooling-Cost™ manufacturing process, customs can be produced from .157" to 120" diameters in carbon steel, stainless steel, or other readily available exotic alloys. Free samples are available of standard parts for testing. All Springs Are Not Equal®!
Learn more.
---
How mobile equipment manufacturers benefit from using formed thermoplastic hoses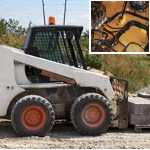 The proper assembly, installation, and specifying of the right hoses and tubing for the application are critical to the trouble-free operation of mobile equipment employed in construction, forestry, mining, and similar industries. This latest blog from Parker examines how formed thermoplastic hoses address these challenges and details how a skid-steer manufacturer reduced labor time and realized significant cost savings.
Read the full article.
---
Inch-size mounting clamps with swivel ball joint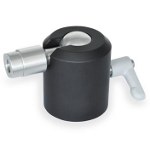 GN 784 mounting clamps with swivel ball joint from JW Winco allow precise and variable adjustment of the ball pivot within the rotation range. This is a particular advantage when adjusting scanners, cameras, lighting, monitors, etc. Thanks to the efficient clamping mechanism, only small amounts of torque on the clamping screw result in comparatively strong clamping pressure on the ball. This force is easily applied by the clamping lever.
Learn more.
---
Precision ceramic and glass microcomponents
Goodfellow, a favorite materials provider for Designfax readers, also supplies a wide variety of ceramic and glass microcomponents, both standard items and items precision-machined to customer specifications. Examples include: ultra-thin glass microsheet for use as transparent substrates and electrical insulators; precision spheres for use as precision spacers and optical components; micro optics such as prisms, lenses, and windows; injection-molded ceramic microcomponents for surgical equipment and fiber-optic applications; polished sapphire bearings and sub-mm bore nozzles; and single- and multi-bore capillary tubing. Other items are available upon request.
Learn more.
---
Cool Tools: Unit Conversion Tool

Convert popular spring units such as force or retaining ring thrust capacities into metric units with Smalley's engineering tools. Convert units such as mass and weight, angular measurements, velocities, temperatures, pressures and densities, and more.
Click here to learn more. You should bookmark this one.
---
Smith Metal Products adds Titanium Metal Injection Molding capabilities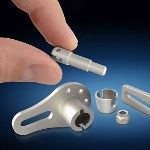 Smith Metal Products has added Titanium Metal Injection Molding (TiMIM) capabilities to its MIM portfolio of materials that include stainless steels, alloys, and ceramics. TiMIM involves mixing powdered Titanium metal with a binder material to compose a feedstock capable of being handled by injection molding equipment. Metal injection molding allows complex Titanium parts to be shaped with precision in a single operation and in high volume as compared to traditional Titanium machined metal components.
Learn more.
---
Linear miniature torque splines and nuts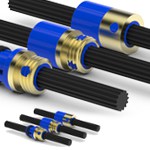 Helix Miniature Torque Splines provide a convenient and efficient device that allows low-friction linear motion while transmitting torque. In a Helix PT Spline assembly, the high-strength composite polymer bushing carries the load between the rotating member (inner race) and the rotating/translating member (bushing). Helix PT Splines are coated with Helix H10X PTFE coating for long life and anti-friction. Available in three bushing styles: Cylinder Mount, Thread Mount, and Anti-Backlash.
Click here to learn more.
---
Entry-level industrial-grade 3D printer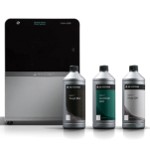 The FabPro 1000 from 3D Systems is a new entry-level system that packs 30 years of industrial 3D-printing know-how into its design to deliver superior quality at up to 3X faster high-throughput print speeds than competing printers. Digital Light Printing (DLP) Stereolithography uses a projector to image each layer within a UV-curable, liquid plastic material. This easy-to-use system, with a build size of 125 x 70 x 120 mm (4.92 x 2.76 x 4.72 in.), has 3D Sprint file preparation and print software included -- all at a price of $4,995.
Learn more about it.
---
Save time with Spirolox® retaining rings

Unlike die-stamped circlips, Spirolox retaining rings and constant section rings are coiled on edge to the exact diameter required. Spirolox rings have no protruding ears to interfere with mating components in an assembly and do not require special tools for removal or installation. Unlike traditional fasteners, retaining rings eliminate machining and threading, reducing costs and weight. Spiral retaining rings do not require special tools for removal and are supplied standard with removal notches for easy extraction from a groove. Smalley offers over 6,000 standard rings, which are readily available in both carbon and stainless steel. For more information, download the eBook. Visit Smalley.com to request a catalog and product samples, or contact one of Smalley's engineers with questions.
---
Polyplastics develops metal-resin bonding tech for automotive and electrical/electronics
Polyplastics (Tokyo), a global supplier of engineering thermoplastics, has developed an innovative technology for direct metal-resin bonding, a process that uses metal insert molding. Metal parts and resins are firmly bonded by introducing molten resin through injection molding to metal parts that have already undergone sufficient surface treatment. Metal-resin composites deliver the properties of metals (high rigidity, electrical conductivity) and engineering plastics (low density, electrical insulation). This technology has overcome the many factors that traditionally have had an adverse effect and prevented stable bonding. Polyplastics has a U.S. presence in Farmington Hills, MI.
Click here to learn more.
---
Surface treatment available for strongest cast aluminum alloy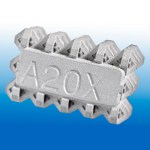 General Magnaplate Corp. has made an exclusive license agreement with the U.K.'s Poeton Industries for the Apticote A20X surface enhancement process, used for treating the innovative A20X aluminum alloy. A20X is MMPDS certified (as AA205) and is the strongest cast aluminum alloy available today, with strength properties comparable to 7000 series wrought material. A20X cast and additively manufactured parts are in production today for major aerospace customers. The AptiMag-X treatment enhances the surface of A20X parts, improving wear resistance, hardening, and finish. The agreement means that General Magnaplate will become the exclusive supplier of Apticote A20X, which they will brand AptiMag-X in North America. Licensed A20X foundries, additive manufacturing companies, and aerospace customers will be able to have parts treated with AptiMag-X at the company's facilities in Linden, NJ, and Arlington, TX.
Click here to learn more.
---
New bearings for high-speed applications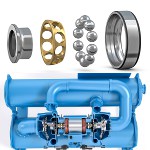 A clear trend in compressor and pump applications is to raise the power density by increasing the rotational speed. To fulfill this requirement, SKF has developed a new range of single-row angular contact ball bearings. The goals have been threefold: to increase the limiting speed by 40 percent, to reduce the noise levels, and to increase the robustness of the bearing in unfavorable operating conditions (shock loads, shaft misalignment, etc.). Apart from these, SKF is helping manufacturers to meet customer demands for even higher levels of energy efficiency and reliability.
Read the full article.
---
What are the strongest adhesives for bonding titanium?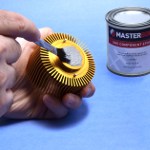 Master Bond's labs recently tested the tensile lap shear strength of a variety of adhesives when bonding titanium to titanium. The surfaces were properly roughened and cleaned with acetone in preparation for the tests. Each of the 11 one- and two-part epoxies tested features different thermal, electrical, and chemical resistance properties that can make them more appealing for specific applications. Therefore, it's important to consider the operational conditions before deciding that the system with the highest strength value is the best for the titanium bonding job.
Learn more.
---
Build a mini synchronous drive system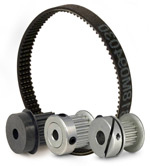 With the Miniature Synchronous Drive System from Stock Drive Products (SDP), you can put your own 1-, 2-, or 3-mm design together in a snap. The tiny timing belts and pulleys are engineered and manufactured to give high accuracy and smooth, dependable operation in 3D printers, moving security cameras, med devices, robotic surgical equipment, self-service machines, and more. Advantages include no-slip synchronization, accurate positioning, high torque transmission with low backlash, quiet operation, and long belt life.
Click here to learn more.
---
New light and tough structural compounds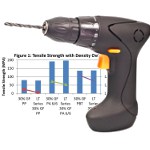 RTP Company has developed new light and tough (LT) Compounds, a series of thermoplastic compounds that weigh 5 to 10 percent less than typical filled compounds, but with equivalent mechanical properties and similar shrinkage values. LT Compounds are a fast and easy way to accomplish weight reductions in parts molded with glass fiber reinforcement without compromising performance or requiring modifications to existing tools. They are best used as lightweight alternatives when the goal is to minimize energy consumption or the amount of human effort required to use the part.
Click here to learn more.
---
Hypersonic aircraft, lasers, and artificial intelligence: DARPA chief describes promising future defense technologies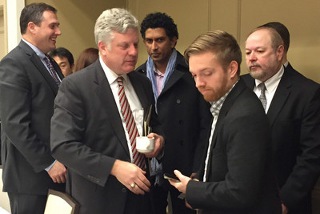 Steven H. Walker, center, the director of the Defense Advanced Research Projects Agency, speaks with a reporter after a discussion with the Defense Writers' Group in Washington. Walker said the agency is being true to its roots in examining technologies and giving DoD options. [DoD photo by Jim Garamone]
By Jim Garamone, Department of Defense
The Defense Advanced Research Projects Agency (DARPA) will employ enhanced funding to discover technologies used to defend the homeland, bolster deterrence, and aid service members engaged in counterterror and counterinsurgency fights, the agency's director said on March 1.
Speaking with the Defense Writers' Group, Steven H. Walker said his agency is working on artificial intelligence projects, hypersonic technologies, promising biological technologies and advanced electronics, among other technologies.
"We understand we are in competition with countries like Russia and China," he said.
Competition with Russia, China
Russia and China are investing heavily in hypersonic technologies involving aircraft that travel between Mach 4 (about 3,070 mph) and Mach 8 (about 6,100 mph), and the two countries also worked on the capability to increase the range of their missiles and decrease the chance that they could be shot down.
DARPA, the U.S. Air Force, and NASA have been working together for years on the technology. At the beginning of the administration, Walker approached Defense leaders with the need for a national initiative to develop hypersonics.
"We did push for a comprehensive initiative in the budget process this fall," he said. "We did receive a budget increase at DARPA and some of the services to do more in hypersonics. I don't think we got all we wanted, but it was a good first step."
Walker looks forward to working with Mike Griffin, the new undersecretary of defense for research and engineering and former NASA administrator. "He understands this problem very well, and I've been told by Mike personally that this will be one of his top priorities," Walker said.
DARPA has supported experiments with hypersonic capabilities, and the boost in funding will allow the agency to assess what can be done with the systems, how effective they are, and how affordable they will be.
He expects test flights next year.
Laser technology
DARPA has also pushed the area of solid-state lasers being tested at White Sands Missile Range in New Mexico. Service members may use directed-energy weapons in a tactical environment soon. "These are not the size of a [Star Wars] light saber, but they can drive it around," Walker said.
In space systems, the agency is looking at the feasibility of very capable low-Earth-orbit satellites to handle a variety of needs from command and control to intelligence, surveillance and reconnaissance, to tactical warfighting.
"We've been talking about this for a while," Walker said. "The difference today is, the technology has moved along to allow you to think about having some pretty capable small satellites that you can put in at (low-Earth orbit) and in larger constellations. We are starting a program called Blackjack ... which is looking at how we leverage the commercial sector and what they want to do at [low-Earth orbit]."
This would be naturally resilient, because it would force an adversary to target a large number of satellites. They would be in low-Earth orbit and relatively cheap to place -- current satellites are in geosynchronous orbit more than 22,300 miles above the Earth.
Artificial intelligence
The director believes the United States is not falling behind Russia and China in artificial intelligence. AI has been on DARPA's plate since the 1960s, he said, and he makes a distinction between "autonomy at rest" and "autonomy in motion" when he discussed AI.
Autonomy at rest involves applications that use judgment to help humans make decisions or to search an area or to collate data.
Autonomy in motion deals with AI systems operating on their own, and while there is a place for these it stops short of the lethal-force decision. Walker said the United States will not allow a machine to make that judgment.
Walker says there needs to be more research in biological fields. He said DARPA is looking at developing flu vaccines in days rather than months or years. He wants the agency to look at ways to protect the nation from biological attack. He wants to look at the issue of gene editing that China, for example, is pushing ahead with. "Biology is a fast-paced field, and certainly you can see China is making a big investment in DNA sequencing and their DNA database," he said.
The United States also needs to invest in advanced electronics, Walker said. China is looking to bring all electronics manufacturing onshore.
"We're looking at the electronics resurgence initiative," he said. "This is $150 million to look at new designs and manufacturing techniques to bridge the gap between our global multinational companies in this country that are at the forefront of electronics in this country and the defense industrial base."
DARPA at its heart is a risk-taking organization, Walker said. World-class scientists are there for between three and five years and then move on.
"We get a lot of support from the White House, the Congress, the Pentagon -- apolitical support -- to do the right thing, to take risks," the director said. "They give us a lot of freedom to make decisions and to think differently and to start and stop our own programs. If you want an organization to produce out-of-the-box ideas and projects, to continue to disrupt the status quo and to question, then you want that organization to have some autonomy and flexibility."
Published March 2018
Rate this article