New food-grade high-performance PEEK polymers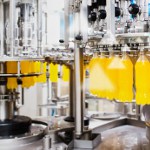 To help OEMs meet the stringent regulatory and quality demands affecting the food equipment industry, Victrex is introducing a dedicated PEEK food-grade portfolio. Compared to metal components, the new VICTREX FG family of high-performing thermoplastics offers additional benefits in terms of cost effectiveness, productivity, and performance for OEMs -- and the neutral taste expected by consumers. In addition, with the adoption of Industry 4.0 technology, VICTREX PEEK can offer food and beverage manufacturers the opportunity to optimize efficiency and reduce production costs, when compared to the use of metals.
Learn more.
---
Structural adhesive offers high-temperature stability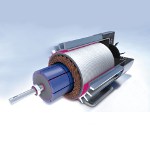 DELO MONOPOX HT2860 achieves up to three times the strength at a temperature of 150 C compared to previous product generations. Ideal for bonding magnets in electric motors used in cars, drilling, milling tools, washing machines, as well as in many other applications, this new adhesive has a glass transition temperature (Tg) of 168 C. It achieves a strength of 18 MPa on sand-blasted aluminum at 150 C. This is up to three times higher than standard epoxy resins. The versatile epoxy resin can be heat-cured in an oven for 40 minutes at 150 C or by induction.
Learn more.
---
How specialized coatings can make mechanical parts harder for extreme industrial applications
Although bearings, gears, rollers, and other precision components are generally made of hardened steel or metal alloys, those used in high-load applications still can fail due to excessive wear, surface fatigue, pitting, galling, and corrosion. To address this problem, product engineers and component manufacturers often turn to specialized PVD (physical vapor deposition) coatings that can further harden the surface of these parts. Oerlikon Balzers provides solid solutions.
Read the full article.
---
Stainless steel multiple-joint hinges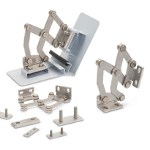 JW Winco now offers GN 7237 Stainless Steel Multiple-Joint Hinges with internal mounting brackets and a maximum opening angle of 180 deg. These multi-joint hinges are installed on the inside of flaps, hatches, or compartment doors to save space and ensure protection against vandalism. These hinges are generally used in pairs, meaning that one type L (left-hand) and one type R (right-hand) are used per opening. For higher loads, such as from large hatches, these can be supplemented with additional hinges of either type.
Learn more.
---
Automated formed-in-place gasket foam process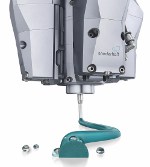 Formulated to conform to highly intricate metal and plastic components, Fermapor K31 from Sonderhoff USA (now part of Henkel AG & Co.) is a product line of two-component, crosslinking polyurethane formed-in-place (FIP) foam sealants designed to create a barrier gasket that effectively protects industrial assemblies from moisture, dust, dirt, liquids, and other contaminants. Fermapor K31 products offer dramatic cost and performance advantages over prefabricated, manually applied cut gaskets. The technology effectively seals electrical and electronic housings, lighting enclosures, appliances, automotive components, and other contaminant-sensitive consumer and industrial assemblies.
Learn more.
---
New carbon fiber material for SAAM additive systems from Cincinnati Inc.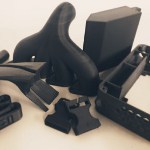 Cincinnati Inc. (CI) has released a new carbon fiber resin material for its SAAM (Small Area Additive Manufacturing) fused filament fabrication 3D-printing system. The new material is impact resistant, lightweight, and has a very high strength-to-weight ratio. Carbon fiber reinforcement makes the material stiff, durable, and very low warping -- and advanced inter-layer adhesion results in accurate, quality parts with good dimensions. The material's superior surface finish makes it perfect for custom tooling applications, as well as assembly, CMM, welding, and CNC fixtures.
Learn more about the carbon fiber material.
Learn more about Small Area Additive Manufacturing system.
---
World's first particle foam based on polyethersulfone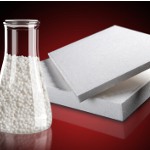 After two years of intensive research, BASF is now able to present prototypes of the world's first particle foam based on polyethersulfone (PESU). The foam is characterized by its unique combination of properties: high-temperature resistance, inherent flame retardancy, and extreme light weight coupled with great stiffness and strength. It is therefore particularly well suited for complex-shaped components in cars, airplanes, and trains.
Learn more.
---
Modern CAD for Machine Design (new eBook)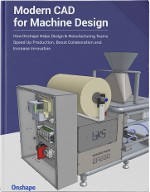 In Onshape's latest eBook, "Modern CAD For Machine Design," you'll be introduced to five machinery companies that recently modernized their entire design and manufacturing process with one key decision: switching to a modern, cloud-based CAD system, enabling their design teams to cast aside old software headaches and focus on doing their best work. You'll read insights from: GKS Packaging (Vertical Form, Fill and Seal Machines), Universal Logic (Artificial Intelligence/Robotics), Voxel Innovations (Pulsed Electrochemical Machining), Hirebotics (Robotics), and Absolute Machinery (Injection Molding).
Get your eBook today.
---
Conserve precious liquids with patented no-drip atomizing nozzles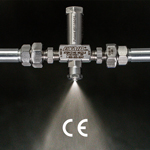 EXAIR's new 1/8 NPT No Drip External Mix Atomizing Spray Nozzles mix liquid and air outside the nozzle and allow the air and liquid flows to be adjusted independently. The new, patented No Drip External Mix Atomizing Spray Nozzles work in the same way the company's standard atomizing nozzles do, but have the added benefit of positively stopping liquid flow when compressed air is shut off. Post-spray drips waste precious resources such as expensive coatings, chemicals, or water.
Learn more.
---
Compact electronic slide bolt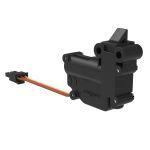 Southco has expanded its line of electronic access control solutions with a compact electronic slide bolt that simplifies the upgrade from mechanical to electromechanical latching. The lightweight EM-05 5 Series Electronic Slide Bolt is suitable for light-load applications where space is limited, and the efficient gear motor-driven mechanism can be easily integrated with any control system. This unit features simple push-to-close functionality and offers an upgrade in energy efficiency compared with solenoid solutions, as no power is required to maintain the product's retracted or extended position. It offers simple installation and retrofits.
Click here to learn more.
---
Spinning flare nuts eliminate loose fasteners in thin metal sheet applications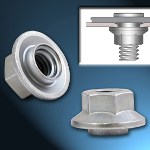 PEM SFN spinning flare nuts from Penn-Engineering become permanently captivated upon installation in thin metal sheets and, when paired with a self-clinching stud or other fixed externally threaded hardware, can eliminate all loose fasteners (including flange nuts) in attachment applications. These one-piece, flanged hex nuts additionally will spin freely in a sheet enabling quick attachment to mating hardware. Their use ultimately promotes savings in assembly time and costs.
Learn more.
---
Test your knowledge: High-temp adhesives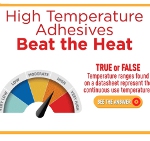 Put your knowledge to the test by trying to answer these key questions on how to choose the right high temperature-resistant adhesive. The technical experts from Master Bond cover critical information necessary for the selection process, including questions on glass transition temperature and service temperature range. Some of the answers may surprise even the savviest of engineers.
Take the quiz.
---
Maintenance-free bearings help pool owners keep it clean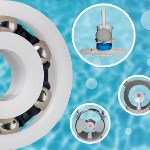 A company in Austria has designed a swimming pool cleaning device with maintenance-free polymer ball bearings from igus that helps people keep their water crystal clear. Poolwonder designers chose corrosion-resistant and maintenance-free components because of the unique application for underwater use.
Read the full article.
---
Build a mini synchronous drive system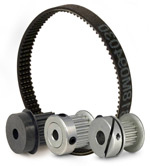 With the Miniature Synchronous Drive System from Stock Drive Products (SDP), you can put your own 1-, 2-, or 3-mm design together in a snap. The tiny timing belts and pulleys are engineered and manufactured to give high accuracy and smooth, dependable operation in 3D printers, moving security cameras, med devices, robotic surgical equipment, self-service machines, and more. Advantages include no-slip synchronization, accurate positioning, high torque transmission with low backlash, quiet operation, and long belt life.
Click here to learn more.
---
How colorants affect plastic characteristics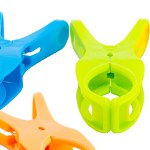 If you're starting a custom plastic injection molding project, you'll want to select a material with the properties most suitable for the function of your parts. One aspect of polymer characteristics that doesn't always get the consideration it deserves is the addition of colorant. Believe it or not, there is a whole scientific body of knowledge about the ways in which adding color to plastic can affect the behavioral properties of the plastic. This short article by Denny Scher of ICO Mold takes a high-level look at some of the different, and surprising, ways colorants can have an effect on plastics.
Read the full article.
---
Hypersonic aircraft, lasers, and artificial intelligence: DARPA chief describes promising future defense technologies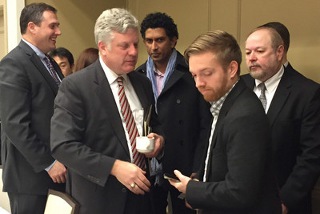 Steven H. Walker, center, the director of the Defense Advanced Research Projects Agency, speaks with a reporter after a discussion with the Defense Writers' Group in Washington. Walker said the agency is being true to its roots in examining technologies and giving DoD options. [DoD photo by Jim Garamone]
By Jim Garamone, Department of Defense
The Defense Advanced Research Projects Agency (DARPA) will employ enhanced funding to discover technologies used to defend the homeland, bolster deterrence, and aid service members engaged in counterterror and counterinsurgency fights, the agency's director said on March 1.
Speaking with the Defense Writers' Group, Steven H. Walker said his agency is working on artificial intelligence projects, hypersonic technologies, promising biological technologies and advanced electronics, among other technologies.
"We understand we are in competition with countries like Russia and China," he said.
Competition with Russia, China
Russia and China are investing heavily in hypersonic technologies involving aircraft that travel between Mach 4 (about 3,070 mph) and Mach 8 (about 6,100 mph), and the two countries also worked on the capability to increase the range of their missiles and decrease the chance that they could be shot down.
DARPA, the U.S. Air Force, and NASA have been working together for years on the technology. At the beginning of the administration, Walker approached Defense leaders with the need for a national initiative to develop hypersonics.
"We did push for a comprehensive initiative in the budget process this fall," he said. "We did receive a budget increase at DARPA and some of the services to do more in hypersonics. I don't think we got all we wanted, but it was a good first step."
Walker looks forward to working with Mike Griffin, the new undersecretary of defense for research and engineering and former NASA administrator. "He understands this problem very well, and I've been told by Mike personally that this will be one of his top priorities," Walker said.
DARPA has supported experiments with hypersonic capabilities, and the boost in funding will allow the agency to assess what can be done with the systems, how effective they are, and how affordable they will be.
He expects test flights next year.
Laser technology
DARPA has also pushed the area of solid-state lasers being tested at White Sands Missile Range in New Mexico. Service members may use directed-energy weapons in a tactical environment soon. "These are not the size of a [Star Wars] light saber, but they can drive it around," Walker said.
In space systems, the agency is looking at the feasibility of very capable low-Earth-orbit satellites to handle a variety of needs from command and control to intelligence, surveillance and reconnaissance, to tactical warfighting.
"We've been talking about this for a while," Walker said. "The difference today is, the technology has moved along to allow you to think about having some pretty capable small satellites that you can put in at (low-Earth orbit) and in larger constellations. We are starting a program called Blackjack ... which is looking at how we leverage the commercial sector and what they want to do at [low-Earth orbit]."
This would be naturally resilient, because it would force an adversary to target a large number of satellites. They would be in low-Earth orbit and relatively cheap to place -- current satellites are in geosynchronous orbit more than 22,300 miles above the Earth.
Artificial intelligence
The director believes the United States is not falling behind Russia and China in artificial intelligence. AI has been on DARPA's plate since the 1960s, he said, and he makes a distinction between "autonomy at rest" and "autonomy in motion" when he discussed AI.
Autonomy at rest involves applications that use judgment to help humans make decisions or to search an area or to collate data.
Autonomy in motion deals with AI systems operating on their own, and while there is a place for these it stops short of the lethal-force decision. Walker said the United States will not allow a machine to make that judgment.
Walker says there needs to be more research in biological fields. He said DARPA is looking at developing flu vaccines in days rather than months or years. He wants the agency to look at ways to protect the nation from biological attack. He wants to look at the issue of gene editing that China, for example, is pushing ahead with. "Biology is a fast-paced field, and certainly you can see China is making a big investment in DNA sequencing and their DNA database," he said.
The United States also needs to invest in advanced electronics, Walker said. China is looking to bring all electronics manufacturing onshore.
"We're looking at the electronics resurgence initiative," he said. "This is $150 million to look at new designs and manufacturing techniques to bridge the gap between our global multinational companies in this country that are at the forefront of electronics in this country and the defense industrial base."
DARPA at its heart is a risk-taking organization, Walker said. World-class scientists are there for between three and five years and then move on.
"We get a lot of support from the White House, the Congress, the Pentagon -- apolitical support -- to do the right thing, to take risks," the director said. "They give us a lot of freedom to make decisions and to think differently and to start and stop our own programs. If you want an organization to produce out-of-the-box ideas and projects, to continue to disrupt the status quo and to question, then you want that organization to have some autonomy and flexibility."
Published March 2018
Rate this article