Traction drives leverage engineered fluids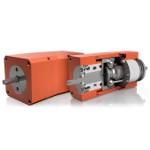 Rolling Motion Industries (RMI) has released two high-efficiency traction drives: the MAR-17-1-2.1 (speeds to 3,600 rpm with 10 to 20 in./lb of torque) and MAR-23-1-2.1 (3,600 rpm with 20 to 30 in./lb of torque). These one-way traction drives have only six moving parts and use an engineered traction fluid with a coefficient of friction of just 0.1 to 0.12. These traction drives typically last three times longer than conventional gearboxes, and with no metal-to-metal contact they generate up to 72 percent less heat after 24 hr of continuous operation. Additionally, they create up to 38 percent lower dB at 3,000 rpm than conventional gearboxes (less than a home refrigerator). Applications include: pumps, blowers, fans, turbo and superchargers, conveyers, HVAC systems, and medical -- anything that rotates.
Learn more.
---
First explosion-proof stackable multi-turn encoder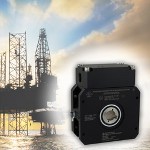 Sensata Technologies has introduced the first explosion-proof stackable multi-turn encoder, an ideal position sensing solution for oil and gas applications such as drawworks, top drives, and pipe-handling equipment where working conditions are extreme. The new encoder, BEI Sensors' model MAAX, is ATEX and IECEx certified to operate in explosive environments and features a Profibus output in a unique, stackable package. CANopen and SSI outputs are also available. The MAAX provides up to 16 bits of resolution as well as up to 16 bits of turns by mechanical counting. This workhorse product operates directly in Zone 1 environments without the need for an accompanying Intrinsic Safety barrier.
Learn more.
---
QTR Series torque motors by Tecnotion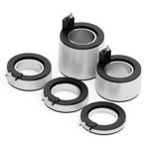 With Tecnotion torque motors, the magnetic design is optimized for maximum flux density and copper fill to provide very high torque-to-volume ratios. Motor sizes from 68-mm to 160-mm diameters are available, packing serious power to work with any servo drives on the market. Tecnotion torque motors are extremely compact, provide a very stiff drive train, eliminate the need for time-consuming mounting procedures, are virtually maintenance free, and can be integrated directly into the machine structure, while the spacious open inner diameter enables wire and cable feedthrough. The entire series comes with completely sealed stators and integrated temperature protection and measurement sensors.
Learn more.
---
160 pages of piezo linear motors, rotation stages, and multi-axis motion systems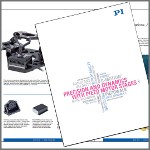 PI's new comprehensive piezo motor solutions catalog covers a large number of linear, rotary, and multi-axis motion systems based on a variety of piezo motor types along with their appropriate controllers and drivers. Ultrasonic piezo motors, for example, are preferred for high-speed applications; inertia motors are small and cost efficient; PiezoWalk drives provide the highest forces up to 800N; and piezo-ratchet drives can replace micrometers in remote "set and forget" applications. All piezoelectric motors are self-locking, field-less, and not affected by magnetic fields, and they can be integrated easily mechanically.
Get the PI catalog today (no registration required).
Watch different types of piezo motors in action.
Learn about different kinds of piezo motors products.
---
Electromechanical actuators with modular design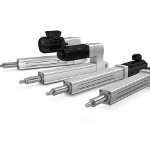 SKF CASM-100 electro-mechanical actuators from SKF Motion Technologies have been uniquely engineered with a modular design, enabling tailored solutions for a wide range of industrial linear movement and positioning applications. Modules provide choices among motor types, gearboxes, ball screws or roller screws, and accessories. Standardized interfaces connect the different components. These actuators use up to 80 percent less energy than pneumatic cylinders and 50 percent less energy than hydraulic alternatives and eliminate any need for constantly running compressors, hoses, and other components.
Click here to learn more.
---
Precision linear motion drive with thrust capacity to 800 lb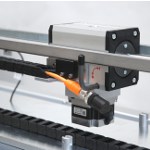 The Precision Motion Drive System from Amacoil/Uhing is a Uhing Model RG rolling ring linear drive integrated with a motion controller for precision linear motion applications. The Precision Motion Drive is fully programmable and meets application requirements for precision winding/spooling, pick-and-place machines, X-Y coordinate tool movement, metrology equipment, and other machinery providing fast, accurate positioning and reciprocating linear motion. Depending on the size of the RG drive nut in the system, the Precision Motion Drive System provides from 7 to 800 lb of axial thrust.
Learn more.
---
100 million random moves: New lifetime spec for rotary micro stage with integral controller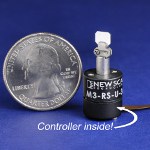 New Scale Technologies has significantly increased the lifetime specification for its M3-RS-U Rotary Smart Stage, a precision rotary micro stage with embedded controller. The new specification of 100 million random positions underscores the utility of these compact, all-in-one motion modules for integrating embedded motion inside medical, commercial, and industrial instruments. These rotary stages are ideal for beam steering and mirror positioning applications where precise, point-to-point positioning or dynamic scanning up to 100 Hz is needed. Applications include medical instruments such as surgical lasers and fluorescence microscopes, industrial systems for 3D measurements and remote sensing, optical communications systems, and obstacle detection and tracking systems for robots and drones (UAVs).
Learn more.
---
New UR e-Series cobots feature unique sensing, safety, and precision tools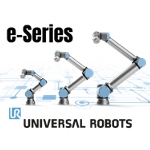 Universal Robots pioneered the collaborative robot and continues to evolve its ground-breaking, automation technology with the introduction of its new flagship line of e-Series cobots. The new UR3e, UR5e, and UR10e robot arms will launch in North America at IMTS in Chicago, Sept. 10-15, at Universal Robots' IMTS booth N-236861. With a new built-in, tool-centric force/torque sensor, the e-Series is ready to take on popular collaborative robot applications that require force control right out of the box such as sanding, buffing, polishing, and deburring, where force-feedback is paramount in order to obtain uniform results. Additionally, the force/torque sensor can be used to measure mass and perform inspection processes or precisely detect contact.
Learn more.
---
What design engineers need to know about voice coil actuator technology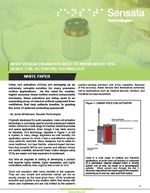 Looking to develop a product that requires highly reliable, highly repeatable, and highly controllable motions? Take a look at voice coil actuator technology. VCAs are very simple yet extremely robust and precise. Sensata Technologies has published a new white paper (What Design Engineers Need to Know about VCA Technology) that covers the current state of Voice Coil Technologies for a variety of linear motion applications. Good info here.
Get the white paper. No registration required.
---
US Digital releases new MD3 microstepping motor driver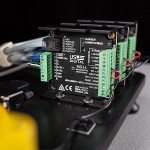 The MD3 Programmable Microstepping Motor Driver is capable of driving motors from NEMA size 14 to 42. The MD3 accepts 9 to 50 VDC power inputs and is rated for currents up to 7A continuous duty. In addition to digital input controls, the MD3 can be configured and controlled using the open MODBUS RTU protocol over a RS485 bus. A GUI application is supplied that allows many settings to be changed including the number of microsteps per full step, acceleration/deceleration rates, speed, and current cutback.
Learn more.
---
New power-off brakes for parking brake applications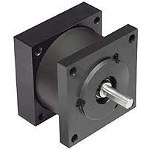 The MPC is a power-off brake module with an output shaft. The unit mounts directly onto a NEMA C-Face servo or stepper motor, and the output can also be coupled to a NEMA C-Face gear reducer. This brake is designed to decelerate or hold an inertial load when the voltage is turned off. When voltage is applied, the friction disc is released, and the brake is free of torque. This power-off brake is best suited for parking brake applications used to hold a load in position, and is ideal for creating brake motor packages for small servo and stepper NEMA 17 or NEMA 23 frame motors. Available from Servo2Go.
Learn more.
---
New planetary BLDC gearmotors: High torque and compact design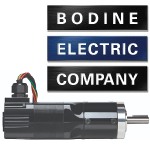 Bodine Electric Company introduces the new type 22B4-60P planetary gearmotor. This integral gearmotor combines Bodine's high-performance type 22B brushless DC motor with the new 60P (60-mm) planetary gearhead. It is ideal for applications that require higher torque than conventional helical/spur gearheads of a similar size can provide, and where a very low backlash gearhead is not required. Typical applications include conveyors, pumps, packaging, industrial automation, and a wide range of solar- or battery-powered equipment.
Learn more.
---
Compact brushless DC servo motor with integrated controller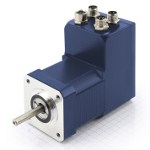 Nanotec has developed the compact PD2-C-IP, a brushless DC servo motor with integrated controller and 42-mm flange size for use in harsh environmental conditions (class IP65). The PD2-C-IP is available as a brushless DC motor, with an operating voltage of 12 V to 48 V and a rated power of 105 W, and as a stepper motor with a nominal torque up to 0.5 Nm. Due to the field-oriented control based on an integrated encoder, both motors are controlled in the same way and differ only in their working point. Each motor is available in a USB or CANopen version. They offer effective and economical drive solutions when high precision and maximum benefit are required.
Click here to learn more.
---
DriveWare 7.4.2 released with stepper motor support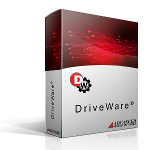 DriveWare is ADVANCED Motion Controls' no-cost software tool that allows users to set drive limits, tune the control loops, configure various types of feedback, auto-commutate, analyze signals over a built-in multi-channel oscilloscope, and more. Because of its powerful capabilities and user-friendly interface, DriveWare is the best way to commission and configure the company's DigiFlex Performance series drives. The biggest update to DriveWare 7.4.2 is the expanded support for stepper motors -- making it easy to configure closed-loop steppers while streamlined algorithms make autocommutation 75% faster. DigiFlex Performance servo drives can operate two-phase and three-phase steppers in addition to rotary and linear permanent magnet, brushed, and brushless servo motors.
Click here to learn more.
---
Plug-and-play motion system in a box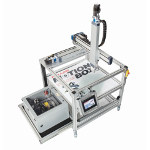 Rollon Corp. has launched Motion Box, a new pre-engineered Cartesian robot system designed to deliver users six different motion profiles that can be set up and running in a couple of hours. Motion Box covers everything from the human-machine interface (HMI) to the output of reliable motion. Even the cable management is included. The initial system setup is already complete, so end users can get parts moving in a reliable and repeatable manner. Motion Box incorporates the Q-Motion Controller from Mitsubishi Electric, which features four-axis motion control, energy-efficient drivers, integrated I/O and network access, and a clean, efficient HMI setup.
Learn more.
---
Autonomous vehicles are traveling the wrong road to safety, says computer science engineer
The current method of programming autonomous vehicles may not be safe, according to Aviral Shrivastava, a computer science associate professor in Arizona State University's Ira A. Fulton Schools of Engineering.
"Google, Uber, and others in the field are using humans to teach cars how to drive themselves," explained Shrivastava. "And that's the problem. They are learning from human drivers, all of whom are fallible, and the autonomous cars are in turn mirroring our unsafe driving behaviors."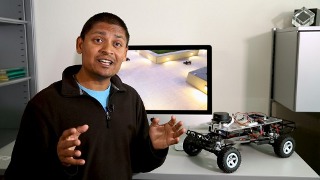 Arizona State University Associate Professor Aviral Shrivastava's research involves developing technologies used in autonomous vehicle programming. [Credit: Photo by Ken Fagan/ASU Now]
Shrivastava is known on campus for his embedded computing course, which challenges students to engineer a self-navigating, obstacle-avoiding toy race car complete with GPS, a laser surveying system (LIDAR), an inertial measurement unit to calculate distances, and other sensing tools used in full-scale autonomous vehicles.
"The autonomous car industry is trying to walk a line between a human-like driving experience and guaranteed safety. At the moment, the familiarity of human-like driving is the norm and puts safety at risk," Shrivastava said.
A fatal accident involving a self-driving Uber vehicle and a pedestrian in March in Tempe, AZ, caused Uber to suspend its driverless operations in Arizona. Gov. Doug Ducey suspended Uber's tests of self-driving cars on Arizona roads, according to The Arizona Republic.
The video captured by the vehicle just before the March 18 accident illustrates the pedestrian was crossing the road, outside of a pedestrian walkway, in the dark. Lights from the car, streetlights, and ambient lighting failed to illuminate the pedestrian.
"Since the Uber car could not detect anything in the dark area, it did what a human driver might have done -- proceeded as though there was no one in the road. When the car's lights brought the woman suddenly into view, the car was travelling too fast to stop," Shrivastava said.
Shrivastava asserts that an autonomous vehicle should travel only at the speed at which it can stop before its range of vision ends -- the vehicle should be traveling slowly enough that it can instantly stop if an obstruction suddenly comes into view.
"When encountering a situation like that on Mill Avenue, a safety-focused vehicle's computer would assume there is an obstacle in the unlighted area and proceed accordingly, unlike humans who often assume that the path ahead is clear," he said.
Tempe Police Chief Sylvia Moir said, "I suspect, preliminarily, it appears that the Uber would likely not be at fault in this accident," concluding that regardless of whether the vehicle was driven by a human or autonomously, "it's very clear it would have been difficult to avoid this collision in any kind of mode based on how she came from the shadows right into the roadway."
However, expectations for a human driver and autonomous cars are very different, said Shrivastava.
"If a human driver causes an accident, it is unfortunate but normal," he said. "If an autonomous car causes an accident on the other hand, it is unacceptable, and it can shut down the whole autonomous car industry."
"As long as human behaviors are the foundation of automated driving technology, safety will continue to be an issue," Shrivastava added. "The priority for autonomous cars should be safety, rather than a human-like driving experience."
Shrivastava's research, funded by the National Institute of Standards and Technology and the National Science Foundation, focuses on cyber-physical systems designs -- mechanisms like autonomous vehicles in which a computer controls a physical system -- that guarantee the behavior of the systems.
"For example, we look at how can we build a car in which there is a guarantee that if an obstacle is detected, brakes will be applied within one millisecond," explained Shrivasta.
Recently, Shrivastava developed an algorithm for autonomous cars that promises to more than double the throughput of traffic intersections, "which are really the most important bottleneck in city traffic," he said. While the system will work only on roads that are fully autonomous, "the communications and calculations we've developed will enable autonomous cars to zip through intersections at full speed or with just a minor slow-down."
Source: Arizona State University
Published April 2018
Rate this article