Adhesives formulated in different colors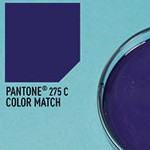 Master Bond epoxy systems are formulated in a variety of standard colors, including black, red, green, blue, gray etc. Many optically clear grades are also available. Upon request, compounds can be manufactured in custom colors in order to meet specific requirements. This task requires blending multiple RoHS-compliant pigments in precise proportions to ensure no color variation and uniform appearance. These colored adhesives can be formulated to meet industrial certifications such as medical grade, NASA low outgassing, ISO 10993-5 for cytotoxicity, and more. Compliance testing is performed by independent testing laboratories.
Click here to learn more.
---
New 3M tape tackles high-temp fastening applications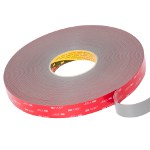 Since 1980, 3M VHB Tapes have opened the door to faster and easier assemblies. Now, the new GPH series from 3M combines the extreme, permanent bonding power and convenience of 3M VHB Tapes with high-temperature resistance. It can withstand operating temperatures up to 450 F, with long-term durability in conditions up to 300 F. Users will experience excellent adhesion to high and medium surface energy materials, as well as coated or painted surfaces. 3M VHB Tapes, including the new GPH series, replace traditional mechanical fasteners, subsequently eliminating processes like drilling, grinding, refinishing, screwing, welding, and associated rework/clean-up.
Click here to learn more.
---
Permanent threads in thin sheet applications -- with only one-sided access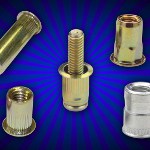 ATLAS SpinTite blind threaded inserts from Penn-Engineering provide strong, permanent, and reusable threads in thin sheet materials where only one side is accessible for hardware installation. Installation is performed from the accessible "front" side using spin-spin tooling technology. The inserts then become permanently mounted on the "back" side to accept a mating screw for final component attachment. This "blind" installation capability especially suits applications such as tubing, extrusions, and others where access to the back side is either limited or nonexistent. These steel, aluminum, brass, or stainless steel inserts support close-to-edge applications and can be installed at any stage during the production process (even after assemblies have been painted).
Click here to learn more.
---
Heavy-duty air-powered conveyor resists wear and transports more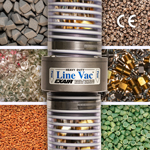 EXAIR's new 2-1/2-in. and 3-in. Heavy Duty Line Vacs are powerful in-line conveyors that transport high volumes of material through ordinary hose or tube -- at a rate that is typically twice that of ordinary air-powered conveyors. Designed for rugged, industrial applications, Heavy Duty Line Vacs have a hardened alloy construction that prevents premature wear when transporting abrasive or heavy materials like shot blast, tumbling media, or metal fittings. These units feature large throat diameters that make it possible to convey more material over longer vertical and horizontal lengths. Seven sizes available.
Learn more.
---
High-gain rubber-type coupling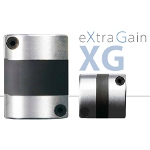 In 2007, NBK took the lead in the industry with the launching of the High-Gain Rubber Coupling. With the XG-Series, you can increase the productivity and control of your Servo System with higher gain compared to when using traditional couplings. These High-Gain Rubber Couplings shorten manufacturing time through the reduction of vibration even in high-gain surroundings by an innovative molding technique within the internal structure of the couplings.
Click here to learn more.
---
Completely updated new full-line catalog of fasteners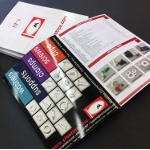 Micro Plastics introduces its new 300-page catalog #41 containing thousands of fastening solutions for engineers and product designers. Find hundreds of new problem-solving products including Spacers, Washers, Clips, Clamps, Ties, Bushings, Screws, Nuts, Rivets, and Plugs. Micro Plastics specializes in Nylon threaded fasteners, but the company also offers extensive product lines for wire management and circuit board hardware. Samples are available upon request.
Check out the new online catalog.
---
Instant quoting for on-demand manufacturing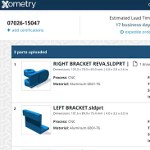 Xometry, a popular on-demand manufacturing platform, has released a new version of its Xometry Instant Quoting Engine. Key features include a redesigned summary view to help users quickly review their quotes, a part-level modification page that captures all changes in real time, and an always-visible 3D viewer with instant design feedback displayed directly on the model. Xometry provides instant quotes on CNC Machining, Sheet Metal Fabrication, 3D Printing, and Urethane Casting.
Check it out on the Xometry website.
---
Odorless thermal insulation material for automotive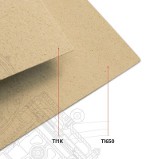 Interface Performance Materials introduces TI650 and TI1K innovative thermal insulation materials for automotive and heavy-duty vehicle heat shield applications. TI650 and TI1K are the first odorless and smokeless materials specifically formulated for three-layer heat shields in the automotive, medium-, and heavy-duty vehicle applications. These non-toxic materials withstand temps up to 1,000 C (1,832 F), are malleable, and are resistant to cracking when molded into a layered heat shield. Their low-density makeup makes them the ideal substrates for lightweight initiatives by OEMs and fabricators. A highly inorganic material, TI1K is also unique in its ability to meet the ASTM E136 flammability test standard with no detectable smoke.
Learn more.
---
Custom-made wave springs

Smalley can manufacture custom Wave Springs quickly and economically to meet your specific application requirements. Because force and deflection requirements are application-specific, custom springs are often needed. With Smalley's No-Tooling-Cost™ manufacturing process, customs can be produced from .157" to 120" diameters in carbon steel, stainless steel, or other readily available exotic alloys. Free samples are available of standard parts for testing. All Springs Are Not Equal®!
Learn more.
---
How mobile equipment manufacturers benefit from using formed thermoplastic hoses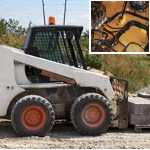 The proper assembly, installation, and specifying of the right hoses and tubing for the application are critical to the trouble-free operation of mobile equipment employed in construction, forestry, mining, and similar industries. This latest blog from Parker examines how formed thermoplastic hoses address these challenges and details how a skid-steer manufacturer reduced labor time and realized significant cost savings.
Read the full article.
---
Inch-size mounting clamps with swivel ball joint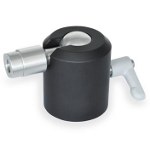 GN 784 mounting clamps with swivel ball joint from JW Winco allow precise and variable adjustment of the ball pivot within the rotation range. This is a particular advantage when adjusting scanners, cameras, lighting, monitors, etc. Thanks to the efficient clamping mechanism, only small amounts of torque on the clamping screw result in comparatively strong clamping pressure on the ball. This force is easily applied by the clamping lever.
Learn more.
---
Precision ceramic and glass microcomponents
Goodfellow, a favorite materials provider for Designfax readers, also supplies a wide variety of ceramic and glass microcomponents, both standard items and items precision-machined to customer specifications. Examples include: ultra-thin glass microsheet for use as transparent substrates and electrical insulators; precision spheres for use as precision spacers and optical components; micro optics such as prisms, lenses, and windows; injection-molded ceramic microcomponents for surgical equipment and fiber-optic applications; polished sapphire bearings and sub-mm bore nozzles; and single- and multi-bore capillary tubing. Other items are available upon request.
Learn more.
---
Cool Tools: Unit Conversion Tool

Convert popular spring units such as force or retaining ring thrust capacities into metric units with Smalley's engineering tools. Convert units such as mass and weight, angular measurements, velocities, temperatures, pressures and densities, and more.
Click here to learn more. You should bookmark this one.
---
Smith Metal Products adds Titanium Metal Injection Molding capabilities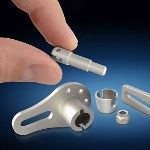 Smith Metal Products has added Titanium Metal Injection Molding (TiMIM) capabilities to its MIM portfolio of materials that include stainless steels, alloys, and ceramics. TiMIM involves mixing powdered Titanium metal with a binder material to compose a feedstock capable of being handled by injection molding equipment. Metal injection molding allows complex Titanium parts to be shaped with precision in a single operation and in high volume as compared to traditional Titanium machined metal components.
Learn more.
---
Linear miniature torque splines and nuts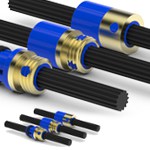 Helix Miniature Torque Splines provide a convenient and efficient device that allows low-friction linear motion while transmitting torque. In a Helix PT Spline assembly, the high-strength composite polymer bushing carries the load between the rotating member (inner race) and the rotating/translating member (bushing). Helix PT Splines are coated with Helix H10X PTFE coating for long life and anti-friction. Available in three bushing styles: Cylinder Mount, Thread Mount, and Anti-Backlash.
Click here to learn more.
---
Scientists predict a new superhard material with unique properties
Chemists from Russia and China have predicted a new superhard material that can be used in drilling, machine building, and other fields.
The new tungsten boride they discovered outperforms the widely used "pobedit," a hard tungsten carbide and cobalt composite material with artificial diamond interspersing. The results of their study were published June 2 in The Journal of Physical Chemistry Letters.
Superhard substances have a broad scope of application spanning well drilling, machine building, metalworking, defense industry, surgery, and many other fields. The hardest known material, diamond, is an unaffordable luxury in many applications. Its distant competitor, pobedit, has remained unrivaled for the last 80 years.
Developed in the 1930s, pobedit was used during World War II to make anti-tank shell caps (the word "pobedit" is actually derived from the Russian "pobeda," which means "victory") and has been used for decades to manufacture drill bits for drilling rigs. Harder materials either require higher pressure synthesis or have much lower fracture toughness.
A team of Skoltech (Moscow) scientists led by Professor Artem Oganov used their USPEX evolutionary algorithm to predict a new material, WB5, that can be synthesized at normal pressure and can successfully compete with pobedit in the two most essential parameters -- hardness and fracture toughness -- which are 50 percent higher and 20 percent lower, respectively, for WB5 as compared to pobedit. The new material is a previously unknown compound that can be easily obtained under normal conditions. The Skoltech scientists performed their study within the framework of Gazprom Neft's large-scale project aimed at creating new materials for drilling applications.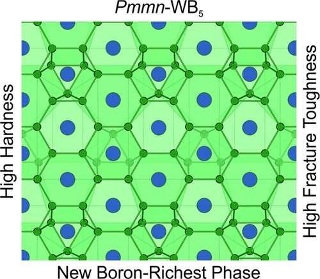 Schematic of the new material's structure. [Credit: Alexander G. Kvashnin et al., The Journal of Physical Chemistry Letters]
"Before we discovered the new material, we had studied a lot of systems on the computer, trying to predict stable chemical compounds and calculate their properties. These were quite interesting substances, although they could hardly compete with pobedit. At some point I thought we would never beat pobedit, which has stood its ground for almost a century -- and for good reason. But suddenly, we saw a glimmer of hope and soon found a unique compound, WB5," says the study lead, Artem Oganov.
"The tungsten-boron system has been the subject of a multitude of experimental and theoretical studies, and it is surprising that this compound has not been discovered until now," says the first author Dr. Alexander Kvashnin.
Source: Moscow Institute of Physics and Technology
Published August 2018
Rate this article