U.S. Army working on tripling energy of explosives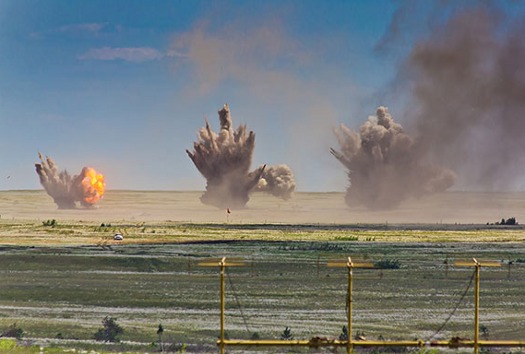 A team of researchers from the U.S. Army Research Laboratory and Washington State University have discovered a new type of energetic material that could have triple the energy content of well-known explosives such as the ones pictured here. [U.S. Army Photo]
A team of researchers from the U.S. Army Research Laboratory (ARL) and Washington State University have discovered a new type of energetic material that could have triple the energy content of well-known explosives.
So, how exactly does one begin the process of tripling the energy content of explosives?
Simple components of air, such as nitrogen and carbon monoxide, can be transformed into high-energy polymeric solids when sufficient pressure and/or temperature is applied.
The energy density of one polymeric form of nitrogen is estimated to be three times that of HMX, one of the most powerful explosives used today, making it desirable for use as a new type of environmentally friendly energetic material.
However, this polymeric form of nitrogen has only been synthesized at a pressure that is 1 million times higher than standard atmospheric pressure while simultaneously heated to about seven times room temperature, and does not maintain the polymeric form when these extreme conditions are relaxed.
Carbon monoxide gas, on the other hand, while not as potentially energetic, polymerizes at less extreme conditions, and can be recovered for use at room temperature and pressure.
In an effort to synthesize a higher energy, nitrogen-rich polymeric solid, but at less extreme conditions than that of the pure form, the team, including ARL's Dr. Iskander Batyrev, performed a joint experimental-theoretical study of chemical mixtures of nitrogen and carbon monoxide under pressure.
Batyrev belongs to a group of ARL researchers led by Dr. Jennifer Ciezak-Jenkins in studies of materials at extreme conditions.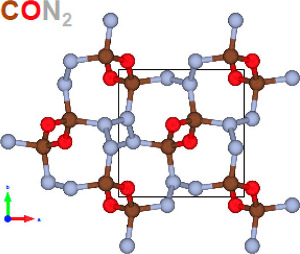 Here, Army researchers present the formation of high-density copolymer CON2, formed in crystalline form by laser heating of CON2 mixtures above 1,700 K and 45 GPaa -- a substantially lower temperature/pressure condition than those required for converting pure nitrogen (above 2,000 K and 110 GPa). [U.S. Army Photo]
"The WSU team synthesized and characterized a co-polymer form that has a density similar to that of pure polymeric nitrogen, but is formed at less extreme pressures and temperatures," Batyrev said. "While the material is not stable at room conditions, the study revealed important insight into how high-pressure phases can be accessed at reduced pressures, and how stabilization of the material can be accomplished."
According to Batyrev, if a room-stable form of the material can be synthesized, it offers enhanced explosive or propulsion performance well beyond that of traditional energetic materials, a key objective of the Army's "Long Range Precision Fires" modernization priority.
For the researchers, this project is a hot topic, as several groups have made an effort to obtain extended solids using compression of a mixture of N2 and CO gases, and have reported results on molecular and chain structures with low mass density similar to molecular crystals.
In their work and publication, however, the team predicted and experimentally observed an extended solid with density comparable to that of the high-energy pure nitrogen form.
And while this progress is a notable achievement, the research team stresses the fact that there is extensive research and testing that still needs to be done in order to make this discovery a tangible reality for Soldiers on the battlefield.
Future efforts of the team will pursue stabilization techniques for the formation of the material as well as alternate synthesis processes to achieve high-pressure structures at lower temperatures and pressures.
Details of the synthesis, characterization, and simulations can be found in the team's paper,"Copolymerization of CO and N2 to Extended CON2 Framework Solid at High Pressures," by Choong-Shik Yoo, Minseo Kim, Jinhyuk Lim, Young Jay Ryu, and Iskander G. Batyrev.
Source: U.S. Army Research Laboratory
Published September 2018
Rate this article