Top Tech Tip: Save space and weight with Smalley Wave Springs
Smalley Wave Springs offer the unique advantage of space savings when used to replace coil springs. By reducing spring operating height, wave springs also produce a decrease in the spring cavity. With a smaller assembly size and less material used in the manufacturing process, a cost savings is realized. Over 4,000 springs available from stock or utilize Smalley's No-Tooling-Cost™ manufacturing process on custom designs, available from .157" to 120". Samples available for testing.
Learn more.
---
Helpful tips for molding PEEK polymer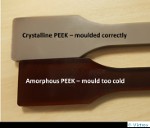 Are you a first-time molder of PEEK? Or maybe you've tried molding it and have run into problems? This article from Victrex presents five important considerations in the injection molding process that can help you avoid the need for troubleshooting when molding PEEK polymer. Following this advice can also help you optimize the full potential of this high-performance material.
Read the Victrex tips article.
---
Cool Tools: New Artec LEO 3D scanner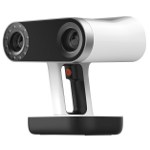 Exact Metrology is proud to announce the availability of its Artec LEO 3D scanner, the first scanner to offer onboard automatic processing with an integrated touch panel viewer. This frees users from being tied to a computer for data capture. The scanner has a 3D reconstruction rate of 80 frames per second, making it the fastest professional scanner on the market. With its large field of view, Artec LEO can scan and process large objects and scenes quickly and accurately, and it boasts a data acquisition rate of up to 4 million points per sec.
Learn more.
---
Clippard PTFE multi-channel gradient valves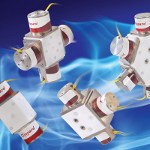 NIV series gradient valves feature multiple two-way, normally closed solenoids connected around a central body. This unique design provides significant reduction in internal volume with enhanced mixing capabilities. Each actuator operates independently, allowing for flow of various media to be mixed or for one media to be split into multiple streams. These multi-channel gradient valves are useful for solvent selection, stream splitting, flushing, and other automated applications.
Learn more.
---
Top Product: Allite Super Magnesium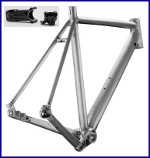 Weighing 33 percent less than aluminum, while also being stiffer and stronger pound for pound, the new Allite Super Magnesium alloy has shown its mettle in classified defense and aerospace applications. Now it's available for wider use. This material is less expensive than carbon fiber and has the lowest carbon footprint of any structural material throughout the value chain. Industry applications include home improvement, sporting goods, aerospace, automotive, biking, and beyond. Three alloy variants available to suit welding, forming/forging, or casting. These alloys feature excellent shock-absorption properties, good electromagnetic shielding performance, good heat dissipation, and recyclability. Allite is based in Dayton, OH.
Learn more.
---
Replace metals with hard materials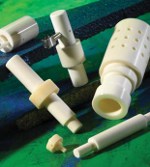 The use of sapphire, ceramics, and other hard materials has significant advantages over metal, depending on the application. The materials machined at Insaco are harder and stronger in compression than most metals. They can be electrically or thermally insulating or conducting, and in the case of sapphire, can be polished optically clear to a surface finish less than 1 micro inch. This allows for selecting a material based on the most important material property required and allows for versatility in selecting the material that makes the most sense. When a low-cost part must be frequently replaced because of a harsh environment, looking to hard materials may be the key to lowering overall cost. Learn more about metal replacement materials in this informative Insaco article.
Read the full article.
---
HVACR Tech Tip: How to properly clean a condenser coil
Condenser coil cleaning is one of those subjects where there is a fair amount of misdirection and misinformation being propagated by some manufacturers/distributors that has caused unfortunate confusion in the industry. Parker Hannifin provides answers to common questions to set the record straight. Why do condenser coil cleaners foam, and evaporator coils usually don't? What is the difference between the acid and non-acid condenser coil cleaners? Learn these things and more in this informative post.
Read the Parker Hannifin blog.
---
Vulcanized rubber spacer disks with a steel plate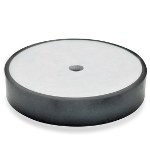 The GN 438 rubber spacer disks from JW Winco provide a dampening and muffling function, protecting surfaces from damage. By stacking several spacer disks on each other, the spring rate of the package can be increased, which opens up new possibilities for use. When used as a foot disk, type A is attached using screws and can be installed on small machines, systems, or devices. Alternatively, the type B version can be adhered to all suitable and clean surfaces by means of an adhesive pad. The steel disk plate is zinc plated, with a blue passivated finish, while the black rubber underlay is vulcanized and is temperature resistant up to 248 F.
Learn more.
---
Desktop Metal launches 316L stainless steel for 3D printing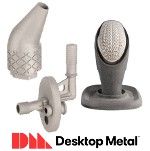 Desktop Metal, a 3D-printer maker, has just announced the launch of 316L stainless steel for the company's Studio System, the world's first and only office-friendly metal 3D-printing system. This machine is great for prototyping and low-volume production. A fully austenitic steel known for its corrosion resistance and excellent mechanical properties at extreme temperatures, 316L is well suited for applications in the most demanding industrial environments, including salt water in marine applications, caustic cleaners found in food processing environments, and chemicals in pharmaceutical manufacturing.
Learn more.
---
Benefits of using military-grade adhesives in your applications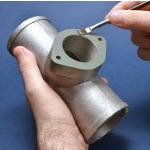 Some epoxy compounds successfully meet thermal stability testing standard ASTM D3850-12 per MIL-STD-883J Section 3.5.2 and 3.8.5 for military applications, however these systems can also be used across many other industries where thermal stability is an important requirement. Some common non-military applications that benefit from compounds that pass MIL-STD-883J include downhole oil equipment, lasers, satellite systems, electronics, power tools, and various automotive applications.
Learn more from Master Bond.
---
How a camera auto-focus lens uses a special spring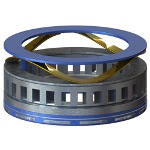 Ultrasonic motors are small motors, some measured in millimeters, that are being used in a variety of applications including the auto-focus feature on a camera lens, side mirrors, surgical equipment, and robots. Learn how a single-turn closed wave spring is used to maintain the necessary pressure against the motor stator in a camera, and why it is a better choice in this application over coil or washer-type springs.
Read the Rotor Clip application note.
---
How electronic flow sensors help spread road salt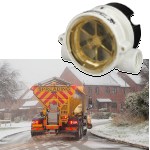 Salt spreading trucks use a pre-wetting system when ice needs to be removed from roads and the temperatures are too low for direct salt spreading to work. The system sprays salt water onto the road salt as it is being spread to "jump start" the melting process. But how do you monitor the amount of pre-wet salt used?
Read this short, informative blog from Gems Sensors & Controls.
---
Top Tech Tip: Save space and weight with Crest-to-Crest® Wave Springs

Crest-to-Crest® Wave Springs can take up to 50% less space than a traditional coil spring. Formed using flat wire, this results in a more compact spring that takes less material to produce and can reduce the overall weight of the spring and assembly.
Learn more.
---
SOLIDWORKS add-in for Xometry turbocharges part outsourcing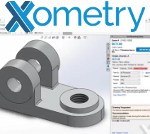 The Xometry Add-In for SOLIDWORKS v4.0 is a powerful tool that integrates directly with Xometry's Instant Quoting Engine, allowing engineers to simultaneously design parts and weigh considerations of cost and lead time in a single CAD environment. Machine learning algorithms give you an instant price by analyzing the part's geometry and factor in manufacturing requirements such as the process, material, features, finish, and inspection type. Then, the add-in provides lead time, cost, and manufacturability (DFM) feedback in seconds. Includes CNC machining, 3D printing, sheet metal, urethane castings, and other manufacturing methods.
Learn more.
---
Springs made of high-performance, engineered plastic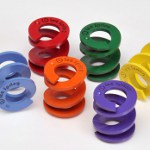 Lee Spring's LeeP plastic composite compression springs molded from Ultem resins provide critical advantages over traditional metal alloy springs. They feature high strength-to-weight ratio, no magnetic interference, high corrosion resistance, and dielectric insulation for non-conductive applications. They are stocked in a variety of standard sizes, each available in a "rainbow" of strengths formulated from different Ultem resins. They were designed to meet a wide range of spring applications where non-corroding, non-metallic, inert materials are preferred.
Learn more.
---
Plastic bottle waste turned into ultralight supermaterial with tons of great uses
Researchers from the National University of Singapore (NUS) have made a significant contribution toward resolving the global issue of plastic waste by creating a way to convert plastic bottle waste into aerogels for many useful applications.
Plastic bottles are commonly made from polyethylene terephthalate (PET), which is the most recycled plastic in the world. The PET aerogels developed by the NUS-led research team using plastic bottle waste -- a world first -- are soft, flexible, durable, extremely light, and easy to handle. They also demonstrate superior thermal insulation and strong absorption capacity. These properties make them attractive for a wide range of applications, such as for heat and sound insulation in buildings, oil spill cleaning, and also as a lightweight lining for firefighter coats and carbon dioxide absorption masks that could be used during fire rescue operations and fire escape.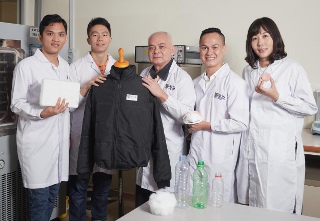 A team led by researchers from the National University of Singapore has found a way to turn plastic bottle waste into ultralight polyethylene terephthalate (PET) aerogels that are suitable for various applications, including heat insulation and carbon dioxide absorption. From left: Khac Duyen Le; Leung Hoe Inn, Ryan; Nhan Phan-Thien; Hai Minh Duong; Xiwen Zhang. [Credit: National University of Singapore]
This pioneering work was achieved by a research team led by Associate Professor Hai Minh Duong and Professor Nhan Phan-Thien from the Department of Mechanical Engineering at NUS Faculty of Engineering. The technology to produce PET aerogels was developed in collaboration with Dr Xiwen Zhang from the Singapore Institute of Manufacturing Technology (SIMTech) under the Agency for Science, Technology and Research (A*STAR).
Recycling plastic bottle waste
Plastic waste is toxic and non-biodegradable. Such waste often ends up in oceans and landfills, affecting marine life and causing problems such as groundwater contamination and land scarcity. Globally, the annual consumption of plastic bottles has been rising steadily, and it is expected to exceed half a trillion tons per year by 2021.
"Plastic bottle waste is one of the most common types of plastic waste and has detrimental effects on the environment. Our team has developed a simple, cost-effective, and green method to convert plastic bottle waste into PET aerogels for many exciting uses. One plastic bottle can be recycled to produce an A4-sized [8.27 in. × 11.7 in.] PET aerogel sheet. The fabrication technology is also easily scalable for mass production. In this way, we can help cut down the harmful environmental damage caused by plastic waste," said Duong.
Versatile PET aerogels
The research team took two years (from August 2016 to August 2018) to develop the technology to fabricate PET aerogels. This work was published in the scientific journal Colloids and Surfaces A in August 2018.
"Our PET aerogels are very versatile. We can give them different surface treatments to customise them for different applications. For instance, when incorporated with various methyl groups, the PET aerogels can absorb large amounts of oil very quickly. Based on our experiments, they perform up to seven times better than existing commercial sorbents, and are highly suitable for oil spill cleaning," said Nhan.
Lighter and safer firefighter coats
Another novel application is to harness the heat insulation property of the PET aerogels for fire safety applications.
Existing firefighter coats are bulky, and they are often used with other breathing and safety equipment. This could take a toll on firefighters, especially during extended operations.
When coated with fire-retardant chemicals, the novel lightweight PET aerogel demonstrates superior thermal resistance and stability. It can withstand temperatures up to 620 C -- this is seven times higher than the thermal lining used in conventional firefighter coats, but weighs only about 10 percent of the weight of a conventional thermal lining. The soft and flexible nature of the PET aerogel also provides greater comfort.
Nhan explained, "By adopting PET aerogels that are coated with fire retardants as a lining material, firefighter coats can be made much lighter, safer, and cheaper. It is also possible to produce low-cost heat-resistant jackets for personal use."
2-in-1 mask that absorbs harmful carbon dioxide and dust particles
When coated with an amine group, the PET aerogel can quickly absorb carbon dioxide from the environment. Its absorption capacity is comparable to materials used in gas masks, which are costly and bulky. To illustrate this application, the team embedded a thin layer of PET aerogel into a commercial fine particle mask to create a prototype mask that can absorb both dust particles and carbon dioxide effectively.
Nhan said, "In highly urbanized countries like Singapore, the carbon dioxide absorption masks and heat-resistant jackets made using PET aerogels can be placed alongside fire extinguishers in high-rise buildings to provide added protection to civilians when they escape from a fire."
"Masks lined with amine-reinforced PET aerogels can also benefit people living in countries such as China, where air pollution and carbon emission are major concerns. Such masks can be easily produced, and can also potentially be made reusable," added Duong.
NUS researchers are also looking into making simple surface modification to the PET aerogels for absorption of toxic gases such as carbon monoxide, which is the deadliest component of smoke.
In their earlier work, the research team had successfully converted paper and fashion waste into cellulose and cotton aerogels respectively. Coupled with this latest innovation involving the recycling of plastic bottle waste into aerogels, the NUS team was recently awarded first place in the Sustainable Technologies category of the 2018 Create the Future Design Contest by Tech Briefs.
Next steps
The research team has filed a patent for its novel PET aerogel technology and will continue to enhance the performance of the PET aerogels and explore new applications. The NUS researchers are also keen to work with companies to bring the technology to market.
Source: National University of Singapore
Published November 2018
Rate this article