World's most compact 3,000-W integrated servo motor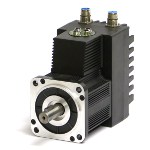 JVL's newest addition to its motor portfolio is a complete, high-capacity MAC motor with a rating of 3,000 W. MAC motors are complete servo systems that include a high-dynamic AC servo motor, hall sensors, encoder, power supply, driver, and positioning controller and Nano-PLC, as well as options for incorporating various control modules such as Bluetooth, WLAN, ZigBee, EtherCAT, EtherNet/IP, CANopen, DeviceNet, Profibus, Profinet, Nano PLC, and more. With a length of only 311.8 mm and a torque of 9.55/28.6 Nm at 3,000 rpm, this MAC motor matches the size of traditional servo motors without built-in controllers. Many more features.
Learn more.
---
Smart gripper has fingertip sensors that see and feel objects
You can automate high-precision assembly tasks with the OnRobot RG2-FT smart gripper. The built-in 6-axis F/T sensors at the fingertips provide extremely accurate gripping for better production quality. This gripper is so smart it detects the risk of slipping before it happens! The Danish company OnRobot has just opened its U.S. headquarters in Dallas. The company is a global leader in end-of-arm tooling for collaborative robots and also provides hardware and software used with collaborative robots from a variety of robot manufacturers such as Universal Robots, KUKA, FANUC, and Yaskawa.
Learn more.
---
SmartMotor can handle extreme low temps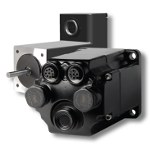 Moog Animatics has released its new Low Temperature Range (LTR) SmartMotor in two standard NEMA frame sizes: model SM17205M-LTR (the LTR-17) and model SM23165M-LTR (the LTR-23). Both motors have been meticulously engineered for robust and reliable operation in extremely frigid environments and at high altitudes. To achieve this, onboard internal heaters ensure that the motors can start up in temperatures below -40 degrees C. Other design changes allow these motors to withstand random vibrations up to 6G 10-2000 Hz, and standard IP sealing protects the motors from condensation.
Learn more.
---
Small DC motors for spectrophotometry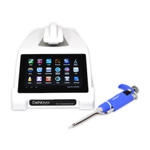 The DeNovix team needed a motion solution for their spectrophoto-meter application which called for intermittent short, quick motions with micron-level accuracy. After research and testing, they chose a FAULHABER small DC motor configured with a MICROMO encoder and an all-plastic planetary gearhead to successfully bring their product to market.
Read the full article.
---
100 million random moves: New lifetime spec for rotary micro stage with integral controller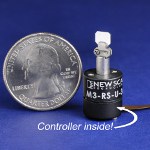 New Scale Technologies has significantly increased the lifetime specification for its M3-RS-U Rotary Smart Stage, a precision rotary micro stage with embedded controller. The new specification of 100 million random positions underscores the utility of these compact, all-in-one motion modules for integrating embedded motion inside in medical, commercial, and industrial instruments. The increased lifetime spec makes the selection decision even easier for product designers who need to embed motion in their portable and hand-held systems.
Learn more.
---
Electric extreme-force linear actuators beat hydraulics in metal casting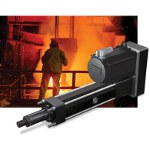 Metal casting is precise work conducted in a high-temperature environment. Unmolding a workpiece requires both force and control. It's a task often left to hydraulic cylinders, but their high-force capabilities come with significant drawbacks, like inadequate control and messy leaks. New, electric extreme-force linear actuators offer precision and clean operation.
Read the Tolomatic blog.
---
Traction drives leverage engineered fluids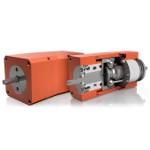 Rolling Motion Industries (RMI) has released two high-efficiency traction drives: the MAR-17-1-2.1 (speeds to 3,600 rpm with 10 to 20 in./lb of torque) and MAR-23-1-2.1 (3,600 rpm with 20 to 30 in./lb of torque). These one-way traction drives have only six moving parts and use an engineered traction fluid with a coefficient of friction of just 0.1 to 0.12. These traction drives typically last three times longer than conventional gearboxes, and with no metal-to-metal contact they generate up to 72 percent less heat after 24 hr of continuous operation. Additionally, they create up to 38 percent lower dB at 3,000 rpm than conventional gearboxes (less than a home refrigerator). Applications include: pumps, blowers, fans, turbo and superchargers, conveyers, HVAC systems, and medical -- anything that rotates.
Learn more.
---
First explosion-proof stackable multi-turn encoder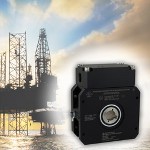 Sensata Technologies has introduced the first explosion-proof stackable multi-turn encoder, an ideal position sensing solution for oil and gas applications such as drawworks, top drives, and pipe-handling equipment where working conditions are extreme. The new encoder, BEI Sensors' model MAAX, is ATEX and IECEx certified to operate in explosive environments and features a Profibus output in a unique, stackable package. CANopen and SSI outputs are also available. The MAAX provides up to 16 bits of resolution as well as up to 16 bits of turns by mechanical counting. This workhorse product operates directly in Zone 1 environments without the need for an accompanying Intrinsic Safety barrier.
Learn more.
---
QTR Series torque motors by Tecnotion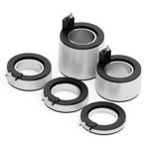 With Tecnotion torque motors, the magnetic design is optimized for maximum flux density and copper fill to provide very high torque-to-volume ratios. Motor sizes from 68-mm to 160-mm diameters are available, packing serious power to work with any servo drives on the market. Tecnotion torque motors are extremely compact, provide a very stiff drive train, eliminate the need for time-consuming mounting procedures, are virtually maintenance free, and can be integrated directly into the machine structure, while the spacious open inner diameter enables wire and cable feedthrough. The entire series comes with completely sealed stators and integrated temperature protection and measurement sensors.
Learn more.
---
160 pages of piezo linear motors, rotation stages, and multi-axis motion systems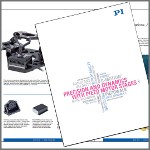 PI's new comprehensive piezo motor solutions catalog covers a large number of linear, rotary, and multi-axis motion systems based on a variety of piezo motor types along with their appropriate controllers and drivers. Ultrasonic piezo motors, for example, are preferred for high-speed applications; inertia motors are small and cost efficient; PiezoWalk drives provide the highest forces up to 800N; and piezo-ratchet drives can replace micrometers in remote "set and forget" applications. All piezoelectric motors are self-locking, field-less, and not affected by magnetic fields, and they can be integrated easily mechanically.
Get the PI catalog today (no registration required).
Watch different types of piezo motors in action.
Learn about different kinds of piezo motors products.
---
Electromechanical actuators with modular design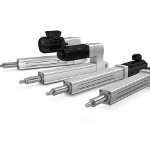 SKF CASM-100 electro-mechanical actuators from SKF Motion Technologies have been uniquely engineered with a modular design, enabling tailored solutions for a wide range of industrial linear movement and positioning applications. Modules provide choices among motor types, gearboxes, ball screws or roller screws, and accessories. Standardized interfaces connect the different components. These actuators use up to 80 percent less energy than pneumatic cylinders and 50 percent less energy than hydraulic alternatives and eliminate any need for constantly running compressors, hoses, and other components.
Click here to learn more.
---
Precision linear motion drive with thrust capacity to 800 lb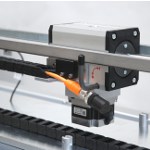 The Precision Motion Drive System from Amacoil/Uhing is a Uhing Model RG rolling ring linear drive integrated with a motion controller for precision linear motion applications. The Precision Motion Drive is fully programmable and meets application requirements for precision winding/spooling, pick-and-place machines, X-Y coordinate tool movement, metrology equipment, and other machinery providing fast, accurate positioning and reciprocating linear motion. Depending on the size of the RG drive nut in the system, the Precision Motion Drive System provides from 7 to 800 lb of axial thrust.
Learn more.
---
100 million random moves: New lifetime spec for rotary micro stage with integral controller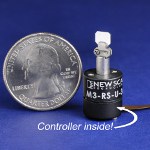 New Scale Technologies has significantly increased the lifetime specification for its M3-RS-U Rotary Smart Stage, a precision rotary micro stage with embedded controller. The new specification of 100 million random positions underscores the utility of these compact, all-in-one motion modules for integrating embedded motion inside medical, commercial, and industrial instruments. These rotary stages are ideal for beam steering and mirror positioning applications where precise, point-to-point positioning or dynamic scanning up to 100 Hz is needed. Applications include medical instruments such as surgical lasers and fluorescence microscopes, industrial systems for 3D measurements and remote sensing, optical communications systems, and obstacle detection and tracking systems for robots and drones (UAVs).
Learn more.
---
New UR e-Series cobots feature unique sensing, safety, and precision tools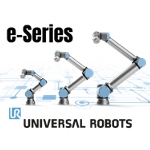 Universal Robots pioneered the collaborative robot and continues to evolve its ground-breaking, automation technology with the introduction of its new flagship line of e-Series cobots. The new UR3e, UR5e, and UR10e robot arms will launch in North America at IMTS in Chicago, Sept. 10-15, at Universal Robots' IMTS booth N-236861. With a new built-in, tool-centric force/torque sensor, the e-Series is ready to take on popular collaborative robot applications that require force control right out of the box such as sanding, buffing, polishing, and deburring, where force-feedback is paramount in order to obtain uniform results. Additionally, the force/torque sensor can be used to measure mass and perform inspection processes or precisely detect contact.
Learn more.
---
What design engineers need to know about voice coil actuator technology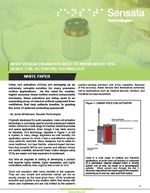 Looking to develop a product that requires highly reliable, highly repeatable, and highly controllable motions? Take a look at voice coil actuator technology. VCAs are very simple yet extremely robust and precise. Sensata Technologies has published a new white paper (What Design Engineers Need to Know about VCA Technology) that covers the current state of Voice Coil Technologies for a variety of linear motion applications. Good info here.
Get the white paper. No registration required.
---
In aircraft design, opening communication lines between propulsion and airflow poses new questions
On the runway to more fuel-efficient aircraft, one alternative propulsion scheme being explored is an array of electrically powered ducted fans. The fans are distributed across the wing span or integrated into the wing. Researchers at the University of Illinois gained new understanding in how the fans -- and especially their precise placement on the aircraft -- can affect the cross-conversation between propulsion and the airflow around the wing.
In most commercial aircraft, the engines are isolated from the rest of the wing system. Instead of being embedded in the wing or mounted more closely to that surface, they hang out from underneath the wings. This is done, in part, to try to reduce the influence in cross coupling -- the cross-communication between the engine's RPM and the airflow characteristics about the airplane wing.
"If we allow those two systems to talk to each other, there is a lot of increased complexity in the flow field over the wing and into the propulsor -- which also substantially alters the performance," said Phillip Ansell, assistant professor in the Department of Aerospace Engineering in the College of Engineering at the University of Illinois. "We've taken two subsystems -- propulsion and aerodynamics -- and we've said that these are not isolated subsystems. These are now one thing."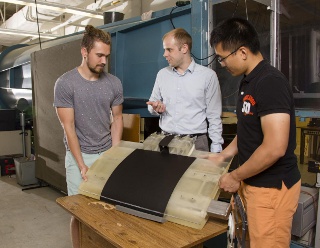 Doctoral student Aaron Perry, Assistant Professor Philip Ansell, and former master's student Je Won Hong discuss the construction of the airfoil model with overwing ducted fans. [Credit: University of Illinois Department of Aerospace Engineering]
Ansell, along with his graduate student Aaron Perry at U of I and Michael Kerho from the Rolling Hills Research Corporation conducted the study to understand on a basic level what those interactions are and how that coupling between ducted fan systems and wing sections will modify the aerodynamic behavior and the overall lift, drag, and pitching moment characteristics.
"If we integrate the propulsors, which in this case are fans, into the wing, we can improve the aircraft's propulsive efficiency by ingesting the low-speed air across the wing surface into the propulsor. But it's challenging to figure out how to do it in a smart way."
This research project was conducted experimentally using a 3D-printed model of an airfoil, which is a cross-section of a wing, mounted inside a subsonic wind tunnel. "We had a model with ducted fans mounted over the trailing edge of the airfoil. The flow goes across the upper surface and then into the fan," Ansell said.
He said that the manipulation of the throttle of the ducted fan mounted on top of the wing provided large changes in the aerodynamic behavior of the airfoil.
"We can adjust the throttle to make the fan spin faster or slower, so that I now have a high-speed jet that's coming out the back end and acts to substantially lift the aircraft through a phenomenon known as supercirculation. It also changes the flow across the surface," he said. "I have little regions of the flow on the surface called boundary layers. Whenever I ramp up the throttle and start pulling air into that propulsor, it thins out the boundary layer. It modifies the distribution of the pressure across the airfoil itself. There are some complex things happening. That fan RPM talking to the aerodynamics of the larger airfoil is substantial."
Ansell said the study provides a new way to understand the dialogue between a full aircraft system and a propulsion system. It's not just about increasing the throttle to create a larger thrust and produce a force that goes through the axis of the orientation of the fan.
"It's not that simple because it also changes the air flow over the wing," Ansell said. "The different orientations of the end of the fan changes the performance of the wing section as well as the pressure distribution because it changes the local flow quality characteristics. We have now quantified that and can understand some aspects of what that looks like.
"We were able to take measurements to better understand what those variations in coupling characteristics are. Previously, we knew that if we ramp up the throttle on this fan, the result is a thrust vector pointed in a certain direction. Now we know that it will also modify my local wing aerodynamics."
The paper, "Aero-Propulsive and Propulsor Cross-Coupling Effects on a Distributed Propulsion System," was written by Aaron Perry and Phillip Ansell. It appears in the Journal of Aircraft.
Source: University of Illinois College of Engineering
Published November 2018
Rate this article