New Hot Tap Digital Flowmeters simplify installation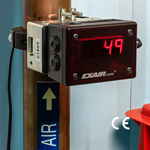 EXAIR's new Hot Tap Digital Flowmeters allow installation when compressed air piping is under pressure. By eliminating the need to isolate and remove pressure from the pipe, these compressed air flowmeters reduce installation time while maintaining safety. Hot Tap Digital Flowmeters incorporate two valves that the measuring probes pass through. A sound muffler that also collects chips from the drilling process eliminates installation debris from entering the airstream and minimizes noise exposure. Measuring compressed air is the first step toward identifying high compressed air use areas, compressed air leaks and optimizing air use.
Learn more.
---
Just out! Most powerful Raspberry Pi ever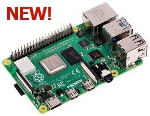 The new Raspberry Pi 4 Model B Computer is the most powerful Raspberry Pi model ever. It offers significant enhancements in processor speed, multimedia performance, memory, and connectivity that will make it attractive to general desktop computer users, hobbyist and makers, and professional developers working with compute-intensive embedded applications such as computer vision and Artificial Intelligence (AI). Available in 1-GB, 2-GB, and 4-GB models.
Read the full article.
---
Angle sensors retain position -- even without power!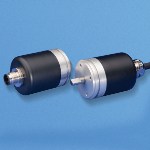 The RSB 3600 Series of absolute single-turn angle sensors from Novotechnik U.S. are EGMR (enhanced giant magnetic resistance) devices that retain their angular position even when power is removed. The sensors retain that angle information for years without power, so there is no need for batteries. Operating speed is up to 12,000 RPM. These non-contact sensors feature a galvanized steel housing and stainless steel shaft with up to 100 N working shaft load for the HD version. They are sealed up to IP 69K, depending on version. They count to 16 turns, angular position 0 to 360 deg. MTTF of more than 105 years.
Learn more.
---
Overvoltage protection for motors, white goods, more
The RV from Stackpole is a radial leaded metal oxide varistor available in a wide range of disk sizes (5 mm to 20 mm) and working voltages (from 14 VDC to 1,465 VDC) designed for general-purpose overvoltage protection. Peak current ratings up to 18,000 amps. Applications include low-voltage board-level circuitry, data and voice communications, network equipment, distribution panels, AC line protection for white goods, entertainment electronics, lighting ballasts, power supplies, electric motors and motor controls, and surge protection devices.
Learn more.
---
Extreme-force electric actuator for press and punch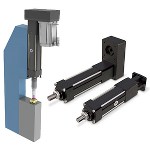 Tolomatic's RSX extreme force electric actuator family has been expanded -- this time with more options capable of replacing hydraulic cylinders. The new RSX096P Press Model is designed for pressing, punching, clinching, joining, and other applications requiring extreme force. This hydraulic-class actuator is capable of forces up to 40,000 lbf (178 kN). It features Tolomatic planetary roller screw technology for long life and consistent performance.
Learn more.
---
New optical joysticks for medical and military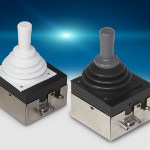 CTI Electronics (an affiliate of Electro Switch Corp.) has launched a new line of optical joystick motion controllers and mouse pointing devices. Made in the USA, LightStick Series controllers exceed medical and military performance standards for electromagnetic and RF disturbance in applications to 200 V/m -- without additional shielding. The LightStick's patented noncontact optical sensor technology ensures highly repeatable operator feedback for the life of the controller -- up to 10 million cycles and a MTBF greater than 10 years of operation.
Learn more.
---
UV-protected and waterproof panel mount indicators
Visual Communi-cations Company (VCC) recently announced the addition of its new PML50 Series Waterproof LED panel mount indicator (PMI). The new semi-dome indicator offers the same great features as the other PMIs in the PML50 family, with the added bonus of UV protection. This PMI has a white diffused lens for optimal side distance viewing and UV-resistant lens for superior performance in outdoor harsh environments -- and it will not discolor or fade. It achieves full brightness in microseconds, even in daylight viewing conditions. Ideal for a range of industries where outdoor status indication is crucial, including maritime, oil, gas, transportation, and industrial.
Learn more.
---
Dual-mode automotive image sensor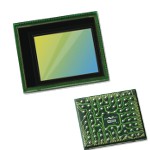 The OV2312 automotive image sensor from OmniVision Technologies enables multiple functions in one camera, reducing the total system cost, space, and power budget for driver state monitoring (DSM) and viewing applications like video conferencing. The ability to capture both RGB and IR images with one global shutter (GS) sensor reduces the number of cameras needed. It provides dual-mode cameras with motion-artifact-free images at high resolutions of 1,600 x 1,300 at 60 fps and 1,280 x 720 at 90 fps. Because this is the smallest 2MP GS sensor in its class, cameras can be placed out of sight from drivers and passengers.
Learn more.
---
High-deflection thermal gap filler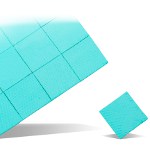 Laird Performance Materials has developed Tflex HD80000, a high-deflection thermal gap filler combining 6 W/mK thermal conductivity with superior pressure versus deflection characteristics. The combination allows minimal stress on sensitive components while also yielding low thermal resistance. As a result, less mechanical and thermal stresses are experienced in devices designed for telecom, information technology, consumer, industrial, aerospace, and military markets. Gap fillers bridge the interface between hot components and a chassis or heat sink assembly to increase the overall heat transfer from the system.
Learn more.
---
Why convert hydraulics to electric high-force linear actuators?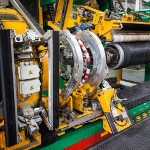 Got a high-force linear motion application? If you do, chances are the first product solution to come to mind is hydraulic cylinders. They're relatively inexpensive (if you already have a hydraulic power unit in place), compact (if the HPU is somewhere else), and power-dense. But what about the disadvantages -- leaks, operation and maintenance costs, and more? It's possible to convert an application from hydraulic to electric linear motion easily, and Tolomatic even gives you step-by-step instructions.
Read the Tolomatic blog. Really useful!
---
Cool heat-sensitive CMOS sensors with thermoelectric modules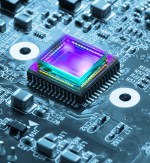 Laird Thermal Systems has expanded its Peltier thermoelectric module product family with the HiTemp ET Series, designed to protect critical electronic devices like CMOS sensors in high-temp applications. Recent advances in CMOS sensor tech have made these sensors practical and effective for use in a wide range of imaging applications found in autonomous systems, machine vision and learning, high-end scientific cameras, and more. HiTemp ET Series thermoelectric modules deliver spot cooling capacity of more than 300 W to ensure optimum CMOS sensor performance. Fifty-three models offer a variety of heat-pumping capacities, geometric form factors, and input voltages.
Learn more.
---
Mini LVDTs offer position feedback for UAVs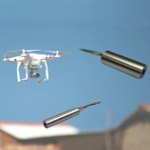 Unmanned drones require a variety of sensors to monitor different critical measurements to control flight and maintain aircraft stability. Miniature Linear Position Sensors from NewTek Sensor Solutions provide reliable position feedback for monitoring the fin/rudder position and rotor angle of unmanned aerial vehicles (UAVs) with quick response times, so drones can make adjustments to accurately control flight.
Learn more.
---
Cobham introduces spacecraft, satellite electronics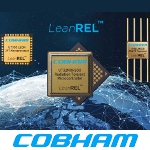 Cobham Advanced Electronic Solutions, a leading provider of electronics technology and services for space and other high-reliability applications, recently released the new LeanREL product family designed to meet the needs of small satellite and non-traditional spacecraft manufacturers. The LeanREL product family, comprised of microprocessors, microcontrollers, as well as memory and interface integrated circuits (ICs), leverages Cobham's 30+ years of radiation-hardened, QML-level reliability, and innovative space systems design expertise and offers an unmatched combination of user benefits.
Find out more.
---
Touch panels require 50 percent less input force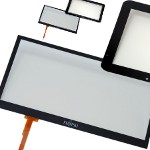 Fujitsu Components America has just released a series of customizable, flush-surface, resistive touch panels with less than half the input force of conventional resistive panels, nearly identical to that of projected capacitive panels. The new series (FID-1300 4-wire and FID-1520 5-wire) offers OEMs a cost-efficient alternative to projected capacitive touch panels with a comparable user experience, while maintaining resistive technology's reliable input capability and unlimited choice of input sources. Target applications include industrial automation and HMI machine control, medical equipment, and vehicle navigation systems.
Learn more.
---
Automatic vision system with max throughput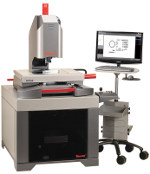 The new AV450 Automatic Vision System from L.S. Starrett Company is a versatile, accurate, fast, and American-made 3-axis vision system that allows users to achieve high throughput in their inspection process cost effectively. This heavy-duty CNC video-based measurement system is ideal for both repetitive, larger part-run applications and routine quality assurance in inspection labs, manufacturing, assembly, and research facilities.
Learn more.
---
Army scientists aim to revolutionize cybersecurity through quantum research
Scientists at the RDECOM Research Laboratory, the Army's corporate research laboratory (ARL), have found a novel way to safeguard quantum information during transmission, opening the door for more secure and reliable communication for warfighters on the battlefield.
Recent advancements of cutting-edge technologies in lasers and nanophysics, quantum optics, and photonics have given researchers the necessary tools to control and manipulate miniature quantum systems, such as individual atoms or photons -- the smallest particles of light.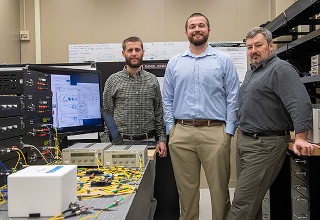 Drs. Brian Kirby (left), Daniel Jones (center), and Michael Brodsky (right) pose near the Quantum Networking Testbed at the RDECOM Research Laboratory, the Army's corporate research laboratory (ARL), in Adelphi, MD. [U.S. Army photo by Jhi Scott]
These developments have given rise to a new area of science -- Quantum Information Science, or QIS -- that studies information encoded in quantum systems and encompasses quantum computing, quantum communication, and quantum sensing, among other subfields.
Quantum Information Science is believed to have the potential to shape the way information is processed in the future.
The laboratory invests in QIS research to guarantee continuous technological superiority in this rapidly developing field, which in turn will bring about multiple new technologies in computation, encryption, secure communication, and precise measurements.
However, to utilize quantum information, scientists need to figure out robust ways to process and transmit it, a task being tackled by Drs. Daniel Jones, Brian Kirby, and Michael Brodsky from the laboratory's Computational and Information Sciences Directorate.
"In our classical world, information is often corrupted during manipulation and transmission -- everyone is familiar with noisy cell phone connections in poor reception areas," Brodsky said. "Communication engineers have been working on a variety of techniques to filter out the noise."
In classical communications, the filtering is rather straightforward as it is done locally, that is, in the very place the information is received, such as directly in your phone or internet router.
In the quantum world, things become much more intricate.
The lab's research team has been looking into ways of filtering noise from little bits of quantum information -- quantum bits or qubits sent across fiber-optic telecom links.
They discovered that the filtering does not necessarily need to be done by the receiving party.
"The nature of the quantum states in which the information is encoded is such that the filtering could be more easily done at a different location in the network," Kirby said.
That's right, to fix a qubit sent over a certain route, one could actually apply a filter to other qubits that traverse a different route.
Over the last year, the researchers have been looking into the problem of transmission of entangled pairs of photons over optical fibers.
"We started with developing an understanding of how physical properties of real telecom fibers, such as inherent residual birefringence and polarization dependent loss, or PDL, affect the quality of quantum communications," Jones said. "We exploited a novel mathematical approach, which has led to the development of a simple and elegant geometrical model of the PDL effects on polarization entanglement," Kirby added.
The developed model predicts both the quality of transmitted quantum states as well as the rate at which quantum information could be transmitted.
Furthermore, the lab's team invented a new technique that helps reduce the deleterious effects of the noise.
The developed models were experimentally validated using the recently built Quantum Networking Testbed at the lab, which simulates the practical telecom fiber infrastructure.
"We believe that this research has a potential to revolutionize cybersecurity and to enable secure secret sharing and authentication for the warfighter of the future," Brodsky said. "In addition, it will have an impact on developing better sensors for position navigation and timing as well as quantum computers that might result in the synthesis of novel special materials with on-demand properties."
According to the researchers, in order to make quantum technology a reality, a large-scale field-deployed testbed must be built, thus guiding the development of both quantum hardware and software.
A journal paper documenting the research, titled "Tuning quantum channels to maximize polarization entanglement for telecom photon pairs," is featured in the prestigious Nature Partner Journal Quantum Information.
Source: U.S. Army
Published December 2018
Rate this article