New slewing ring bearing offers reduced weight and size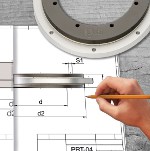 igus has developed a maintenance-free and wear-resistant slewing ring bearing for medium loads that also offers significantly reduced weight and space. The iglide polymer slewing ring bearings (PRT) have sliding elements between the inner and outer bearing rings made of aluminum or stainless steel. The new PRT-04 bearing range is 50 percent smaller in installation height, 60 percent lighter, and can save users up to 20 percent in costs. The bearing will be particularly effective in automation, stage technology, and control panels.
Learn more.
---
New Hot Tap Digital Flowmeters simplify installation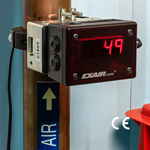 EXAIR's new Hot Tap Digital Flowmeters allow installation when compressed air piping is under pressure. By eliminating the need to isolate and remove pressure from the pipe, these compressed air flowmeters reduce installation time while maintaining safety. Hot Tap Digital Flowmeters incorporate two valves that the measuring probes pass through. A sound muffler that also collects chips from the drilling process eliminates installation debris from entering the airstream and minimizes noise exposure. Measuring compressed air is the first step toward identifying high compressed air use areas, compressed air leaks and optimizing air use.
Learn more.
---
Top Tech Tip: Interlaced wave springs

When heavy loads are necessary with a demand for greater travel, Smalley Interlaced Wave Springs can handle weighty loads in small places. Interlaced wave springs can replace heavy-duty coil springs or Belleville stacks. An interlaced wave spring is formed from two constituent wave springs of similar thickness, amplitude, and frequency. The two individual wave springs are combined together by interlacing them so that the spring turns of each spring abut each other for the entire length of the interlaced spring.
Learn more.
---
New composite materials for transmission components reduce friction and wear
The material developers at Freudenberg Sealing Technologies have developed PEEK compounds that are precisely tailored to their applications. In one real-world example, gear seals and thrust washers in a vehicle transmission are characterized by lower wear, lower friction, and lower temperature development.
Read the full article.
---
Build your own mini synchronous drive systems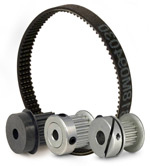 With the Miniature Synchronous Drive System from Stock Drive Products (SDP), you can put your own 1-, 2-, or 3-mm design together in a snap. The tiny timing belts and pulleys are engineered and manufactured to give high accuracy and smooth, dependable operation in 3D printers, moving security cameras, med devices, robotic surgical equipment, self-service machines, and more. Advantages include no-slip synchronization, accurate positioning, high torque transmission with low backlash, quiet operation, and long belt life.
Learn more.
---
Motorized puller assemblies provide out-of-the-box productivity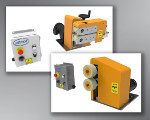 Versa Motorized Puller assemblies include all components for out-of-the-box productivity for a wide variety of downstream handling requirements. Available in Pinch Wheel or Caterpillar designs, pullers are mounted on a 12-in. x 14-in. base plate for easy positioning of feed materials and include a choice of either AC or DC motor, drive, and a remote Operator Control Station (OCS) that can be mounted wherever desired. A variety of speed ranges are available, with pinch roll or belt materials to suit a broad range of product requirements. These puller assemblies are ideal for many applications, including downstream handling of pipe, profiles, and tubing as well as wire/cable, steel materials, and more.
Learn more.
---
Reduce belt-driven spindle failures with precision load limiter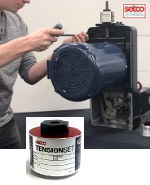 Setco's TensionSet is a load-limiting device that ensures proper belt tensioning on motor drives, protecting shaft bearings and other components from premature failure. The patented and easy-to-install product rotates like a nut to generate pull force on a threaded rod. The pull force increases the distance between the pulleys on the motor drive and creates belt tension. When pull force exceeds the load setting during tightening, TensionSet disengages internally to prevent over-tensioning. Positive reverse drive causes the TensionSet to rotate in the reverse direction, removing tensioning load. This product helps increase belt life, leading to less downtime for machine maintenance, and is retrofittable to many spindle brands.
Learn more.
---
Quick-release heavy-duty ball lock pins in stainless steel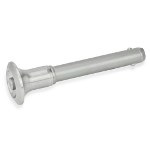 JW Winco has expanded its line of GN 113.10 Heavy Duty Ball Lock Pins Stainless Steel, with Stainless Steel Shank AISI 630. These rapid-release pins have an extreme load capacity and are used for quick fixing, connecting, and locking of various parts and workpieces. A typical application for the Ball Lock Pins is where they may need to be regularly moved in and out of position when connecting two components, but a more secure hold is required of those two components. By pressing the spring-loaded push button, both balls are unlocked. By releasing it, the balls are locked again.
Learn more.
---
Top Tech Tip: Self-locking retaining rings from Smalley

Smalley self-locking rings allow the ring to operate at high speeds, withstand vibration, function under rapid acceleration and absorb a degree of impact loading. The self-locking feature utilizes a small tab on the inside turn "locking" into a slot on the outside turn. The self-locking option can be incorporated for both external and internal rings.
Learn more.
---
Fiber sizings improve performance of carbon fiber composites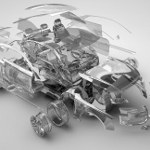 Michelman fiber sizings are available for a variety of application types to dramatically improve fiber-polymer interface adhesion. This technology helps industries such as automotive, transportation, construction, aerospace, energy, and sport improve the quality and performance of composites. New offerings include Hydrosize Carbon 200 Series (an APE-, solvent-, and VOC-free solution perfect for fiber-reinforced nylon composites where greater thermal stability is required, like coolant pumps) and Hydrosize Carbon 400 Series (for extreme processing temps that many high-temp thermoplastics require, such as PEEK, PPS, PEI, and others used to produce various composite engine components).
Learn more.
---
New vacuum soft gripper for delicate objects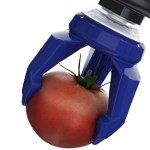 A new, vacuum-based soft gripping tool called piSOFTGRIP has been developed by Piab with food industry automation in mind. This three-fingered unit will grip sensitive and lightweight objects of odd geometries and/or an unusual surface. Bin picking of small, irregularly shaped objects, such as toys, is another potential application. The cost-effective soft gripper can handle objects with a diameter up to 50 mm (1.97 in.), but larger units are in the works. Combined with Piab's end-of-arm vacuum tool piCOBOT, the piSOFTGRIP offers a powerful and flexible plug-and-play extension for collaborative robots. As both piCOBOT and piSOFTGRIP offer compressed air-saving functionality, virtually no energy is needed to perform a grip and release.
Learn more.
---
New Modular Mounting Systems from Ruland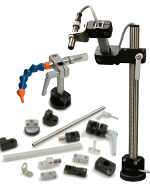 Ruland Manufacturing now supplies a large selection of modular mounting components that designers can combine to make complete systems for positioning sensors, scanners, reflectors, cameras, coolant pipes, air nozzles and more. The diversity of component sizes and materials allows them to be used in many different industrial, food processing, and packaging environments. Parts that make up modular mounting systems include mounting brackets, bracket clamps, tubes, rods, tube end caps, mini-clamp tube connectors, swivel clamp tube connectors, mounting bases, portable magnet bases, clamping lever kits, and adjustable spring joints. The wide range of modular mounting components enables designers to customize systems to whatever the application requires.
Learn more.
---
Great Resources: Unit Conversion Tool

Convert popular spring units such as force or retaining ring thrust capacities into metric units with Smalley's engineering tools. Convert units such as mass and weight, angular measurements, velocities, temperatures, pressures and densities, and more.
Click here to learn more. You should bookmark this one.
---
Innovative rod seals enhance hydraulic and electromechanical aviation actuator performance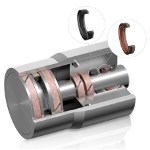 Rod seals for cylinders and actuators seal the applied system pressure toward the atmospheric side. They perform a critical function in preventing external leakage that may contaminate the immediate environment. The rod seals LB and LS from Parker Hannifin have been specially developed for the safety-critical applications in aviation and offer high reliability and wear resistance due to their seal geometry and material selection.
Read this informative Parker blog.
---
Right-sizing valve manifolds linked to smart machine design
Valves are generally sized by cylinder bore, actuation speed, and required pressure. In the past, the entire valve manifold would be sized based on the largest force/speed requirements of the pneumatic system, or by splitting between two manifolds (low and high pressure/flow). However, this methodology results in waste, both in terms of compressed air and the expense and size of the manifold, not to mention the labor needed to install two manifolds.
Read this informative Parker Hannifin blog.
---
Researchers find intrinsic 'fingerprints' that could detect tampered steel parts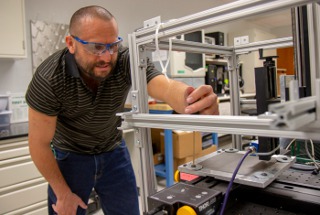 David Mascarenas, a research and development engineer at Los Alamos National Laboratory, used Barkhausen noise to find unique-looking "fingerprints" in steel that could help to verify weapons treaties and reduce the use of counterfeit bolts in the construction industry.
Researchers using magnetic signals have found unique "fingerprints" on steel that could help to verify weapons treaties and reduce the use of counterfeit bolts in the construction industry.
"Magnetic signals provide a wide range of possible national security applications," said David Mascareñas, a research and development engineer at Los Alamos National Laboratory and lead author of the study published recently in the journal Smart Materials and Structures. "It's a promising phenomenon that we hope to leverage to uniquely identify different pieces of artillery."
In the research, funded by the U.S Department of State, researchers applied Barkhausen noise, a magnetic phenomenon, to two types of steel -- conventional steel and an abrasive-resistant type of steel used in mining equipment. A sensor measured electromagnetic signals by repeatedly scanning the different kinds of steel over a period of time. Researchers compared the signals from those two sets of scanned images and found signatures that were instrinsic to each type of steel.
The variations that occur from the production of various kinds of steel are reflected as distinct fingerprints. "They seem to be repeatable," said Mascareñas.
That intrinsic signature could help to discover counterfeit or low-grade steel parts in construction by looking for differences in the electromagnetic signatures. "It could also help solve that big problem in that industry," said Mascareñas.
Future research could involve studying other types of steel and developing a handheld sensor for treaty verification.
Publication: "Barkhausen noise as an intrinsic fingerprint for ferromagnetic components, in Smart Materials and Structures. Authors: David Mascareñas, Michelle Lockhart, Thomas Lienert.
Source: DOE/Los Alamos National Laboratory
Published December 2018
Rate this article