Solvay develops sustainable Halar ECTFE anti-corrosion coating system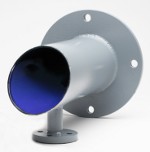 Solvay's new waterborne Halar ECTFE coating system broadens metal corrosion-prevention applications for the chemical processing industry. The coating system is comprised of a high-adhesion primer and topcoat and is easily applied using standard liquid spray equipment. Solvay's Halar ECTFE powder coatings have been used for corrosion prevention for over 40 years for equipment in a range of industries including acids, mining, pulp and paper, pharmaceutical, food and beverage, and semiconductor, among others. The new waterborne Halar ECTFE liquid coating tech expands the range of end-use applications to those that are difficult or impossible to powder coat. This includes complex shapes, uneven surfaces, oversized vessels, pipe interiors, and tanks and containers. Moreover, it provides engineers an alternative protective metal coating option to corrosion-resistant alloys (CRAs).
Learn more.
---
Powerhouse gripper for collaborative applications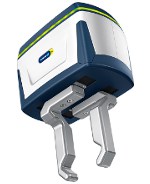 The SCHUNK Co-act EGL-C long-stroke gripper is a milestone on the way to a comprehensive human/robot collaboration (HRC): It is the world's first long-stroke gripper developed for collaborative operation. It achieves high gripping forces up to 450 N (handling weights beyond small parts assembly) and combines them with a long stroke of 42.5 mm per finger. The intelligent 24-V unit is suitable for handling workpiece weights up to 2.25 kg and can be flexibly used in a wide range of applications. The SCHUNK developers are particularly focused on the automotive-related supply industry, carmakers, and machine building, where powerful grippers may be able to achieve rapid success in HRC applications.
Learn more.
---
Xometry receives ISO 9001:2015 and AS9100D certifications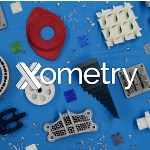 Xometry, the world's largest digital manufacturing marketplace, recently announced that it has received ISO 9001:2015 and AS9100D certifications. These certifications are among the industry's most rigorous and reflect the company's commitment to quality. ISO 9001 is the world's most widely recognized quality management standard and helps organizations to meet the expectations and needs of their customers. The AS9100 standard goes beyond the requirements of ISO 9001 to meet the rigorous demands of the aerospace and defense industries.
Learn more.
---
Lightweight, heavy-duty thermoplastic planks introduced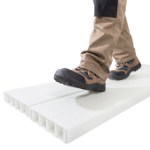 If you're told to walk the plank these days, you may find yourself walking on plastic. SABIC recently introduced its STADECK heavy-duty panels to the Americas. These high-strength but extremely lightweight panels are used for scaffolding and numerous other applications in the building and construction industries. They are made from glass fiber-reinforced thermoplastic resin and are up to 60 percent lighter than wooden planks, saving not only your back but also the gas or diesel it takes to tote heavier support materials around. They also never rot or corrode.
Learn more.
---
Completely updated new full-line catalog of fasteners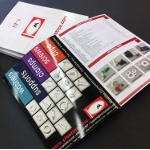 Micro Plastics introduces its new 300-page catalog #41 containing thousands of fastening solutions for engineers and product designers. Find hundreds of new problem-solving products including Spacers, Washers, Clips, Clamps, Ties, Bushings, Screws, Nuts, Rivets, and Plugs. Micro Plastics specializes in Nylon threaded fasteners, but the company also offers extensive product lines for wire management and circuit board hardware. Samples are available upon request.
Check out the new online catalog.
---
Plastic torque-limiting wing nuts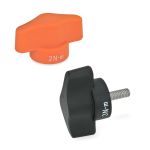 JW Winco, a leading supplier of standard industrial machine components, has now made available EN 5320 Plastic Torque Limiting Wing Nuts, which are used when manually applied torque is to be limited. Turn clockwise, and the torque of the wing nut triggers an "over-engagement" when the specified torque is reached. When tightening, this will ensure the maximum permissible torque is not exceeded. Turn counter-clockwise, and the torque needed for loosening will always be transmitted properly. The technopolymer plastic is glass fiber reinforced and temperature resistant up to 176 F (80 C). The wing nuts are available in either a black matte or orange matte finish. An aluminum version (GN 3663) is also available.
Learn more.
---
ICOMold: New CAD model design service partner

ICOMold has partnered with a professional design service with a large group of designers who specialize in designing for injection molding. If you need to get a quote but don't have a 3D CAD model (or need your file modified, repaired, or converted), ICOMold is now offering these services through its design partner ZVerse.
Learn more.
---
Victrex and Bond pioneer 3D printing for PAEK and PEEK parts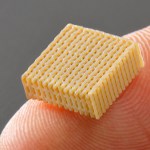 To help customers with an accelerated route to market for 3D-printed PAEK and PEEK parts, UK-based Victrex has secured a multi-million-euro investment in Dutch 3D-printing company Bond High Performance 3D Technology. What's significant is that Bond's technology is capable of printing complex, functional parts made of PAEK/PEEK with excellent mechanical properties, including in the z-direction. This enables the additive manufacturing of high-strength, isotropic parts with properties comparable to conventional molded or machined PEEK parts.
Read the full article.
---
New counterbalance hinge for heavy panels and lids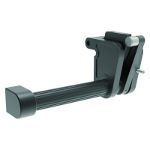 Southco has expanded its Positioning Technology portfolio with the addition of a new Counter-balance Hinge that neutralizes the weight of heavy panels and lids, reducing safety and liability concerns while improving end-user ergonomics. The aluminum, black anodized hinge provides precise control when opening and closing heavy panels, enabling the panel to be lifted and lowered effortlessly. Its compact, adjustable design provides for mounting inside enclosures with minimal protrusion, and it can be fine-tuned to precise requirements. Applications include transportation, military, industrial machinery, and medical equipment
Learn more.
---
Reduce component failure with the HELI-CAL Flexure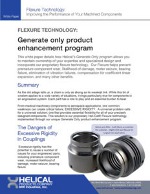 Discover how to eliminate vibrating failure, prevent premature component wear, prevent motor seizure, and stop bearing failure by incorporating Helical Products' flexure technology into your machinery components.
Learn more by downloading our white paper.
---
Top Tech Tip: Mechanical bellows components are an alternative solution

In today's digital world, mechanical components such as metal bellows serve as an extremely reliable mechanism to gather information. The movement of Servometer® electrodeposited metal bellows under hydraulic or pneumatic pressure (internal and external) can create the information needed for a system w/o electricity. Using bellows technology; temperature, gauge, barometric, and differential pressure can be compensated for. With miniature sizes available, Servometer bellows can be added to instrumentation and manifolds of almost any shape or size.
Request a free sample today.
---
Top Tech Tip: Save space and weight with Smalley Wave Springs
Smalley Wave Springs offer the unique advantage of space savings when used to replace coil springs. By reducing spring operating height, wave springs also produce a decrease in the spring cavity. With a smaller assembly size and less material used in the manufacturing process, a cost savings is realized. Over 4,000 springs available from stock or utilize Smalley's No-Tooling-Cost™ manufacturing process on custom designs, available from .157" to 120". Samples available for testing.
Learn more.
---
Helpful tips for molding PEEK polymer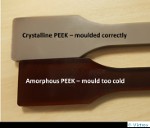 Are you a first-time molder of PEEK? Or maybe you've tried molding it and have run into problems? This article from Victrex presents five important considerations in the injection molding process that can help you avoid the need for troubleshooting when molding PEEK polymer. Following this advice can also help you optimize the full potential of this high-performance material.
Read the Victrex tips article.
---
Cool Tools: New Artec LEO 3D scanner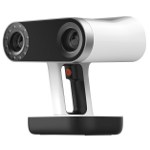 Exact Metrology is proud to announce the availability of its Artec LEO 3D scanner, the first scanner to offer onboard automatic processing with an integrated touch panel viewer. This frees users from being tied to a computer for data capture. The scanner has a 3D reconstruction rate of 80 frames per second, making it the fastest professional scanner on the market. With its large field of view, Artec LEO can scan and process large objects and scenes quickly and accurately, and it boasts a data acquisition rate of up to 4 million points per sec.
Learn more.
---
Clippard PTFE multi-channel gradient valves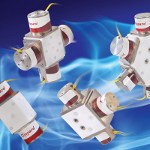 NIV series gradient valves feature multiple two-way, normally closed solenoids connected around a central body. This unique design provides significant reduction in internal volume with enhanced mixing capabilities. Each actuator operates independently, allowing for flow of various media to be mixed or for one media to be split into multiple streams. These multi-channel gradient valves are useful for solvent selection, stream splitting, flushing, and other automated applications.
Learn more.
---
Researchers find intrinsic 'fingerprints' that could detect tampered steel parts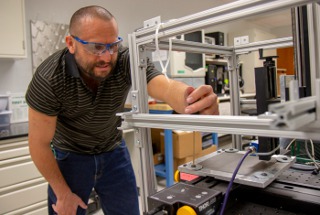 David Mascarenas, a research and development engineer at Los Alamos National Laboratory, used Barkhausen noise to find unique-looking "fingerprints" in steel that could help to verify weapons treaties and reduce the use of counterfeit bolts in the construction industry.
Researchers using magnetic signals have found unique "fingerprints" on steel that could help to verify weapons treaties and reduce the use of counterfeit bolts in the construction industry.
"Magnetic signals provide a wide range of possible national security applications," said David Mascareñas, a research and development engineer at Los Alamos National Laboratory and lead author of the study published recently in the journal Smart Materials and Structures. "It's a promising phenomenon that we hope to leverage to uniquely identify different pieces of artillery."
In the research, funded by the U.S Department of State, researchers applied Barkhausen noise, a magnetic phenomenon, to two types of steel -- conventional steel and an abrasive-resistant type of steel used in mining equipment. A sensor measured electromagnetic signals by repeatedly scanning the different kinds of steel over a period of time. Researchers compared the signals from those two sets of scanned images and found signatures that were instrinsic to each type of steel.
The variations that occur from the production of various kinds of steel are reflected as distinct fingerprints. "They seem to be repeatable," said Mascareñas.
That intrinsic signature could help to discover counterfeit or low-grade steel parts in construction by looking for differences in the electromagnetic signatures. "It could also help solve that big problem in that industry," said Mascareñas.
Future research could involve studying other types of steel and developing a handheld sensor for treaty verification.
Publication: "Barkhausen noise as an intrinsic fingerprint for ferromagnetic components, in Smart Materials and Structures. Authors: David Mascareñas, Michelle Lockhart, Thomas Lienert.
Source: DOE/Los Alamos National Laboratory
Published December 2018
Rate this article