Single-cylinder engines for combustion research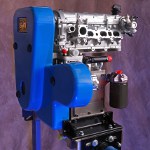 Southwest Research Institute (SwRI) has designed and manufactured two advanced single-cylinder engines for combustion research and friction analysis, as well as alternative fuel, wear, optical, crank offset, and bore-to-stroke relationship studies. The engines, one for light- and medium-duty applications and one for heavy-duty applications, can accommodate either multi-cylinder or single-cylinder heads through a custom cylinder barrel and head support shelf. They include several unique patent-pending innovations, including mechanisms that adjust compression ratios and crankshaft offsets without the need for disassembling the engine. Optical access, dynamic cam phasing, secondary balancers, and floating liner devices can be added to the standard configurations. Specs available in online "Single-Cylinder Research Engine" flyer.
Click here to learn more.
---
Hybrid gantry stage provides precision XY/XYZ motion with linear motors, air bearings, and ball bearings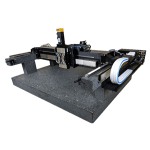 PI's new A-341 hybrid gantry XY/XYZ positioning stage provides the framework for controlled precise overhead motion that is often sought after for 3D printing, assembly, pick-and-place, alignment, inspection, and industrial automation applications. The A-341 HGS hybrid gantry is designed to combine maximum throughput with smooth and highly accurate motion in a compact envelope. It features a unique hybrid bearing design. The cross axis utilizes a frictionless air bearing guiding system, which allows for excellent velocity control, repeatability, straightness, and cleanliness. The lower dual-motor axis uses precision mechanical linear bearings for rigidity and reduced size. This combo offers an overhead gantry motion platform optimized for step and scan applications in the smallest possible form factor.
Learn more.
---
Micro-brakes for precise motion control applications
The ultra-compact 112 Model Electromag-netic Micro-Brakes from Miki Pulley ensure fast response in high-torque, demanding applications. The simple design features a stator with integrated mounting flange, proprietary composite friction liner, and armature complete with ring plate spring and hub. These brakes halt rotation mechanically by utilizing an electromagnetic field to create mechanical friction. With fast response, the brake's armature engages the stator when the coil is energized. A constant-force plate spring transfers torque to the rotating brake body, halting all motion.
Learn more.
---
Electric high-force linear actuator choices: Ball vs. roller screw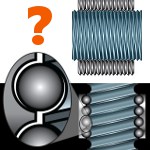 Many applications require high-force linear actuators -- from moving equipment in a foundry to powering a press in metal forming to guiding heavy logs in a sawmill. Whatever the application, a machine designer is faced with a choice: whether to specify a ball or roller screw in the electric high-force linear actuator. Learn how to make the best decision for your application.
Read the Tolomatic blog.
---
Using SmartMotor data to diagnose linear actuator performance problems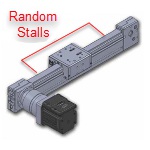 Effective troubleshooting of a motion control system problem can be a daunting and time-consuming process, even for seasoned automation professionals. However, the Moog Animatics SmartMotor fully integrated servo, with built-in controller and firmware, is constantly monitoring a variety of operating parameters. This case study investigates how that data can be used to quickly and effectively troubleshoot and resolve a motion control system problem.
Read the Moog Animatics article.
---
Advantages of electroformed metal bellows

Servometer metal bellows manufactured using our patented electro-deposition process create flexibility, protection, motion, and balance for systems requiring precise, repeatable results. This exclusive manufacturing technology produces electroformed bellows that offer unique characteristics such as high-strength but lightweight construction and custom engineered geometries. Learn more by viewing our "Electroforming Basics of Miniature and Specialized Components" white paper.
Read the white paper (no registration required).
---
Top 5 challenges of motion control design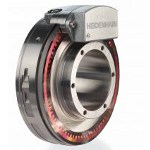 As motion control solutions -- from angle encoders to direct drive motors -- become even more ubiquitous in industrial situations, engineers face evolving demands and opportunities. From lowering the cost of advanced technologies to improving functional safety in automated environments, here are the top five challenges and opportunities in today's motion control design industry as seen by engineers from HEIDENHAIN.
Read the full article.
---
Two-way traction drives reduce motor torque ripple
Rolling Motion Industries (RMI) has released two new, highly efficient two-way gearless traction drives. The MAR-17-2-2.1 and MAR-23-2-2.1 permanently lubricated drives have only six moving parts and typically last three times longer than conventional gearboxes. The drives have demonstrated up to an 84 percent reduction in motor torque ripple. The MAR17-2-2.1 Traction Drive is designed for speeds to 3,600 rpm with 10 to 20 in./lb of torque, and the MAR-23-2-2.1 Traction Drive is rated for 3,600 rpm with 20 to 30 in./lb of torque.
Learn more.
---
High-precision multi-axis motion with hexapod 6-axis systems -- New 130-pg PI catalog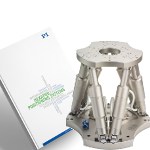 Multi-axis motion and positioning systems are often used for precision automation and alignment applications in fields including optics, photonics, aerospace, medical engineering, and laser technology. Hexapod parallel-kinematic motion and positioning systems provide a novel approach to multi-axis motion, combining precision and compactness with versatility. PI's new 130-page catalog provides background information and features a variety of hexapod (Stewart-Platform) motion and positioning systems with 6 degrees of freedom and high resolution and repeatability in the sub-micrometer and even nanometer range.
Get the new catalog today (no registration required).
---
World's most compact 3,000-W integrated servo motor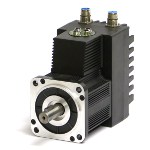 JVL's newest addition to its motor portfolio is a complete, high-capacity MAC motor with a rating of 3,000 W. MAC motors are complete servo systems that include a high-dynamic AC servo motor, hall sensors, encoder, power supply, driver, and positioning controller and Nano-PLC, as well as options for incorporating various control modules such as Bluetooth, WLAN, ZigBee, EtherCAT, EtherNet/IP, CANopen, DeviceNet, Profibus, Profinet, Nano PLC, and more. With a length of only 311.8 mm and a torque of 9.55/28.6 Nm at 3,000 rpm, this MAC motor matches the size of traditional servo motors without built-in controllers. Many more features.
Learn more.
---
Smart gripper has fingertip sensors that see and feel objects
You can automate high-precision assembly tasks with the OnRobot RG2-FT smart gripper. The built-in 6-axis F/T sensors at the fingertips provide extremely accurate gripping for better production quality. This gripper is so smart it detects the risk of slipping before it happens! The Danish company OnRobot has just opened its U.S. headquarters in Dallas. The company is a global leader in end-of-arm tooling for collaborative robots and also provides hardware and software used with collaborative robots from a variety of robot manufacturers such as Universal Robots, KUKA, FANUC, and Yaskawa.
Learn more.
---
SmartMotor can handle extreme low temps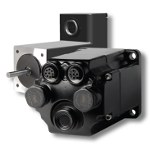 Moog Animatics has released its new Low Temperature Range (LTR) SmartMotor in two standard NEMA frame sizes: model SM17205M-LTR (the LTR-17) and model SM23165M-LTR (the LTR-23). Both motors have been meticulously engineered for robust and reliable operation in extremely frigid environments and at high altitudes. To achieve this, onboard internal heaters ensure that the motors can start up in temperatures below -40 degrees C. Other design changes allow these motors to withstand random vibrations up to 6G 10-2000 Hz, and standard IP sealing protects the motors from condensation.
Learn more.
---
Small DC motors for spectrophotometry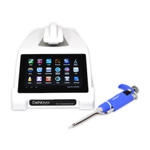 The DeNovix team needed a motion solution for their spectrophoto-meter application which called for intermittent short, quick motions with micron-level accuracy. After research and testing, they chose a FAULHABER small DC motor configured with a MICROMO encoder and an all-plastic planetary gearhead to successfully bring their product to market.
Read the full article.
---
100 million random moves: New lifetime spec for rotary micro stage with integral controller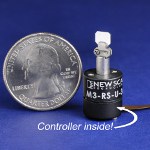 New Scale Technologies has significantly increased the lifetime specification for its M3-RS-U Rotary Smart Stage, a precision rotary micro stage with embedded controller. The new specification of 100 million random positions underscores the utility of these compact, all-in-one motion modules for integrating embedded motion inside in medical, commercial, and industrial instruments. The increased lifetime spec makes the selection decision even easier for product designers who need to embed motion in their portable and hand-held systems.
Learn more.
---
Electric extreme-force linear actuators beat hydraulics in metal casting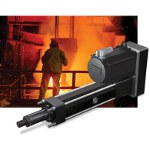 Metal casting is precise work conducted in a high-temperature environment. Unmolding a workpiece requires both force and control. It's a task often left to hydraulic cylinders, but their high-force capabilities come with significant drawbacks, like inadequate control and messy leaks. New, electric extreme-force linear actuators offer precision and clean operation.
Read the Tolomatic blog.
---
Honda Insight named 2019 Green Car of the Year at Los Angeles Auto Show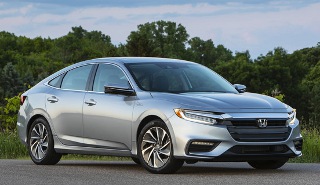 2019 Honda Insight.
Honda's third-generation Insight hybrid sedan has been named Green Car Journal's 2019 Green Car of the Year at the Los Angeles Auto Show's AutoMobility LA. The award honors the vehicle that most significantly raises the bar in environmental performance while remaining within reach of most consumers.
The expanded 2019 Green Car Awards also recognized two increasingly important categories this year: the 2019 Luxury Green Car of the Year, awarded to the Jaguar I-PACE, and the 2019 Green SUV of the Year, awarded to the Mitsubishi Outlander PHEV.
The original futuristic-looking Honda Insight made waves as the first gasoline-electric hybrid production model on American roads in late 1999. Today, the all-new, third-generation Insight hybrid has reinvented itself, making a bold statement that driving enjoyment, technology prowess, and impressive 52-mpg combined fuel efficiency can come in a mainstream package with Honda's signature DNA and style.
"Today's driver wants more from a hybrid than just great fuel economy. Insight truly represents the direction Honda is pursuing with electrified vehicles, delivering style and sophisticated driving dynamics with outstanding fuel economy," said Ray Mikiciuk, assistant vice president of Honda Auto Sales. "We appreciate Green Car Journal for recognizing Honda for the fourth time with Green Car of the Year."
The Green Car of the Year was selected by Green Car Journal editors and invited jurors from highly respected efficiency and environmental organizations. This year's invited Green Car of the Year jurors include celebrity auto enthusiast Jay Leno; Jean-Michel Cousteau, president of Ocean Futures Society; Matt Petersen, president and CEO of Los Angeles Cleantech Incubator and Board Chair of Climate Mayors; Dr. Alan Lloyd, president emeritus of the International Council on Clean Transportation and Senior Research Fellow at the Energy Institute, University of Texas at Austin; Mindy Lubber, president of CERES; and Jason Hartke, president of the Alliance to Save Energy.
Along with the Honda Insight, finalists for 2019 Green Car of the Year included the Lexus ES 300h, Nissan Altima, Toyota Avalon Hybrid, and Volkswagen Jetta.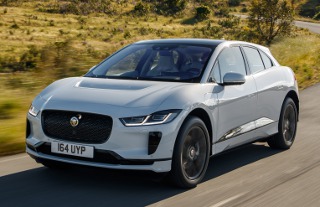 Jaguar I-PACE.
Winner of the 2019 Luxury Green Car of the Year, the Jaguar I-PACE is an impressive premium model replete with aggressive styling, great performance, and desired efficiency delivered by all-electric power. Acceleration and road-handling manners are superb and assisted with advanced Torque Vectoring by Braking and Adaptive Surface Response, lending sports car-like agility to this crossover SUV. It features a confidence-inspiring 234-mile electric driving range.
In addition to the Jaguar I-PACE, finalists in contention for Luxury Green Car of the Year were the Audi e-tron, Porsche Cayenne E-Hybrid, Range Rover P400e, and Tesla Model 3.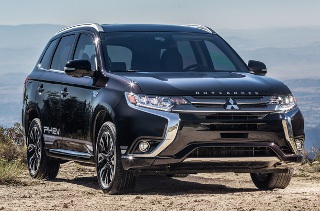 Mitsubishi Outlander PHEV.
Mitsubishi's Outlander PHEV, the 2019 Green SUV of the Year winner, is the automaker's formidable answer for those desiring plug-in hybrid power in an affordable, all-wheel drive SUV. Using an innovative series-parallel plug-in hybrid system, the mid-size SUV can operate on all-electric drive, conventional gas-electric hybrid drive, or series hybrid drive with the engine generating electricity to assist the battery in powering electric drive motors.
Considered with the Mitsubishi Outlander PHEV for Green SUV of the Year were finalists Cadillac XT4, Hyundai Kona, Lexus UX, and the Volvo XC40.
By virtue of their environmental achievement, all of the exceptional 2019 Green Car Awards finalists were recognized with Green Car Journal's prestigious 2019 Product of Excellence distinction.
Source: Los Angeles Auto Show
Published December 2018
Rate this article